Cruises: Douro Panoramic A - Régua <> Pinhão | Upstream
Location: Douro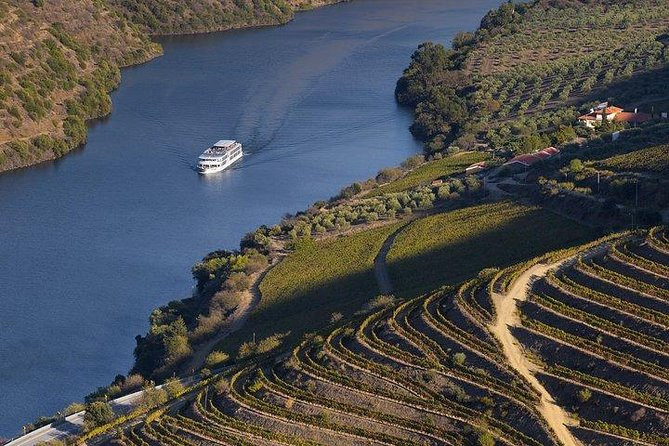 Choose your schedule
02:45 PM - 05:00 PM
$87.03
Choose your schedule
02:45 PM - 05:00 PM
$87.03
Choose your schedule
02:45 PM - 05:00 PM
$87.03
Choose your schedule
02:45 PM - 05:00 PM
$87.03
Choose your schedule
02:45 PM - 05:00 PM
$87.03
Choose your schedule
02:45 PM - 05:00 PM
$87.03
Choose your schedule
02:45 PM - 05:00 PM
$87.03
Choose your schedule
02:45 PM - 05:00 PM
$87.03
Choose your schedule
02:45 PM - 05:00 PM
$87.03
Choose your schedule
02:45 PM - 05:00 PM
$87.03
Choose your schedule
02:45 PM - 05:00 PM
$87.03
Choose your schedule
02:45 PM - 05:00 PM
$87.03
Choose your schedule
02:45 PM - 05:00 PM
$87.03
Choose your schedule
02:45 PM - 05:00 PM
$87.03
About the Experience
Itinerary:
2.45 PM: RÉGUA QUAY [check in/boarding]
Departure to Pinhão
Régua Dam
5.00 PM: PINHÃO QUAY [arrival/landing]
Estimated time / End of our services
Obs./Suggestion Clientes may return to Régua by Train and can buy their tickets at Pinhão Railway Station [nearby the quay]. There is a train leaving Pinhão at 18.20 arriving at Régua at 18.46.
Terms and Conditions
Cancellations only up to 14 days prior to activity.
Earn $500*
towards your next trip
Join our Travel Rewards program and receive $500 just for signing up! As a Travel Rewards Member, you'll receive exclusive offers and early access to special deals and sales.