Discover the Rich History and Unique Flavor of Madeira's World Famous Wine
Madeira wine has been popular for over 300 years! So, what's the secret in this age-old recipe and wine-making process?
The History Behind the Legendary Madeira Wine
Mainly produced in the village of Câmara de Lobos, this fortified wine is similar to the Port produced in mainland Portugal. Unlike Port wine, which is stored and aged in cool temperature controlled environments, Madeira's wine is stored and aged in warm places, which makes it taste much stronger at the first sip.
By the 1600 and 1700s, Madeira wine was already immensely popular among voyagers that stopped at the island on their shipping route between the Americas and the East Indies. Wine would often spoil on these long voyages, and people realized that the only way to preserve it was to fortify it with a bit of brandy. Sailors noticed that Madeira wine's flavor and quality increased as the casks heated and cooled on the long voyages through varying climates, and soon named this special "sea-aging" process Vinho da Roda, or "wines that have made a round trip."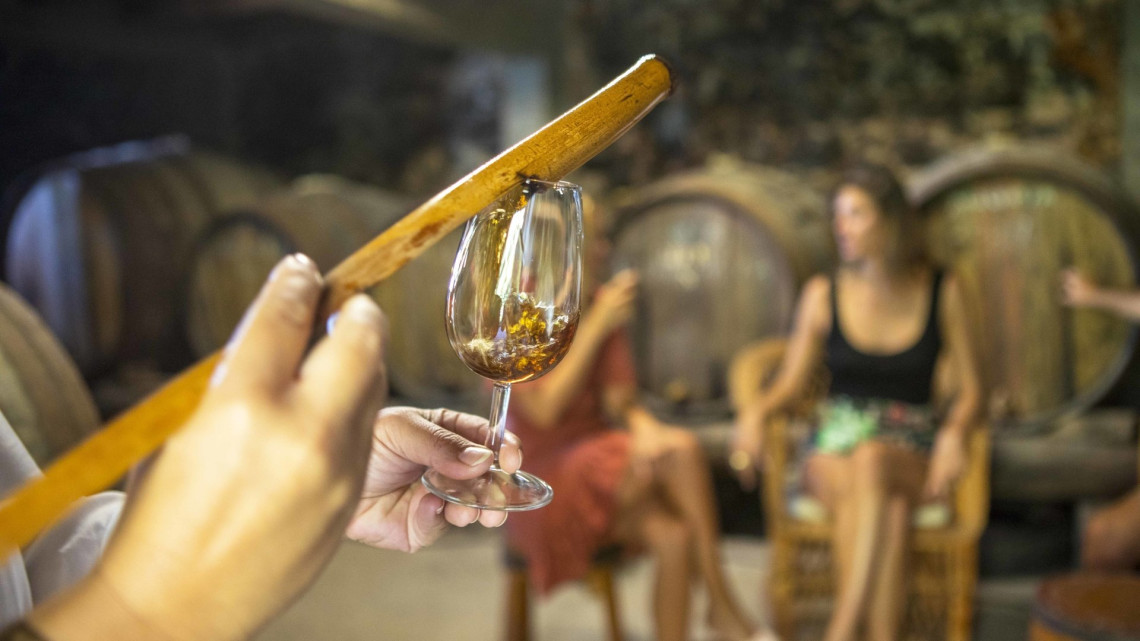 This famous wine was chosen to toast the signing of the Declaration of Independence of the United States, on July 4, 1776. It was Thomas Jefferson's favorite beverage, and much appreciated by other Founding Fathers like George Washington, Alexander Hamilton and Benjamin Franklin. Drinking a delicious aged Madeira wine is, as Winston Churchill once put it: "drinking liquid history."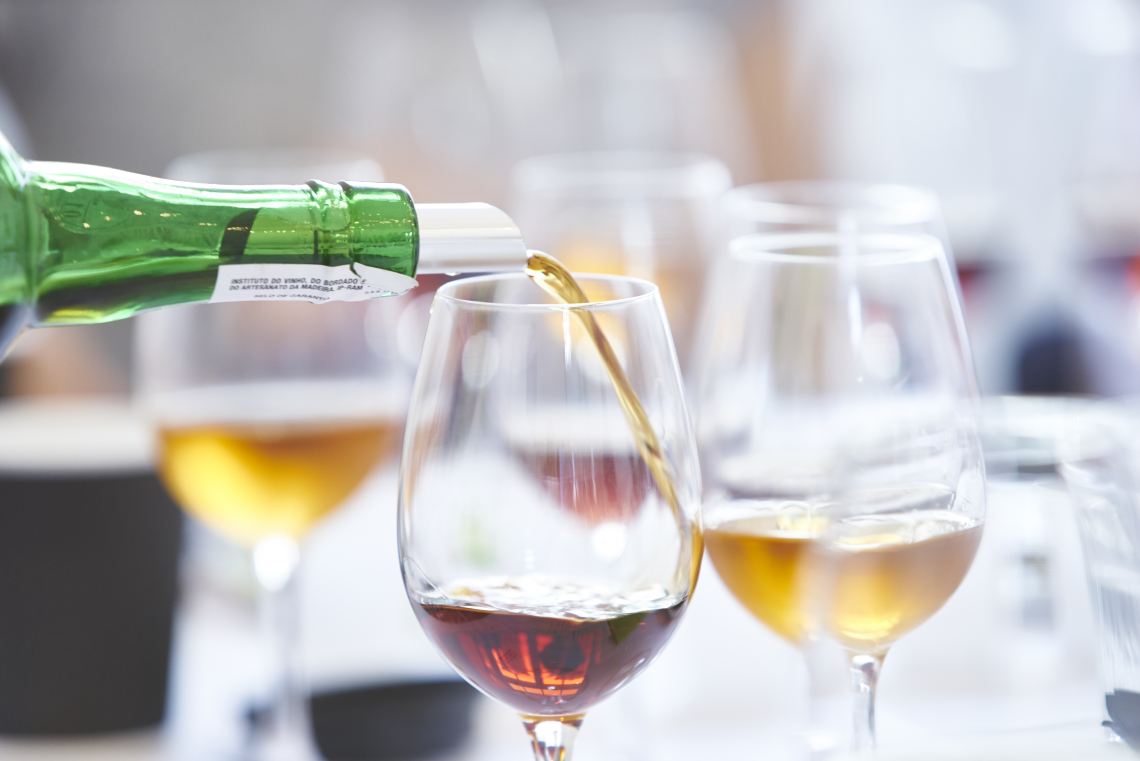 An Aged Wine
The intense heat in the holds of the ships had a transforming effect on the wine, as discovered by Madeira producers when one shipment was returned to the island after a long trip. Regular customers ended up prefering the taste of this style of wine, and thus Vinho da Roda became very popular. Madeira producers found that aging the wine on long sea voyages was very costly, so they instead began to develop methods on the island that would produce the same aged and heated style. They began storing the wines on trestles at the winery or in special rooms known as estufas (greenhouses), where the heat of island sun would age the wine. Over the years, wine producers in Madeira have perfected this method of estufagem; the way Madeira wine is aged today is not much different from the early days. Wine is placed in wood or steel barrels where it is then heated using this greenhouse method for 3 months before allowing it to rest for at least another 90 days to retain its flavor.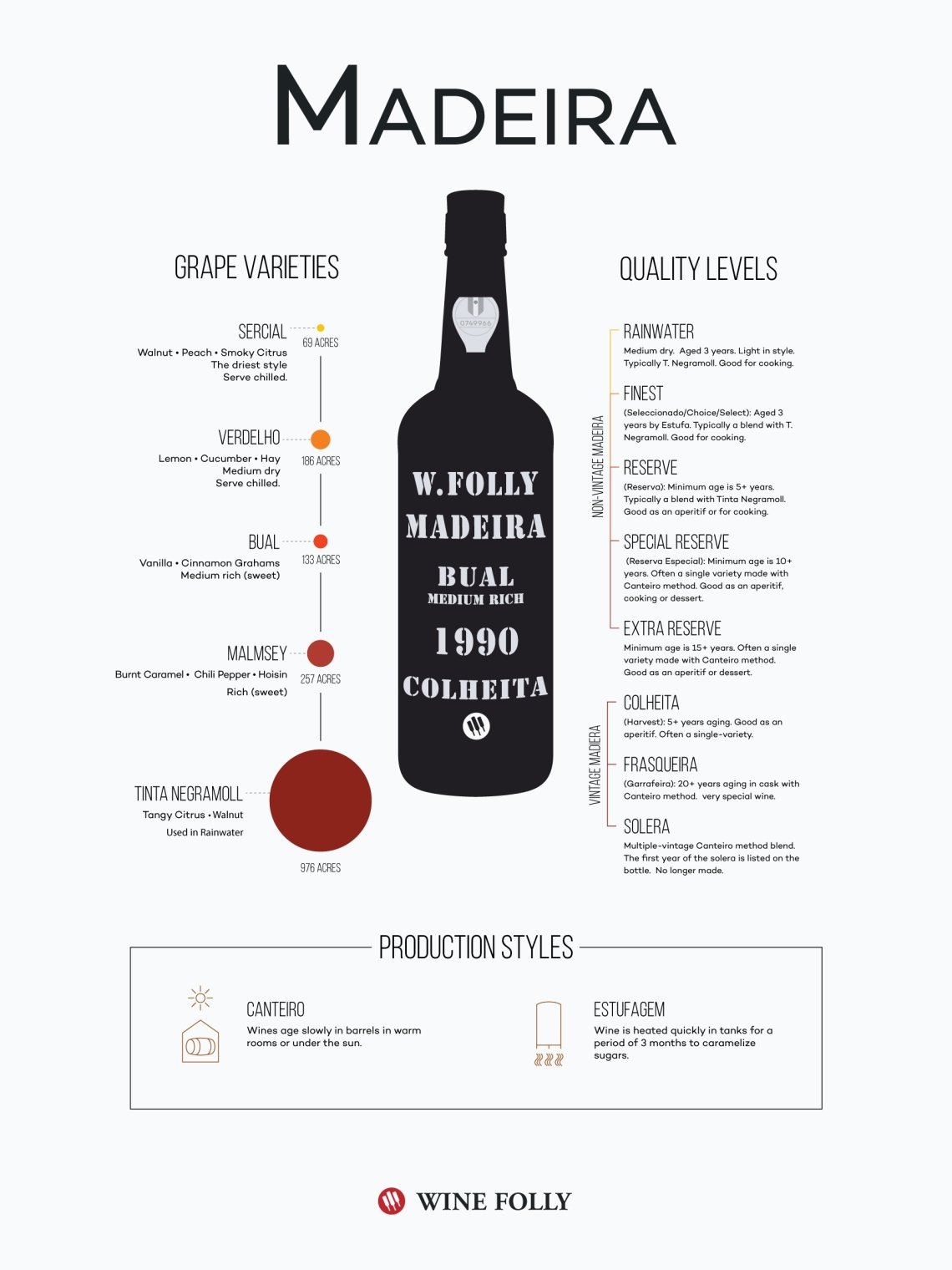 Wine Varieties
There are four major varieties of Madeira Wine, each named after the type of grape they are produced from:
Sercial
The wines of this variety are characterized by being slightly full bodied, dry and of high acidity. After aging, they become one of the finest, most delicate and refined Madeira wines - ideal for appetizers.
Verdelho
Compared to the Sercial variety, Verdelho wines are more full bodied and less acidic. They present aromas of dried fruits and, with age, they acquire smokey notes - indicated for the accompaniment of meals.
Bual
A dark golden wine, very rich, half sweet, medium bodied and fruity. It can be consumed in a younger state than the previous ones, but is recommended after ageing - recommended for roasts and desserts.
Malvasia
The wines of this grape variety are the darkest of all, quite full-bodied and fruity. It is soft with hints of raisins, but its characteristic acidity prevents it from becoming nauseating or too sweet - ideal between meals or for dessert.