Find Out What To Do In The Algarve
Travelers from across the world are realizing that Portugal is full of unique, amazing places to explore, and the Algarve region is no exception. We are proud to offer a range of packages and deals for travelers looking to explore the Algarve. Whether you're looking for outdoor activities, cultural attractions, or simply a relaxing break, we have something for everyone. With our packages, you can make the most out of your trip to the Algarve.
Kayak In The Algarve Coastline
Kayaking along the coastline of the Algarve region in Portugal is an experience like no other. Set against a backdrop of gorgeous pristine beaches, dramatic rocky cliffs, and secluded coves, the opportunity to explore this unique region of Portugal from a kayak is simply unrivaled. The Algarve has over 150 miles of picturesque shoreline that offers a range of different terrains to explore, from tranquil lagoons to rugged bays, and everything in between. Visitors traveling to Algarve can easily find sheltered areas where you can admire the vibrant array of marine life or enjoy a leisurely paddle while taking in the awe-inspiring beauty and grandeur of this remarkable destination.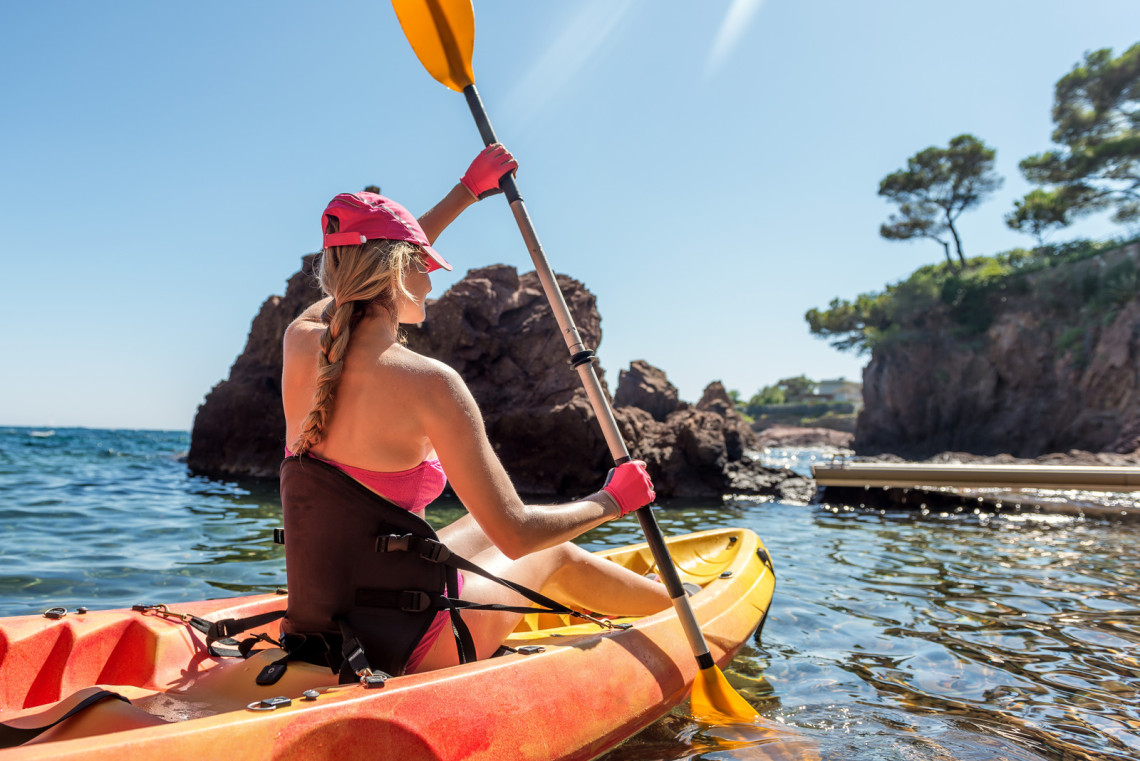 The clear waters of the Algarve make it an ideal spot for kayaking, as visibility is usually excellent, even at depths beyond what you'd typically see when snorkeling or diving. You may even find yourself surrounded by schools of colorful fish, sea turtles, and other majestic creatures as you drift through these crystal waters. If you're feeling brave enough, you could even take on some more daring activities, like exploring hidden caves and reefs, no shortage of which are dotted all around the Algarve coastline. As you journey further into this natural wonderland of the Algarve, there's no telling what kind of surprises await your discovery!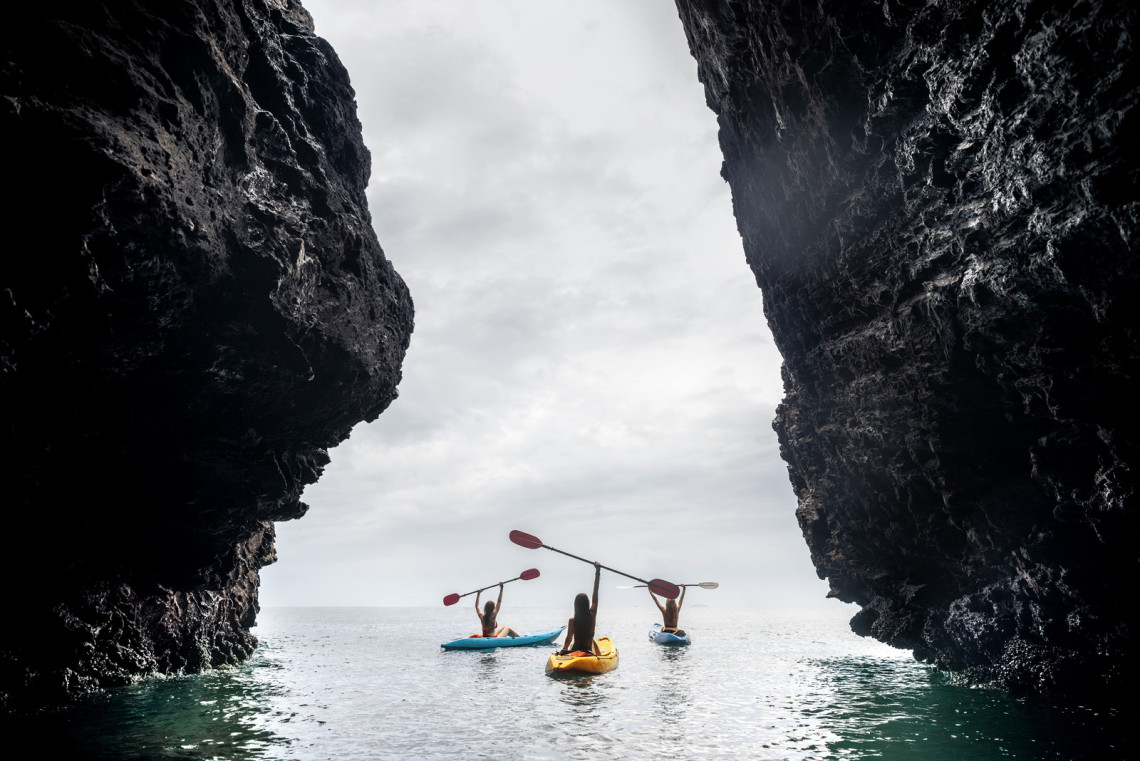 If you're looking for something extra special to enjoy during your Algarve kayaking adventure, why not set out on an exhilarating night kayak trip? There is just something that hits differently and feels extra magical about looking up to witness the stars twinkling brightly above you, with all other signs of civilization far away. Nothing compares to star gazing from your kayak as you drift peacefully along this untouched south Portugal strand. Want even more adventure? Depending on your level of skill and confidence, you might want to take part in one or two more challenging tours, such as crossing the mouth of the River Arade or traveling around Ilha da Culatra, an isle inhabited by hundreds of sea birds that promises a truly unforgettable Portugal vacation experience!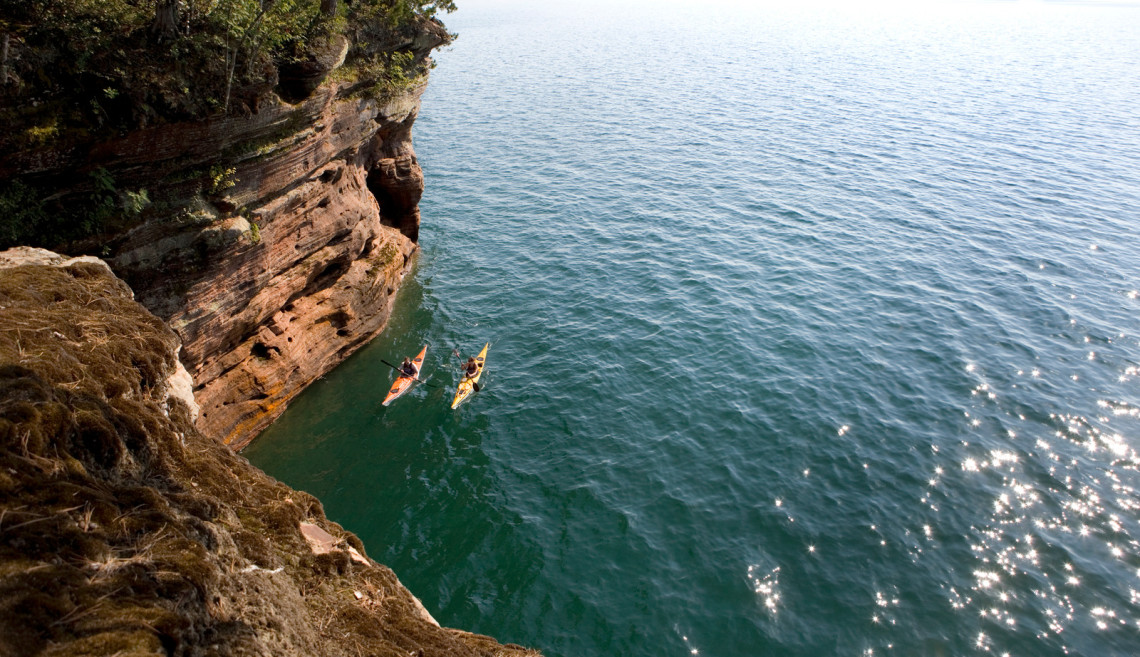 Surf in the Algarve Region of Portugal
There is a reason surfers consider the Algarve region of Portugal such a prime destination: Surfing in the Algarve is simply an unforgettable experience. With miles of soft white sand meeting clear turquoise waters, the area is nothing short of a surfer's paradise. Whether you are an experienced surfer or just a novice surfer starting out, there are plenty of Algarve surf spots to choose from throughout this picturesque region, catering to all levels of expertise. From the mellow rolling waves of Praia da Rocha and Praia do Vau to the more challenging waves of Praia da Marinha, Tavira Island, and Vale Centeanes, there are options for all levels of surf skills (or lack thereof!).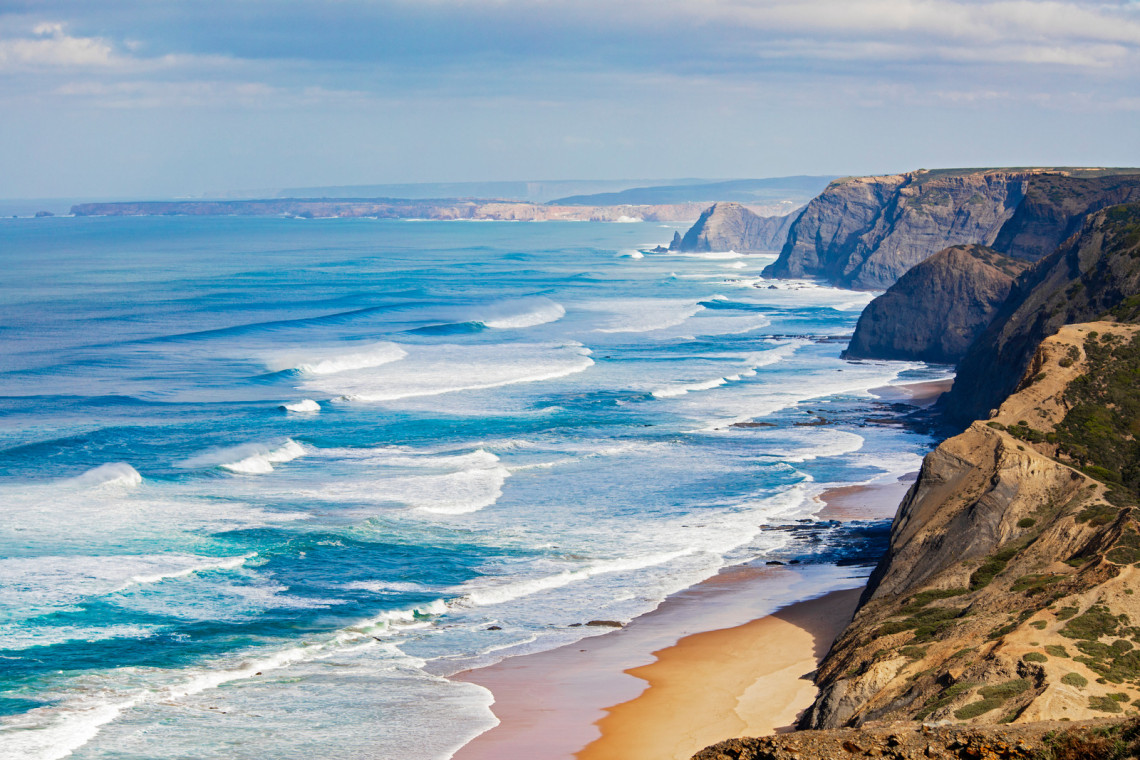 For surfers looking for a greater challenge during their Algarve trip, there are a few iconic Algarve surf spots around Sagres on Portugal's southwestern tip. The powerful Sagres waves attract experienced surfers from around the world and offer some of the best surfing conditions in Europe. For beginners or those who want a more relaxed surf setting, your best bet is to head east towards Olhão, where you'll find plenty of small and gentle beach breaks perfect for learning how to surf or honing your skills before tackling bigger waves.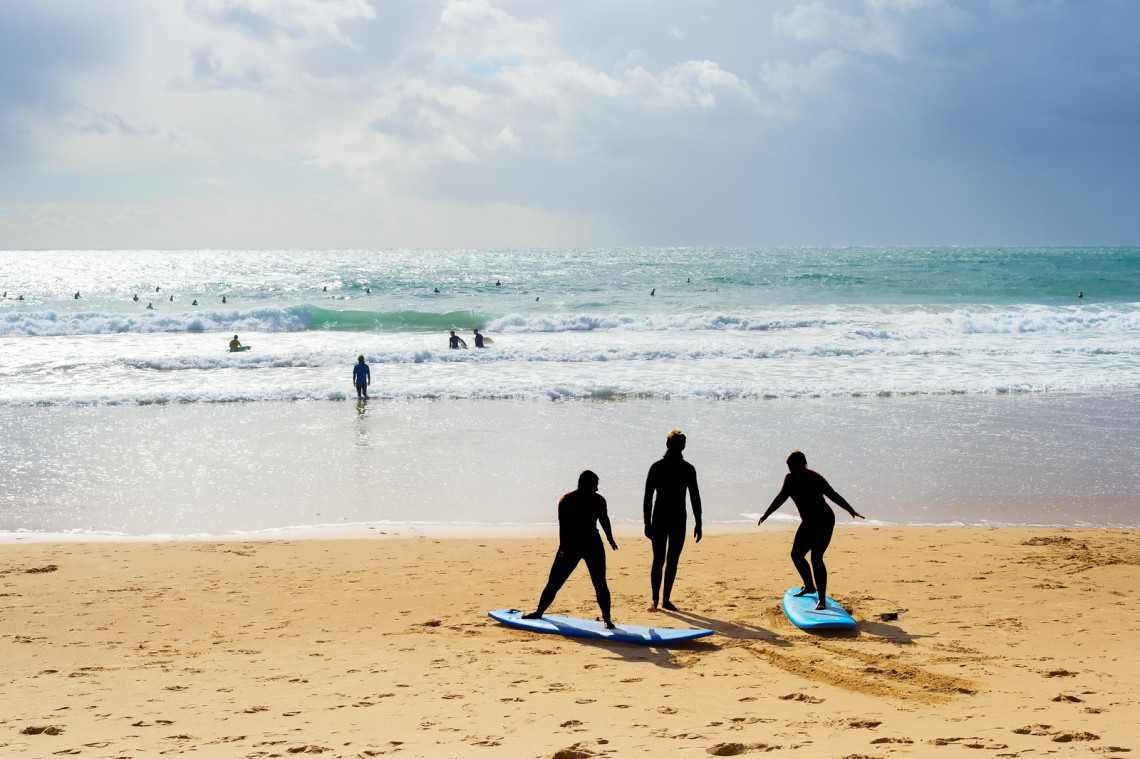 The impressive coastline in the Algarve stretches from Cape St. Vincent—the most Southwestern point in mainland Europe—all the way past Faro in eastern Portugal, and provides over 200 miles of gorgeous beaches boasting an incredible variety of waves suitable for all abilities and skill levels. More good news for surfers looking to add the Algarve to their Portugal surf vacation itinerary is that there´s really never a bad time to catch some waves here. That´s because the mild Algarve climate allows surfers to enjoy year-round surfing throughout spring, summer, and autumn, with crystal clear waters and sunshine practically every day! For an extra special experience, visit Algarve during August, when temperatures soar into the 30s Celsius (90F).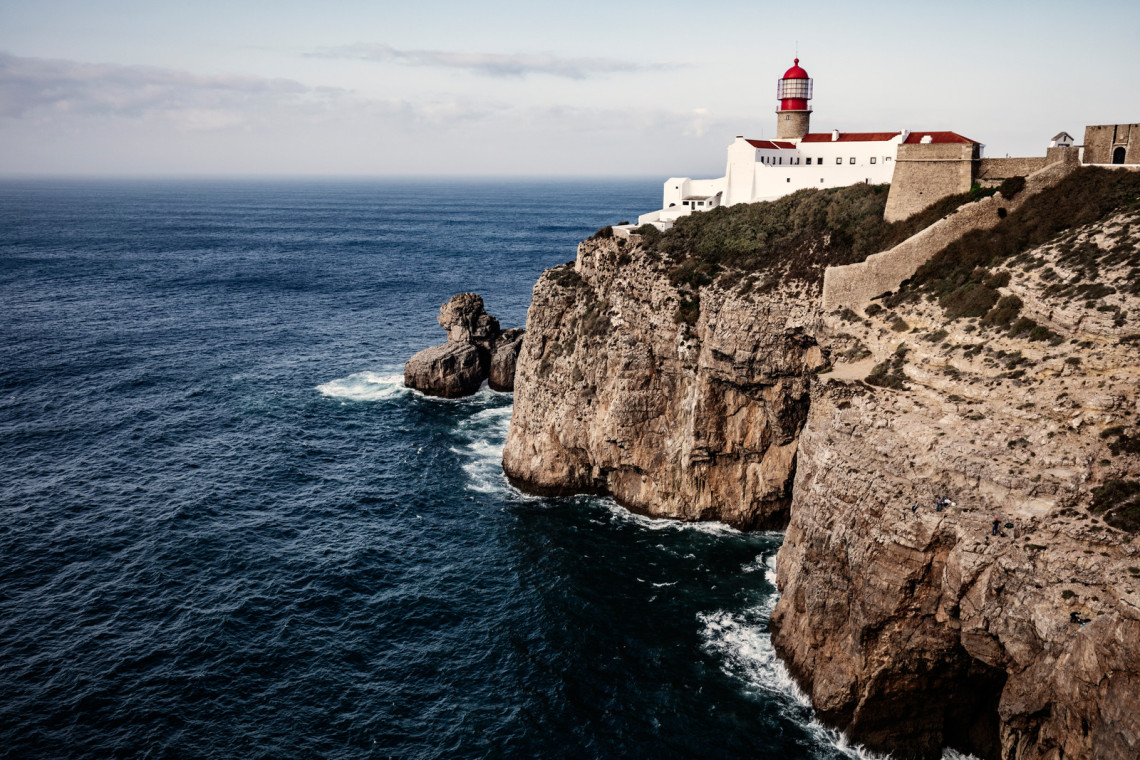 Whether it's catching waves at one of the many surf spots lining the Algarve's captivating coastline, or simply soaking up some breathtaking beach views while catching one last wave before nightfall, surfing in the Algarve, Portugal will leave you feeling truly alive, and itching to plan your return visit to your favorite Algarve surf spot before you´ve even left for home!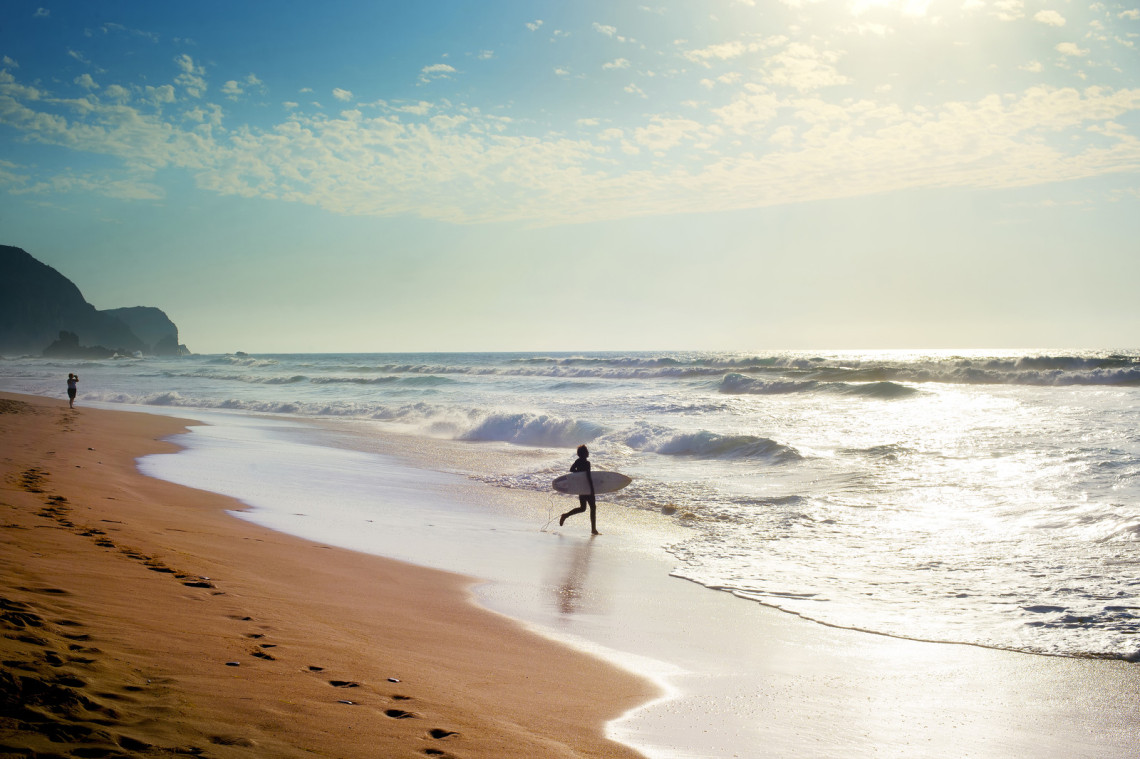 Are you already in love with Portugal? Take a look at our stress-free packages that allow you to book your ultimate Portuguese adventure. All our packages are carefully curated by our team of local Portuguese experts so that you don't need to worry about any details - just enjoy your trip!

Stand Up Paddle in the Algarve Crystal Clear Waters
Fancy stand-up paddle boarding? If so, you won´t be surprised to hear that stand-up paddle boarding in the Algarve region of Portugal is a great way to explore its varied coastline. Boasting over 150 kilometers of coastline, the Algarve offers an abundance of accessible beaches, coves, and inlets for vacationers to explore. The sea in the Algarve area can be quite serene and tranquil on calm days, which novice paddle boarders will certainly find comforting, while more experienced paddlers can enjoy some more challenging paddle boarding with wind and wave action in the Algarve region as well.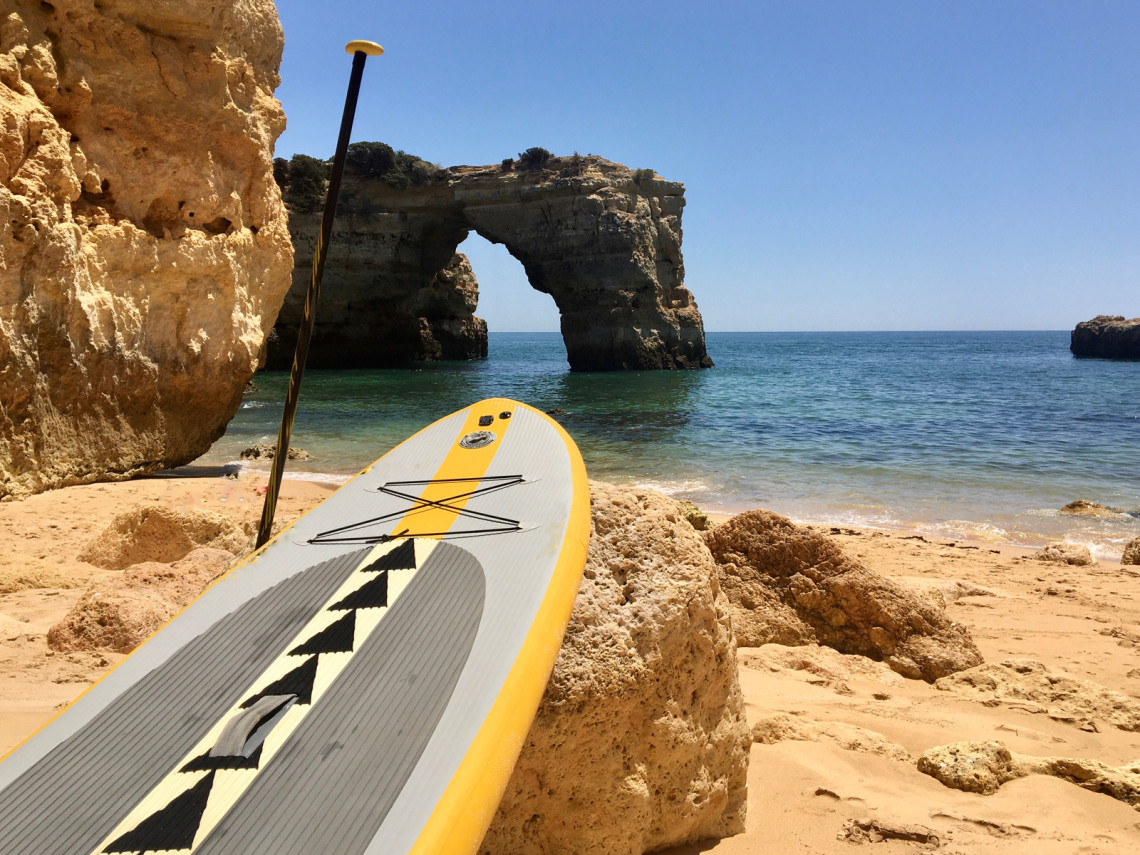 The bottom line and most important thing to know is that no matter what time of year you plan to visit the Algarve during your Portugal holiday for stand-up paddle boarding, you're sure to have an enjoyable outing. From family-friendly flat water options to bigger waves for the more adventurous paddler, there's a suitable level of challenge that fits everyone. Still a bit nervous and not too confident in your paddle board prowess? Don´t be! For those looking for lessons or guided tours, there are plenty of local Algarve companies offering these services, as well as an abundance of rentals and storage options if you'd prefer to bring your own board along with you.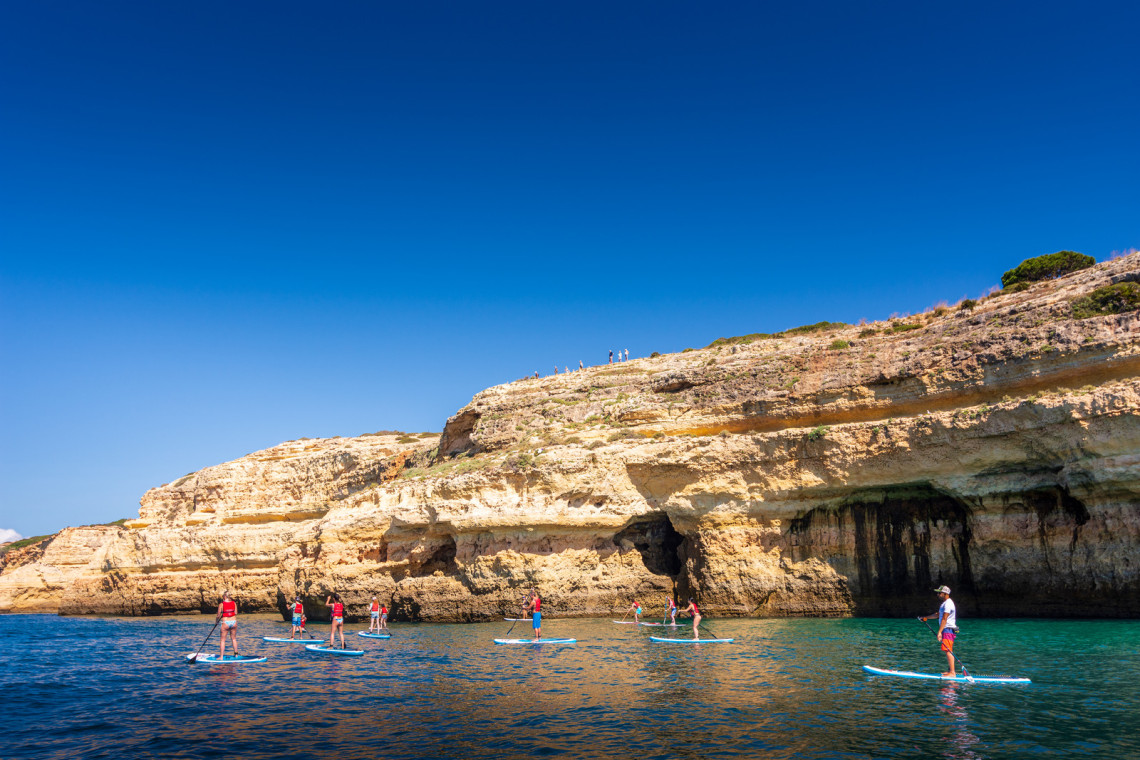 Cliff Climbing and Exploring Algarve's Rocky Landscape
Exploring the beaches and cliffs of the Algarve region in Portugal is an incredible experience that should not be missed! For those traveling to Portugal´s Algarve looking for something more adventurous to do, there are several great Algarve rock climbing spots where you can scale up the sheer faces of some of the tallest sea cliffs in Europe! There are even small boats available for rent that will take you out to visit hidden coves and caves scattered along the Algarve shoreline. No matter what Algarve activity you enjoy most, you will be sure to find it at one of the many beautiful beaches in the Algarve area.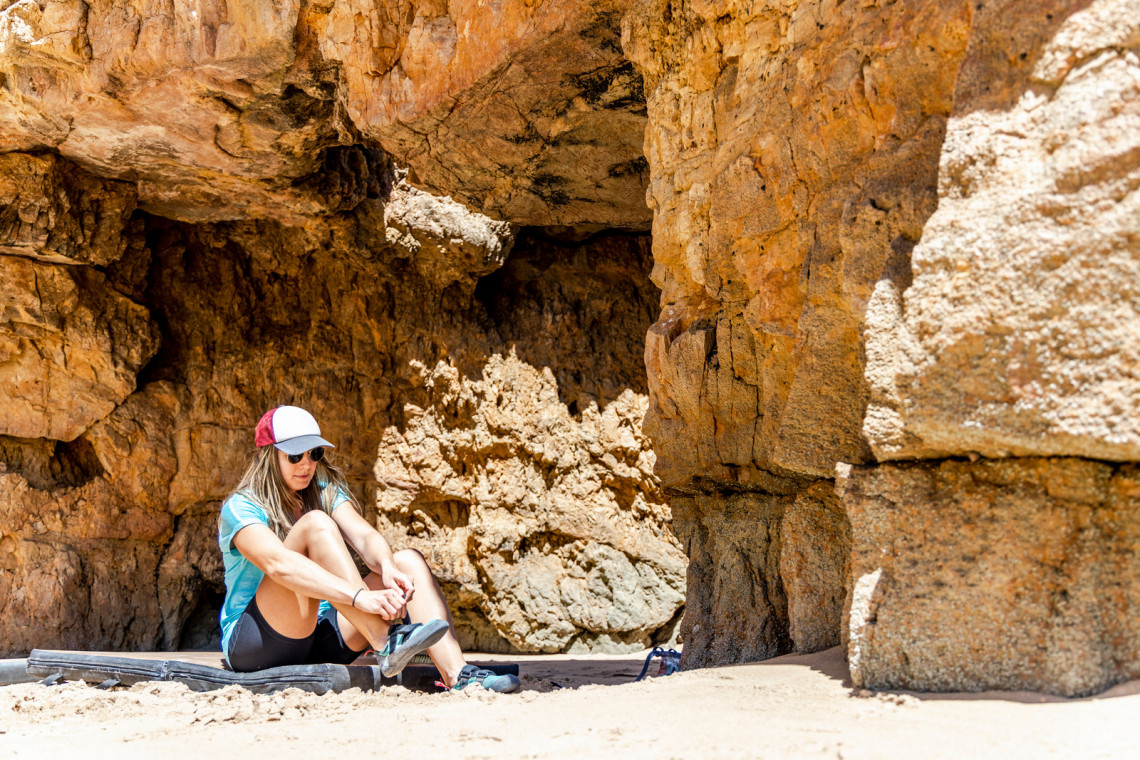 Speaking of beautiful beaches and Algarve destinations, one of the most breathtaking sights in all of Portugal is located just off the coast near Faro, where unspoiled cliffs tower over 500 feet tall overlooking the waves below. These steep slopes provide both an incredible view for onlookers and challenging climbs for experienced rock climbers.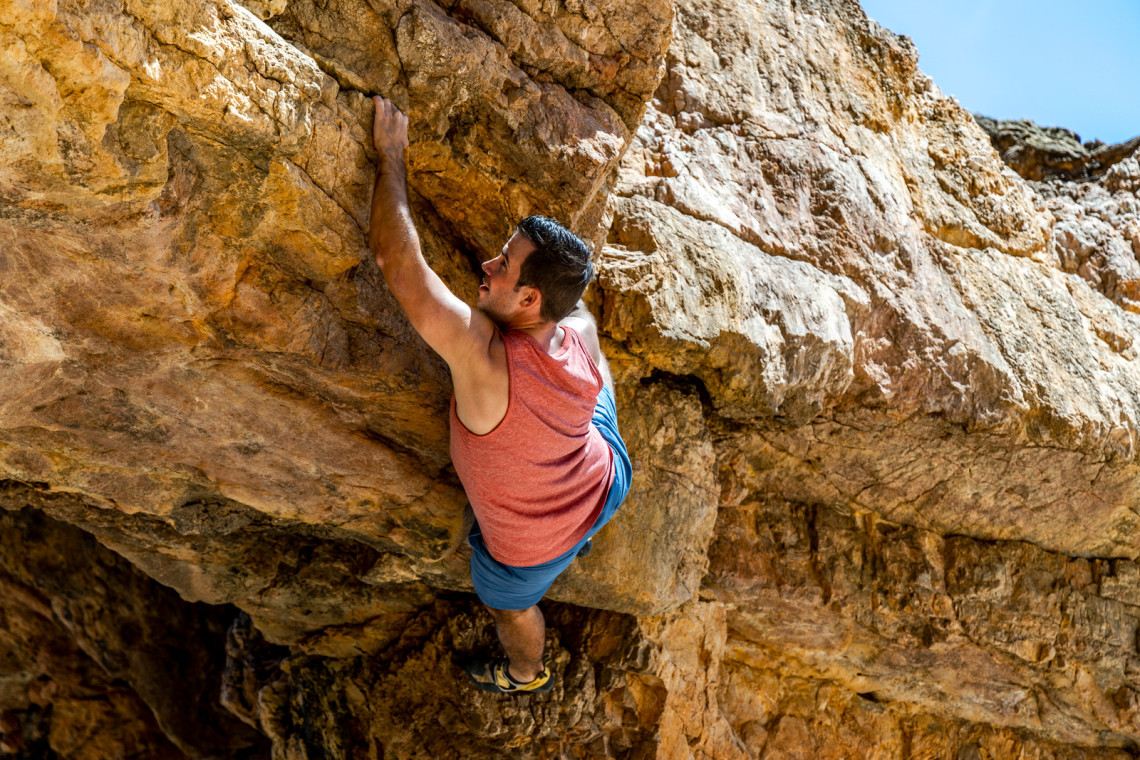 For climbers who would rather stay close to shore, there are plenty of much smaller, but no less spectacular, cliffs interspersed along the coastline offering a safe haven for those seeking shelter from strong winds or heavy surf. In addition to these dramatic seascapes, beachgoers making the Algarve a stop on their Portugal travel itinerary will also be delighted by some of Europe's finest sandy shores, featuring legendary big waves that as we mentioned previously, attract surfers from around the world!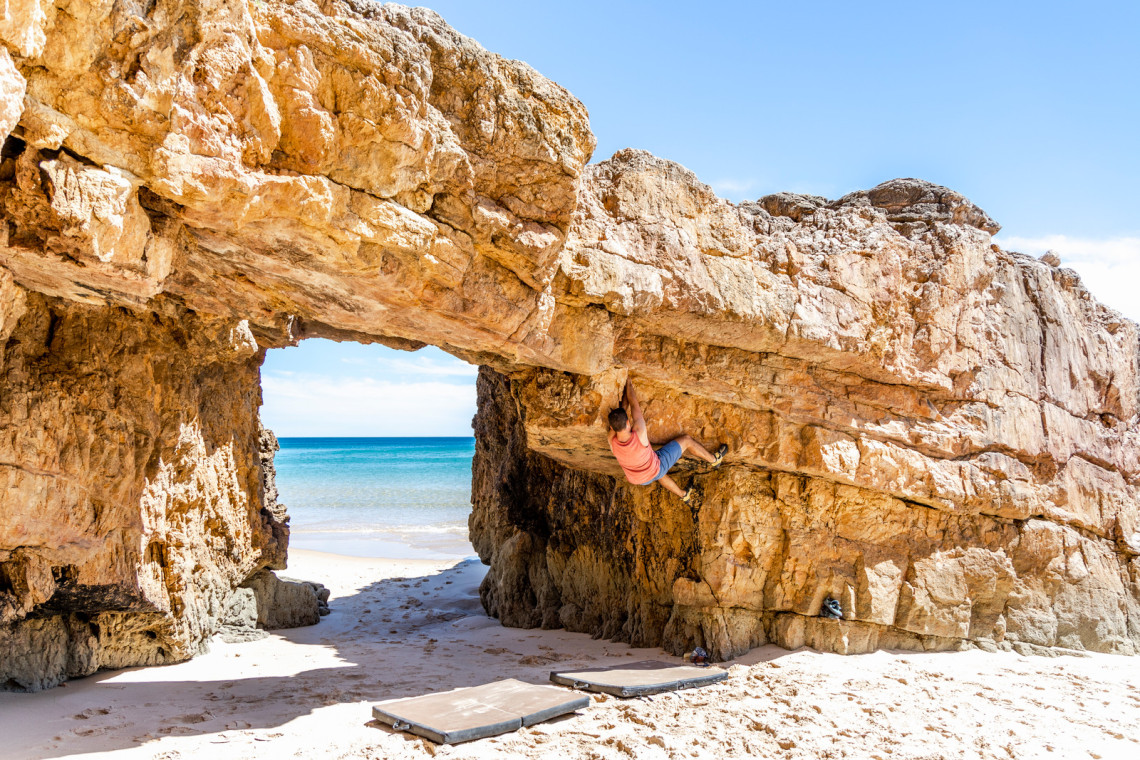 Yoga and Pilates Classes In Algarve's Relaxing Beaches
The Algarve region of Portugal is also home to an array of dynamic and unique yoga and pilates offerings. From traditional hatha yoga to more specialized forms of yoga, such as aerial yoga, there's something for every yogi to enjoy in this remarkable region.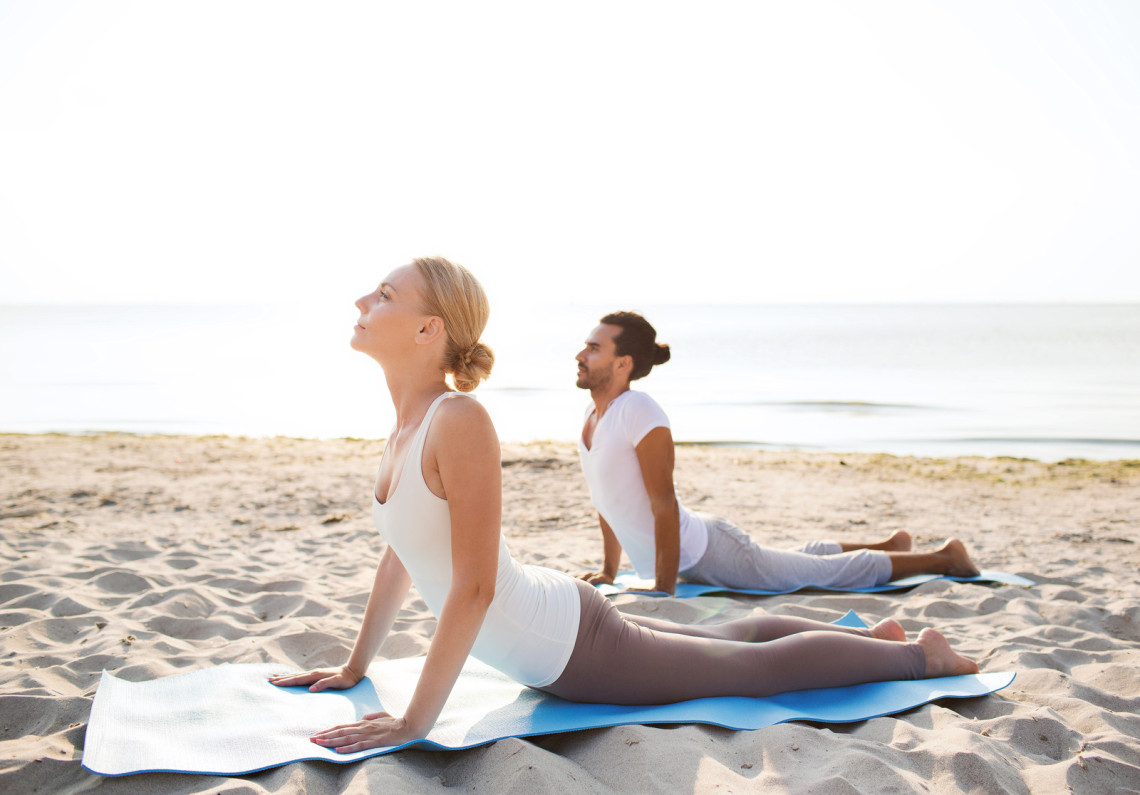 For those looking to relax, Pilates is a great choice due to its emphasis on core strength and postural alignment, which can help reduce body tension and improve overall well-being. If you are more of an action and adventure seeker, or you are simply wanting to take your yoga practice to the next level, bringing it up a notch or two, the Algarve is a proverbial natural playground with no shortage of places perfect to improve and increase the challenge of your practice amid truly stunning landscapes.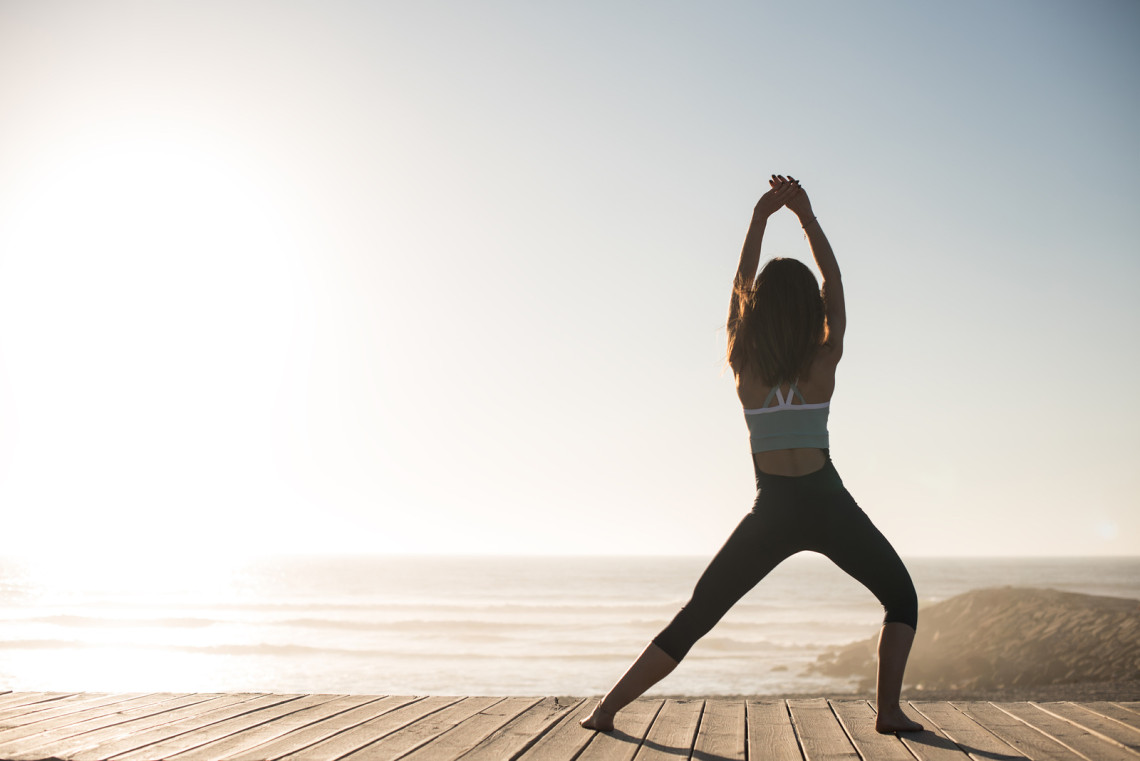 From the forests of the Monchique Mountains to the cliffs of Lagos, there are numerous outdoor yoga retreats and classes to be found in the Algarve area throughout the year. This open-ended timing couldn´t be more ideal, as it allows you to combine your yoga practice with some unique sightseeing, no matter what time of year you plan your Algarve trip.
Boat Tours Through Algarve's Natural Attractions
Boat tours in the Algarve region of Portugal provide travelers with a unique opportunity to explore the beauty and history of this unique and lovely coastal destination. From relaxing cruises along the breathtaking cliffs of the coast to thrilling sea-faring adventures, Algarve boat tours are perfect for exploring all that this seaside paradise in Portugal has to offer.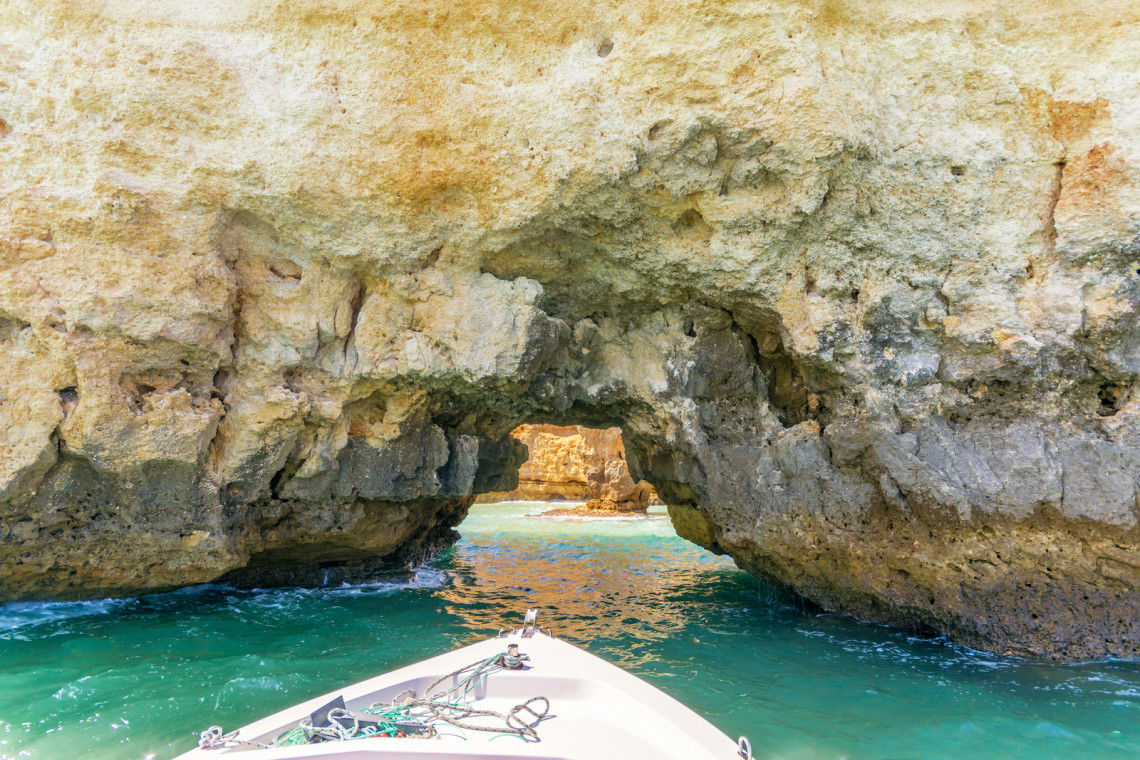 The Algarve is renowned for its picturesque lagoons, cliffs, and beaches, so many boat tours give guests a chance to experience them firsthand from the comfort of a luxury vessel. Visitors can explore hidden coves and inlets up close with a professional guide who provides detailed information about local ecosystems and points of interest along the way. A typical Algarve boat tour begins at one of the region´s many popular ports, such as Vilamoura or Albufeira. It takes guests on an unforgettable journey through the crystal-clear waters of the Atlantic Ocean. Guests making an Algarve boat tour a part of their Portugal holiday will have ample opportunities to take amazing photos while they explore small islands, witness mangroves, spot different types of wildlife, or simply relax on deck while taking in breathtaking views of the coastline stretching into the horizon.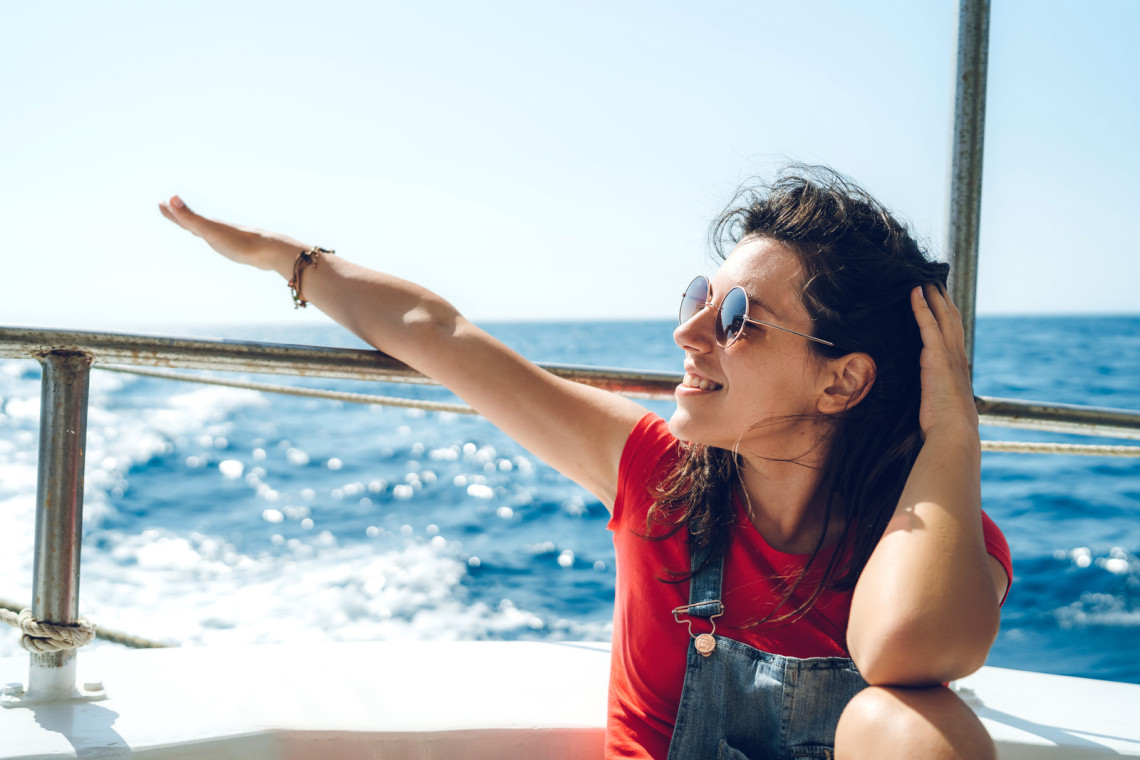 For those looking for an even greater Algarve adventure, some boat tours include activities like fishing and snorkeling, where guests can discover incredible underwater sights like colorful coral reefs or unique species living in deep waters. Algarve boat tours also provide passengers with a fascinating insight into Portuguese culture as they pass by traditional fishing villages that dot the southern coastline or visit historic monuments located on various islands throughout the region. Ultimately, no matter what type of Algarve tour you decide upon – whether it's a leisurely cruise around tranquil lagoons or an action-packed adventure through scenic landscapes – boat tours in the Algarve are sure to leave you with lasting memories of your Portugal holiday that you won't soon forget!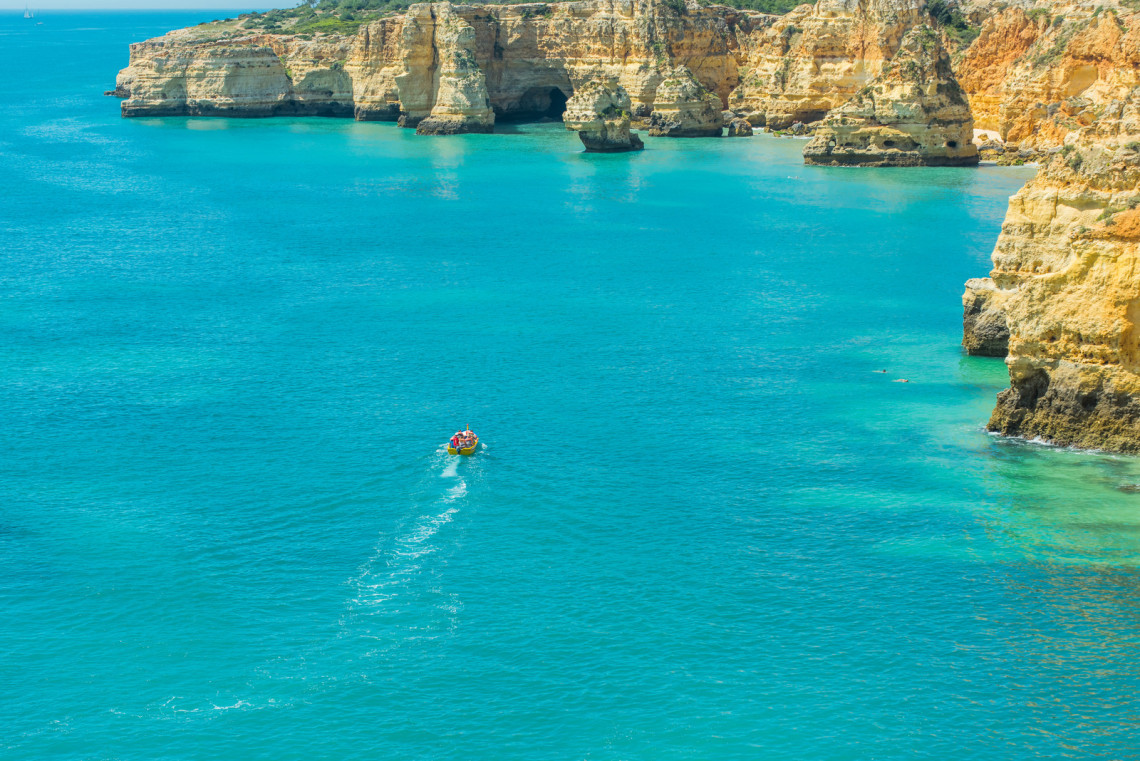 Scuba Diving and Snorkeling In Algarve's Turquoise Waters
Scuba diving in the Algarve region of Portugal is a once-in-a-lifetime experience. From its clear, turquoise waters to its abundance of marine life, Algarve is a paradise for divers. The shallow shorelines and sheltered coves found in the Algarve region of Portugal make it an ideal destination for novice divers and experienced divers alike. And can we talk about the near-perfect weather? With its mild climate and calm seas, the Algarve is an ideal spot to explore underwater. From sea turtles to reef sharks and moray eels, there's something new to discover around every corner.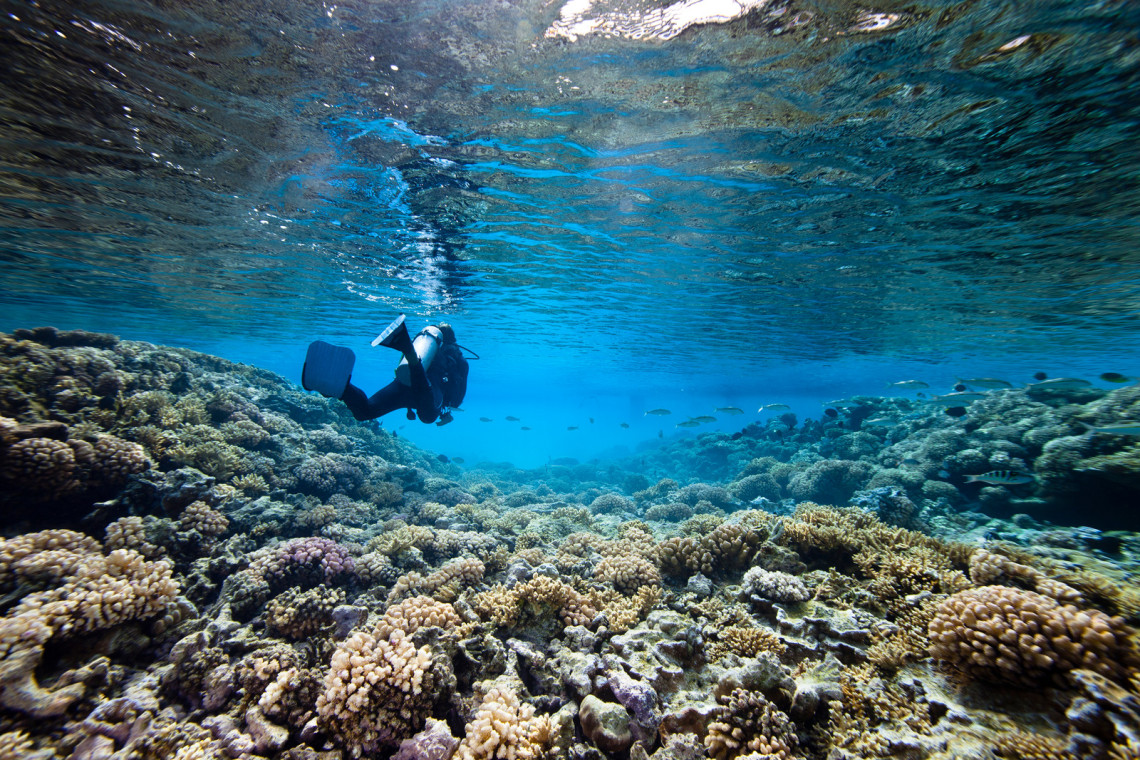 For the animal lovers out there, you will be excited to know that the waters off the coast of Portugal are home to a diverse range of aquatic species, including pink sea fan coral, angelfish, groupers, barracudas, octopus, and much more. Whether you're looking for a leisurely dive or an exploration into deeper waters, there's an Algarve option for everyone here. Even more good news is that the visibility underwater is generally good here in Algarve thanks to the region´s minimizing pollution and the low silt levels in the water. Plus, with temperatures ranging from 12°C in winter and up to 22°C in summer, there's lots of opportunity to go diving year-round in the Algarve - even at night!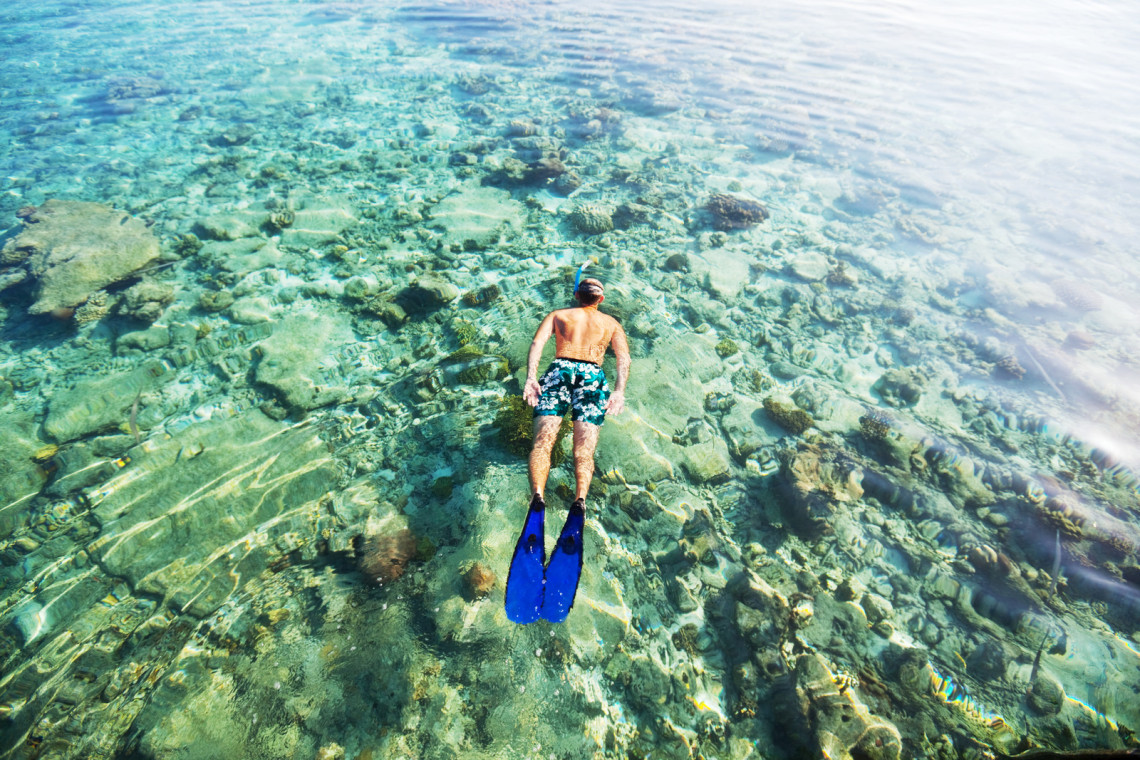 The Algarve region has some incredible shipwrecks that can be explored, too, including Brigadier Ferry – which sunk off the coast of Lagos city in 1983 – as well as several other wrecks found further out along the coast towards Faro, which was used during World War II. There are many different underwater caves that can be explored also, some of which are found nearer to the shore, while others require a longer journey further out into open water. These caves offer an awe-inspiring Algarve experience that can be the highlight of your Portugal travel, with some containing rocks full of fossils dating all the way back to prehistoric times!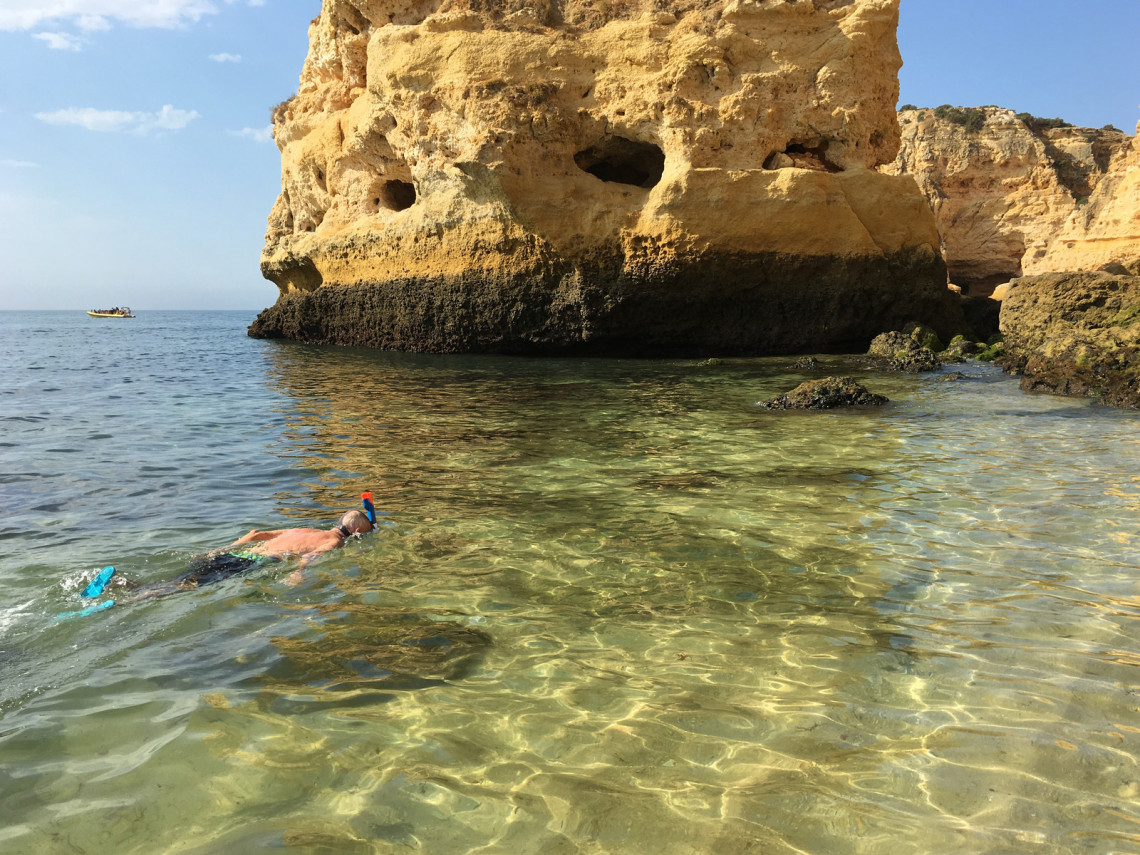 Whether you're looking for a relaxing dive or an adventure full of exciting discovery and exploration, scuba diving in the Algarve region is sure to deliver on all points! With its variety of marine life and the incredible visibility offered by its crystal clear waters - and not to mention its proximity to all corners of Europe - the Algarve really is one of the best places on Earth for scuba diving enthusiasts to enjoy their preferred ocean activity!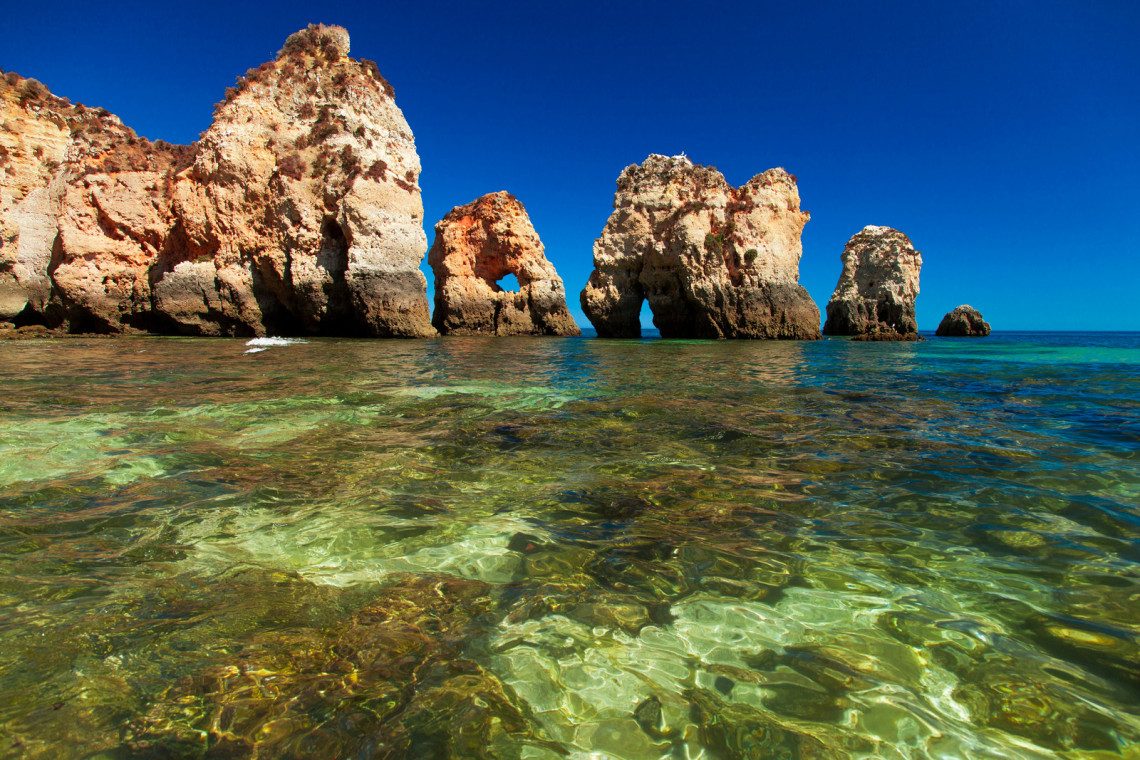 The Algarve: A Paradise for Outdoor Adventurers
The Algarve region in Portugal has something special waiting around every corner. Whether it's kayaking through breathtaking scenery while learning about local wildlife, exploring caves and cliffs, practicing yoga, taking boat tours, diving beneath waves, or stand-up paddleboarding, this remarkable region in southern Portugal truly has something for everyone! So, pack your bags and book your Algarve, Portugal tickets today, because amazing adventures await! You won't regret it!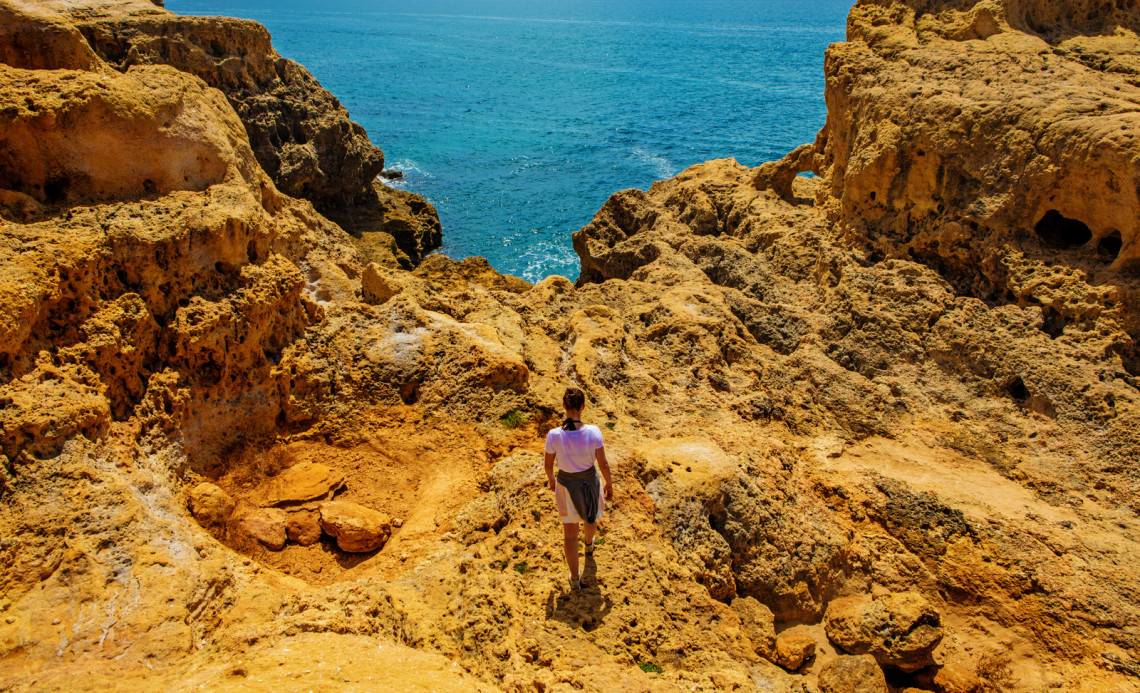 Explore Portugal Your Way: Customizable, Tailor-Made Trips for Your Dream Adventure!
If you're looking to explore Portugal at your own pace, we have got you covered. Our team of specialists will work with you to create a custom-made trip that suits your preferences and budget. Whether you want to indulge in the local cuisine, explore the historic cities, or soak up the sun on beautiful beaches, our tailor-made packages offer the flexibility and freedom to discover the highlights of Portugal at your own pace. So why wait? Contact us today and let us help you plan an unforgettable trip to Portugal!