Lisbon's Rua Augusta's Arch
During your Lisbon travel, did you know that you can spend your time in the capital city of Portugal actually walking through history? We're talking about stepping through Lisbon's iconic Rua Augusta Arch! Located in Praça do Comércio, Rua Augusta Arch is a triumphant and gloriously majestic arch built as a commemoration of the capital city's speedy recovery and reconstruction following the disastrous earthquake of 1755 that devastated much of Lisbon, Portugal.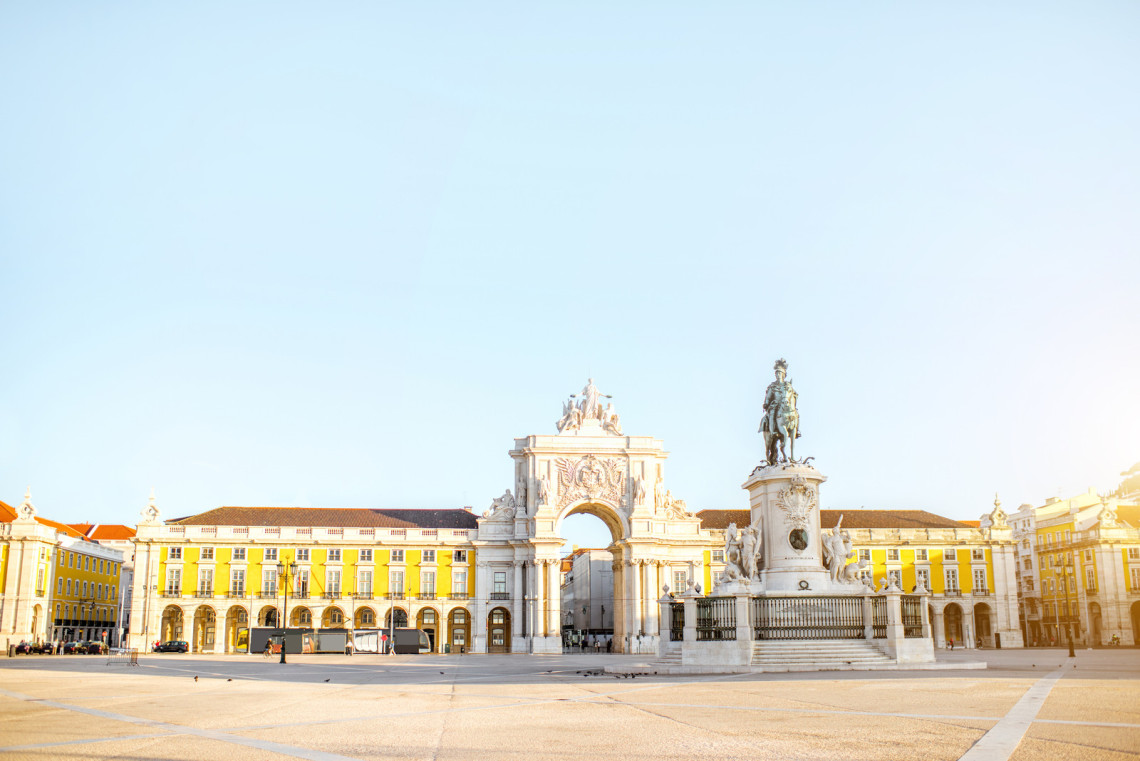 The regal Rua Augusta Arch really is a feast for the eyes and a must-see during your Lisbon vacation. The arch itself features 6 columns (the highest of which tower at 11 meters high). as well as several well-known Lisbon historical figures -- Nuno Álvares Pereira and Marquês de Pombal on the right side, and Vasco da Gama and Viriatus on the left side, paired with the Portuguese coat of arms. When visiting this famed landmark, one will feel small amid the absolute grandeur. After all, due to the incredible height of the arch itself, the figures depicted on it had to be colossal in order to be seen in their full resplendence. It truly is a wonder to behold and among one of the capital city of Lisbon's most beautiful sights!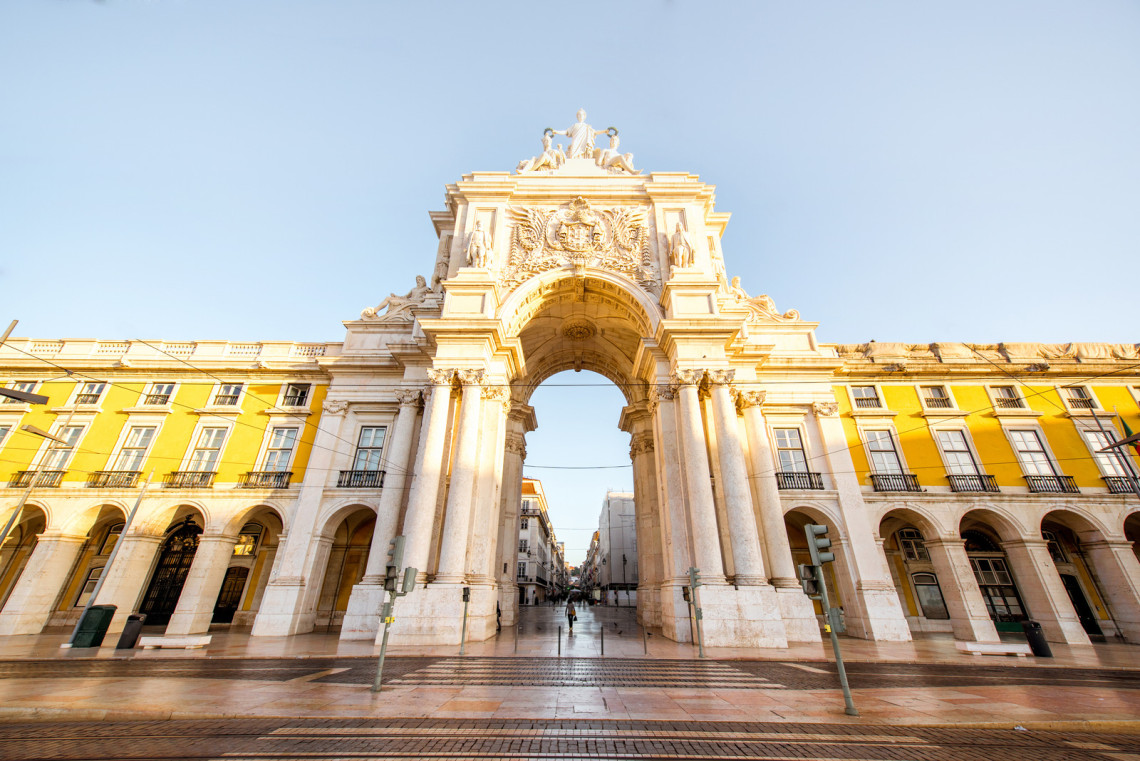 Now, back to the details – particularly the intriguing and symbolic figures featured– of this amazing arch that has become a beloved Lisbon work of art. One figure – the female allegory of Glory – stands on a three-step throne and holds two crowns. Another figure – Valor – is personified by an amazon, partially covered with chlamys and wearing a high-crested helmet with dragon patterns, which were the symbols of the House of Braganza. In her left hand, this majestic figure holds the parazonium, with a trophy of flags behind. And then there is Genius, which features a statue of Jupiter behind his left arm. On his left side, the attributes of writing and art are depicted.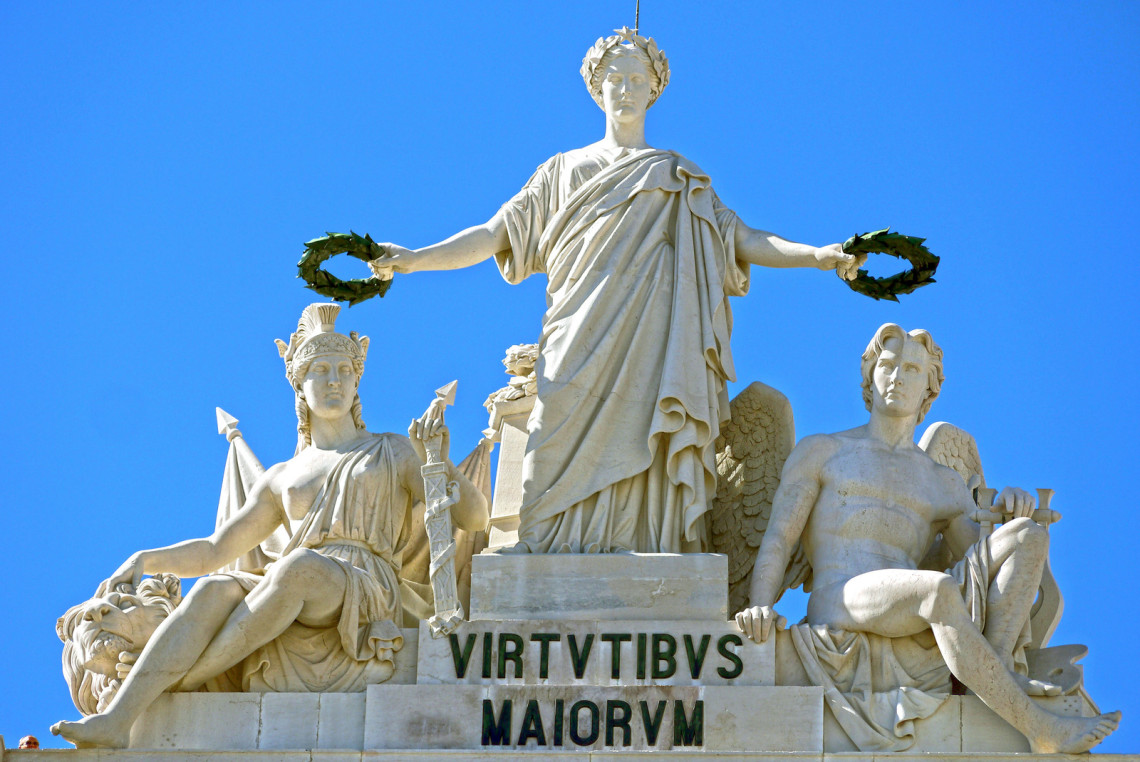 As for the pair of recumbent figures featured, this dynamic duo represents the Tagus and Douro rivers. Written in Latin, viewers can read the inscription, which translates into English as: "The Virtues of the Greatest". By way of the most beautiful artistry, this declaration is clearly a celebration of the strength, resilience, and achievements of the Portuguese people. This stunning allegorical artistry was created by the renowned French sculptor Célestin Anatole Calmels, which has best been described in a nutshell as a resplendent representation of Glory rewarding Valor and Genius.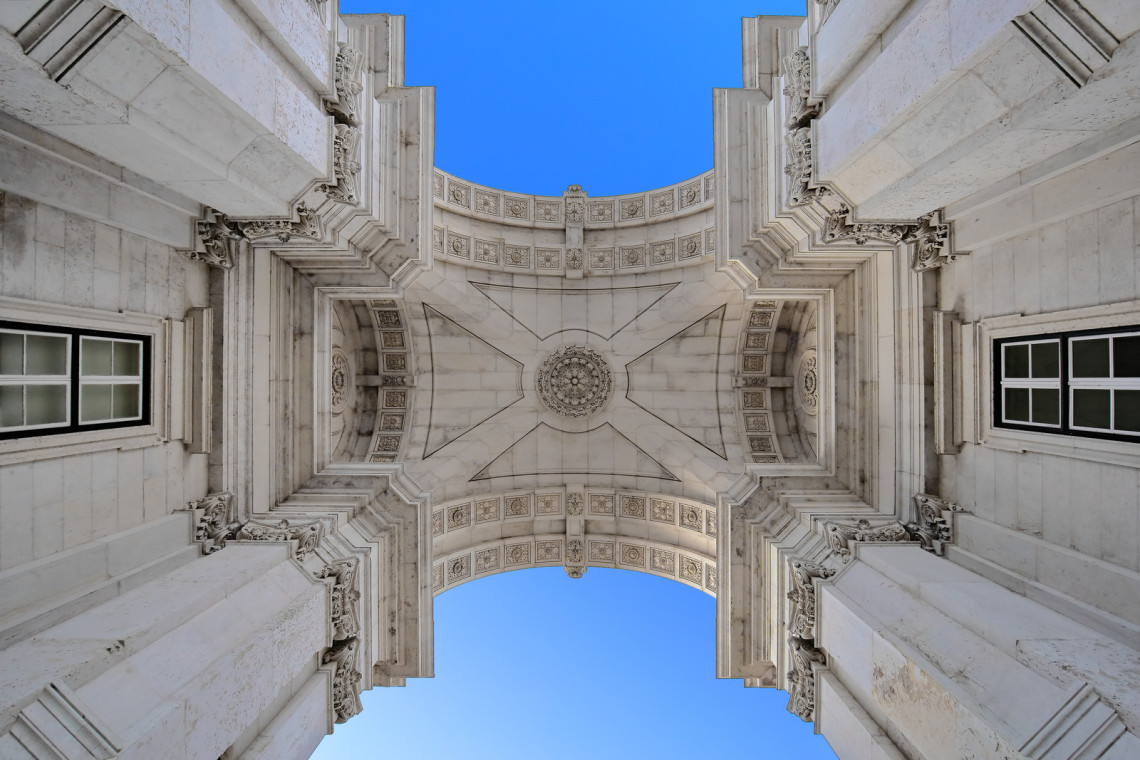 But the beauty of this awe-inspiring Lisbon arch isn't limited to the front side. Keep looking, and walk around its entirety during your Lisbon visit to this landmark, or you will miss out! Why? Because on the backside of the Rua Augusta Arch awaits an enchanting timepiece. That's right! It's a captivating clock, which is not only lovely to look at but is actually a working clock as well, guiding all pedestrians and Lisbon visitors to this iconic site as they wind their way around the capital city of Lisbon towards the Praça do Comércio.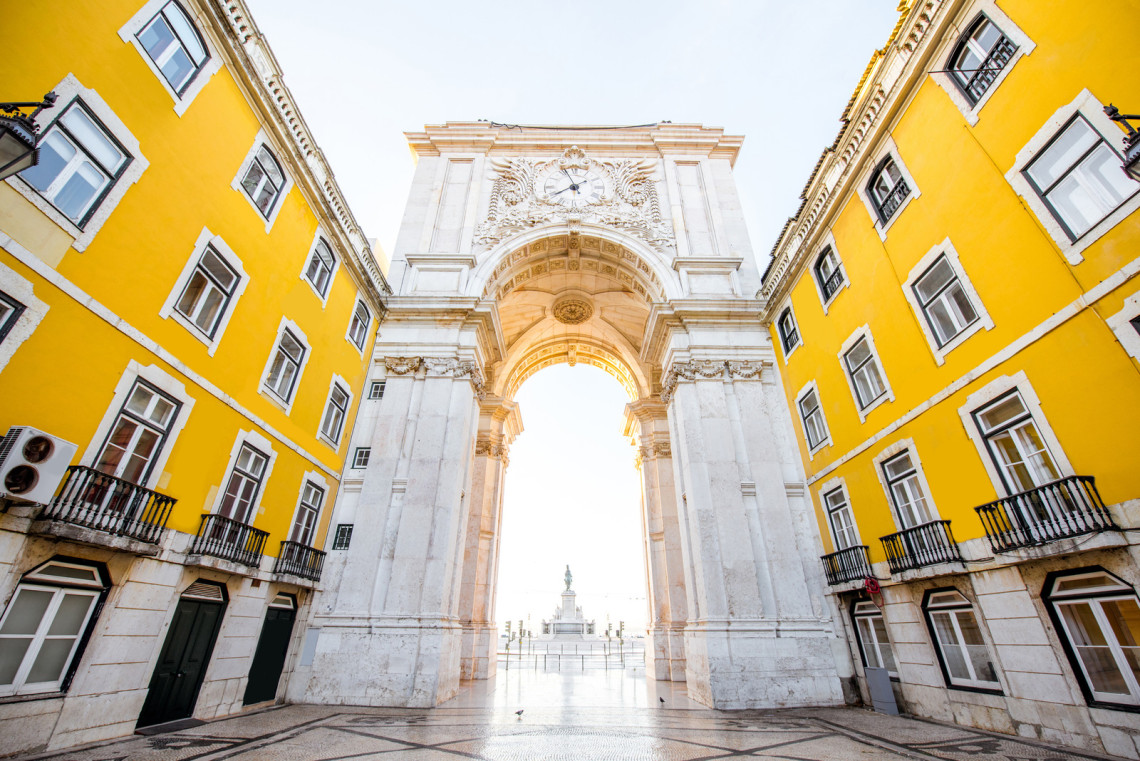 An absolute must-see during your Lisbon travel, the Rua Augusta Arch is just one of the many incredible attractions that await you in this stunning capital city. And the great news is that getting here is easier than ever, as flights to Lisbon – many of which are direct flights to Lisbon, such as Toronto to Lisbon, JFK to Lisbon, London to Lisbon, and more – are more numerous, and affordable, than ever.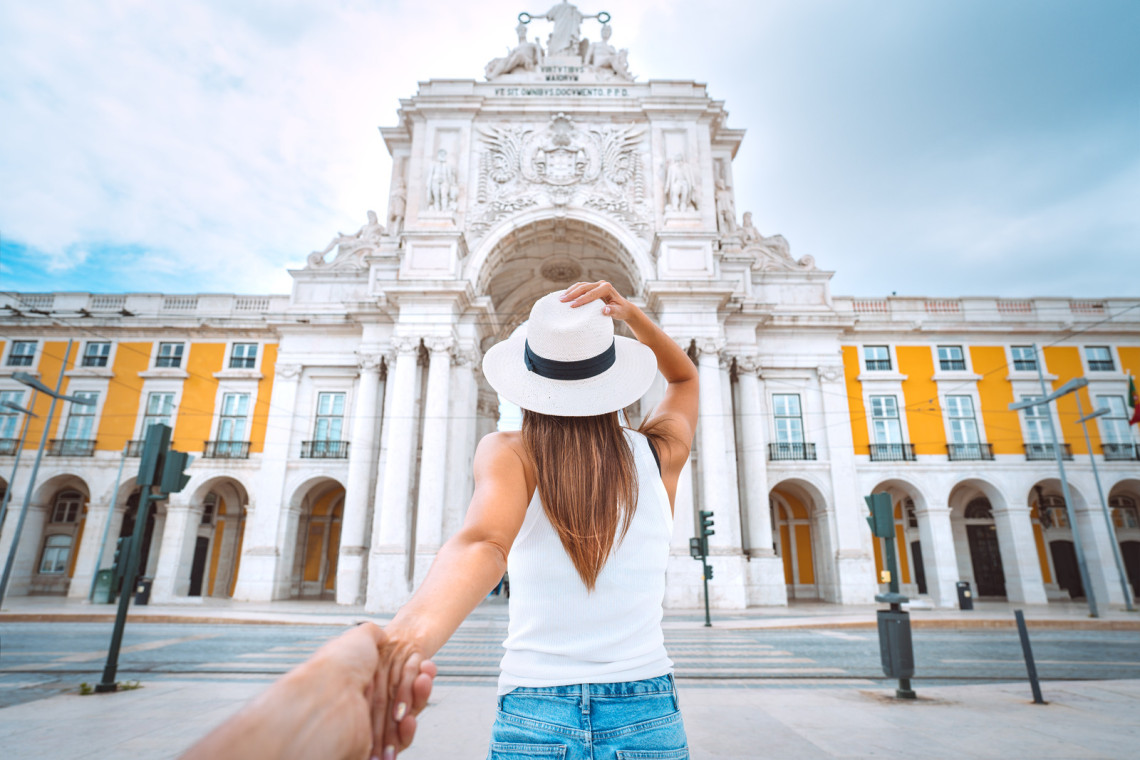 And once you arrive at the Lisbon airport, Lisbon car rentals, Lisbon accommodations, and Lisbon tours are at your fingertips – including capital city tours that will take you to get a gander at this alluring arch. We can help you with all of this, and more, leaving you to just enjoy your Lisbon travel, as you deserve and as it should be!