The Majestic Rua Augusta Arch: Lisbon's Iconic Landmark
Did you know that while in Lisbon, you can journey through history? Step into the past at Lisbon's renowned Rua Augusta Arch! Situated in Praça do Comércio, this majestic arch stands as a triumph of resilience, commemorating the city's rapid recovery and reconstruction after the devastating 1755 earthquake. The majestic Rua Augusta Arch is a must-visit during your Lisbon vacation. It boasts six towering columns, with famous Lisbon historical figures on the right (Nuno Álvares Pereira and Marquês de Pombal) and on the left (Vasco da Gama and Viriatus), along with the Portuguese coat of arms. When you stand before this iconic landmark, you'll be awestruck by its grandeur. The arch is so tall that the depicted figures had to be colossal to be seen in all their glory. It's truly a breathtaking sight and one of Lisbon's most beautiful attractions!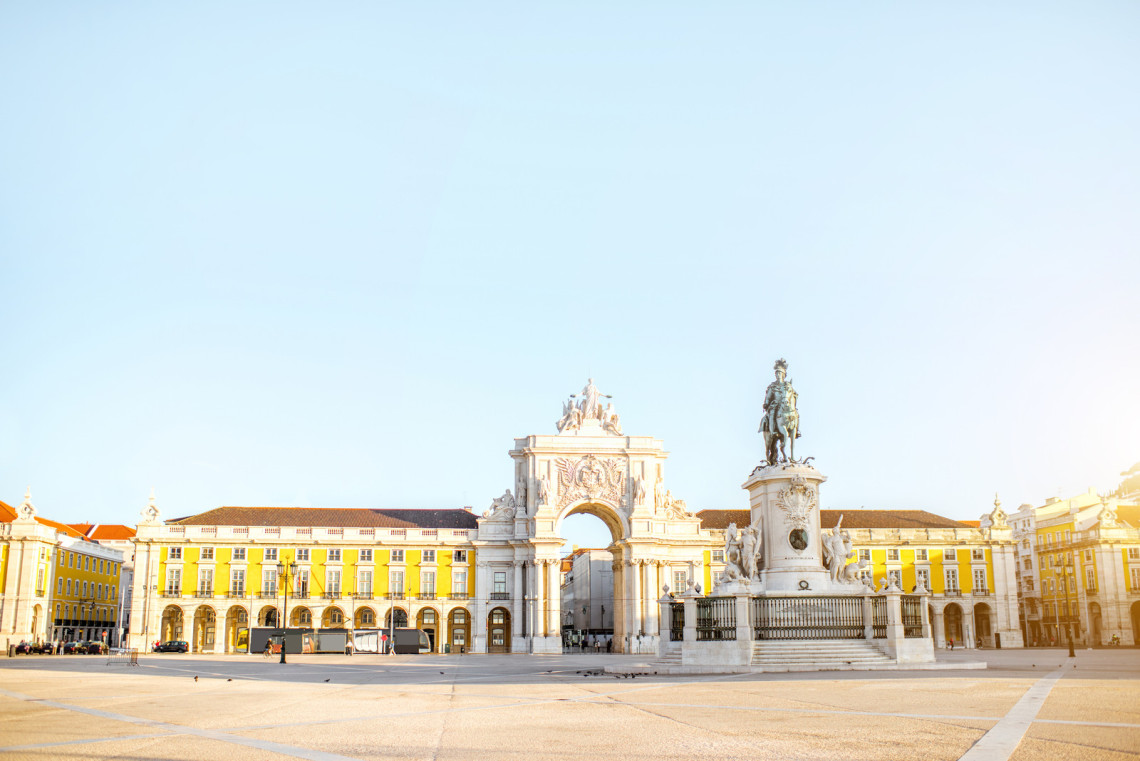 Let's delve into the fascinating and symbolic details of this remarkable arch, a true masterpiece beloved by Lisbon. Among the intriguing figures, you'll find:
1. The female allegory of Glory, seated on a three-step throne and holding two crowns.
2. Valor, embodied as an Amazon warrior, adorned with chlamys and a high-crested helmet featuring dragon patterns, symbolizing the House of Braganza. In her left hand, Valor holds the parazonium, with a trophy of flags behind.
3. Genius, with a statue of Jupiter behind his left arm. On his left side, you'll see depictions of attributes related to writing and art.
These symbolic figures add depth and meaning to the arch, making it a captivating work of art to explore.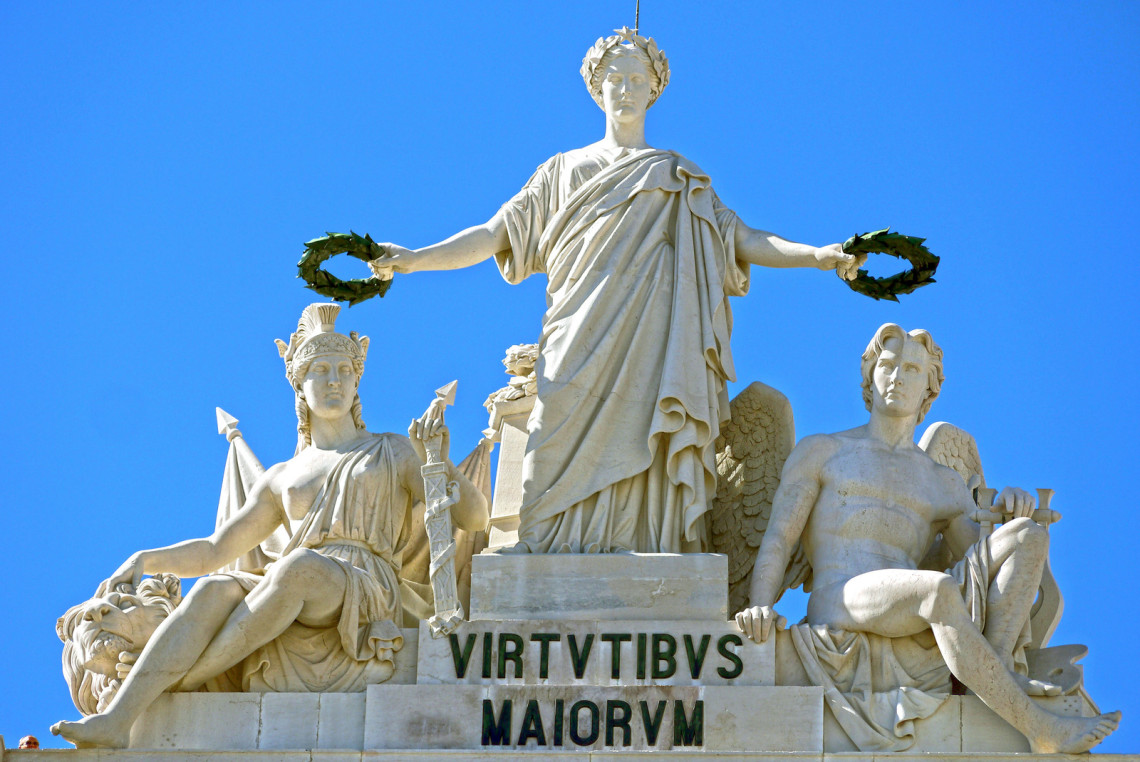 The pair of reclining figures on the arch symbolizes the Tagus and Douro rivers. An inscription in Latin, translated into English as "The Virtues of the Greatest," is prominently displayed. This inscription, beautifully crafted through artistic expression, celebrates the strength, resilience, and accomplishments of the Portuguese people. The renowned French sculptor Célestin Anatole Calmels is the mastermind behind this magnificent allegorical artwork, often described as a splendid representation of Glory rewarding Valor and Genius.
Are you already in love with Portugal? Take a look at our stress-free packages that allow you to book your ultimate Portuguese adventure. All our packages are carefully curated by our team of local Portuguese experts so that you don't need to worry about any details - just enjoy your trip!

But the beauty of this awe-inspiring Lisbon arch isn't limited to the front side. Keep looking, and walk around its entirety during your Lisbon visit to this landmark, or you will miss out! Why? Because on the backside of the Rua Augusta Arch awaits an enchanting timepiece. That's right! It's a captivating clock, which is not only lovely to look at but is a working clock as well, guiding all pedestrians and Lisbon visitors to this iconic site as they wind their way around the capital city of Lisbon towards the Praça do Comércio.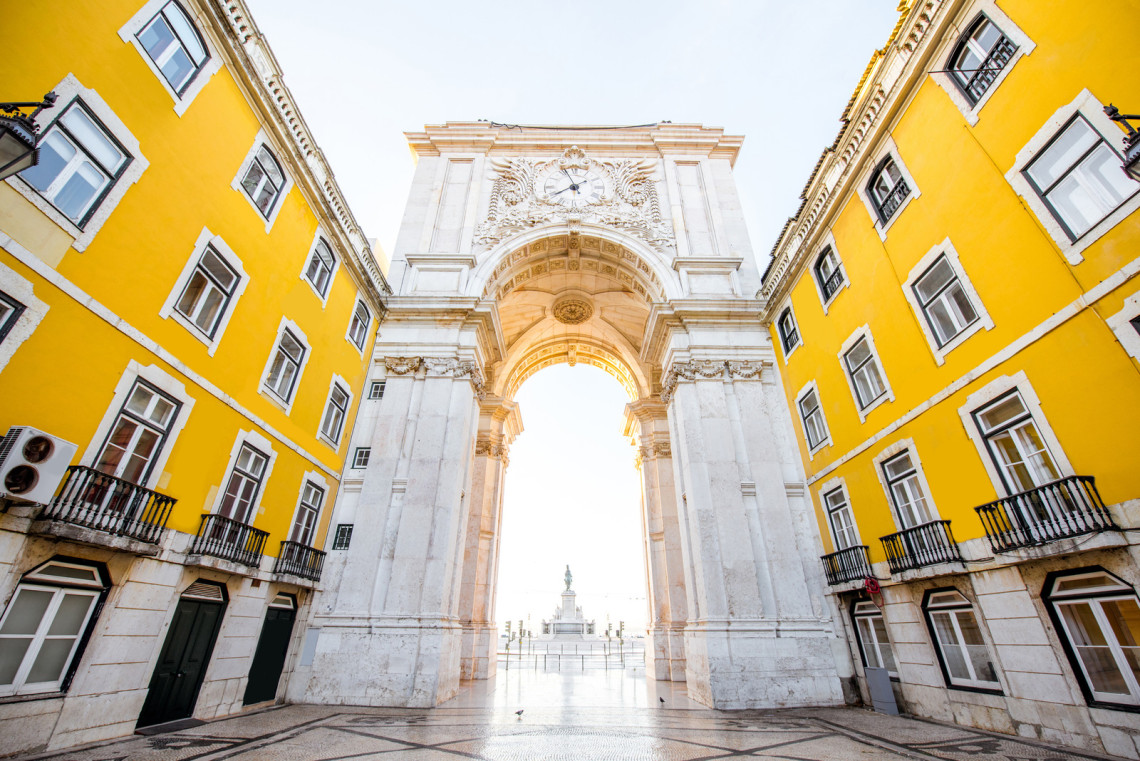 Don't miss the Rua Augusta Arch on your Lisbon trip—it's one of many fantastic attractions in this stunning city. Getting here is now easier than ever, with numerous affordable flights to Lisbon, including direct options like Toronto to Lisbon, JFK to Lisbon, London to Lisbon, and more. Once at the Lisbon airport, you'll have access to car rentals, accommodations, and tours, including city tours that showcase this captivating arch. Ready to book your dream destination to Lisbon? Book your trip now!