Lisbon Beaches: The Perfect Summer Destination
When most people think of Portugal's capital city of Lisbon, visions of a cool, chic metropolitan city flash through their minds, conjuring an image of a cosmopolitan wonderland filled with fashion, culture, nightlife, fun, and excitement. While all of this is absolutely true of Lisbon — with its dazzling attractions ensuring visitors will never ever be bored — the capital city of Portugal offers much more.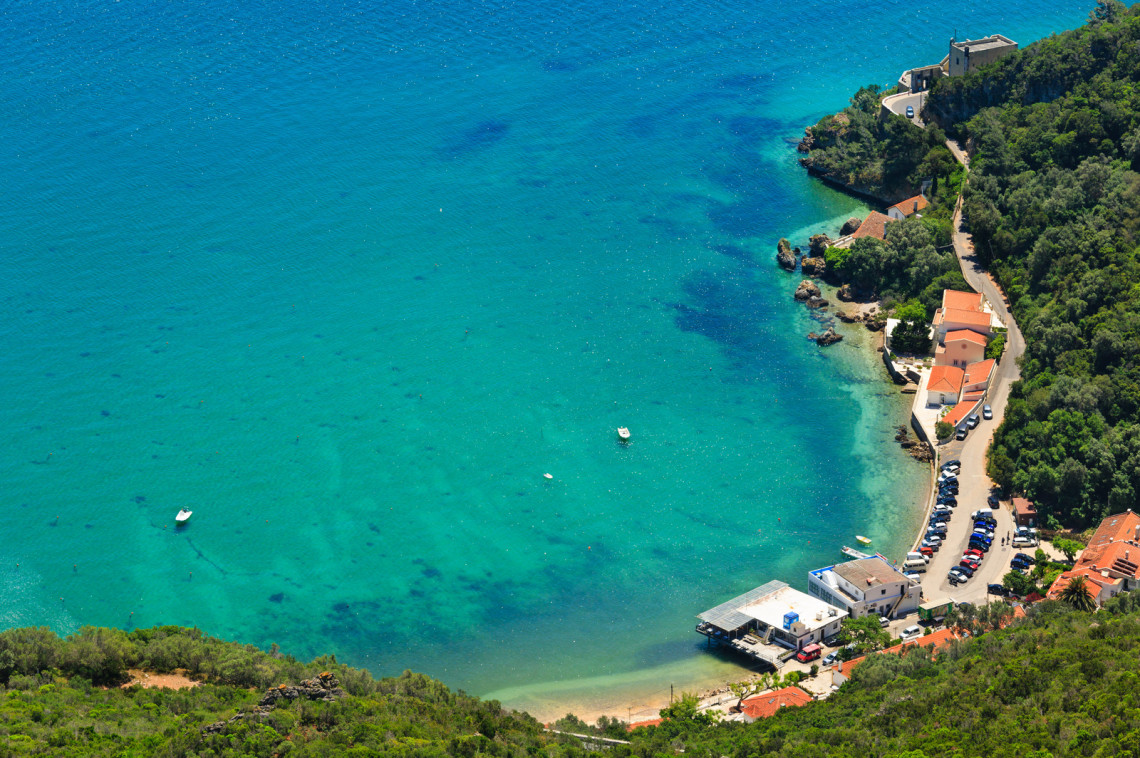 In fact, it may surprise you to learn that Lisbon, Portugal not only is the ideal European destination for your dream city break but is also an excellent option for those seeking some fun in the sun and time at a stunning, sunny beach. That's right! Lisbon and its vicinity do indeed offer travelers some excellent options for getting outside and enjoying the sand and surf. So, pack your swimsuits and surf trunks while packing for your Lisbon travel, because we are breaking down the very best beaches that can be easily reached from the capital city of Lisbon.
Wondrous White Sands of Costa da Caparica
Caparica is a stunning coastal town located just a half-hour drive (if you are opting for a Lisbon car rental) or bus ride (public transport is available) from Lisbon's downtown center.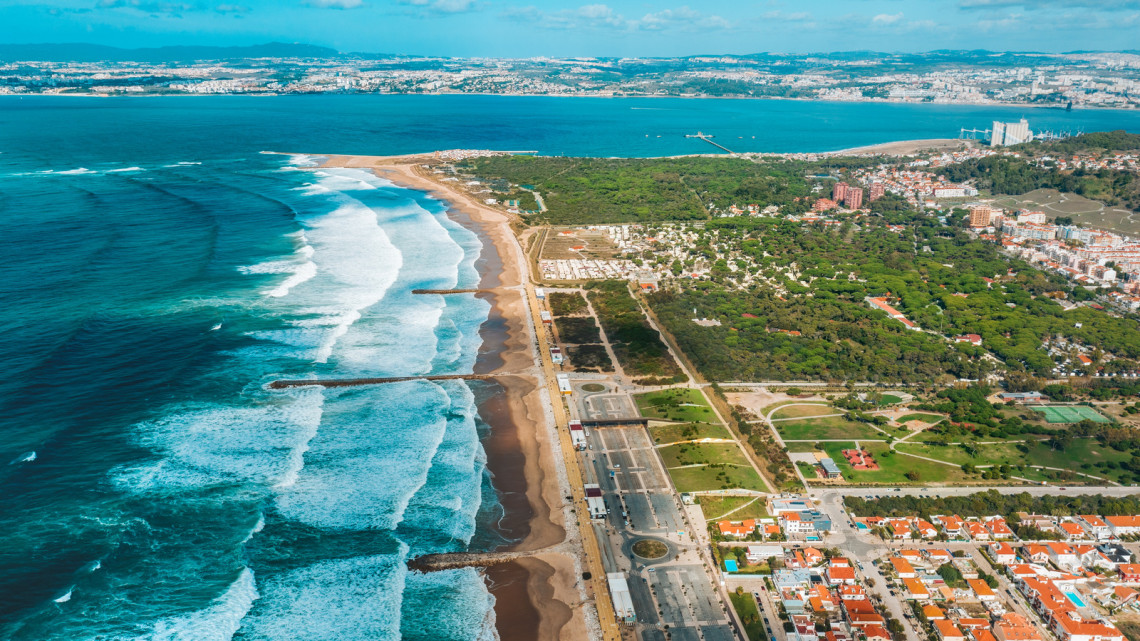 Boasting a bright and beautiful, almost 10km stretch of dazzling white sands, Caparica's coastline beach is nothing short of pure bliss. The good news for those who are seeking a bit more peaceful beach paradise, this locale isn't as crowded with beachgoers as other sandy spots in the Lisbon area, especially during the week. However, there is still much to do, including finding ample waves to surf, and discovering some nightlife once the sun goes down.


Pristine Beaches of Parque Natural da Arrábida
For those looking for a Lisbon beach that is situated among some of the most special and enchanting scenery in the world, toting your beach bag to nearby Parque Natural da Arrábida is a no-brainer. Nestled in a natural wonderland just south of the capital city of Lisbon, travelers can drive to Parque Natural da Arrábida or opt for public transit (a train will get you there easily in just one hour).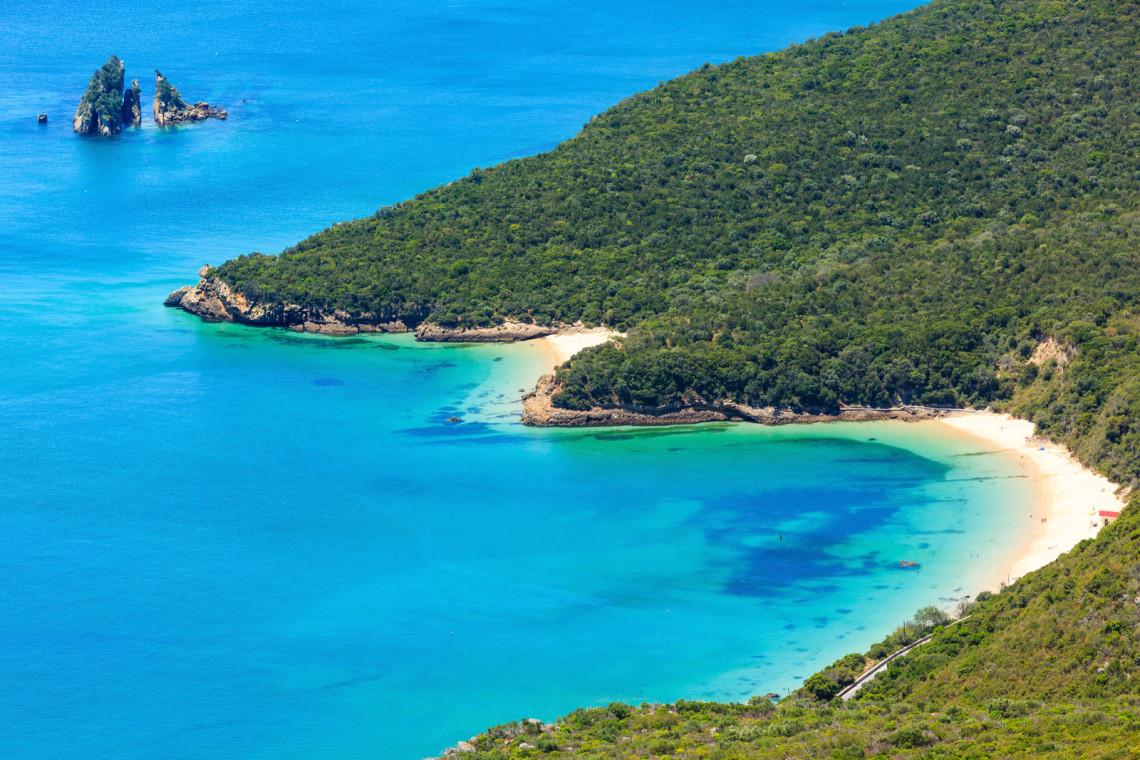 Once you get to the natural park, why not go hiking on its numerous trails before bounding to the beach to cool off in the parks sparkling, clean waters? Sounds perfect, right? And you have a few options to choose from, one of our favorites of which is Praia dos Galapinhos — the most known and popular Lisbon beach.
But for those who want to avoid the more busy beach scenes, we will let you in on a little secret: There is a nearby (albeit tinier) treasure located just down the way known as Praia dos Galapos. You can go here for a more quiet, more peaceful experience amid a stunning, tucked-away bay that offers near-perfect conditions for spectacular snorkeling especially.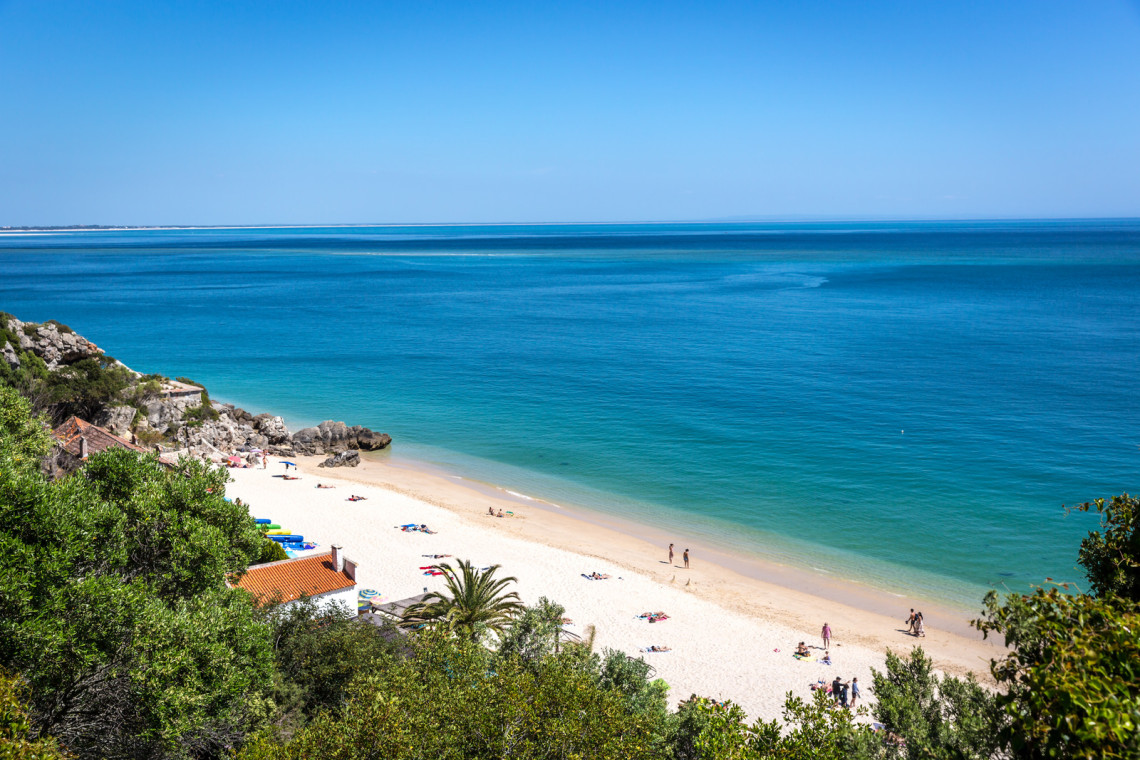 And then there is Praia da Figueirinha. By far the largest beach in Arrábida Natural Park, this popular spot is a favorite of Portuguese locals, especially those residing in nearby Setubal, so don't necessarily expect to find solitary sunbathing here! The shallow waters of the beach are an especially big selling point, making it a must-visit Lisbon area beach during your Lisbon travel.
Are you already in love with Portugal? Take a look at our stress-free packages that allow you to book your ultimate Portuguese adventure. All our packages are carefully curated by our team of local Portuguese experts so that you don't need to worry about any details - just enjoy your trip!

Sunny Beaches of Sintra and Cascais
Heading in the opposite direction, we go north(ish) now, to the scenic beaches of Sintra and Cascais, located just a short hop, skip, and jump from Lisbon's city center. Let's begin with Sintra, which is a quite famous locale in Portugal, but more for its fairytale Pena Palace and castles.
So it is with great joy that we can let you in on the lesser-known fact that Sintra also affords visitors some epic beaches to enjoy!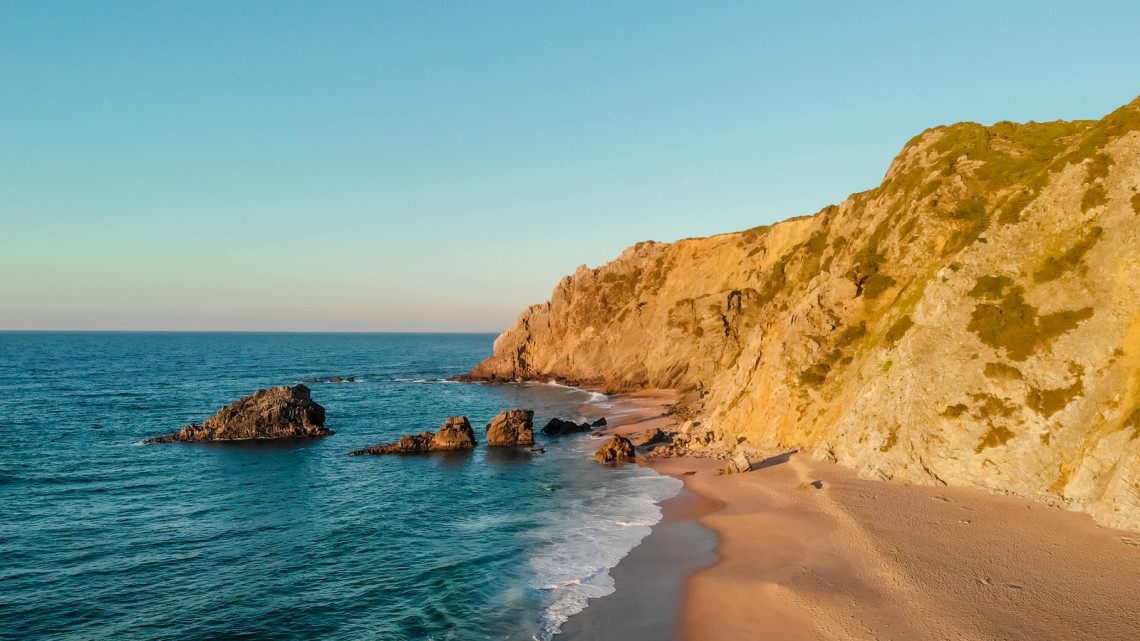 If we had to choose just one beautiful beach here it would have to be Praia da Adraga, a lovely little cove that is quiet and captivating in beauty. Foodies will love this scenic spot, too, as its onsite eatery, Restaurante da Adraga, offers some of the freshest seafood fare around, which includes some local delicacies that are sure to delight.
Another of Sintra's superstar beach spots is Praia da Ursa. A bit more isolated — and more of a spot to sit and enjoy a sunset or romantic picnic than to surf waves — this locale is a 30-minute stroll from the area's famed Cabo da Roca.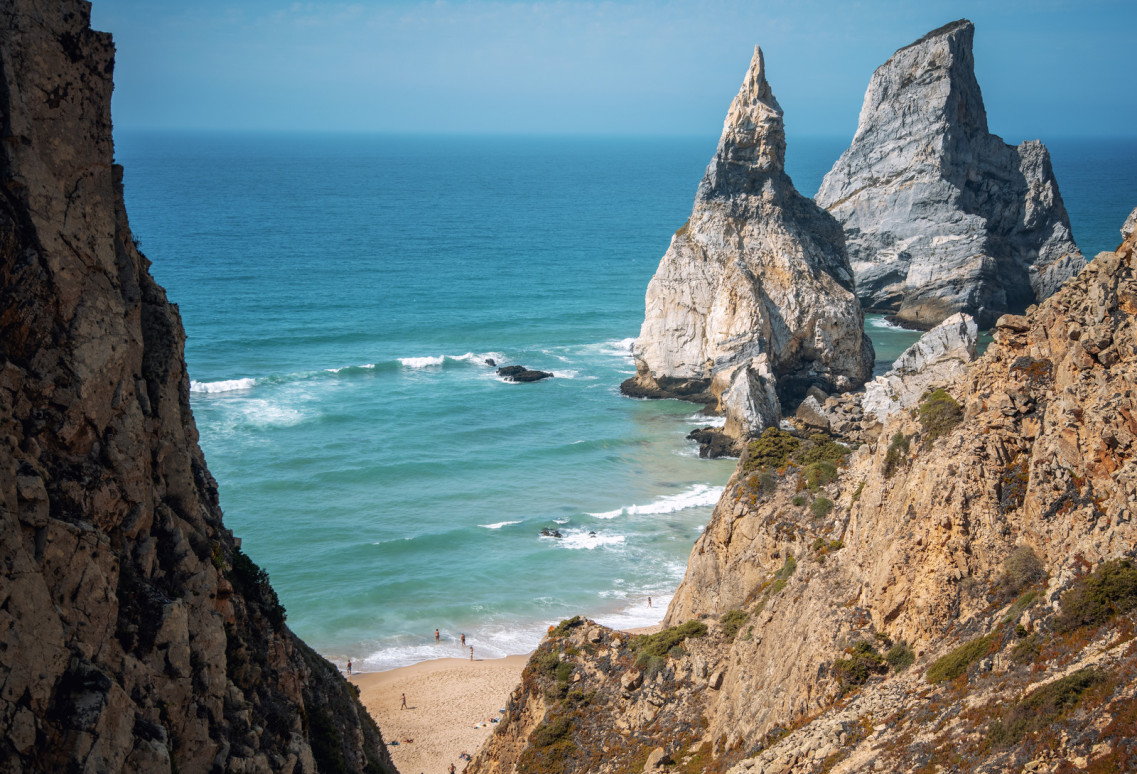 The next stop, just down the road from these beach stunners in Sintra, is Cascais, which offers its own epic beaches to enjoy. Our top beach pick, Praia de Ribeira beach, is located at the very center of Cascais, making it a magical — and convenient — seaside stop. Once a hotspot used mainly for fishing, this beach has now been discovered by sun worshippers relaxing while working on their tans, swimming in the calm waters, and simply soaking up the sunshine and amazing energy of Portugal life passing by.
Pretty as a Picture Praia de Carcavelos
Carcavelos is an amazing beach located just outside of the capital city of Lisbon, and it is one of our favorite beaches by far. But we are not alone in this adoration, and you will soon find this out when visiting during your Lisbon travel, as this beach is BUSY!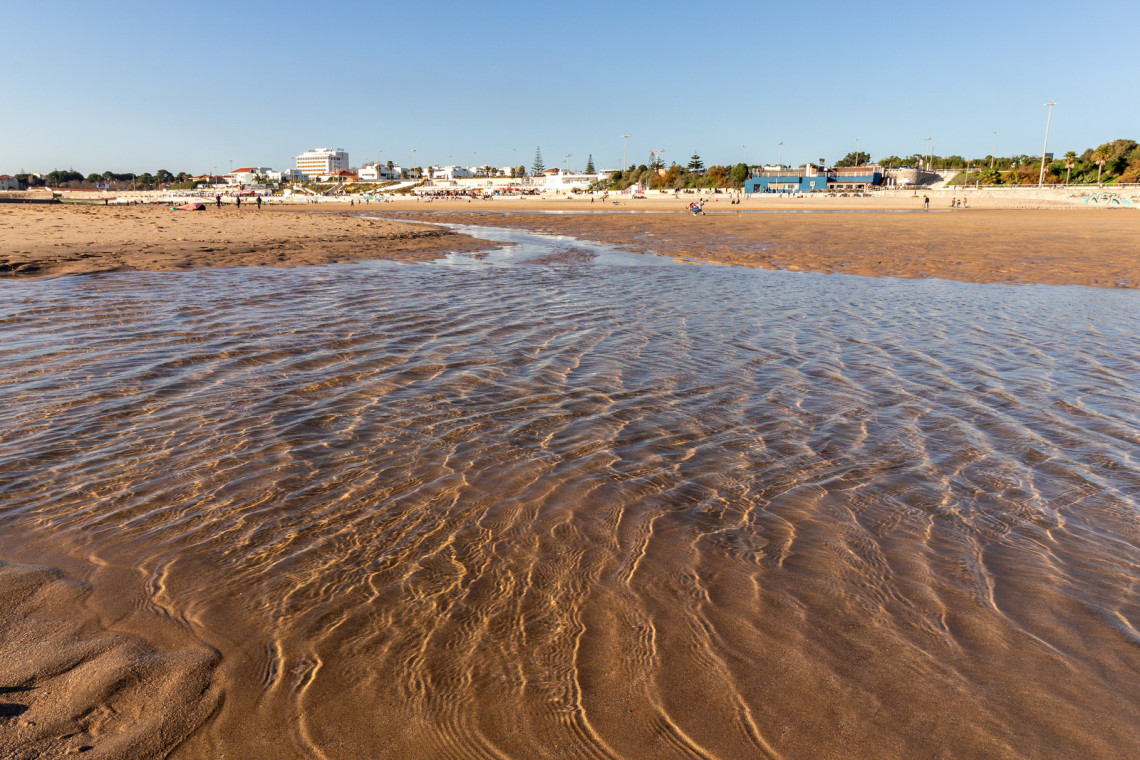 But that just means there must be something very special drawing the crowds to its stunning shores, right? So, what can you expect to find at Carcavelos Beach? Well, since this beach truly has a little something for everyone, you will spot families with kiddos, surfers, swimmers, and sunbathers working on getting that perfect tan. With soft sand under your feet and a lovely shoreline to stroll along, too, a day spent in Carcavelos is definitely a day well spent.
Postcard-Worthy Praia da Ponta dos Corvos
If you ask a Lisbon local, they would most likely refer to Praia da Ponta dos Corvos as Praia dos Tesos or Ponta de Mato, but whatever you call it, this locale nestled just outside of the capital city is a truly lovely spot to while away an afternoon. It should be stated that this isn't necessarily the place to swim, as it is actually a river beach, but it IS indeed an unbeatable place to spend a day relaxing riverside, wading in the water, and feeling all stress just melt away.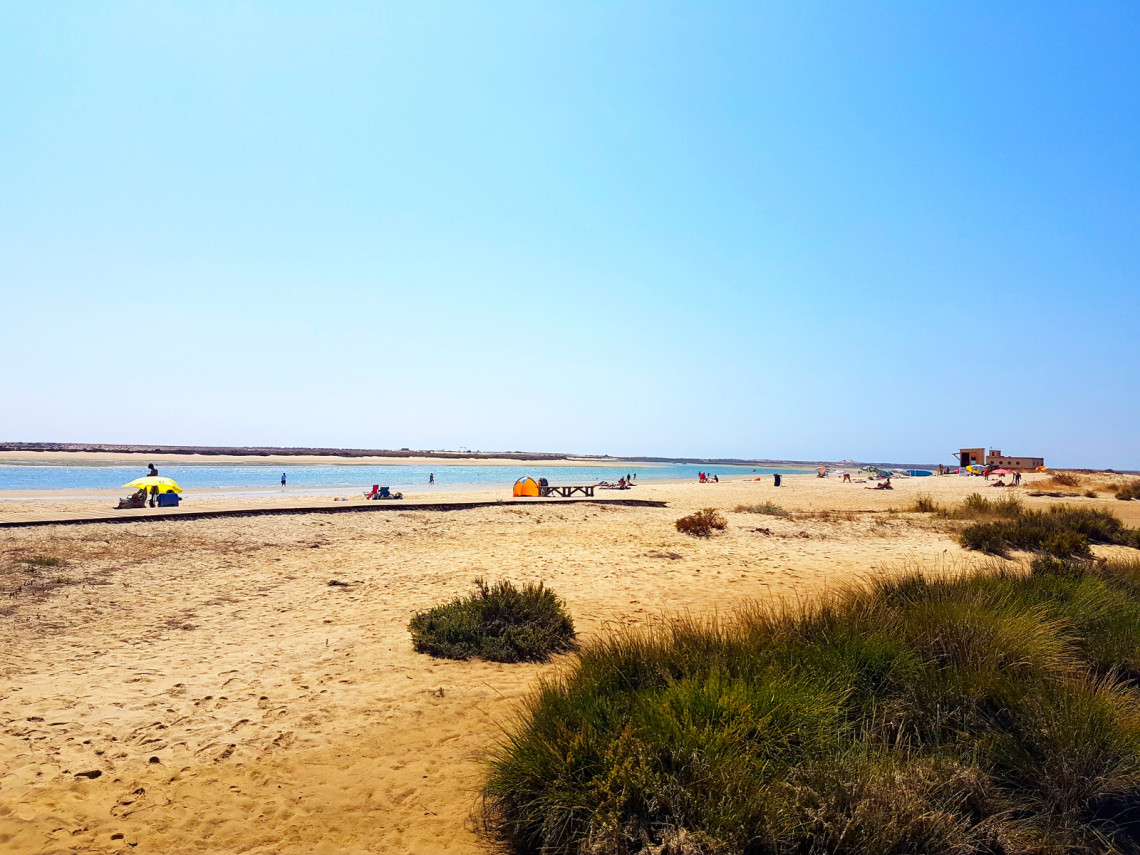 We especially suggest stopping here to say goodbye to the day with a special someone, as watching the sunset here is something magical — particularly because the view of Lisbon it affords is absolutely amazing. The only thing about this little stunner is that you will have to get a Lisbon car rental or hire a driver to ferry you the hour's drive, as this pretty place isn't accessible via public transport.
Lisbon Beaches Are Closer Than You Think
Portugal's capital city of Lisbon is now among travelers' top picks for Europe's dream destinations, and the great news is that it is easier than ever to come and see for yourself what all the buzz is about thanks to Lisbon's increased accessibility.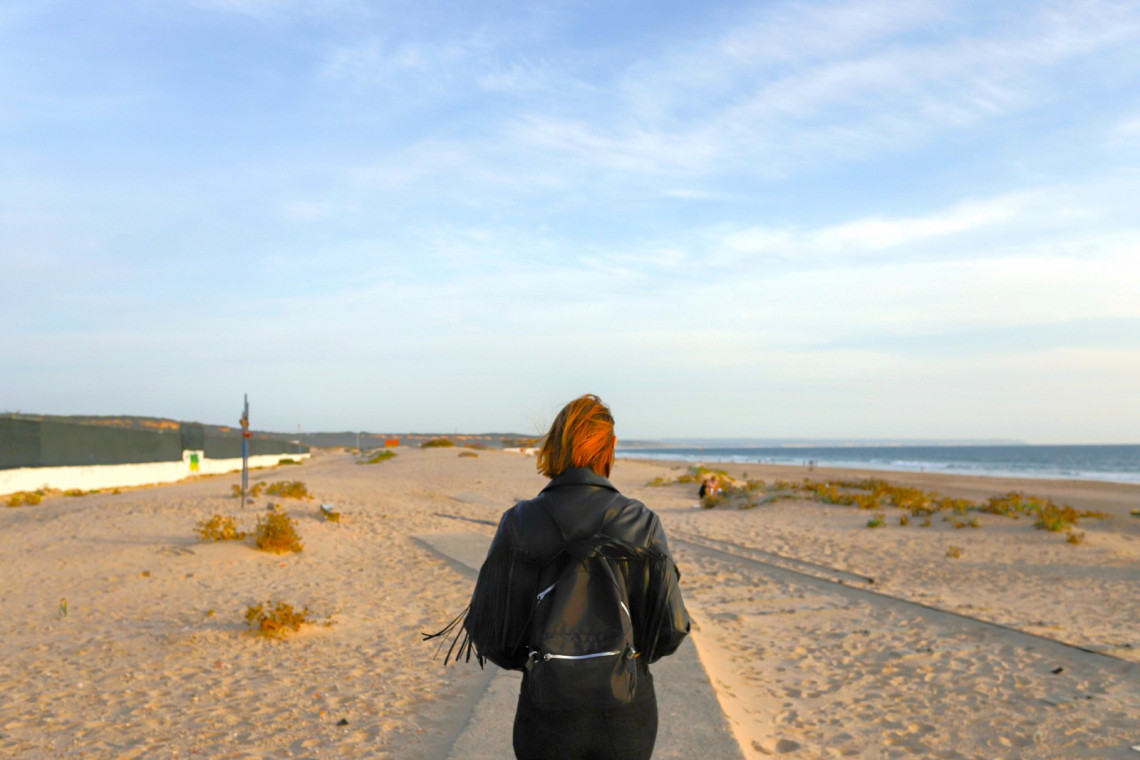 Lisbon airport is easily accessible to fly into from all corners of the world thanks to its central location (with several direct flight options now available, including Toronto to Lisbon, JFK to Lisbon, London to Lisbon, and more). And once you arrive in this captivating Portugal capital city, Lisbon beaches, as you have just read, are well within reach via an easy drive, train, or bus ride. So pack your bags and be sure to pack your swimsuit, board shorts, sunglasses, and plenty of sunscreen — Lisbon and its epic nearby beaches await your arrival!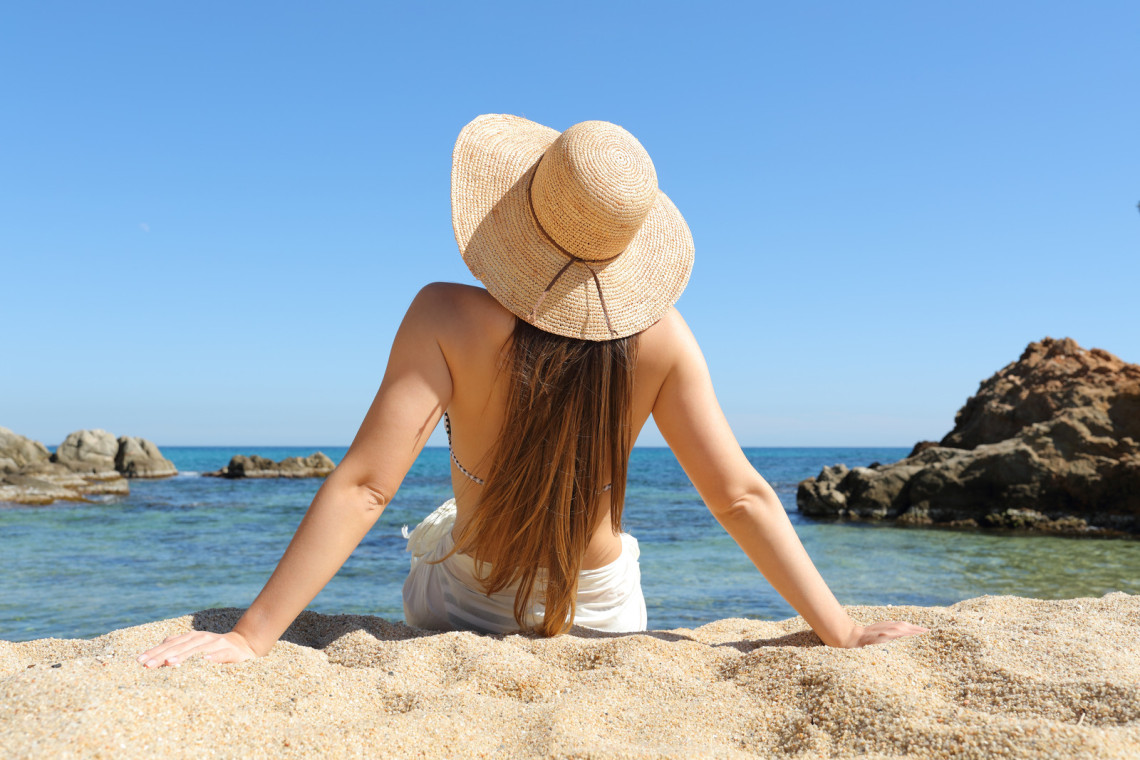 And if you are looking for help in making your dream Lisbon getaway absolutely stress-free and as spectacular as it can possibly be, we here at Portugal Getaways offer expert services, including Lisbon travel packages and vacation specials that are deals you simply won't find anywhere else. Give us a call today and make your Lisbon dream vacation a reality that will surely become a memory to last a lifetime.
Explore Portugal Your Way: Customizable, Tailor-Made Trips for Your Dream Adventure!
If you're looking to explore Portugal at your own pace, we have got you covered. Our team of specialists will work with you to create a custom-made trip that suits your preferences and budget. Whether you want to indulge in the local cuisine, explore the historic cities, or soak up the sun on beautiful beaches, our tailor-made packages offer the flexibility and freedom to discover the highlights of Portugal at your own pace. So why wait? Contact us today and let us help you plan an unforgettable trip to Portugal!