Discover the Seven Wonders of Funchal
You've surely heard of the famous Seven Wonders of the World, but we're here to provide you with a fun twist on that topic by introducing you to the seven wonders of… Funchal! If you don't already know, Funchal is the capital city of a magical Portuguese island archipelago in the middle of the Atlantic known as Madeira.
Before we dive into the heavenly seven wonders of its capital, let's dip into the history of Madeira itself.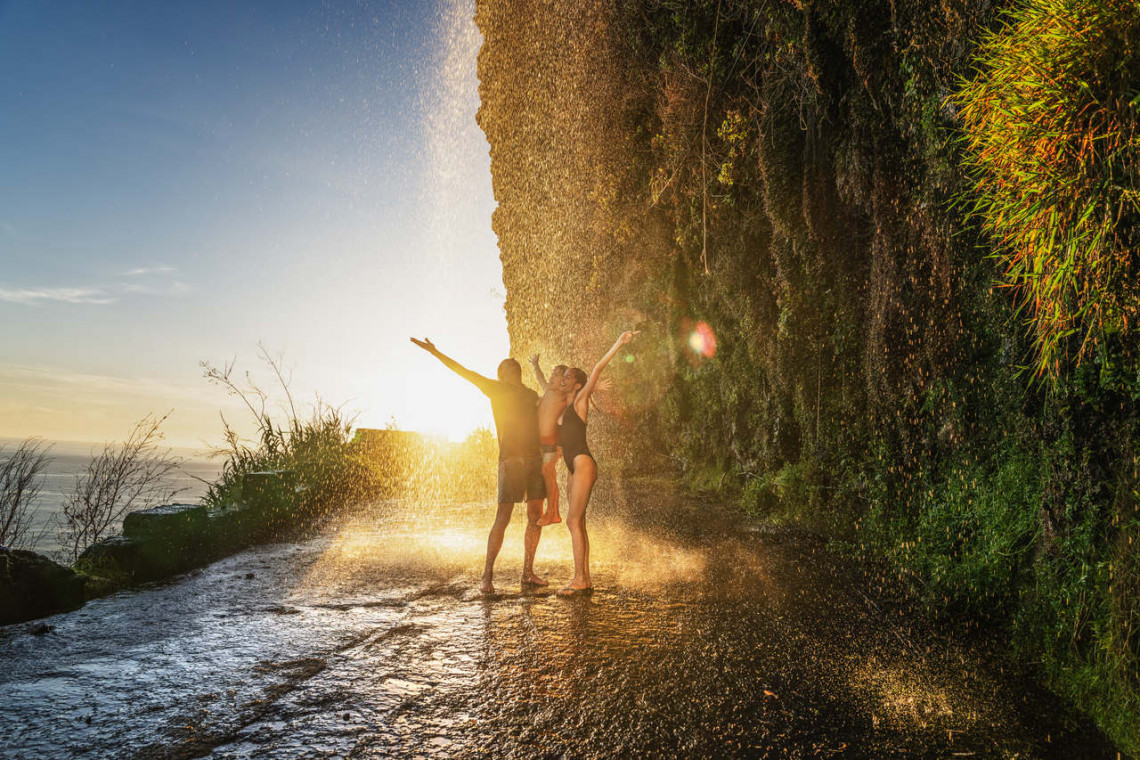 Madeira's History
While the actual archipelago of Madeira was first discovered in 1419, Funchal was founded in 1421 by the Portuguese navigator João Gonçalves Zarco, and settlers began to arrive (mostly from northern Portugal and the Algarve) and introduce commerce around the year 1425.
Among the products that Madeira became initially known for exporting included the three main staples of wheat, sugar, and wine. Fun fact: Sugar actually became so important to Madeira's economy and commerce that the locals began calling the sweet crop "white gold".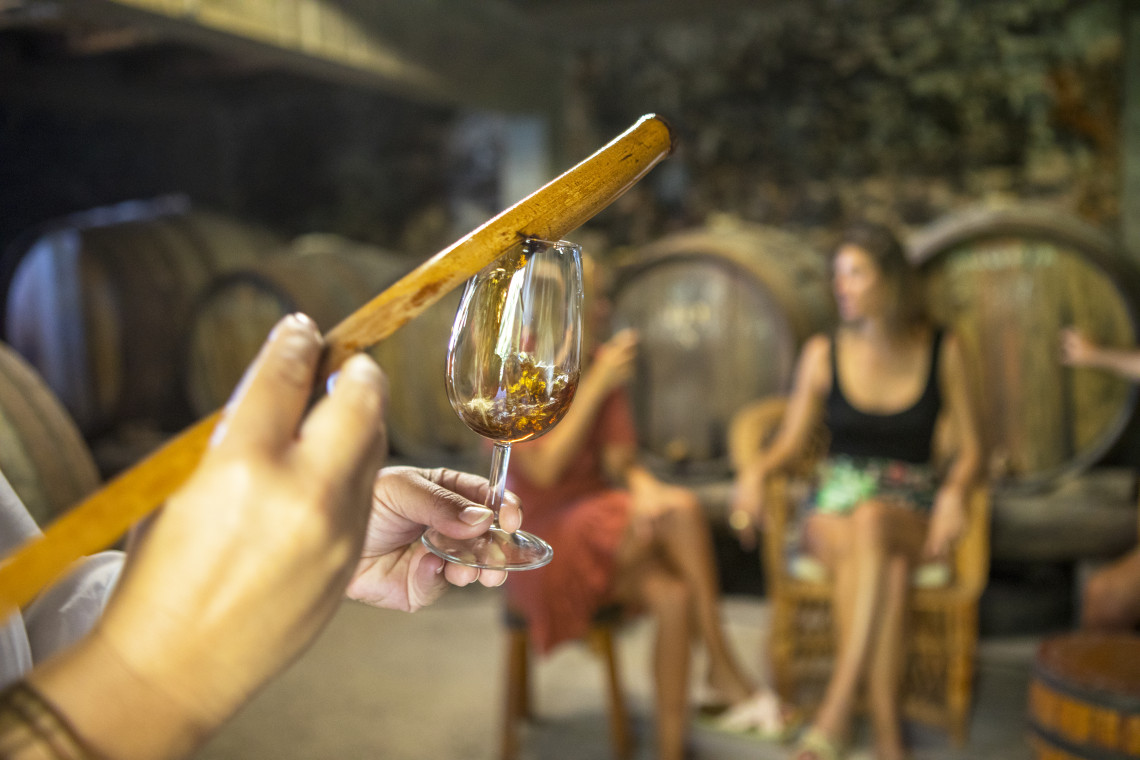 With such primo exports drawing merchants from across the globe, Funchal quickly became THE mandatory port of call for all European trade routes. Also among Madeira's highly sought-after local products — and a big boost to the economy — was Madeiran wine. The popularity of this unique spirit remains high to this day, with travelers coming from around the world for just a sip of this fruit of the vine in liquid form.
Soon following the agricultural boom came the tourism boom, with Madeira's many natural therapeutic elements (we'll talk more about those a little later) attracting widespread interest, which they continue to do today. Another fun fact: As of 1976, Madeira officially has been declared an entirely Autonomous Region of Portugal, which means it has the power to legislate itself. You could say that Madeira is running its own show now.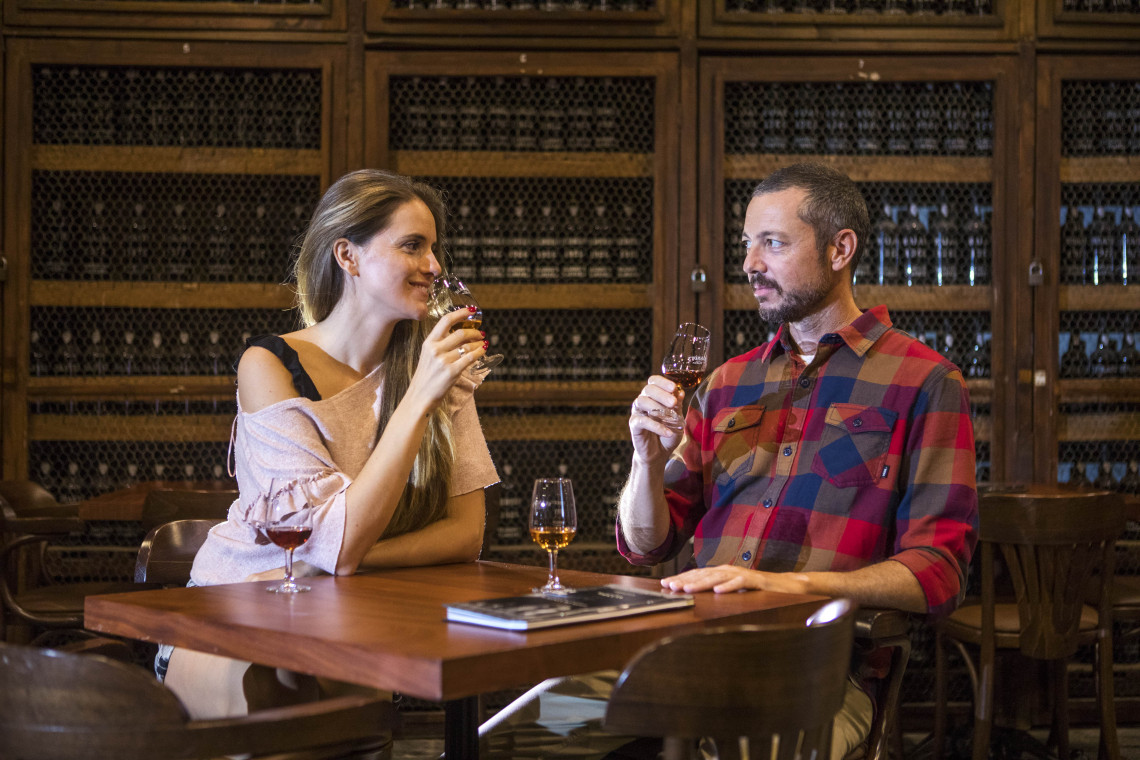 So, now that you know a bit about the archipelago's intriguing history, without further ado, will share with you the seven must-see wonders of the city of Funchal. A final note beforehand, however, is that Madeira's weather makes visiting each of these wonders a truly enjoyable experience no matter what season you decide to come. Why? Because Madeira boasts a mild, Mediterranean-like climate that is predominantly sunny and lovely year-round. All the more reason to come and witness the wonder(s)…
The 7 Wonders of Funchal
1. Monte Palace Tropical Garden
Perched on a breathtaking hillside boasting beautiful views of the famed Funchal Bay, Monte Palace is a bit of a misnomer. While the property itself is jaw-droppingly stunning, it's not an actual palace where royalty lives as one might expect. Instead, in the 18th century, it was a historic and thriving luxury hotel that attracted only the creme de la creme of clientele.
Long since abandoned, the property (which spans an impressive 70 hectares) was bought by José Berardo in 1987 and then converted into a wondrous garden. Now, officially known as Monte Palace Tropical Garden and run by the Berardo Foundation, this dreamy destination is open to the public (since 1991), complete with an onsite museum.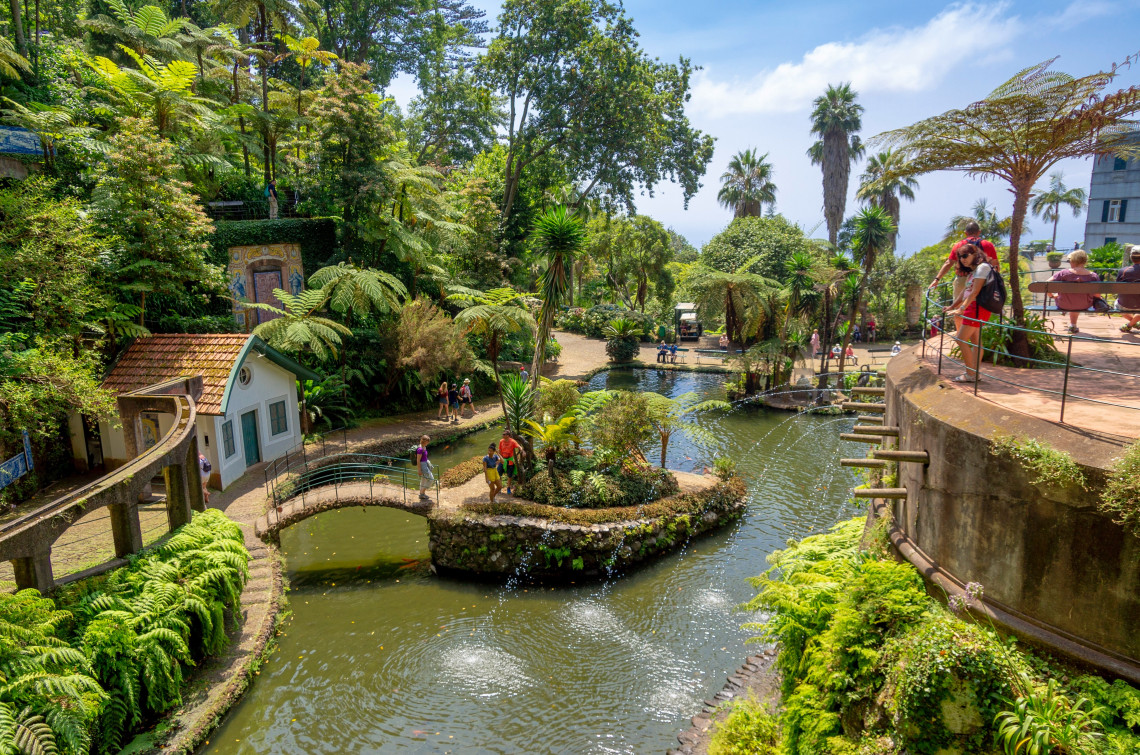 What will you find while visiting? Everything from exotic plants and blooms from all over the world to an eclectic array of exciting animals, including ducks, swans, peacocks, chickens, koi carp, and more. Open every single day except, for Christmas Day, a visit to Monte Palace and Tropical Garden will definitely not disappoint.
As for the museum, this triple-floored exhibition space houses awe-inspiring sculptures, as well as a rare mineral collection featuring specimens from across the globe. Also on-site to inspire? One of the most significant and impressive tile collections in all of Portugal.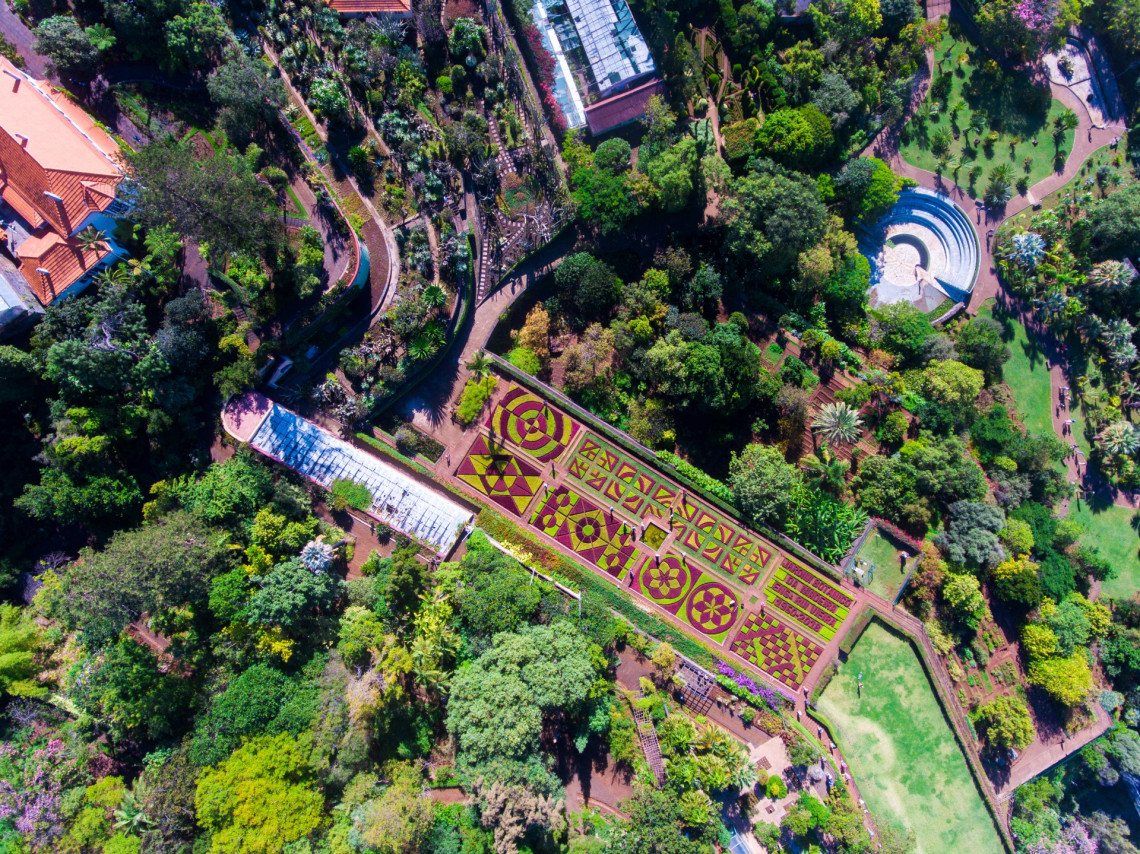 2. Madeira Botanical Garden
Madeira Botanical Garden, also known as Jardim Botânico da Madeira, is a true botanical gem and among one of Funchal's finest natural wonders. Open to the public since 1960, this lush and verdant locale was once part of an illustrious and sprawling estate owned by the family of famed hotelier William Reid.
What can visitors expect to experience when strolling through this stunning site? A humongous (more than 35,000 m2) area boasting well over 2,000 exotic plants from across the globe, some of which are even considered endangered. Also on site? A natural history museum, where you can learn all about the 15,000 rare specimens found there, as well as the lovely Loiro Bird Park, which has everything from nearly 500 exotic avians (including blue and yellow macaw, cockatoo, parrots, and lory) to a herbarium, and even adds an epic overlook from which you can view the entire capital city of Funchal.
Perhaps the most exciting thing about the Madeira Botanical Garden? Getting there by cable car is an adventure in itself.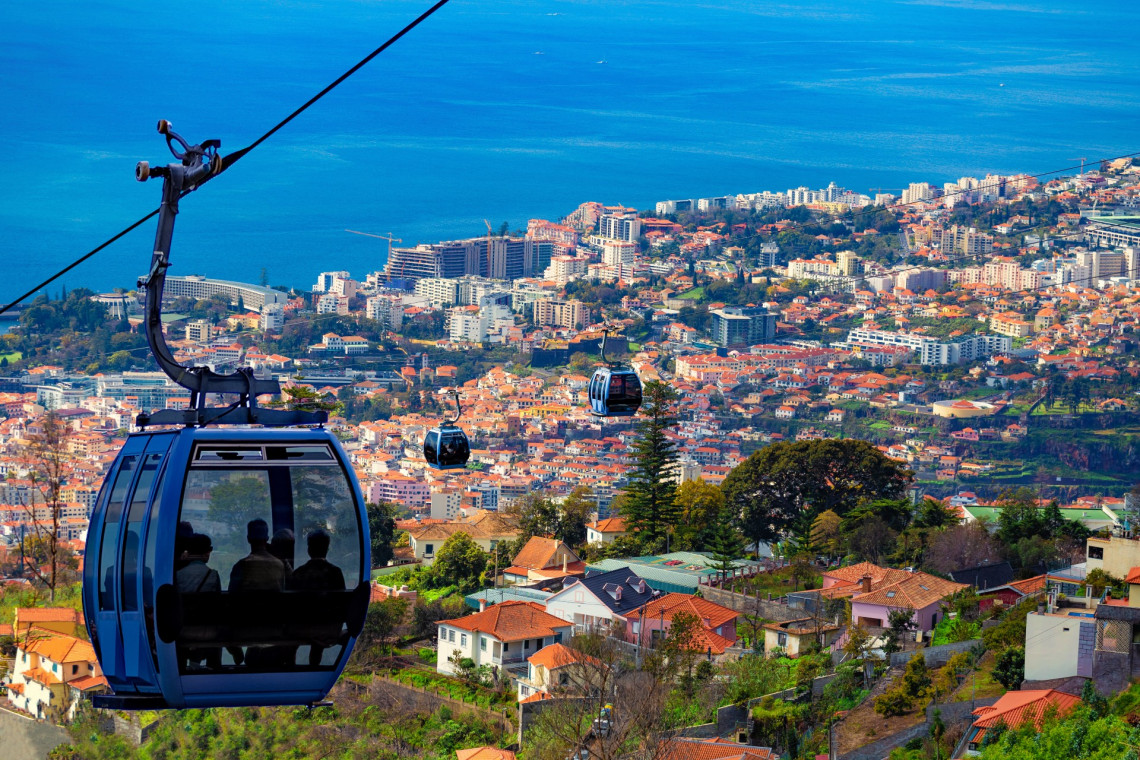 3. Funchal Cable Car
Speaking of the Funchal cable car, no visit to Madeira's capital city would be quite complete without taking a trip on this famous sky-high ride. Also known as the Madeira Cable Car, this rite of passage is so much more than an item to check off your to-do list while visiting the archipelago.
Instead, it is an unforgettable experience that will lift you high above the capital city in a gondola that offers unmatched views. Spanning all the way from the lower section of the city of Funchal all the way up to the suburb known as Monte, be sure to bring your camera when hopping on this magical mode of transit, as those scene-scapes you will encounter are truly postcard worthy, and sure to make all of your friends on social media green with envy.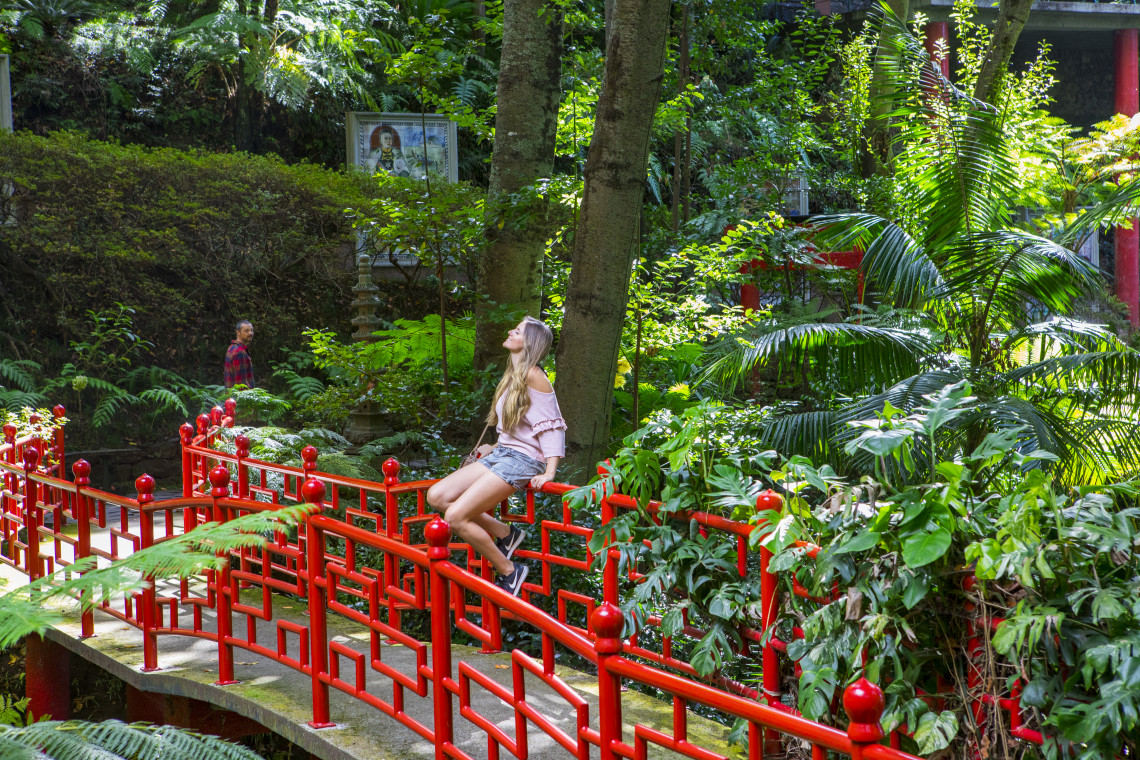 If you have fallen in love with Madeira, take a look at our hassle-free packages that allow you to plan your dream trip to this beautiful destination. Our team of local experts has thoughtfully designed all our packages, ensuring that you don't have to worry about any arrangements. Simply sit back, unwind, and make the most of your vacation!

4. Church of Nossa Senhora do Monte
Located just a hop, skip, and jump from the above-mentioned Monte Palace Tropical Garden, the Church of Nossa Senhora do Monte is a definite must see in Madeira. This sacred site dates back to the 15th century and is beautiful in its own right. However, it's the ancient lore that surrounds it that truly makes it special in our book.
Legend has it that in the late fifteenth century, just near the church in nearby Terreiro da Luta, a shepherd girl was playing in the woods and saw a young girl. The shepherd girl is said to have shared her meal with this young girl, then went home and told her family about the encounter. However, the shepherd girl's family did not believe her story because they found it surprising that a young, unknown girl would appear so far away from the center of the village.
Nevertheless, the shepherd girl's father (although still skeptical), was determined to find out the truth for himself and followed his daughter the next day and hid nearby to wait and watch. Lo and behold, what the father saw was actually taking place was his daughter sitting in front of a stone with a small image of Holy Mary on it. Upon seeing him, his daughter raced up to tell him that the image was the girl who had been speaking to her.
The father was astounded and felt he had truly stumbled on holy ground, and from that day forward, the image (which remained untouched) was placed in the Incarnação chapel, near the present Nossa Senhora do Monte church.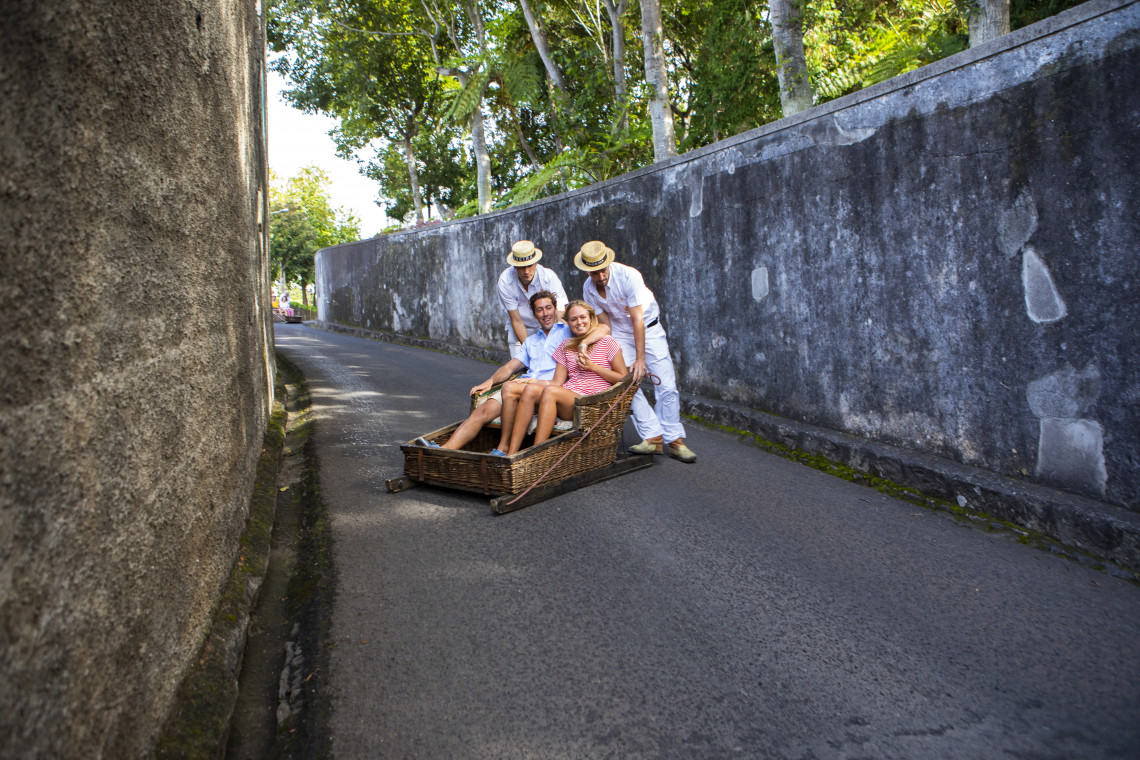 5. Monte Toboggan Ride
Found right beside the Church of Nossa Senhora do Monte, you'll discover one of the most emblematic experiences in Madeira: the Monte Toboggan Rides (also known as "carros de cesto"). This is a true rite of passage when visiting Madeira, and this very special form of transport is made possible by a "Monte sledge" made of wicker and wood, which has two or three seats.
Powered by two carreiros (sledge drivers), who typically are clothed in now iconic white uniforms and straw hats and control the mechanism as it zooms down the hillside by using their own boots as makeshift "brakes".
Your once-in-a-lifetime toboggan thrill ride will take you careening down the scenic (and steep!) streets of the city for a generous distance of roughly 2 km — making for a near 10-minute joyride that you will be talking about with your friends and family for years and years to come. It is just that unique and special.
Fun fact: Monte toboggans were actually first used by the area's inhabitants years and years ago as a simple way to get (read: slide/fly down!) to the center of downtown Funchal.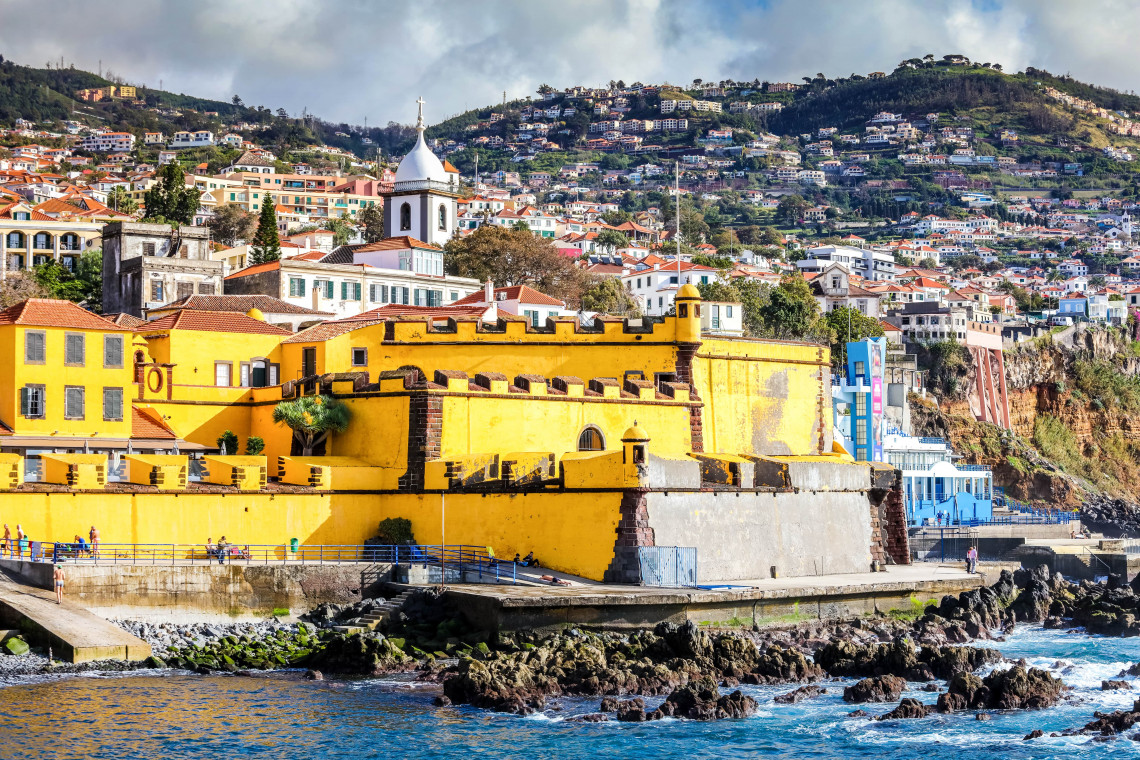 6. São Tiago Fortress
First constructed in 1614 to protect the capital city against attacks from pirates and privateers, Funchal's São Tiago Fortress is a beacon perched on the seashore that is definitely worth a visit. Portuguese master builder Jerónimo Jorge was put in charge of the historic endeavor, which was then picked up years later by his son Bartolomeu João. To say that the fortress was an ongoing and seemingly never-ending project would be an apt description, but the final product is impressive indeed.
Throughout its history, the fortress has served many purposes and has been good to the people of Funchal. From serving as quarters for everyone from the British troops to the military police, and even the Funchal Lancers Squad, these historic walls surely have some stories to tell.
Interesting fact: The famed fortress even acted as a shelter and sanctuary refuge for the victims of the massive floods that descended upon Madeira Island in 1803.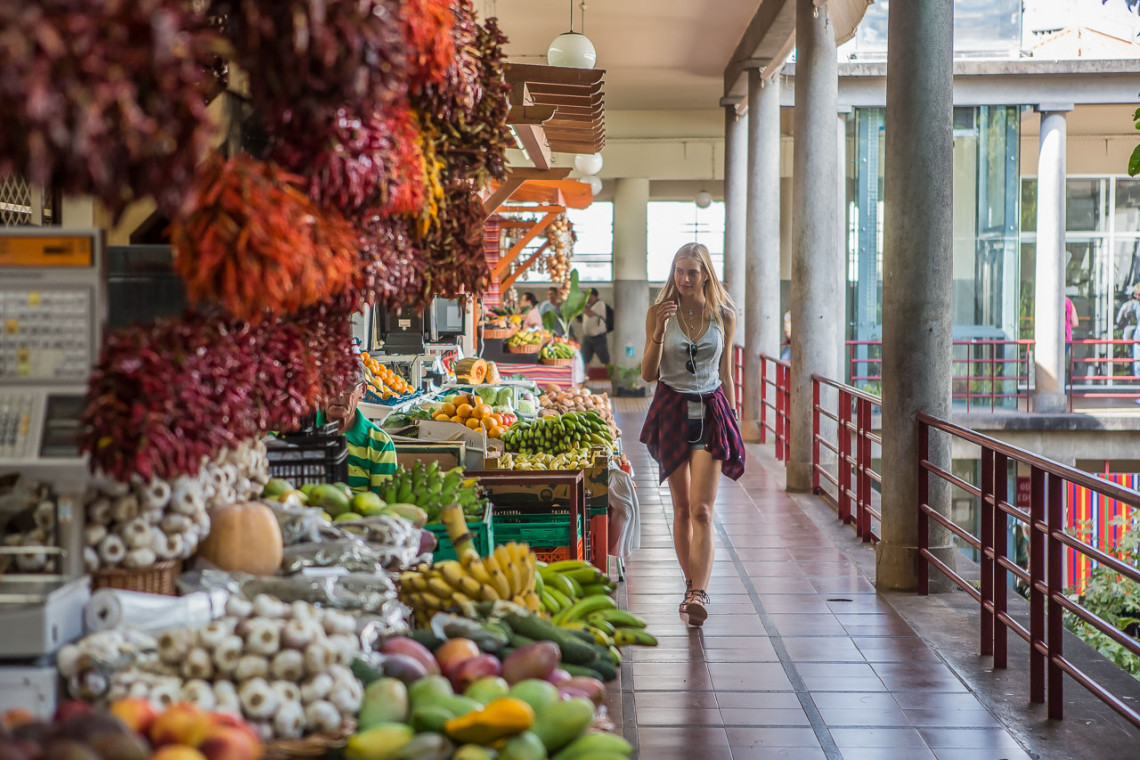 7. Mercado dos Lavradores
Do you like exotic fruit? How about sweet-smelling, vibrant flowers spanning every color of the rainbow? How do you feel about having your pick among fish caught fresh from the sea that very morning? Sounds amazing, right?
The great news is that you will find all of this, and more, when you visit Funchal's popular farmers market, Mercado dos Lavradores. Simply put: This market, beloved by locals and visitors alike, features all that is good, lovely, and delicious about this truly special island, and plenty of it!
Just be prepared, as this place is so very popular, it can become packed — filled with fellow travellers and locals looking to fill their baskets with the freshest fare and primo goods the island has to offer.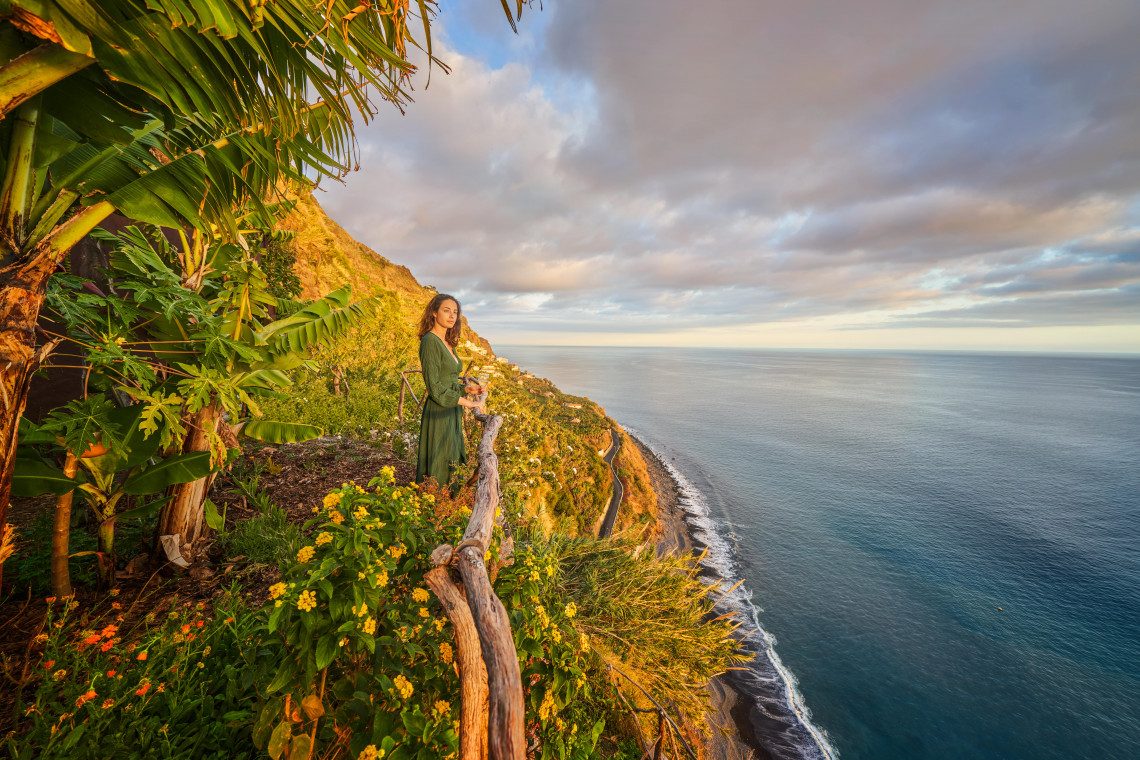 Are you ready to head to magical Madeira and experience these Funchal treasures for yourself? We at Portugal Getaways are here waiting to help make that dream a reality. Contact us today to start planning your perfect Madeira Island adventure.
Discover Madeira Island Your Way: Customizable, Tailor-Made Trips for Your Dream Adventure!
If you're eager to explore Madeira Island at your own pace, we have the perfect solution for you. Our team of specialists will collaborate with you to create a personalized trip that caters to your preferences and budget. Whether you wish to savor the delicious local cuisine, delve into the historic towns, or bask in the sunshine on magnificent beaches, our tailor-made packages provide the flexibility and autonomy to uncover the wonders of Madeira Island at your own rhythm. So, don't hesitate! Get in touch with us now and let us assist you in planning an unforgettable trip to Madeira Island!