Spend Your Holidays in Madeira Island: A Guide to an Unforgettable Vacation Experience
You may already be aware that Portugal's Madeira Island is fast becoming the hottest new destination for travelers worldwide. This skyrocketing popularity comes as no surprise thanks to the idyllic features that this magical locale offers, including both stunning mountains and sandy beaches which can be enjoyed year-round amid Madeira´s pleasantly mild climate, and much more.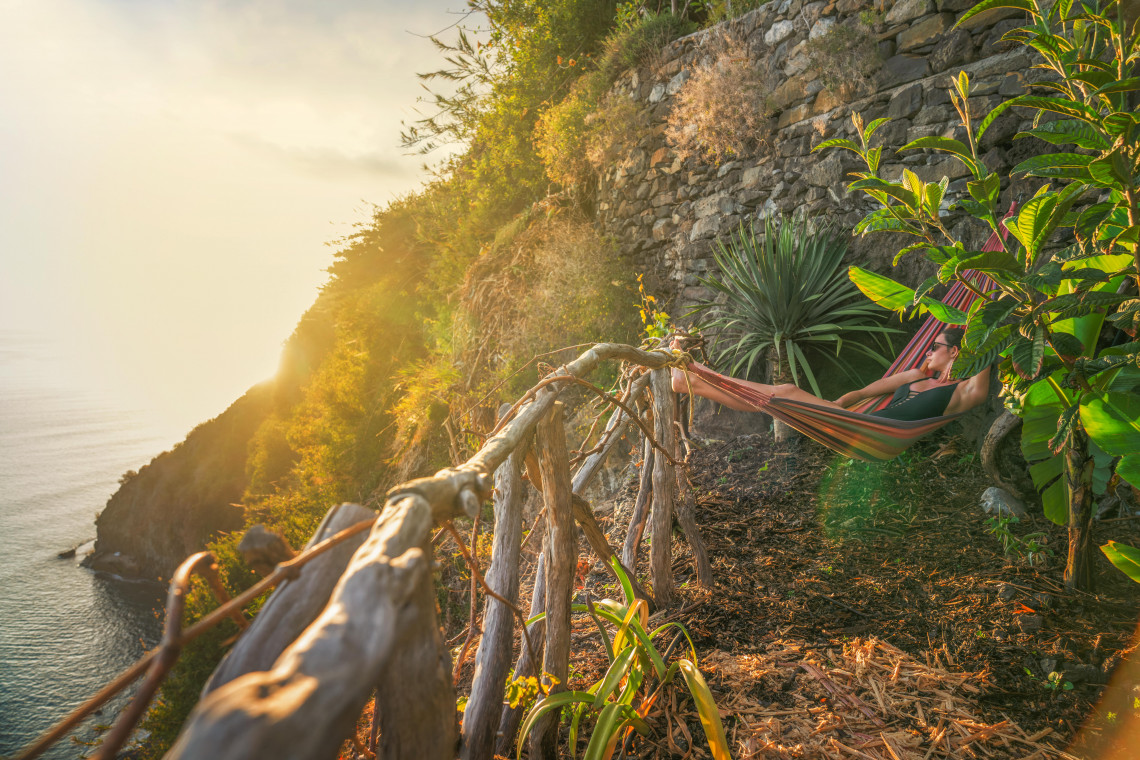 What you may not be aware of yet is just how special the Christmas and New Year holiday season is in Madeira. There are numerous reasons why vacationers across the globe choose to flock to this Portuguese paradise at the end —and beginning — of each year, and after reading this article, you will surely have it on your bucket list of holiday destinations as well.
So, why is Madeira so beloved, especially in December and early January? We're glad you asked! Here is what you can expect when traveling to Madeira during these months of celebration.
Perfect December and January Weather
While most destinations experience plummeting temperatures and far too chilly conditions during winter months, the weather in Madeira offers mostly sunny skies and pleasant temperatures year-round, with the average temperatures hovering around 20 degrees Celsius during December and January in particular. This is especially great news for avid outdoor enthusiasts, as this means that they are free to enjoy all the outdoor activities they want under the Madeira sunshine, without freezing! Among the most popular pastimes here include lovely Levada walks and epic hiking trails, and that's just to start.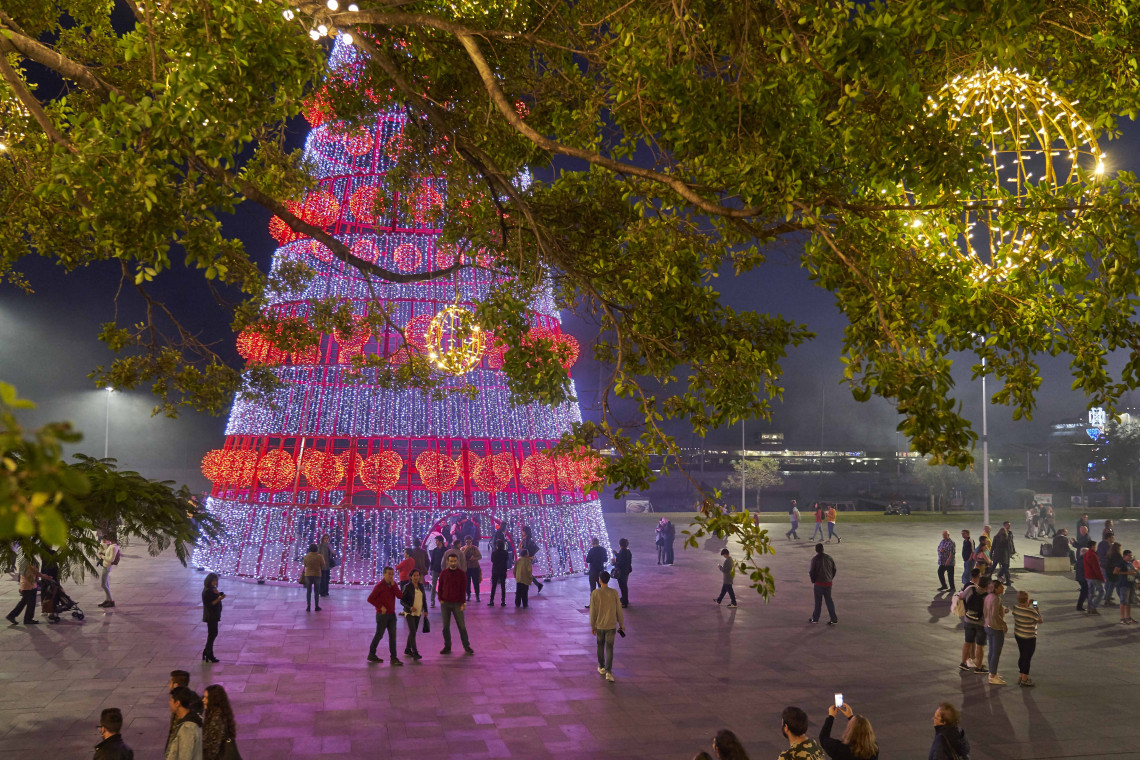 Captivating Christmas Decor and Merry Markets
When it comes to celebrating the Christmas season, you could safely say that Madeira definitely knows how to do it in style! Madeira Island´s capital city of Funchal gets especially dolled up during the Christmas season — its streets, houses, and even palm trees, strewn with dazzling lights as far as the eye can see. If that doesn't put you in the holiday spirit, we simply don't know what will!
The Funchal Marina is especially a favorite among visitors and tourists alike during this time, as it features a unique Christmas tree that towers over the nearby harbor and fun, shining stars that you can even sit on! Also not to be missed for viewing epic Christmas decor in Madeira. Head to Aldeia de Natal, the idyllic Christmas Village that's set up in Jardim Municipal Park each year, or stroll down iconic Avenida Arriaga street, being sure to make a stop at the popular Mercadinho de Natal Christmas Market. Because there's nothing that will get you in the Christmas spirit like wandering among the market´s wooden cottages while pursuing local wares, sampling festive fare, and sipping the famed beverages Madeira is known for a variety of Poncha, or Ginja, a yummy cherry liqueur that's served in a cute chocolate cup.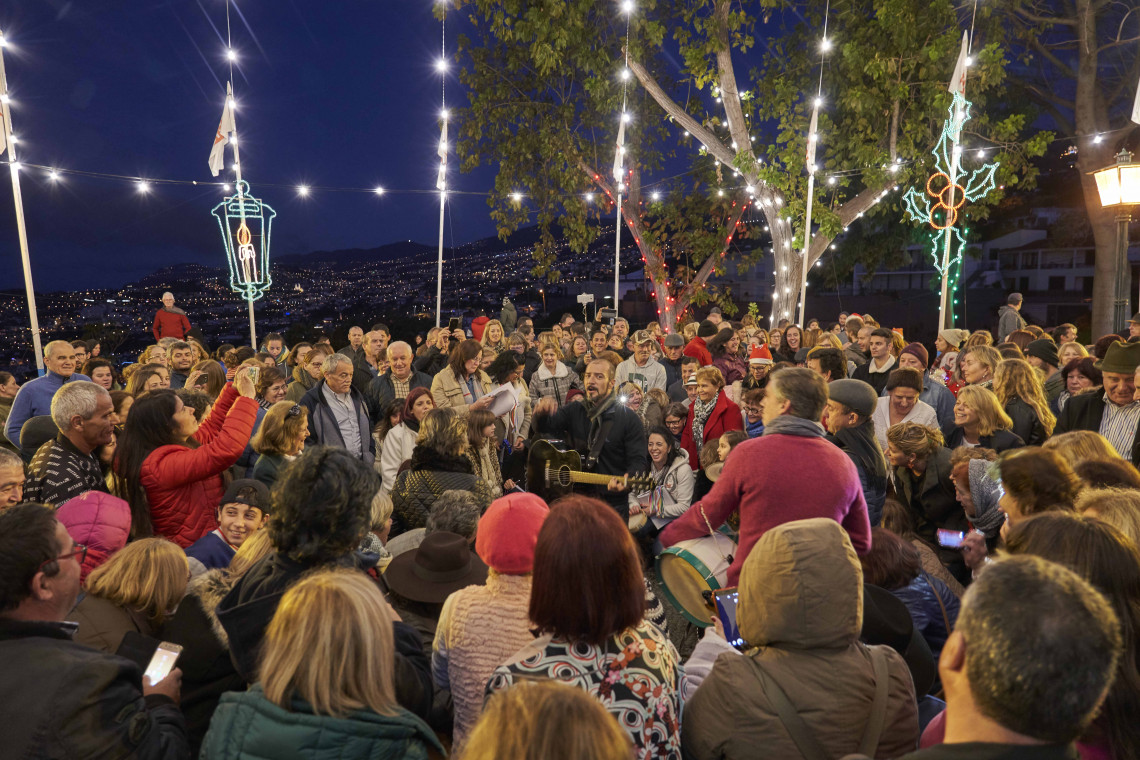 Speaking of markets, Noite do Mercado is actually an entire night (literally translated as "Market Night") in Funchal, and it is one of the biggest events of the Christmas season in Madeira. Occurring on December 23 each year in the Old Town area of Funchal, it is a place to go to be absolutely swept up in the Christmas spirit, with shopping galore, Christmas carols, and just communal revelry that will really feel a part of the local culture.
If you have fallen in love with Madeira, take a look at our hassle-free packages that allow you to plan your dream trip to this beautiful destination. Our team of local experts has thoughtfully designed all our packages, ensuring that you don't have to worry about any arrangements. Simply sit back, unwind, and make the most of your vacation!

Live Performances and Traditional Celebrations
You will also find live performances galore in Madeira during the holidays, with Funchal especially being the proverbial Mecca for live music concerts and other traditional offerings. Among these unique seasonal offerings include what is known as the Presépios (also known as Christmas cribs, or Portugal´s version of Christmas Nativity scenes), which give a nod to the region's deeply rooted Catholic faith. One unique feature that differs from other scenes you may be used to is the fact that
the figures in the nativities are actually clad in local Madeiran attire, and the creches themselves are actually multiple-tiered and filled with vibrant greens and exotic local flowers — set up almost like a tiny version of Madeira itself.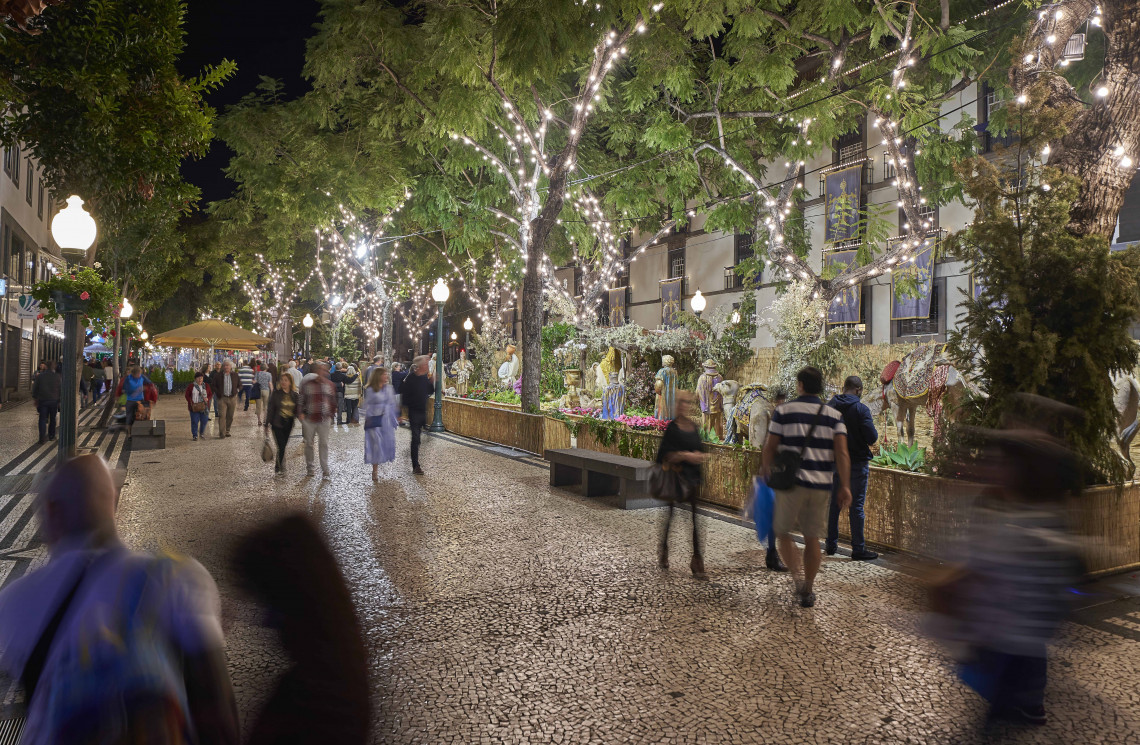 Midnight Masses and More
On Christmas Eve (known as "Véspera de Natal"), a tradition in Madeira is that after a lovely feast is enjoyed with family, gifts are exchanged, then everyone heads to Missa do Galo, or Midnight Mass. Fun fact: The name "Missa do Galo" is actually translated as "Rooster's Mass", deriving this name from a folk legend attributing Christmas Eve as the night when the rooster crowed at midnight to herald Christ's birth. While Christmas Eve is the biggest and most known, there are also many more holy masses that lead up to this one: nine in total starting from December 16 — the number of which symbolizes the months that Mary was pregnant with Jesus. To celebrate each, you will often see locals marching through the streets wearing traditional costumes and performing music. It's truly a sight to behold.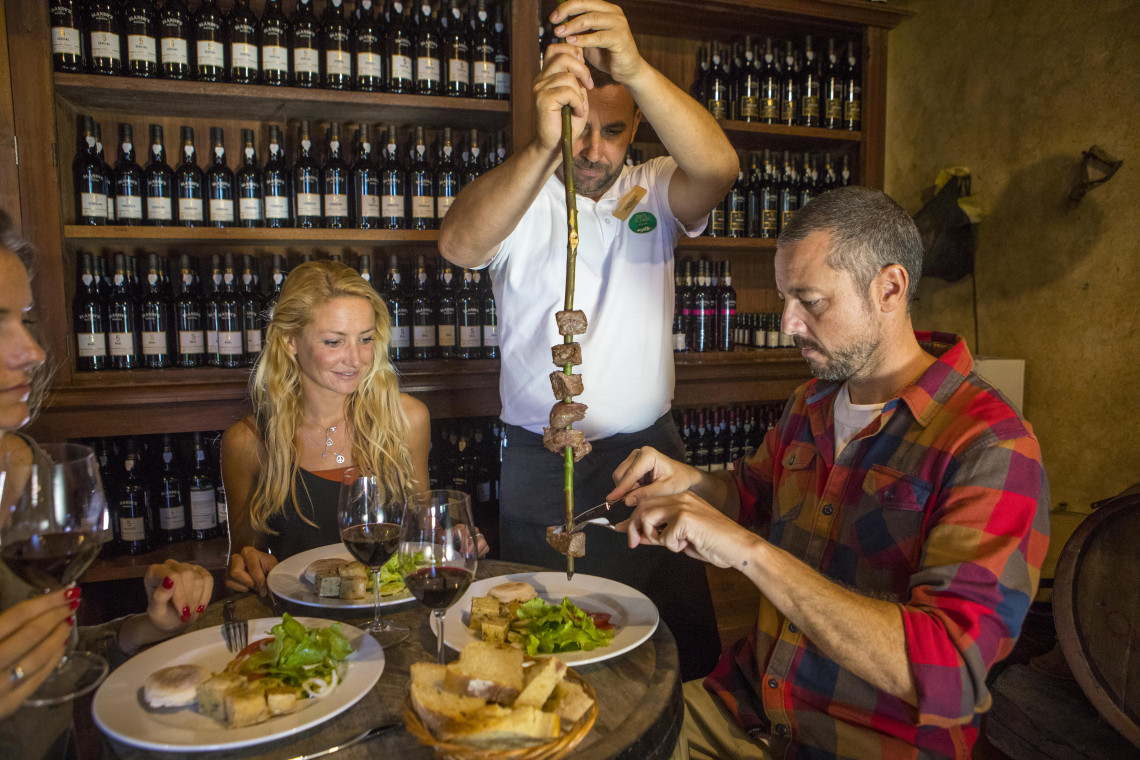 Fabulous, Festive Food
As fitting with Portugal's famous reputation for being unmatched in its divine cuisine, Madeira features some delectable edible treasures specifically for celebrating the Christmas season. Just a few of the special and unique dishes that you can look forward to enjoying while spending the holidays in Madeira include Carne vinha D'alhos, Perù assado com batatas assadas, Bolo Rei, Bolo de Mel, Broas de Mel, and Arroz Dolce. Once New Year's Eve rolls around, the entree of choice in Madeira is traditionally Canja de galinha, a yummy Portuguese chicken soup.
After Christmas, you may be thinking that it's time to head home, but wait! There is plenty more fun and festivities to enjoy in Madeira, so stick around to ring in the new year with fellow merry makers. The following describes the many, many reasons Madeira is the perfect place to kick off yet another journey around the sun on January 1.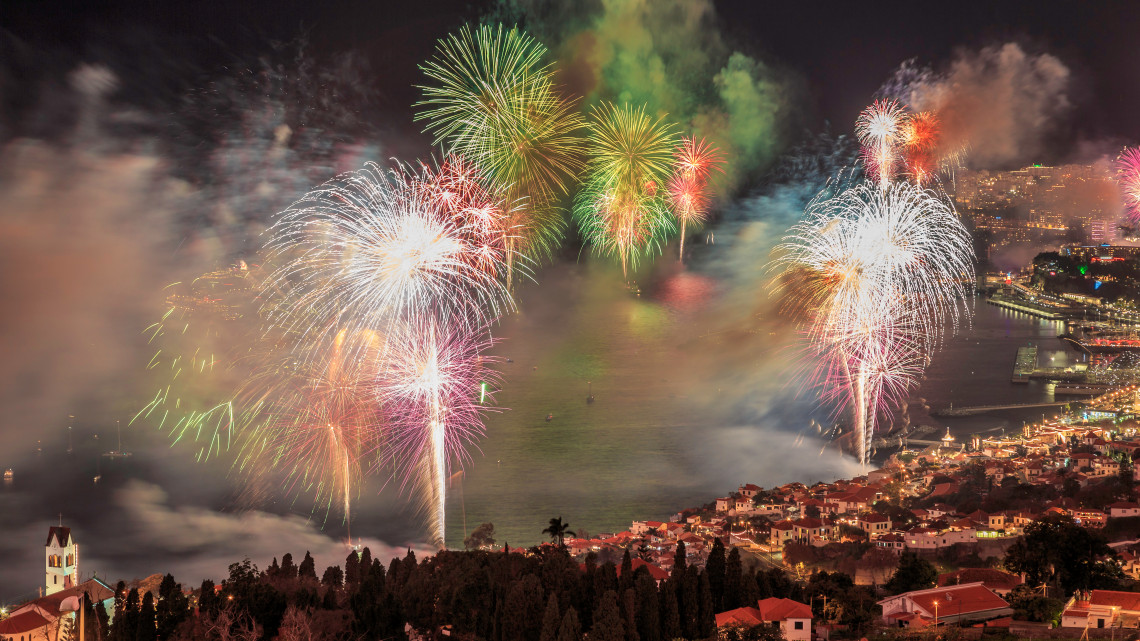 New Year's Eve in Madeira Island
Did you know Funchal was awarded the Guinness World Records title of the "Greatest Fireworks Show in the World ''? It's true, and to this day, Madeira remains a must visit locale simply to experience its spectacular New Year's shows alone. Again, just like Christmas, New Year's in Funchal is really the place to be on New Year's Eve, with the annual fireworks show being the big ticket attraction. There is just nothing like experiencing the booms and flashes of sparkling fireworks as they burst above the shimmering waters of Funchal Bay.
Ready to book your Christmas and New Year's getaway right now, before this popular destination gets fully booked for the holidays? We are here to help and have even sweetened the deal by putting together several exclusive package deals that are sure to delight you.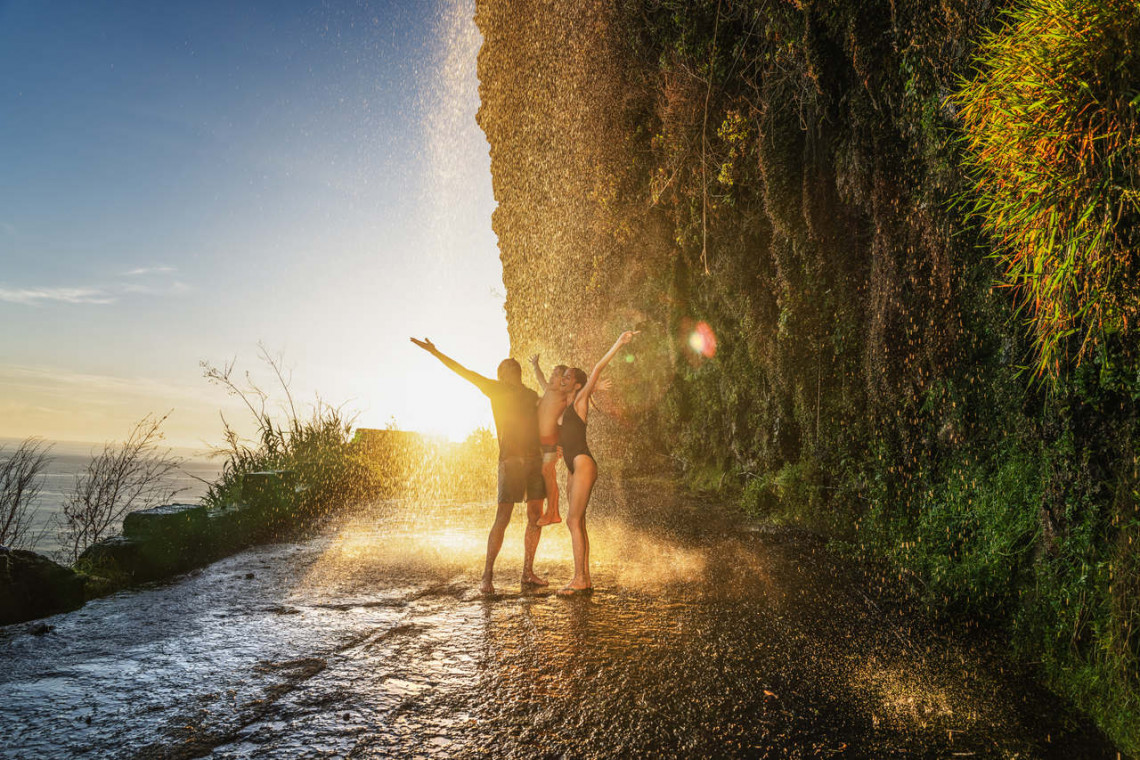 Our Christmas in World's Leading Island Destination invites you to come and experience the magical holiday season amid the sunshine and blue skies of an island paradise. This is your opportunity to come to experience the joyful, festive holiday season in Madeira, while also enjoying the amazing summery climate this beloved island is known for! After flying non-stop from JFK Airport in New York City to Cristiano Ronaldo Airport in Madeira Island, you'll stay at an immaculate 5-star premium hotel in downtown Funchal, with a highlight of your stay being a special Christmas dinner at the hotel's restaurant. It's a formal event, as Madeira always celebrates in style, which gives you one more reason to get all glammed up!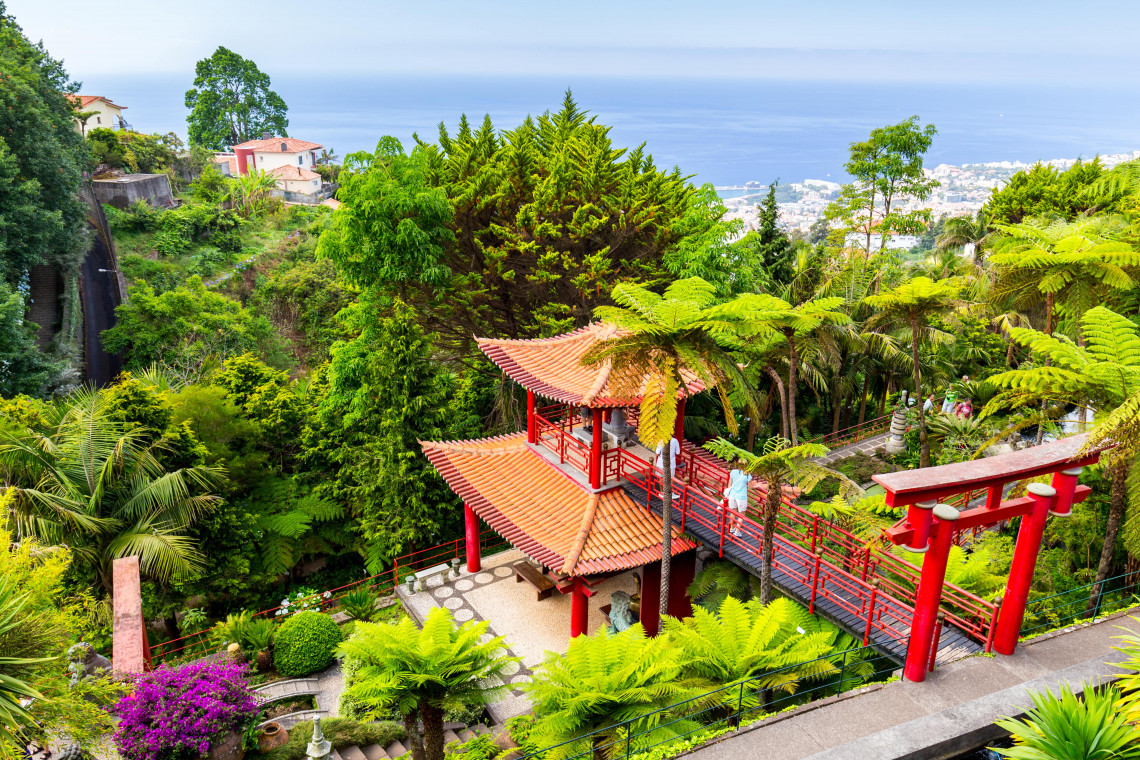 Our Europe's Best New Year's Eve Destination travel package —which includes all flights and connections to Funchal, as well as airport transfers, luxury accommodation, an expert trip manager, and local guides — is the perfect way to come and experience the joyful, festive holiday season in Madeira! Among the highlights include getting to witness Funchal´s incredible 8-minute fireworks show, staying in a premium hotel located right downtown, and indulging in an amazing New Year's dinner at your hotel, so be sure to bring your formal attire, because it's fancy! All the more reason to dress to the nines and really party!
Discover Madeira Island Your Way: Customizable, Tailor-Made Trips for Your Dream Adventure!
If you're eager to explore Madeira Island at your own pace, we have the perfect solution for you. Our team of specialists will collaborate with you to create a personalized trip that caters to your preferences and budget. Whether you wish to savor the delicious local cuisine, delve into the historic towns, or bask in the sunshine on magnificent beaches, our tailor-made packages provide the flexibility and autonomy to uncover the wonders of Madeira Island at your own rhythm. So, don't hesitate! Get in touch with us now and let us assist you in planning an unforgettable trip to Madeira Island!