Island Hopping
Inter-Island Flights
Inter-island flights run between Madeira and Porto Santo on a daily-basis via the air company Binter Canarias. With a short 25 minute flight, you can easily island hop and choose where you want to be: in a nature destination or in a beach paradise.
Inter-Island Ferries
Visitors can hop on the "Lobo Marinho" ferry, operated by Porto Santo Line, to travel between the islands of Madeira and Porto Santo by sea. The connection is daily (except on Tuesdays from October to June) and takes about 2 hours and 30 minutes. For more information about transporting vehicles or oversized luggage, visit the company's website, https://www.portosantoline.pt/en/.
On-the-Ground Transportation
Rent-a-Car
The best way to freely explore Madeira at your own pace is to rent a car. Choose from a manual or an automatic car and hit the road in Madeira or Porto Santo. To avoid long lines and ensure that you get your preferred vehicle, we highly recommend booking your rental car in advance of your trip.
Pro tip: Madeira Island is extremely steep and hilly, and punctuated by long tunnels running through the mountainsides. Be sure to keep these factors in mind when deciding on your rental car.
Cable Cars
Get a panoramic perspective over Madeira Island and appreciate its beauty from above with a cable car ride. This is a fun way to see the island landscapes or even just a convenient way to get from one point to another without climbing any hills. Enjoy a beautiful perspective from high above the city of Funchal, Fajã dos Padres, Cabo Girão, Madeira Botanical Gardens and so many other attractions from the comfort of a cable car.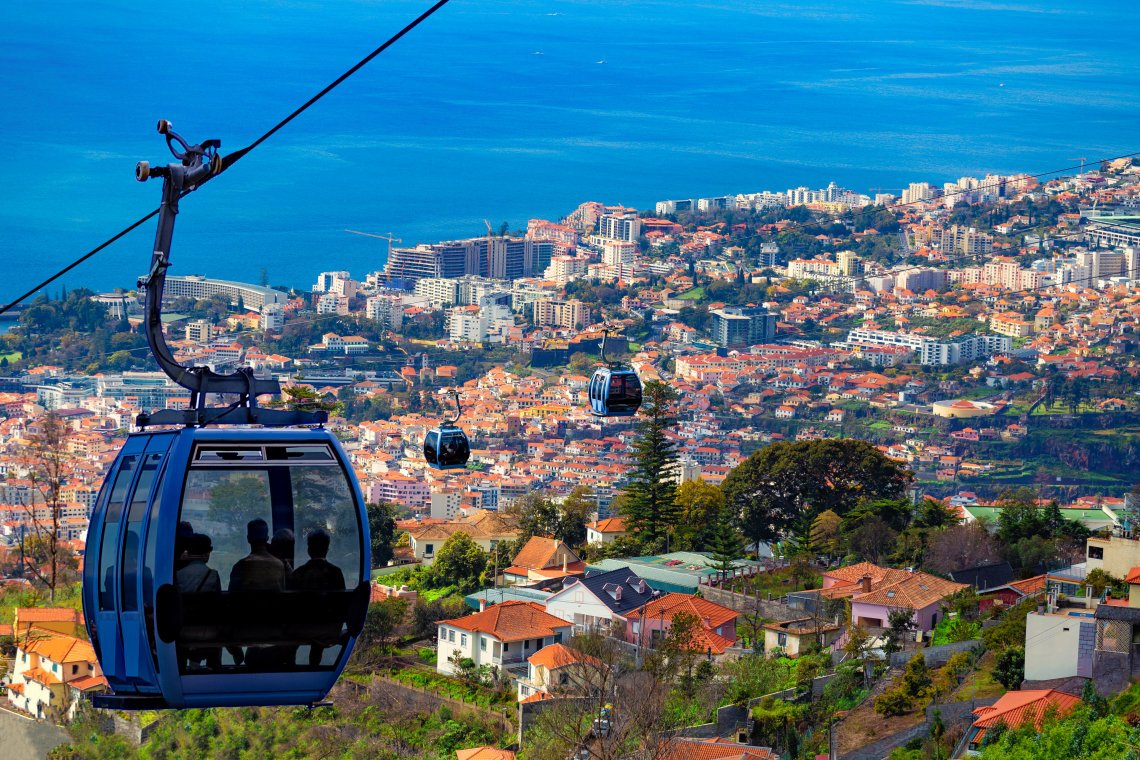 Guided Tours
Portugal Getaways partners with some of the best tours operators in Madeira that will show you the island's can't-miss spots and share their insider knowledge and local expertise with you on your guided tour.
Tourist Buses
Explore Madeira from atop a double-decker tour bus! Buy your ticket and get an incredible birds' eye view while your bus guide gives an explanation of the city history and major attractions.
Segways
Explore the city of Funchal and ride through its avenues and historical streets with a segway tour of your own.
Tuk-Tuks
Tuk-tuks are a great way to get up close and personal with some of the destination's best attractions. It's the perfect way to ride around the city with a guide all to yourself!
Taxi
Although taxis are widely available both in Madeira and Porto Santo, they are not the most practical way to get around the islands. Taxis charge by the kilometer, and tack on an additional fee for tax and heavy luggage. They are the most convenient way to get from the airport to your accommodation, but we suggest other alternatives when it comes to exploring the destination.
Bike
Porto Santo is practically begging to be explored by bicycle! Hit the trails or just take a leisurely ride to the beach. There are plenty of bike rental companies on the island.