An Overview of the Religious Landscape in Porto, Portugal
Many travelers think of the amazing food they can look forward to trying when they go to Porto, which is incredible indeed! But far too little credit is given to the churches in the Porto area. So, when you visit Porto in Portugal, prepare to be amazed by its stunning churches. From grandiose cathedrals towering over the Porto city skyline to quaint chapels tucked away amid Porto's winding cobblestone streets, the religious architecture of Portugal's second-largest city is truly something to behold.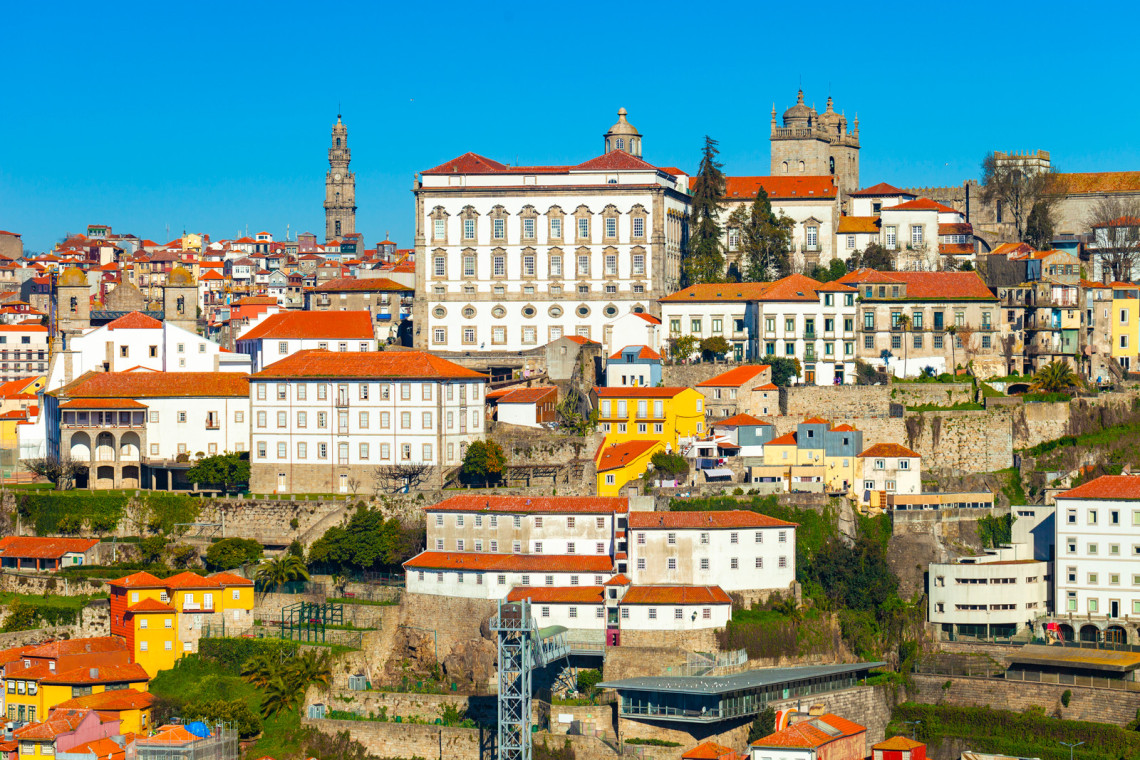 From the iconic Clérigos Tower to the majestic São Francisco Church – and including so many smaller church treasures – Porto city is filled with breathtaking places of worship that have stood the test of time. Visitors who come to Porto during their Portugal holiday can look forward to exploring elegant abbeys and monasteries, ascending bell towers for stunning views that span over the city below, and much more.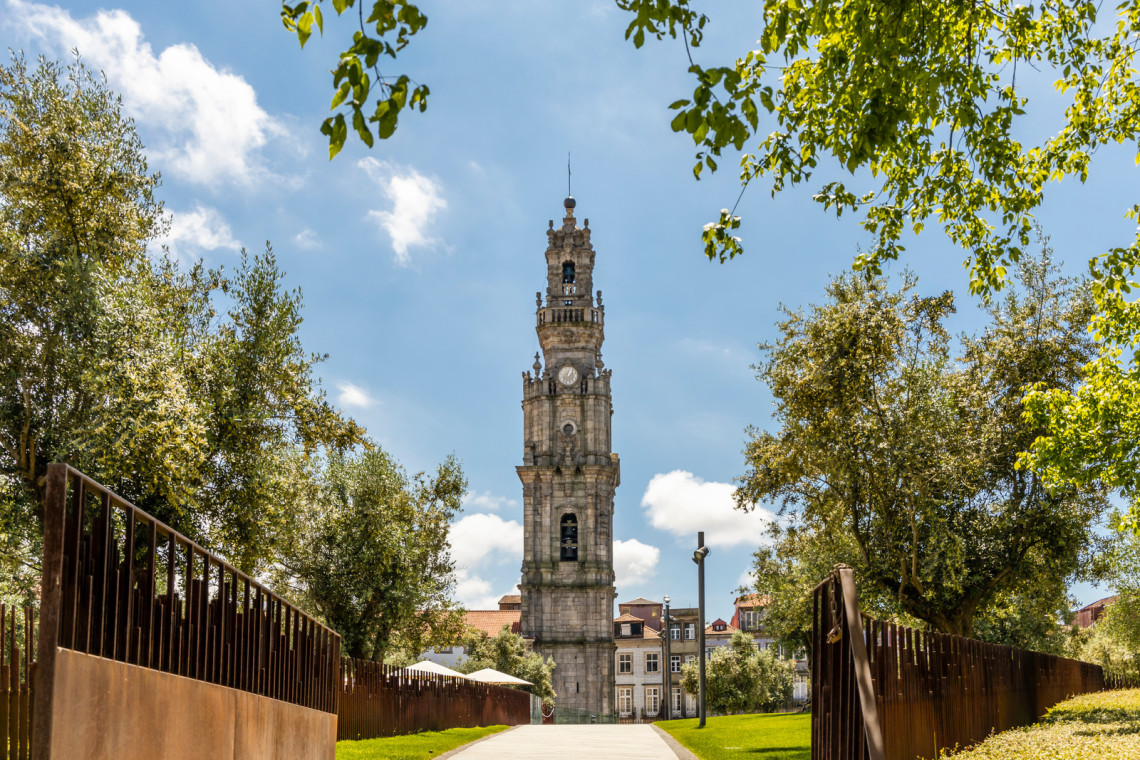 Your ideal religious experience in Porto might be taking a peaceful stroll through breathtaking yet more understated abbeys and monasteries, or you might prefer to visit some of the most iconic religious sites in Porto that top Porto city's best attractions list year after year, but whatever you prefer, one thing is certain: Exploring Porto city's sacred spaces is sure to be among the most unforgettable experience of your Portugal vacation. And speaking of Portugal vacations now is the perfect time to take advantage of our unbeatable deals and packages to explore the incredible churches that Porto city is known for. Whether you're a history buff or just want to take in the best city sights in all of Portugal, there's no better place to be than Porto, and no better company to help take you there than Portugal Getaways!
Exploring the Splendor of Igreja de São Francisco in Porto
Igreja de São Francisco in Porto, Portugal has had a colorful history, stretching all the way back to the 14th century. The Porto church was constructed at a time when the city of Porto was growing in economic and social prosperity by leaps and bounds. The sacred building soon became a place of refuge for both the locals and the many travelers who passed through its doors, providing a sense of peace and serenity amid the ever-changing landscape of Porto.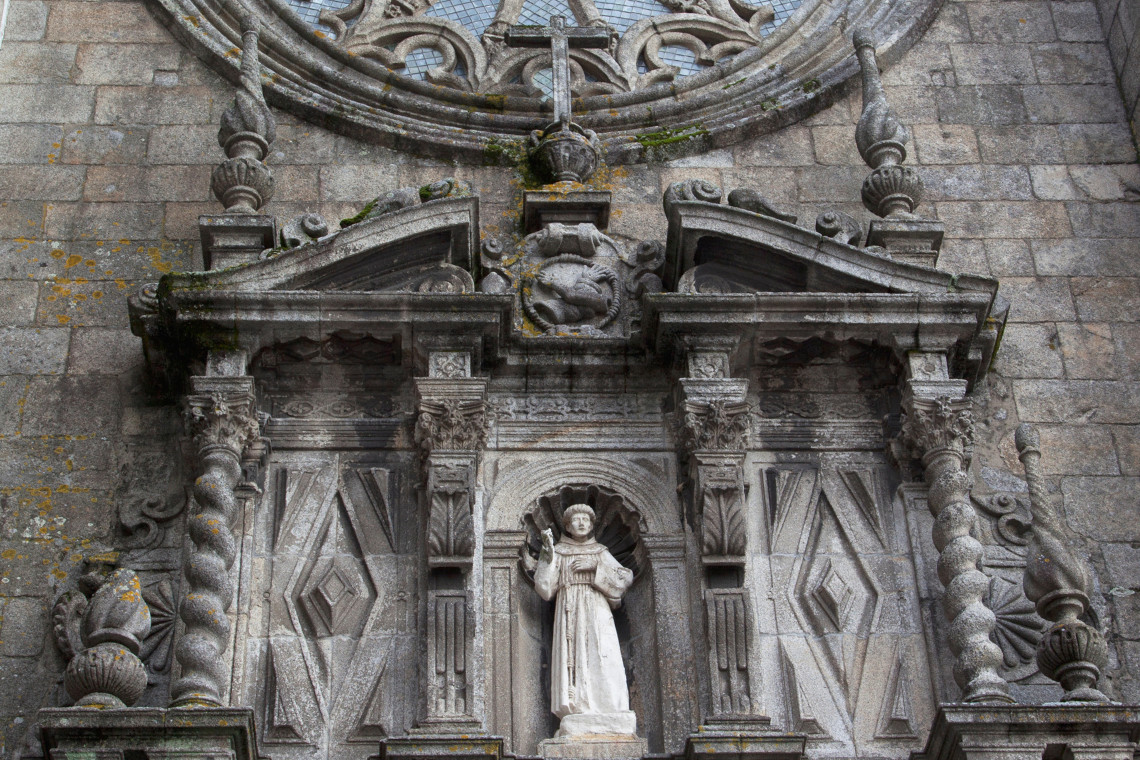 The church has undergone several modifications over its centuries-long lifespan, but despite these changes, its spectacular architecture has remained largely intact and stands as a national treasure and religious mecca of sorts, allowing visitors to experience a special glimpse into Portugal's storied past. Today, Igreja de São Francisco is seen as one of Porto's most important historical sites, attracting thousands of visitors from all over the world each year.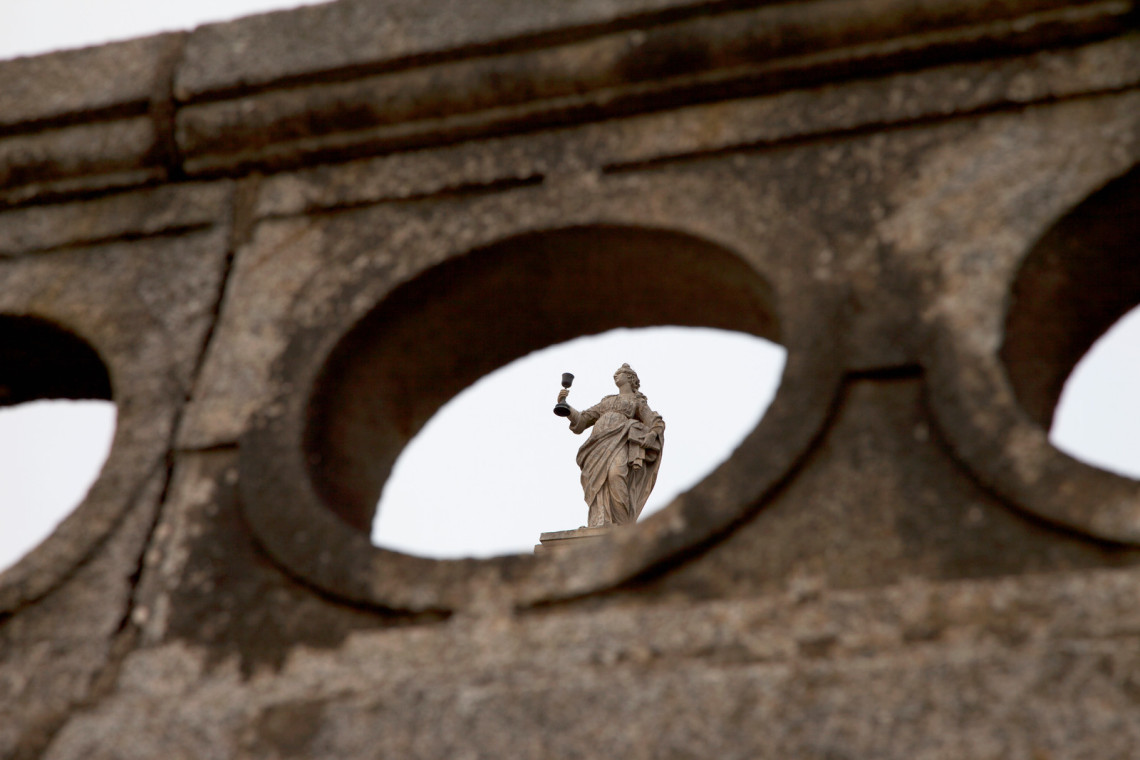 The architecture of Porto'a Igreja de São Francisco is a fantastic example of early Portuguese design, featuring ornate Baroque artwork throughout its interior. The Porto church contains an abundance of religious artifacts representing centuries of faith and tradition. One of the most eye-catching features of Igreja de São Francisco is its towering bell tower that rises above the Porto city rooftops – a lasting testament to this church's vibrant past.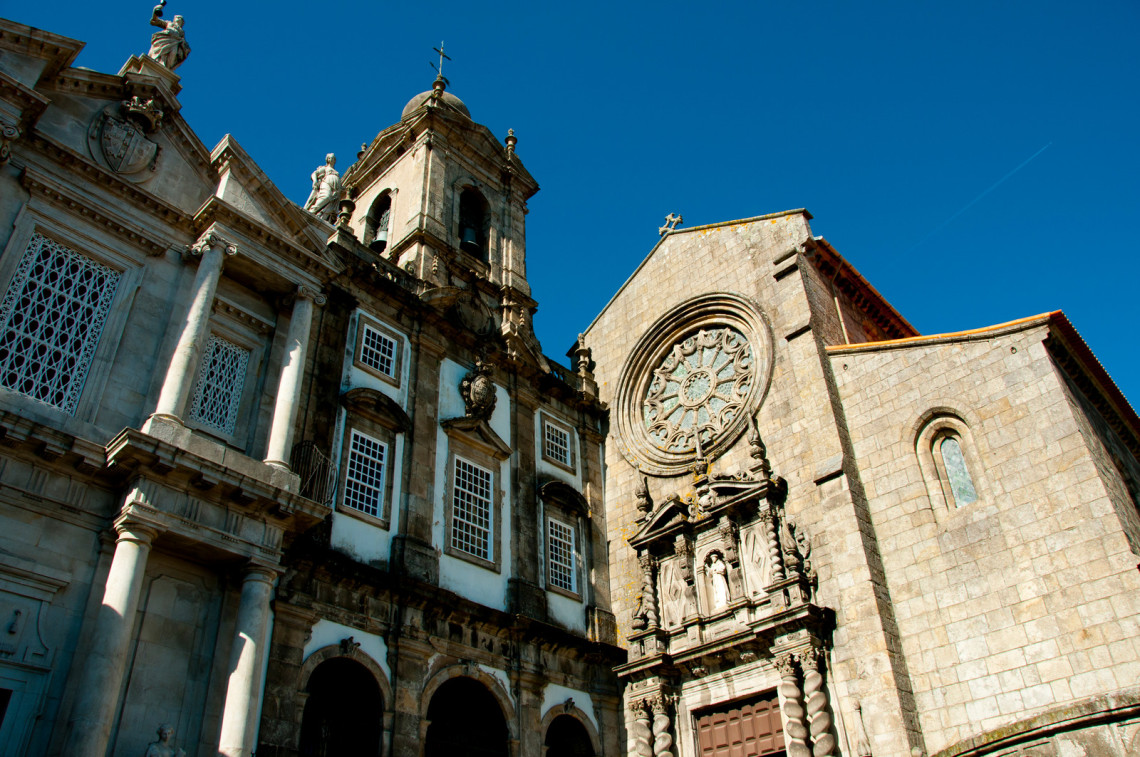 Whether you visit Igreja de São Francisco for its historical significance, or you choose to stop by and marvel at it solely to appreciate its stunning architecture, a visit to this beloved Porto place of worship will be a memorable Porto experience you won't soon forget!
Santa Catarina Chapel - A Majestic Religious Landmark in Porto, Portugal
The beautiful and historic Chapel of Santa Catarina, also known as Capela das Almas, is a treasured part of the parish of Santo Ildefonso. Its origins can be traced back to an old wooden chapel dedicated to Santa Catarina, which had stood in its place for centuries prior.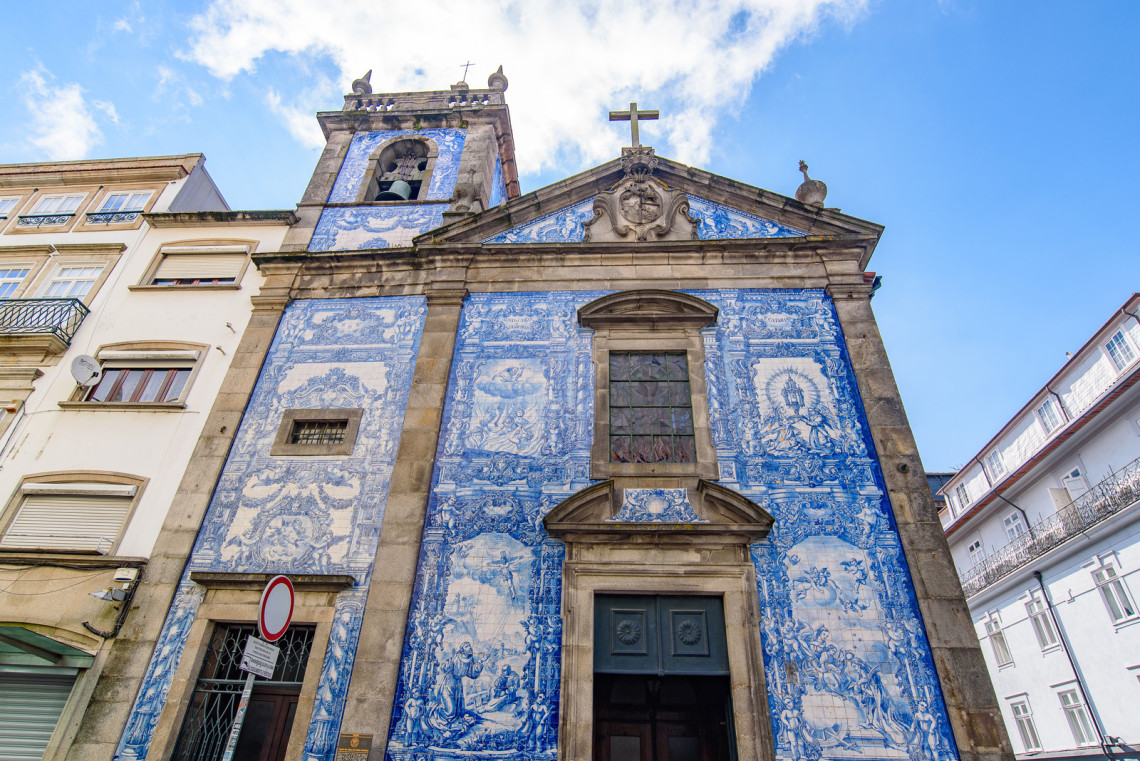 However, at the end of the 18th century, it was rebuilt by members from "Irmandade das Almas e Chagas de São Francisco'', who moved here from the Monastery of St Clara. Today, though much older than before, Santa Catarina Chapel still stands tall, reminding us all about Portugal's and the city of Porto's rich cultural heritage that is present around every corner.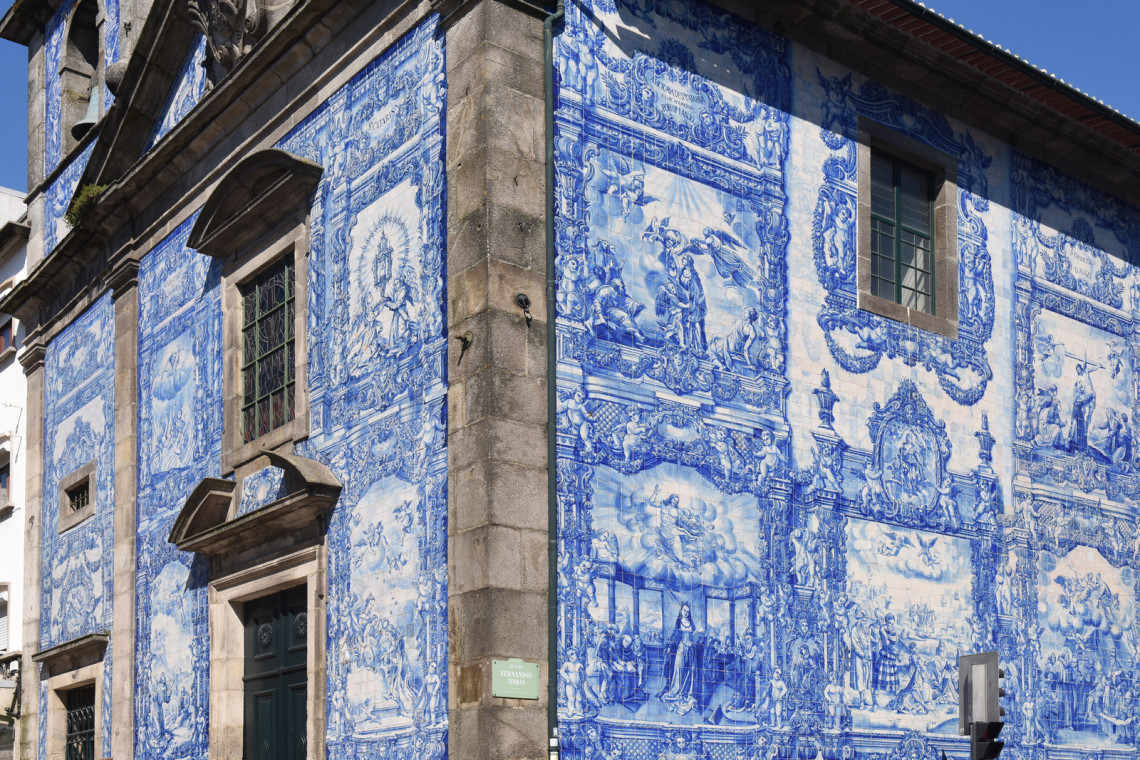 The captivating chapel is divided into two parts, the lower of which received extension and restoration works in 1801. Its stunning main façade features a door framed by an oculi-accented pediment with the arms of São Francisco de Assis and Santa Catarina beneath it. To its left stands a bell tower boasting both a door accompanied by the small window on the first floor, as well as four windows crowned with a balcony above that lead to an iron cross topping off the dome. And we can't possibly detail the beauty that sets apart this Porto chapel without including Amândio Silva's 19th-century stained glass masterpiece representing the souls set within!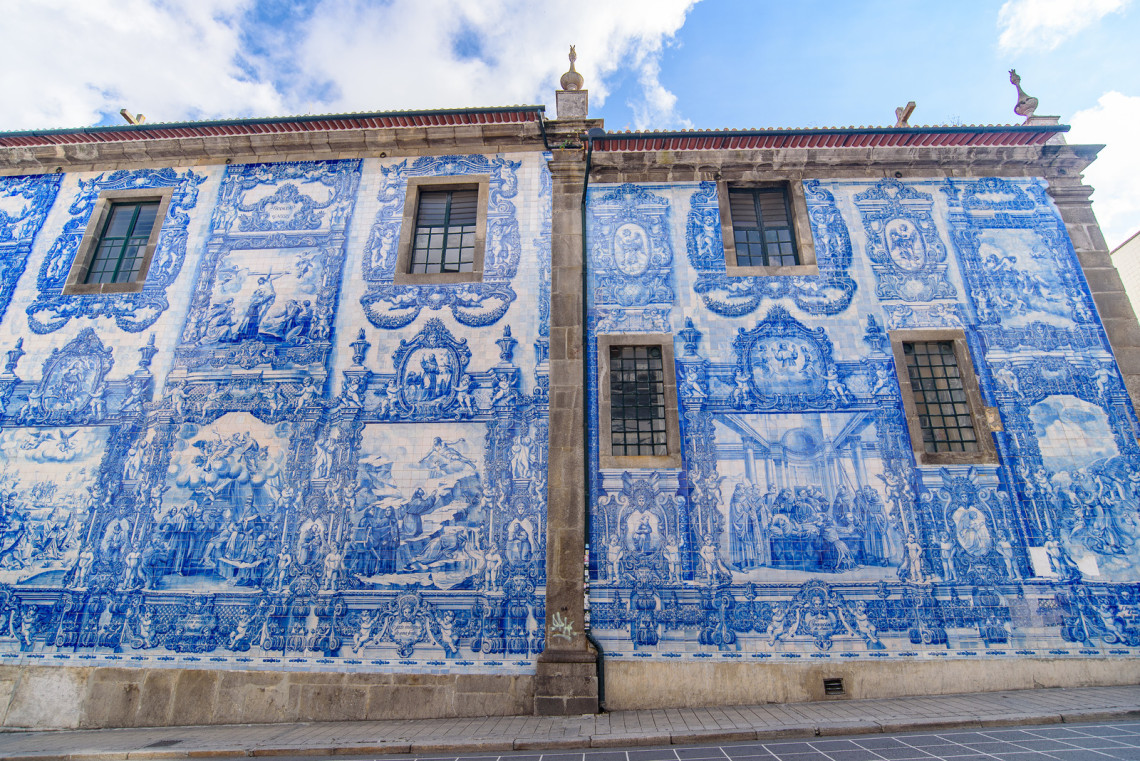 The chapel underwent a radiant transformation in 1929 when 15,947 tiles were installed throughout its 360 square meters of wall. These regal-looking tiles were designed by esteemed artist Eduardo Leite and crafted at the Viúva Lamego Ceramics Factory located in Lisbon, Portugal's storied capital city. An intricate timeline celebrating both Saint Francis of Assisi and Saint Catherine adorns each tile, honoring these saints with admiration while also bringing vibrant beauty to the hallowed walls the tiles now gracefully decorate.
Are you already in love with Portugal? Take a look at our stress-free packages that allow you to book your ultimate Portuguese adventure. All our packages are carefully curated by our team of local Portuguese experts so that you don't need to worry about any details - just enjoy your trip!

Discover the Majestic Charm of Carmo and Carmelitas Church in Porto
From its intricate façade to its gilded interior, Carmelitas Church is a masterpiece of 17th-century architecture. Located in downtown Porto, Carmelitas Church stands proudly next to its neighbor, Carmo Church. Despite sharing the same space, contact between the two religious spaces was made impossible due to the presence of one of the world's narrowest houses that separates them.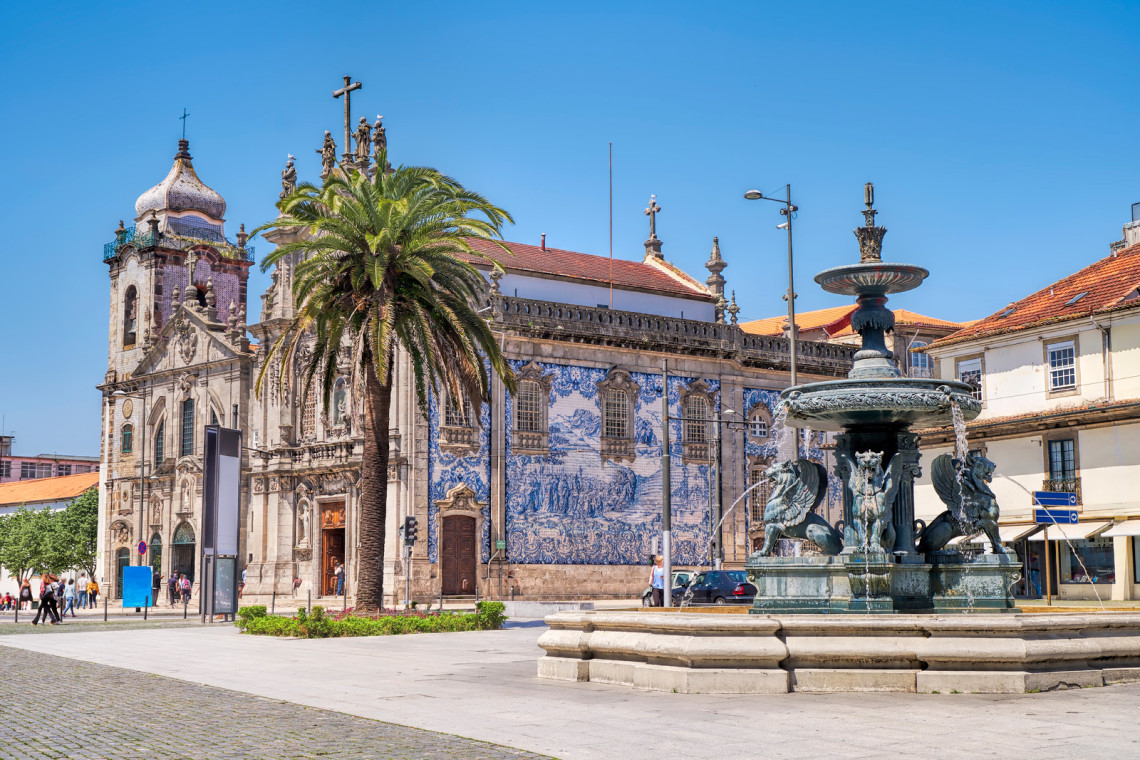 Throughout history, the church has been used for a variety of purposes, including as barracks during the French Invasion of Porto (1808-1814). With such a rich history to go along with its aesthetic beauty, a visit here is undoubtedly an enriching experience and a must-see for anyone visiting the downtown Porto area during their Portugal holiday. Now, you may be wondering, or at least feeling it is a bit strange to have two majestic churches standing side by side in downtown Porto, and no, their close proximity isn't a result of some epic feud between archbishops! The real story is much more interesting!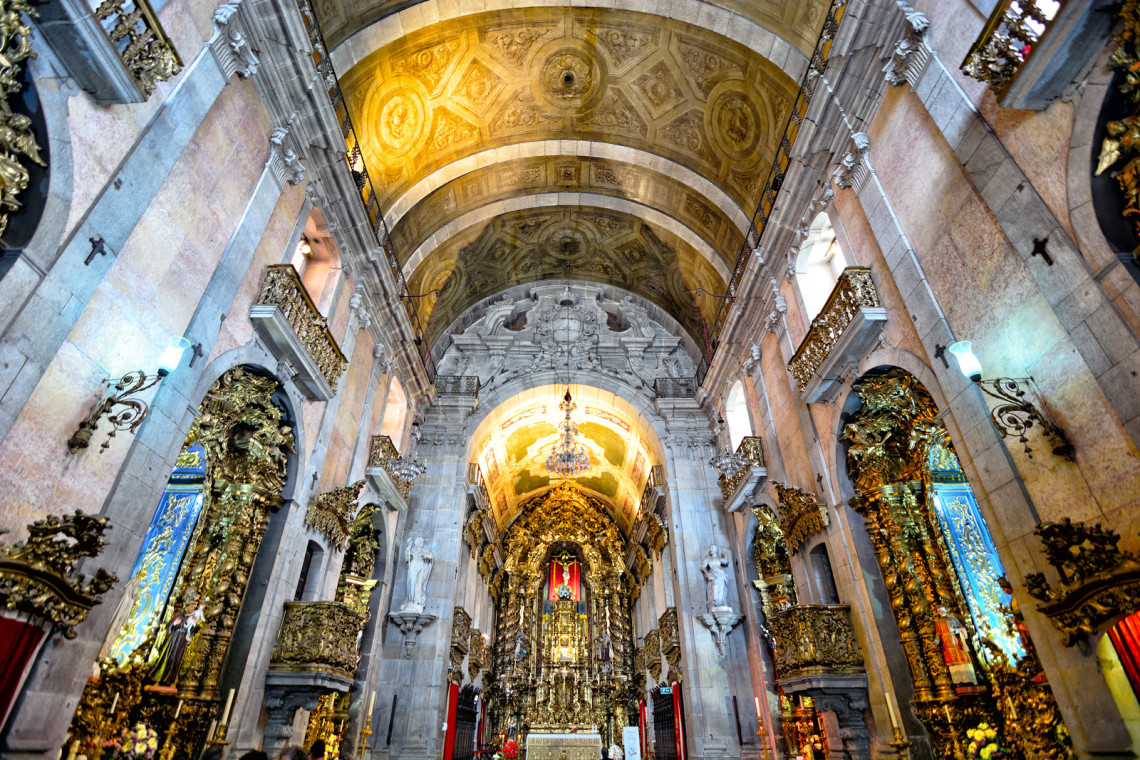 Thanks to a centuries-old law and/or an effort to keep the nuns and monks from becoming too familiar with one another, a house was constructed between them, making all contact impossible. Even more remarkable is that people actually lived within the unbelievably narrow abode up until the 1980s! Now, visitors can buy a ticket to peek inside this most unusual sliver of a building to see it for themselves.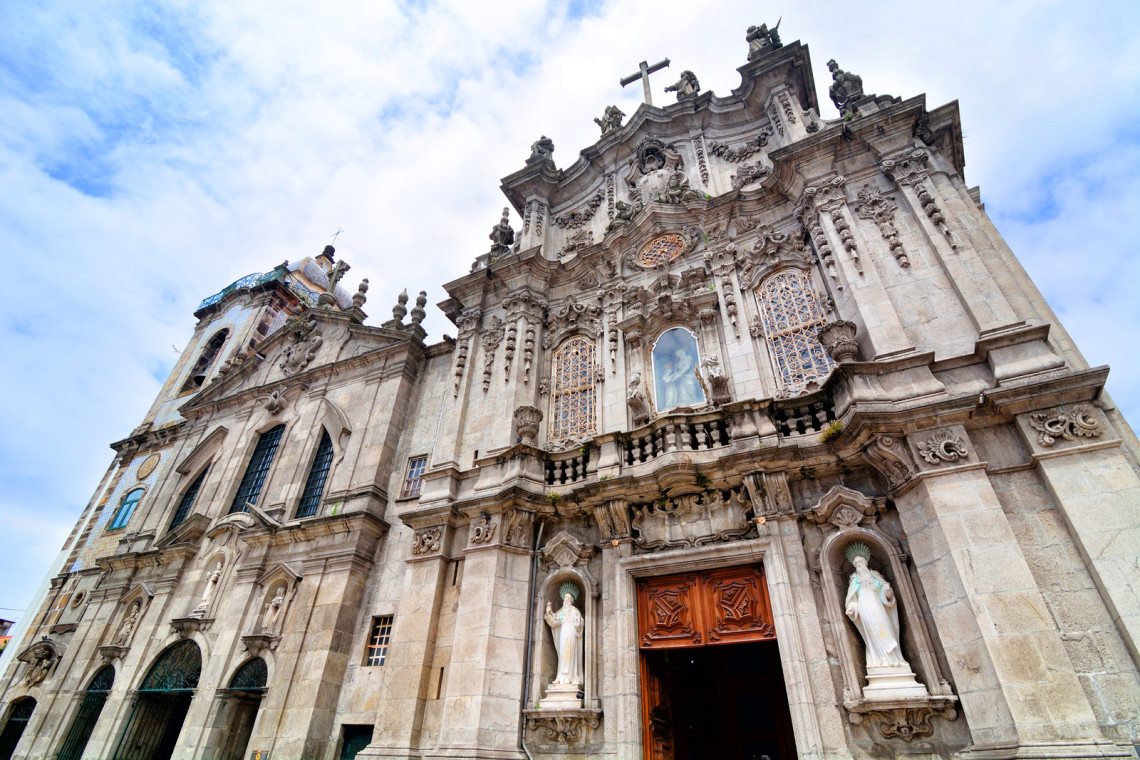 That brings us to the history of Igreja do Carmo, which was built in the 18th century and has a neoclassical façade featuring the figure of Saint Anne, who is referred to as Nossa Senhora and was said to have appeared before the Carmelites. The layout of the church is thanks to the creative hand of Nicolao Nasoni, an architect who participated in creating numerous churches in Porto throughout the years. Another essential detail of Carmo Church's exterior is a breathtaking mosaic that was added to its side in 1912. This classical Portuguese white-and-blue azulejo tile work of art depicts the scene of the Carmelite order's founding. It was designed by Silvestro Silvestri, painted by Carlos Branca, and crafted at the factory in Vila Nova de Gaia.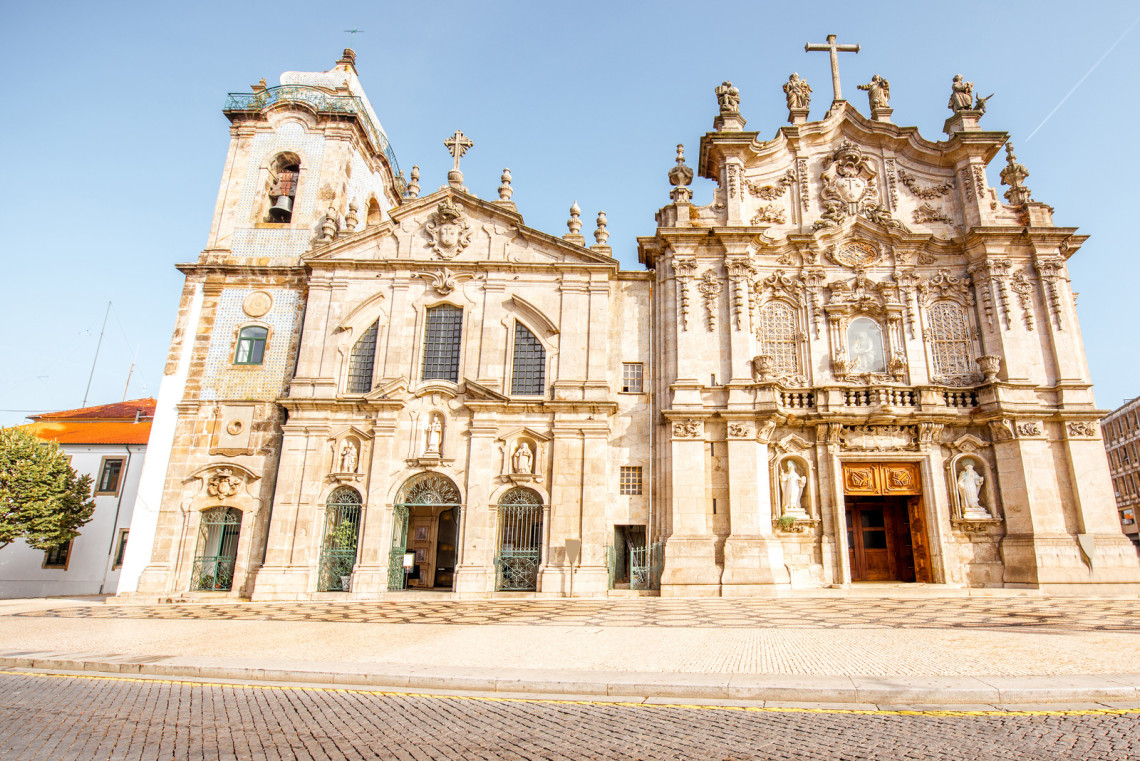 Inside both churches are examples of rococo and baroque architectural styles featuring gilded wood carvings and rich decor. The older part of the church contains seven altars, made by Francisco Pereira Campanhã. Located close to other top Porto landmarks of interest, such as Clérigos Tower, Cordoaria Gardens, and Lello Bookshop, Carmo Church and Carmelitas Church offer more than just an incredible cultural experience and are absolute must-sees to add to your Porto itinerary.
Explore the Splendid Architecture of Clérigos Church in Porto
The Clérigos Church in Porto, Portugal is one of the city's defining symbols, much of which is thanks to its iconic 75-meter bell tower, called the Torre dos Clérigos. This beloved church in Porto stands out due to its majestic architecture and can be seen from many locations throughout the Porto area.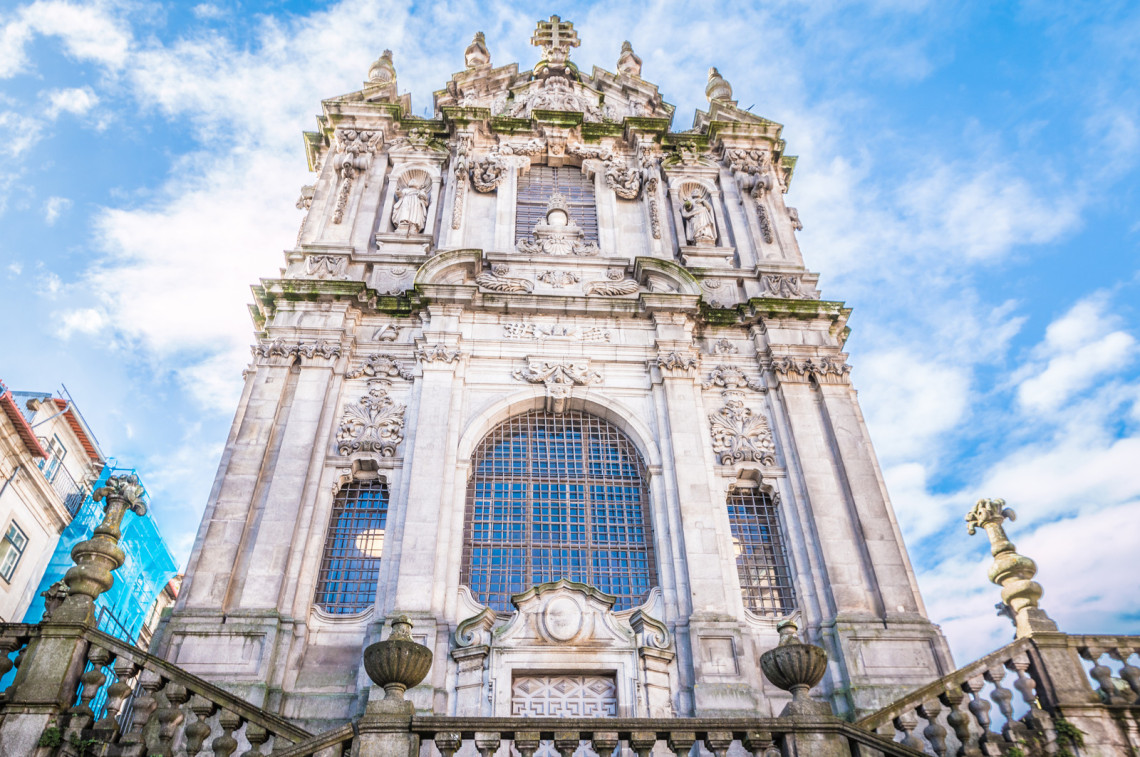 Built-in the 18th century by the Italian architect and painter Nicolau Nasoni, the Clérigos Church in Porto is an iconic Baroque structure. Featuring a majestic 75-meter bell tower and monumental divided stairway, the church façade is embellished with ornate decorations showcasing traditional Baroque motifs – such as garlands and shells – based on an early 17th-century Roman scheme.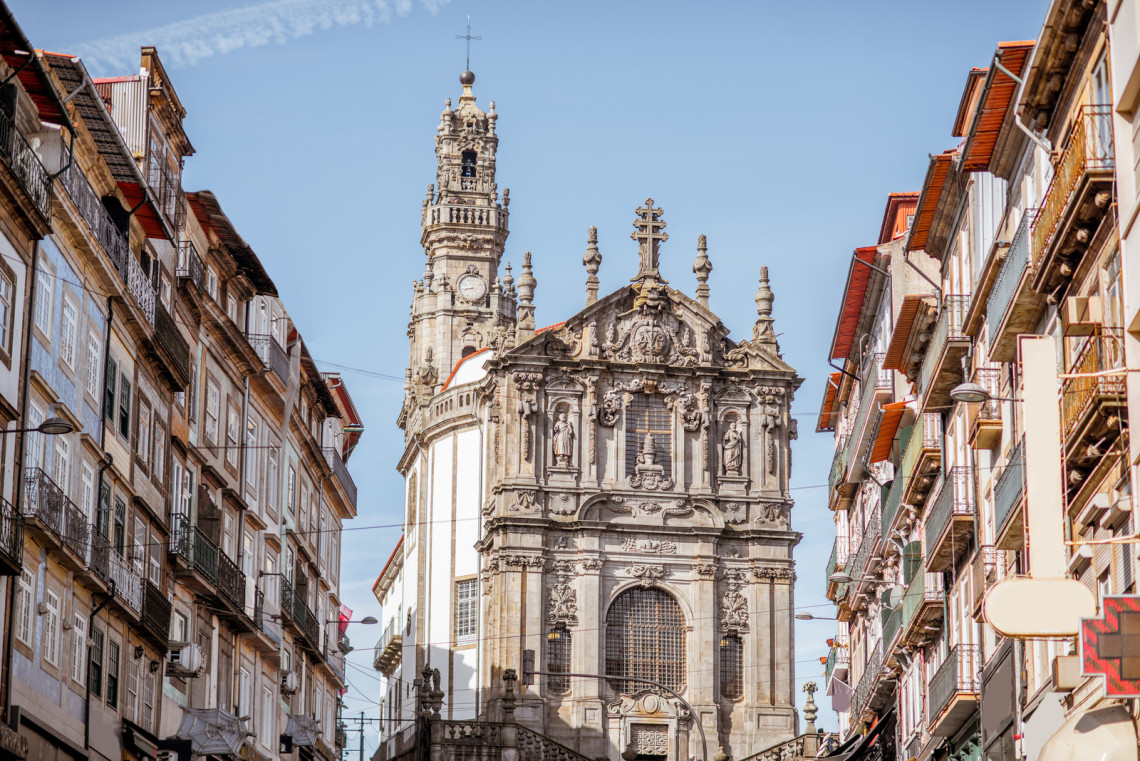 Symbols of worship appear on the central frieze located above the windows of the church, which is further adorned by an incense boat. The lateral facades reveal an almost elliptic shape to the church nave, only adding to its aesthetic beauty and allure. Interesting fact: The Clérigos Church in Porto is one of the first Baroque churches in Portugal to adopt a typical elliptic floor plan. Its main chapel features an altarpiece made of polychromed marble designed by Manuel dos Santos Porto.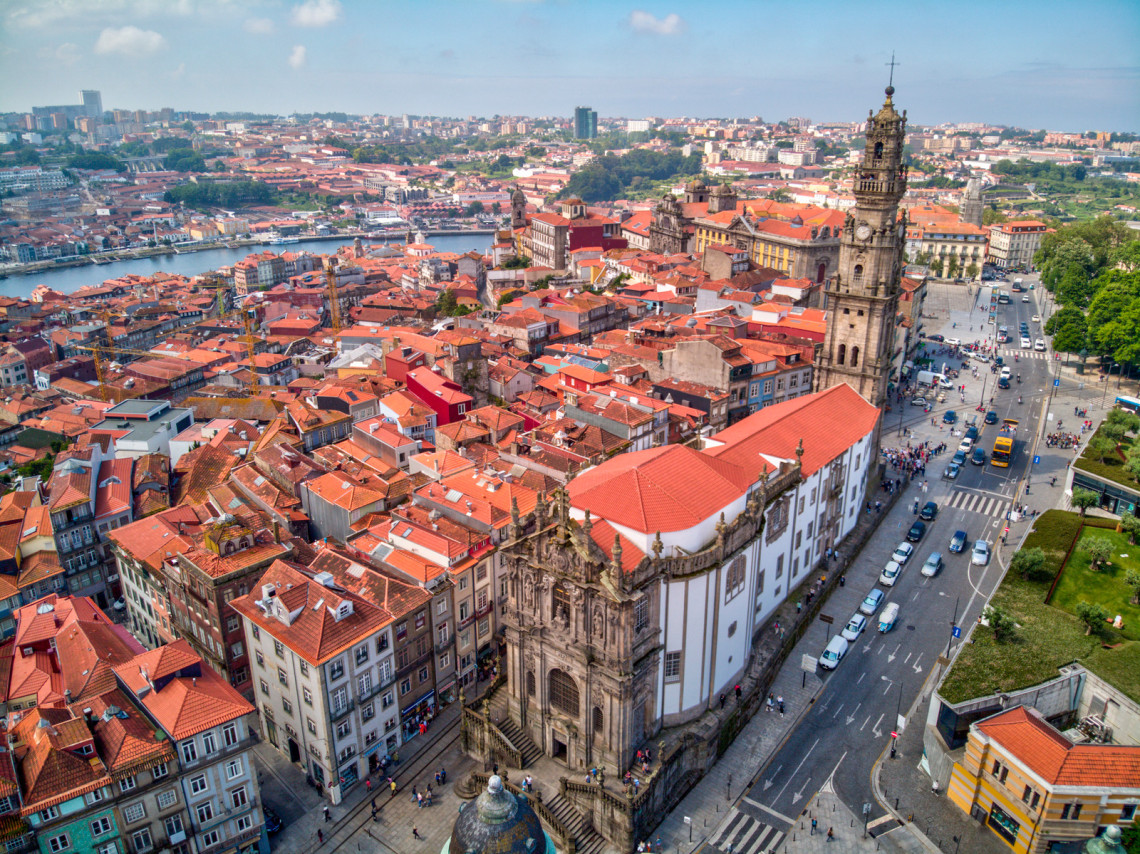 Rising majestically at the back of the church is its 75.6 meters tall tower, featuring intricate Baroque decoration influenced by Roman Baroque and Tuscan campaniles, with 240 steps needed to reach the top of its six stories height. This great religious structure has come to symbolize Porto city itself, as much as has Nicolau Nasoni, who was responsible for creating other monuments around Porto.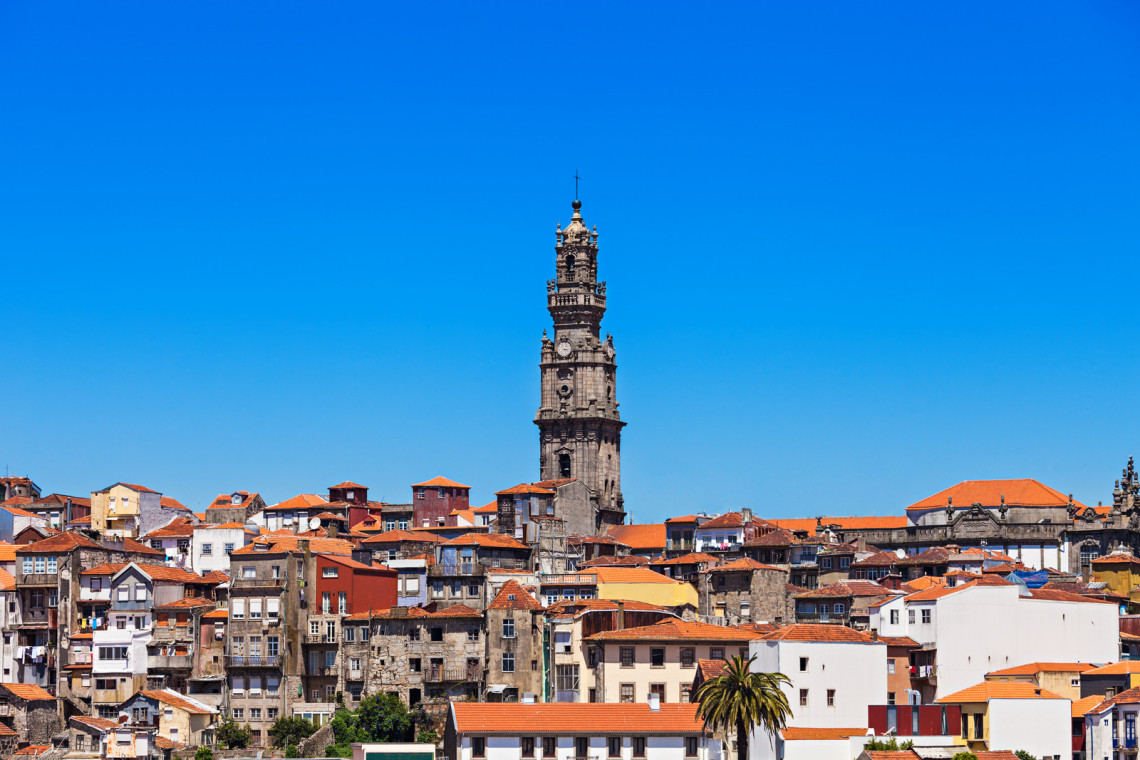 In June 2015, after 250 years, it was announced that the Clérigos Tower and Church would open for nighttime visitors for the first time. And we must admit, seeing this gorgeous Porto sight beneath an evening sky really is an unforgettable experience you should have at least once in your lifetime when you go to Porto!
Uncover the History and Beauty of The Church of Our Lady of Lapa in Porto
The Church of Our Lady of Lapa was first a vision of Brazilian priest Ângelo Sequeira, who preached in Oporto during the year 1754 with the goal of constructing a chapel dedicated to the Virgin Mary. In 1755, his dream began to become a reality as construction commenced.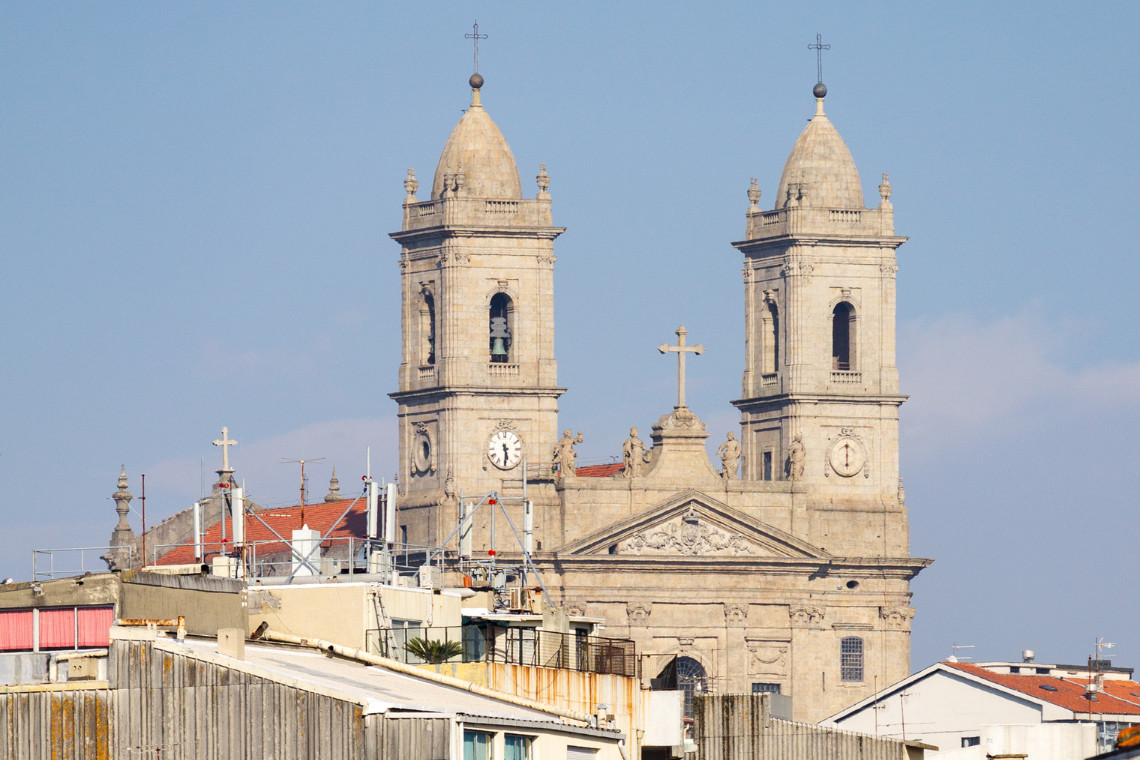 However, despite beginning construction in 1756, the project suffered from various obstacles, such as political unrest and financial struggles, which resulted in construction dragging on for over a hundred years! Architect José de Figueiredo Seixas was responsible for some designs, with the towers dating back and being attributed to the design genius of José Luis Nogueira Júnior in the late 19th century. Two years later, plans changed and the board decided to create a grand church instead, and José Figueiredo Seixas was charged with overseeing the works. However, progress came slowly due to Portugal being invaded by French forces. Eventually, it was completed in 1835.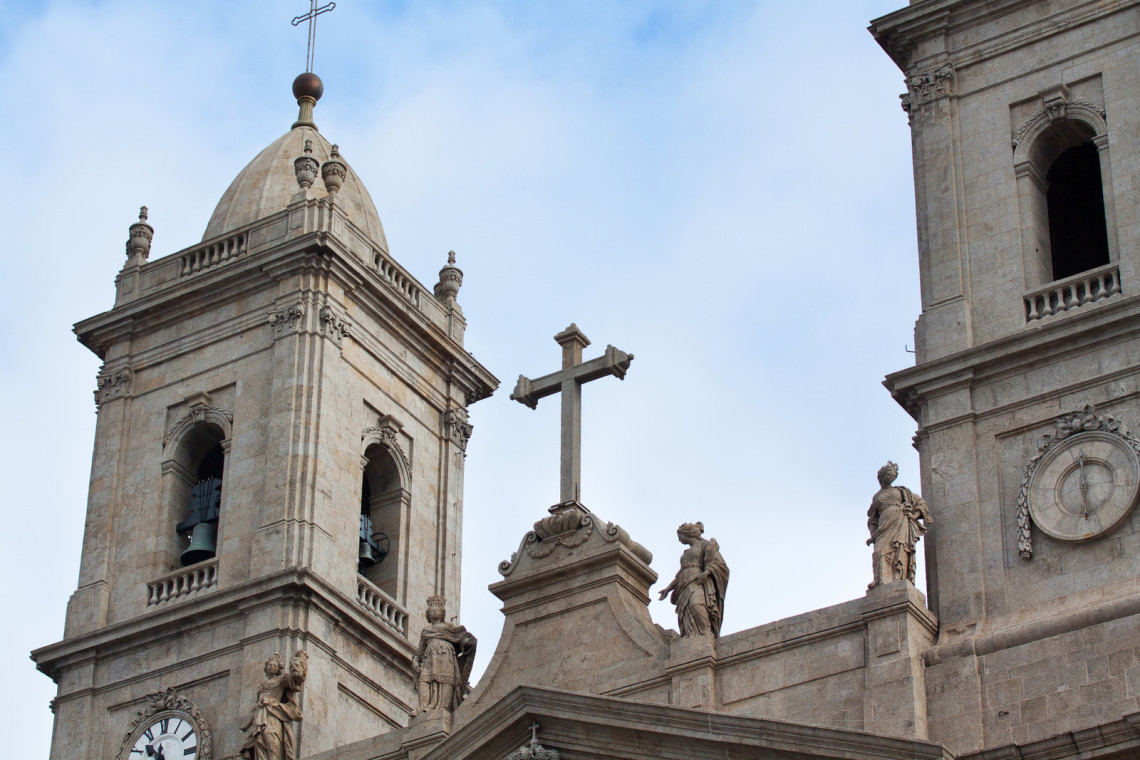 It was also at this time that King Pedro IV had his heart brought to the church in gratitude for Oporto's loyalty and courage throughout their civil war against D. Miguel. His heart rests near the main altar next to the Gospel in a small shrine designed by Costa Lima. The Church of Our Lady of Lapa further treasures another unique feature: its monumental organ, which has earned it much acclaim since 1995 thanks to the various concerts that have been hosted there. And speaking of hearts, since 1835, the Church of Our Lady of Lapa has held within its walls the heart of Dom Pedro as a symbol of his love and admiration for Porto. The heart is placed in a mausoleum standing seven meters high that is located on the left side of the main altar.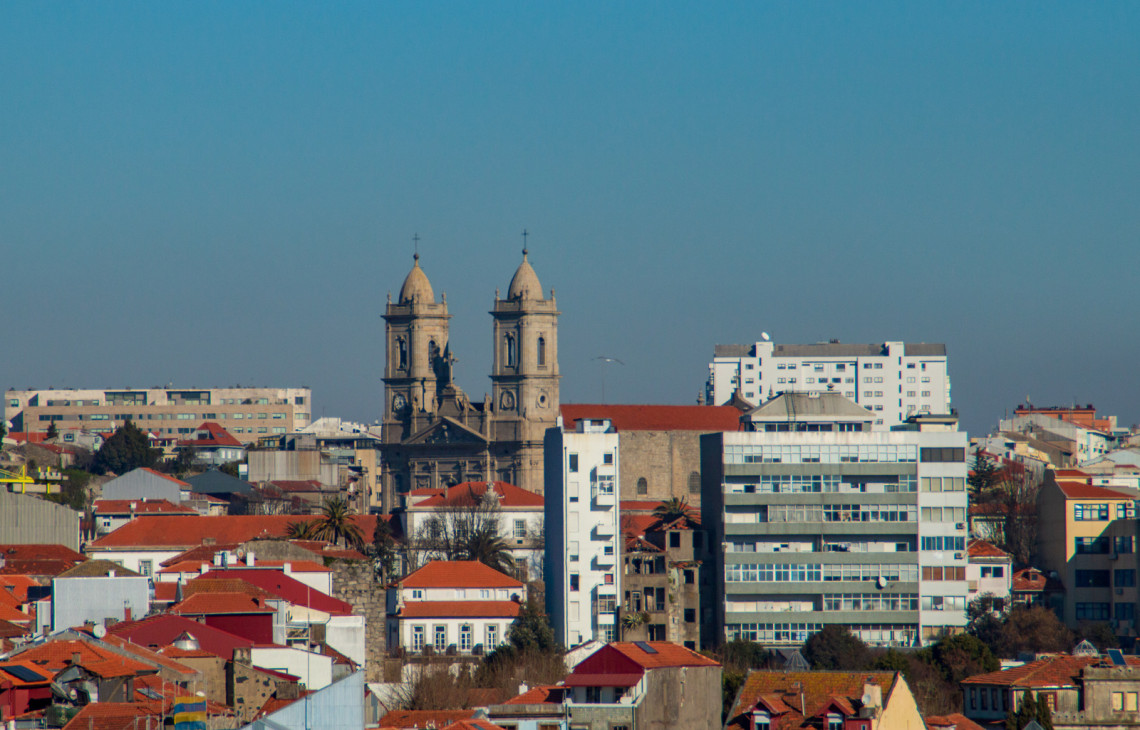 It is kept under a bronze plaque that only opens for maintenance or special ceremonies. Five keys to open this monument are stored in the Office of Porto's Mayor, symbolizing Pedro IV's courage and bravery. Every year a memorial celebration is held in honor of Dom Pedro and his values, which have been passed down through generations. In the 20th century, Marques da Silva created a new adjacent property belonging to the Brotherhood of Lapa. The result is an impressive monument that now stands out as one of Porto's main attractions.
The Church of St. Anthony in Lisbon: A Testament to Faith
St. Anthony's Congregation is a unique, attractive church located north of the main Porto Sao Bento Railway Station in Porto, Portugal. Its blue and white tiles give it an alluring ambiance, creating an atmosphere that is more like a chapel than a traditional church. In 1657, the land for St. Anthony's Congregation was purchased to build a chapel. Construction was completed in 1680, and Prince Pedro granted the church royal protection and an annual grant for its upkeep in 1683.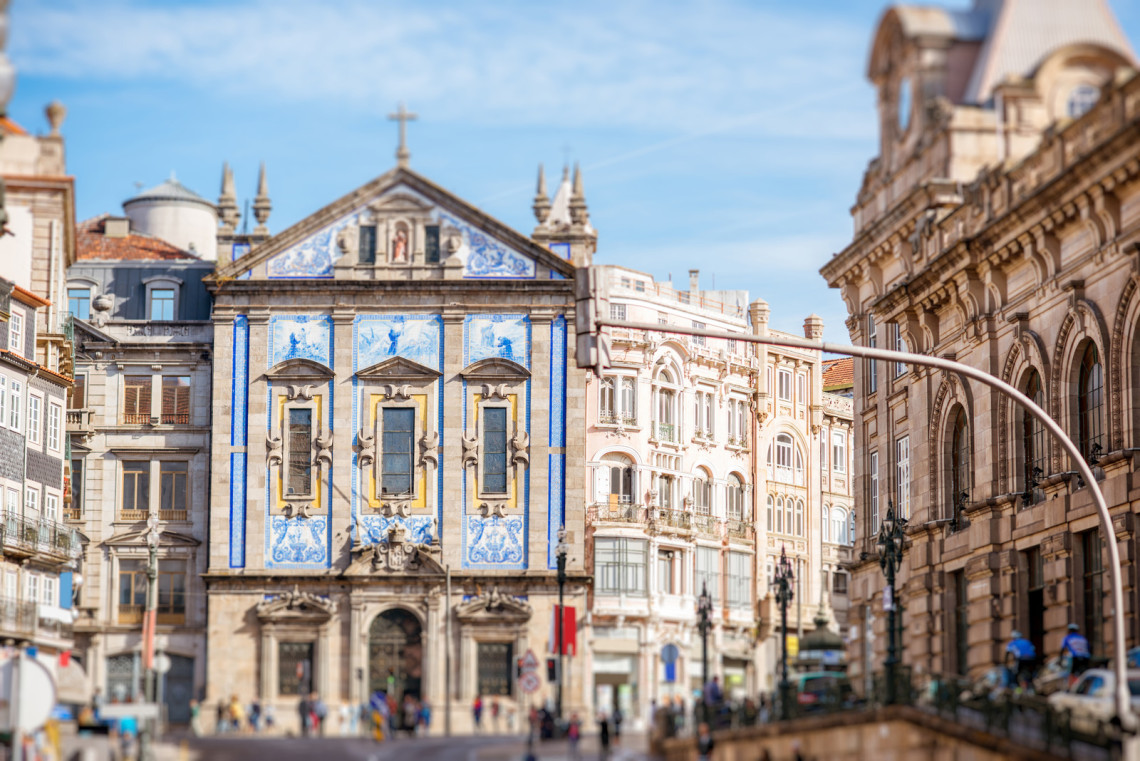 In 1694, the decision was made to build an even larger church, the construction of which began the same year and finished in 1703. During the siege of Porto (from 1832-1835), the church was used as a makeshift hospital and also housed military equipment. The facade is sober compared with other Porto churches, but reveals some baroque influences with intricate stonework around the main windows and on the roof section.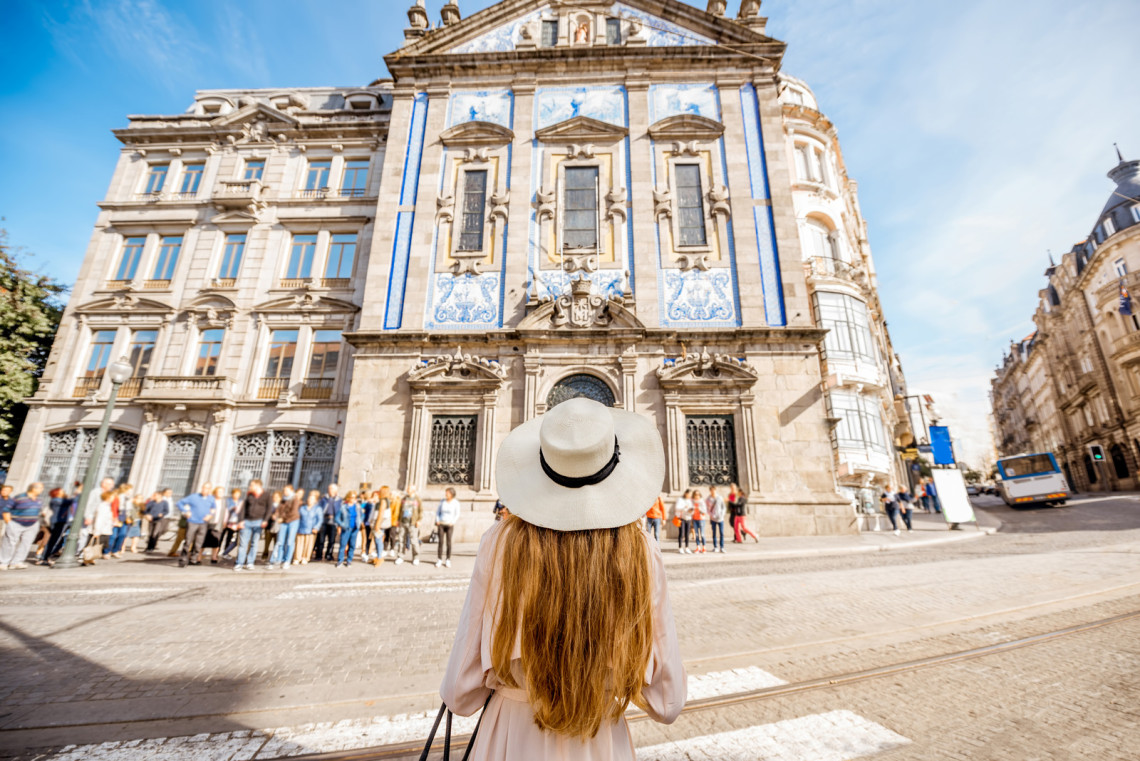 St. Anthony of Lisbon was a highly esteemed Portuguese Catholic priest and friar from the Franciscan order, who was born at the end of the 12th century in Lisbon. In 1210, he joined the Canons Regular monastic order at the Augustinian Abbey of Saint Vincent. After asking to be transferred, he pursued further religious studies at the monastery of Santa Cruz de Coimbra.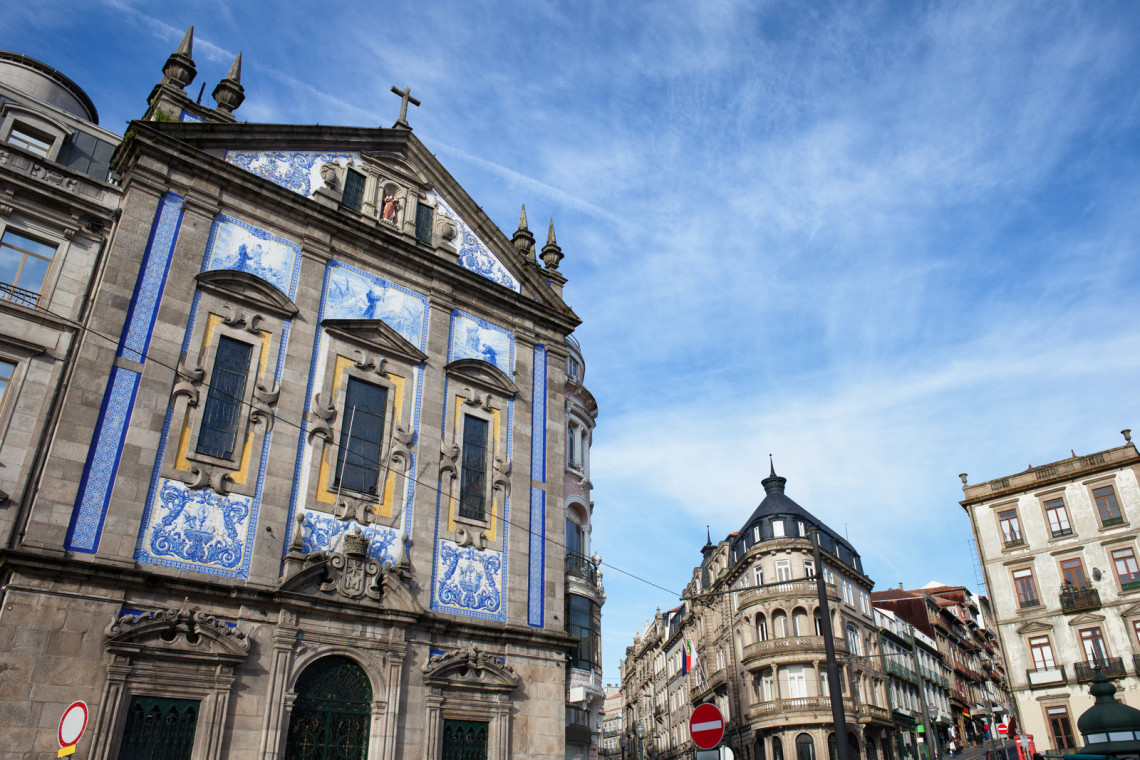 St. Anthony was known for his vast knowledge of the Bible and his powerful preaching, both of which earned him recognition as a patron saint for finding lost items or people. He is still deeply venerated by many Catholics around the world today.
Come See Porto's Awe-Inspiring Chapels and Sacred Spaces for Yourself!
As we have covered extensively in this article, there are so many reasons why visiting Porto and its numerous churches is an incredible experience that you will remember for years to come. Taking in the breathtaking architecture, discovering the fascinating stories of centuries past, and being inspired by the impressive artwork belonging to each of these sacred spaces in Porto all combine to create a Porto city experience unlike any other. So, whether you are visiting Porto for a weekend or are coming to stay for weeks or months – even if you are a Porto local – there is something to explore and appreciate at every turn in the historic city of Porto, including its churches!
Explore Portugal Your Way: Customizable, Tailor-Made Trips for Your Dream Adventure!
If you're looking to explore Portugal at your own pace, we have got you covered. Our team of specialists will work with you to create a custom-made trip that suits your preferences and budget. Whether you want to indulge in the local cuisine, explore the historic cities, or soak up the sun on beautiful beaches, our tailor-made packages offer the flexibility and freedom to discover the highlights of Portugal at your own pace. So why wait? Contact us today and let us help you plan an unforgettable trip to Portugal!