Dom Luis I Bridge: The Most Famous Bridge in Porto, Portugal
Porto city is the second largest city in Portugal following the capital city of Lisbon, Portugal. Nestled in the north of Portugal right by the famed Douro River, Porto has become a must-see travel destination in Europe for vacationers across the globe, and for good reason.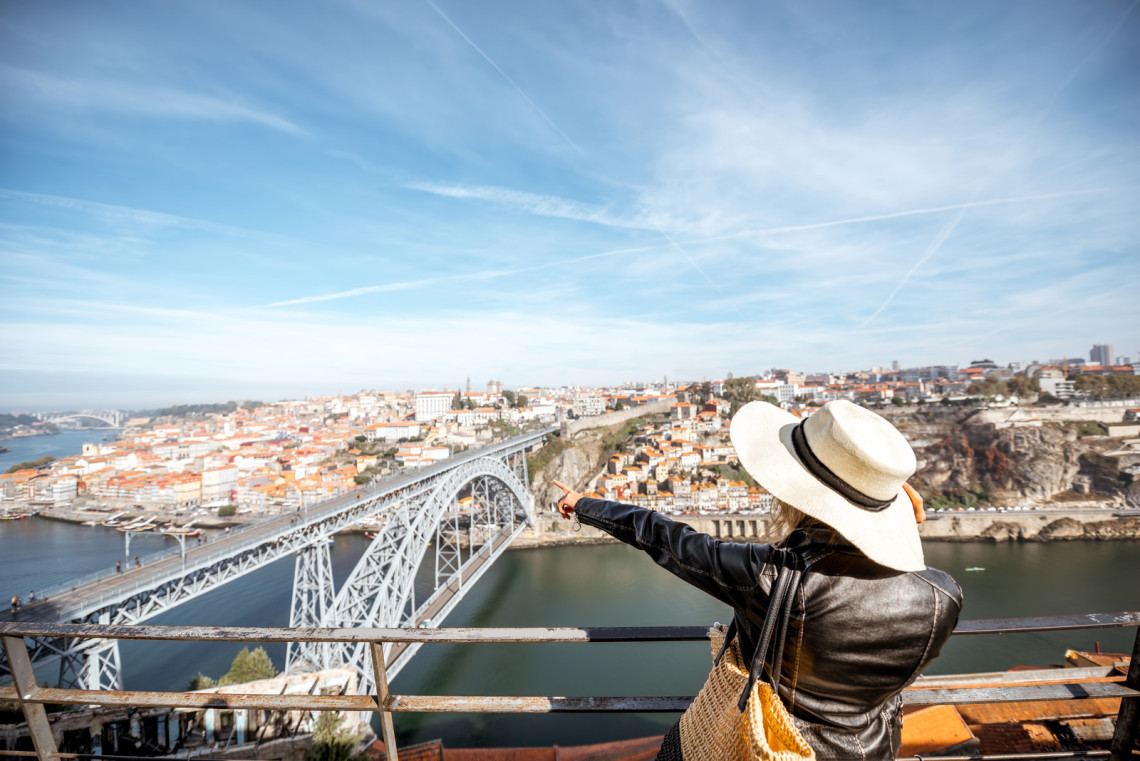 From its unique neighbourhoods — each offering their own special charms — to its soulful atmosphere and friendly, welcoming vibe, Porto in Portugal offers visitors traveling here during their Portugal vacation a wealth of things to see and experiences to try. And the fact that Porto itself was classified as an official World Heritage Site by UNESCO in 1996 will especially thrill history buffs looking for their next European vacation destination!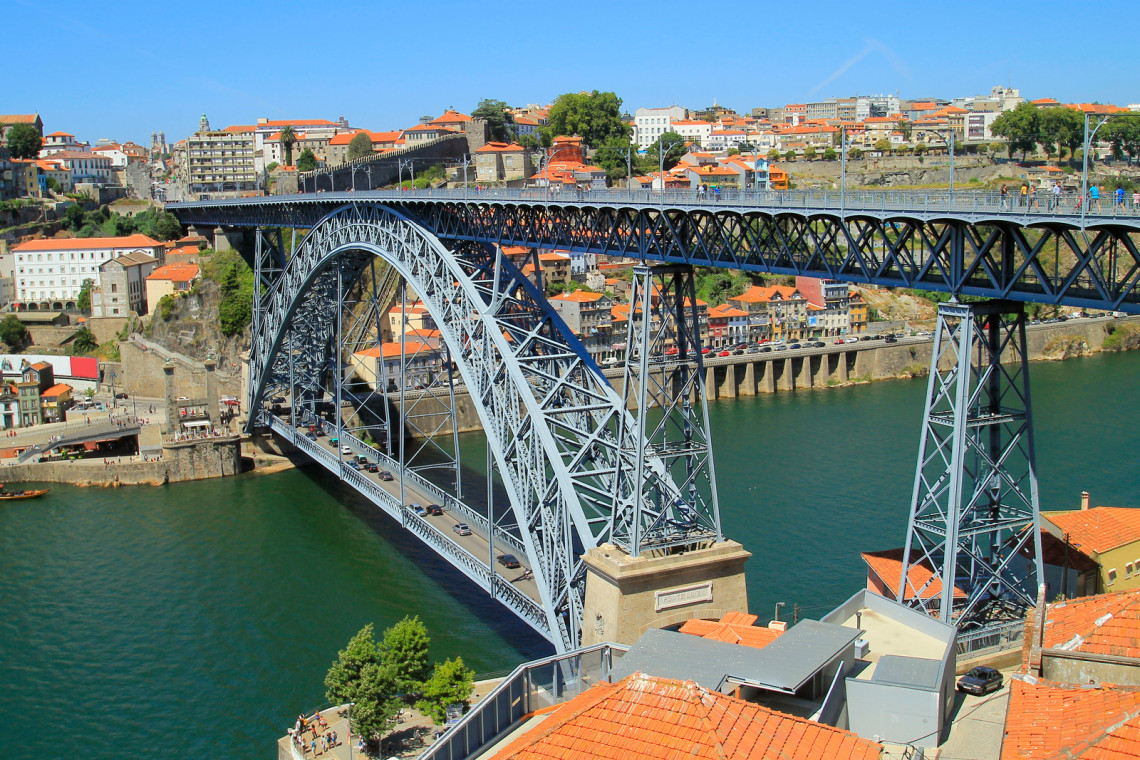 And speaking of all of the exciting and best attractions in Porto, one favorite Porto attraction of both visitors and locals alike is the famed Dom Luis Bridge I, known locally as "Ponte de Dom Luis I''. Let's explore this exciting Porto attraction and one of the most beloved landmarks in Porto together. Keep reading to learn the real scoop on Dom Luis Bridge I in Porto, Portugal!
Dom Luis I Bridge: Wild Popularity and Instagram Appeal
To say that the Dom Luis I Bridge is well-known would be an understatement because it actually is the most famous bridge in Porto, Portugal. In fact, we would go so far as to say that the Dom Luis I Bridge is one of the most famous bridges in all of Portugal!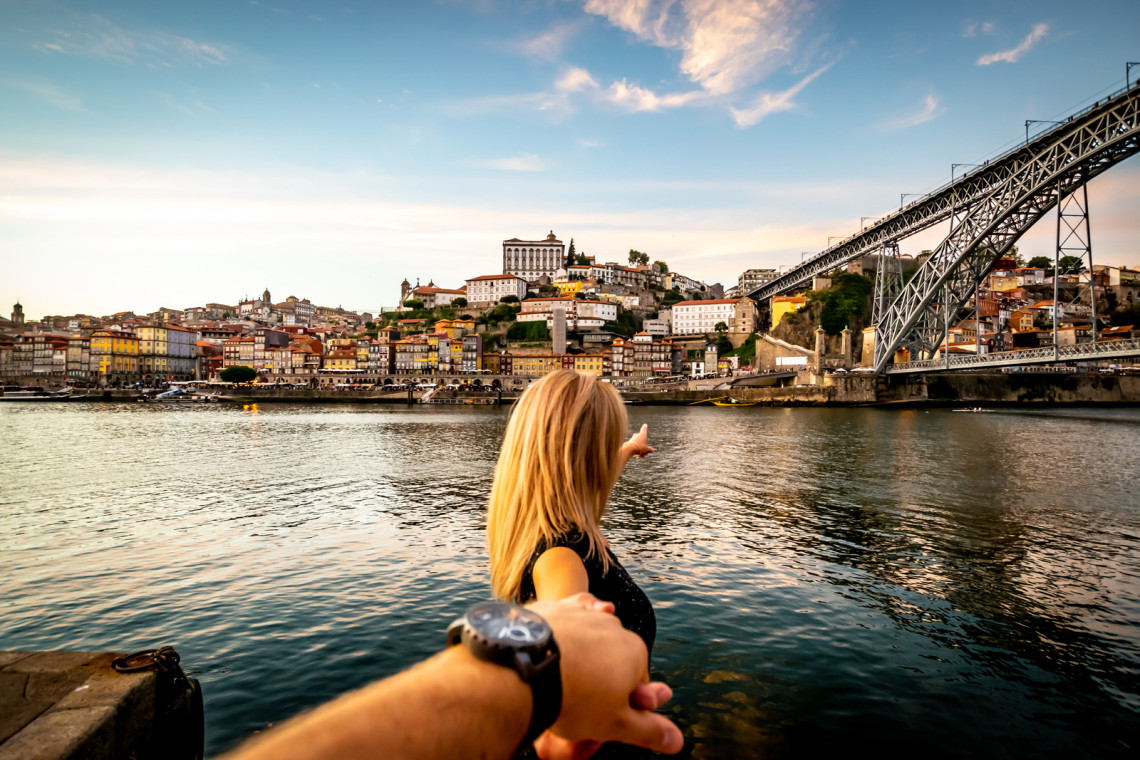 Scroll through an Instagram feed or do a quick Google search of images of Porto and Porto's best attractions, and you will certainly come across numerous photos of this iconic Porto bridge. Not only is the Dom Luis I Bridge wildly popular with travelers thanks to its being an ideal spot for snapping photos perfect for social media, but the Porto Bridge is also among the best attractions in Porto to visit on any northern Portugal trip.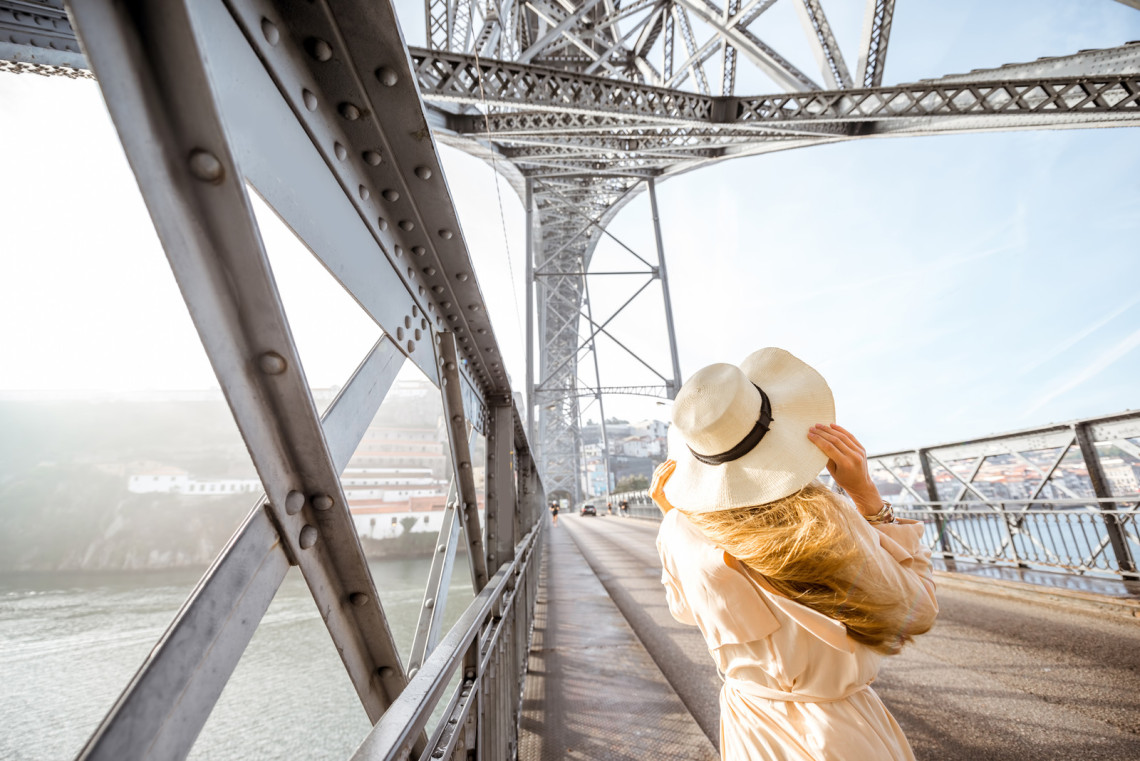 An inside tip for those heading to Dom Luis Bridge hoping to capture that epic photograph of this popular Porto landmark to commemorate your trip, the very best views (and photo op locales) are from the Ribeira district looking across the Douro along the bridge's impressive length. So, don't forget to bring your camera or iPhone charged and ready as you visit Porto, and make sure the Dom Luis Bridge I is at the top of your list of must-have snaps!
So, what exactly does the bridge look like? Glad you asked…
Porto's Dom Luis I Bridge: Architecture and Aesthetics
For a bridge to be so popular among travelers and have earned its place on countless postcards, travel websites, and Instagram feeds throughout the world, it must not be too much of an eyesore to look at! In fact, the case is quite the opposite, as Dom Luis I Bridge in Porto is quite beautiful to behold.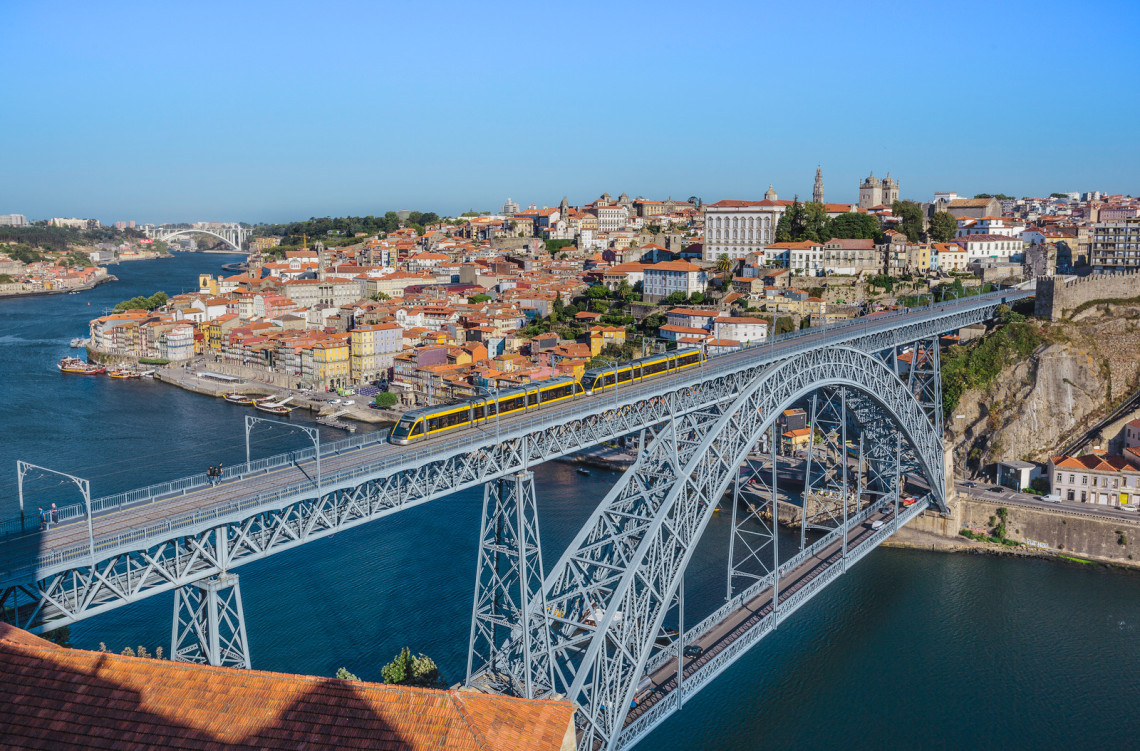 This should come as no surprise, as the mastermind behind its design was a protege of the famed Gustave Eiffel himself (you may know him as the creator of a little old tower in Paris?!) But, we will get to that a bit later in this Dom Luis I Bridge article! Back to the brass tacks of the iconic bridge's aesthetics and architecture!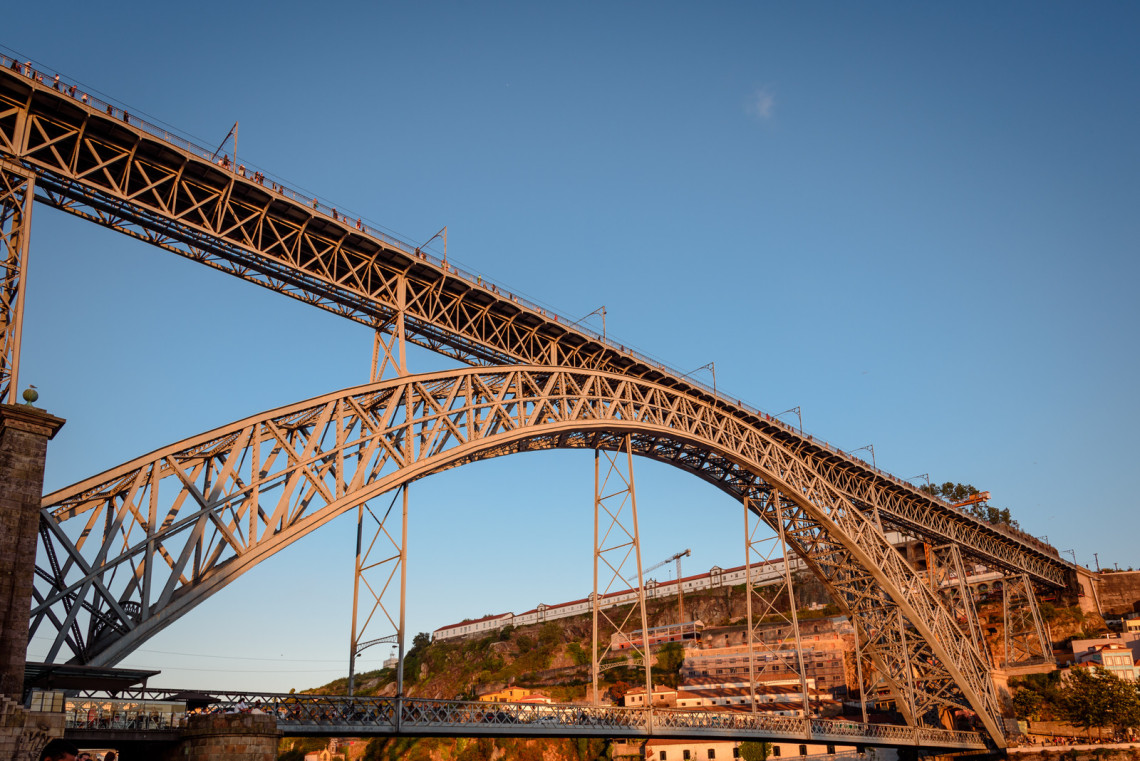 Located in the heart of the center of Porto city, right by the iconic Ribeira district of Porto, the Dom Luís I Bridge — just like the cheery and iconic London buses — is what you could call a double-decker. The metal arch bridge has an upper and lower deck and spans along the world-famous Douro River connecting the northern Portugal cities of Porto and Vila Nova de Gaia.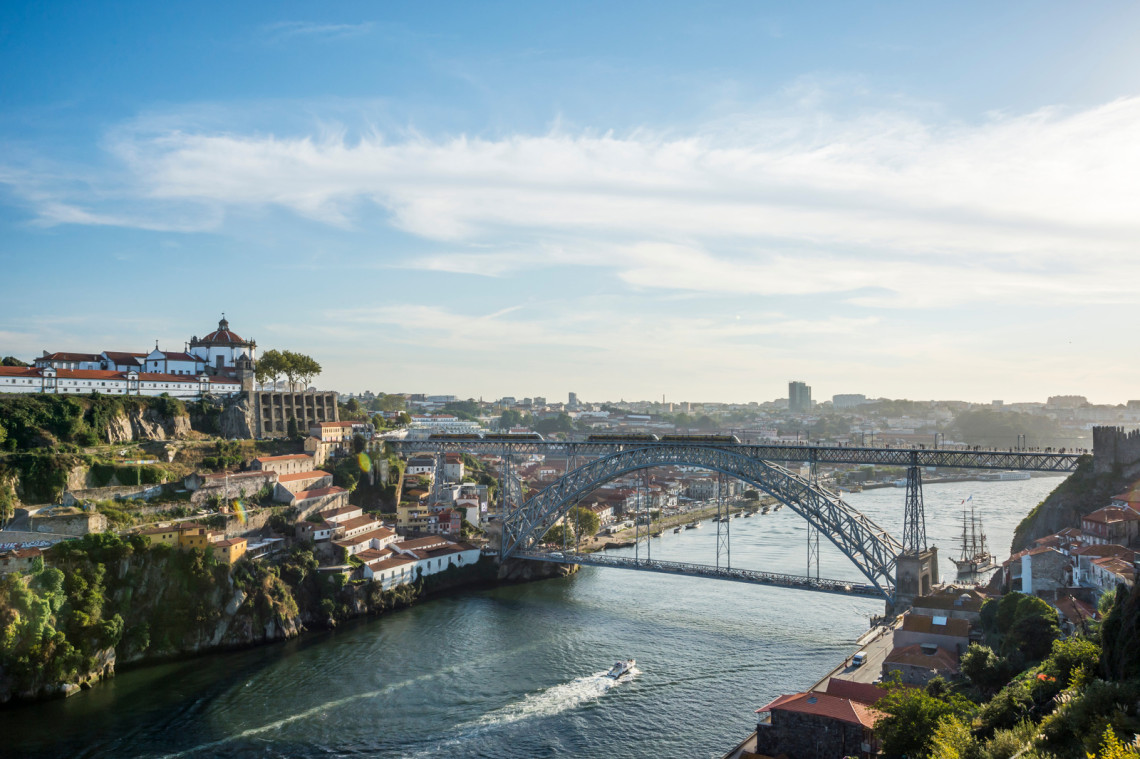 The upper portion of the double-decker bridge in Porto is used for the Porto metro and also has a pedestrian walkway that offers an incredible view of the river and city landscape. As for the lower section of the Dom Luis I Bridge in Porto, it is open for use by both pedestrians and vehicles alike in order to cross the Douro River from Porto to Vila Nova de Gaia, and vice versa. And by the way: The Ponte Luis I has a length of 385 meters and a height of 45 meters, for those keeping scores. But that's not all!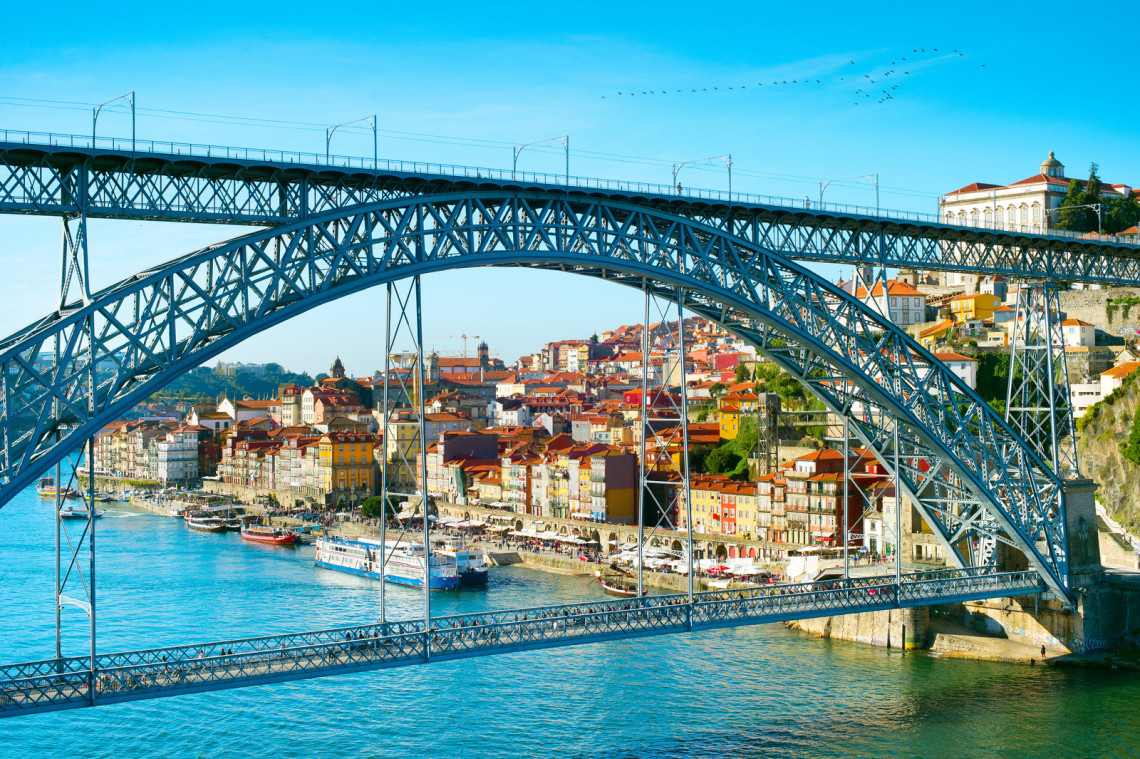 Porto's Dom Luis I Bridge: Details, Details, Details
Among the features that really set Dom Luis Bridge I apart as distinct and special are the intricate and symbolic details showcased on every inch of its impressive frame. What can't be seen from afar is the beautiful and painstaking attention to detail the bridge designers paid upon its design and construction.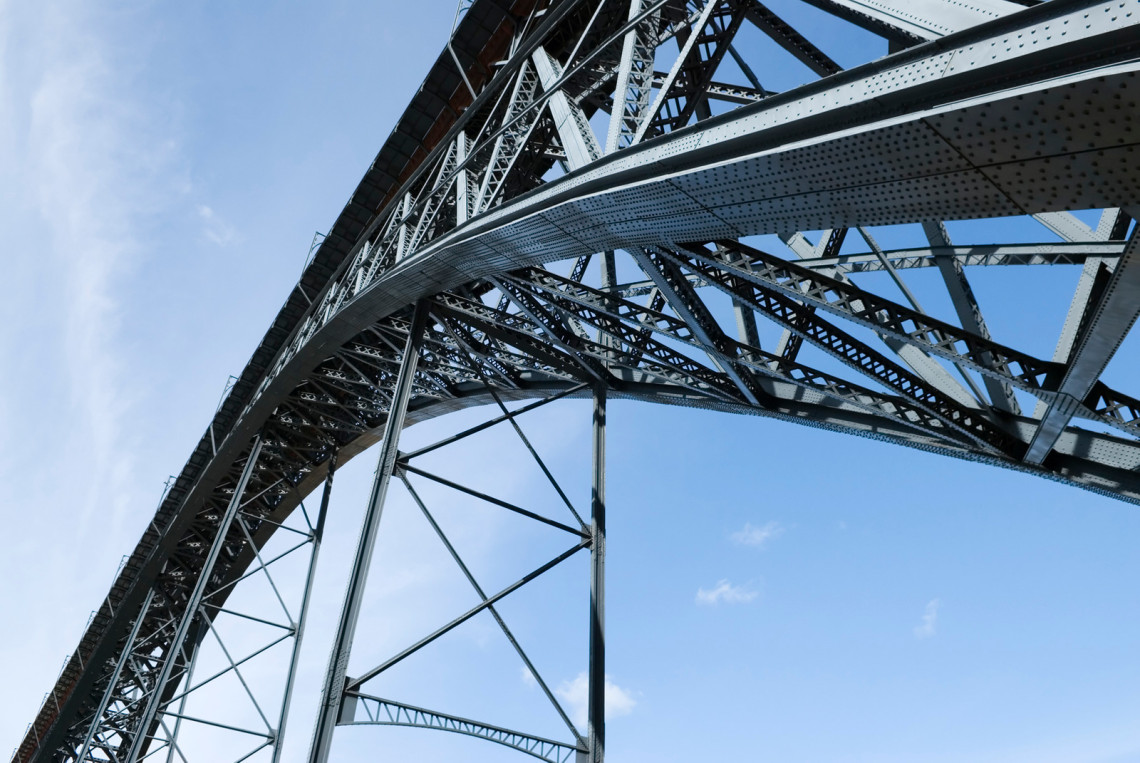 For example, both the upper and lower decks — moored to the Douro river bank by towering masonry piers — are trimmed with thoughtful finishes and zigzagged with a majestic maze of intersecting beams, like a lovely architectural dance stretching at length above the Douro. More details abound — symbolic details — as grand marble plaques etched with the words "PONTE LUIZ I" can be seen at the base of the bridge's arches. Also seen are stones that pay homage to Portugal's royal coat of arms.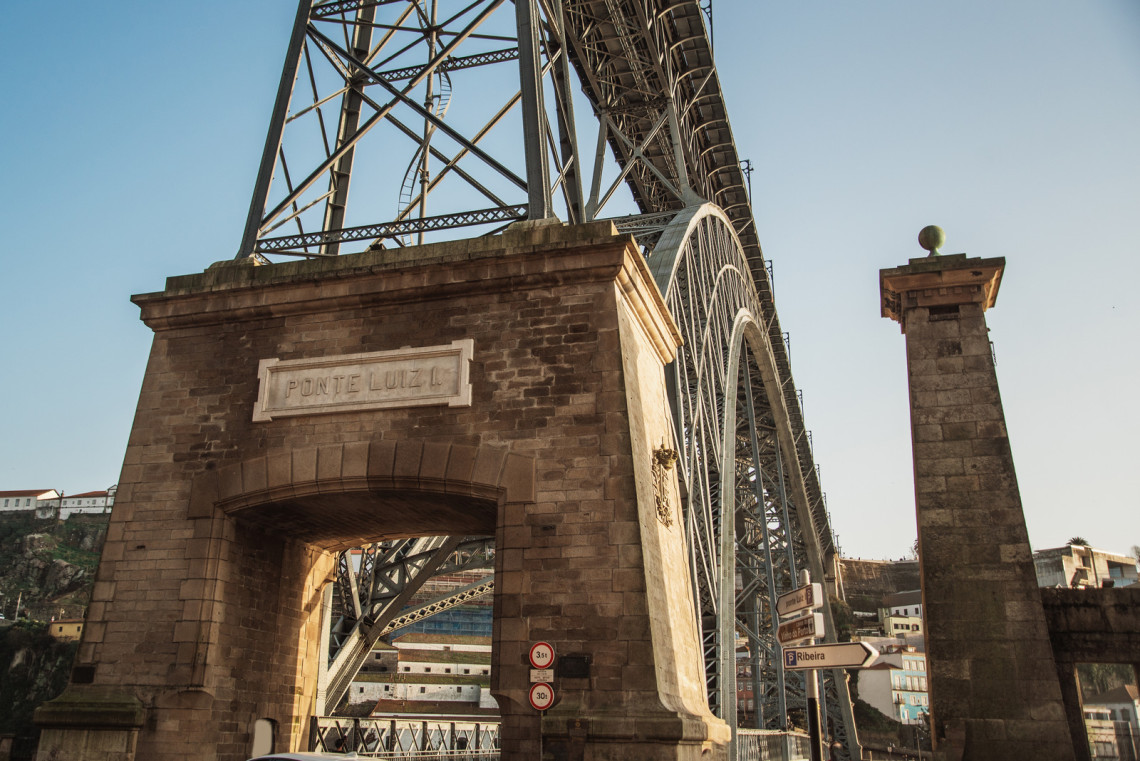 But perhaps the most important features that make the Dom Luis I Bridge so iconic are the lamps on its upper deck, which literally light up the night and give the bridge an evening-time golden aura. This breathtaking golden glow makes the iconic Porto bridge an ideal subject for nighttime photoshoots, and is even said to be quite the coveted spot for popping that once-in-a-lifetime question during a romantic riverside proposal!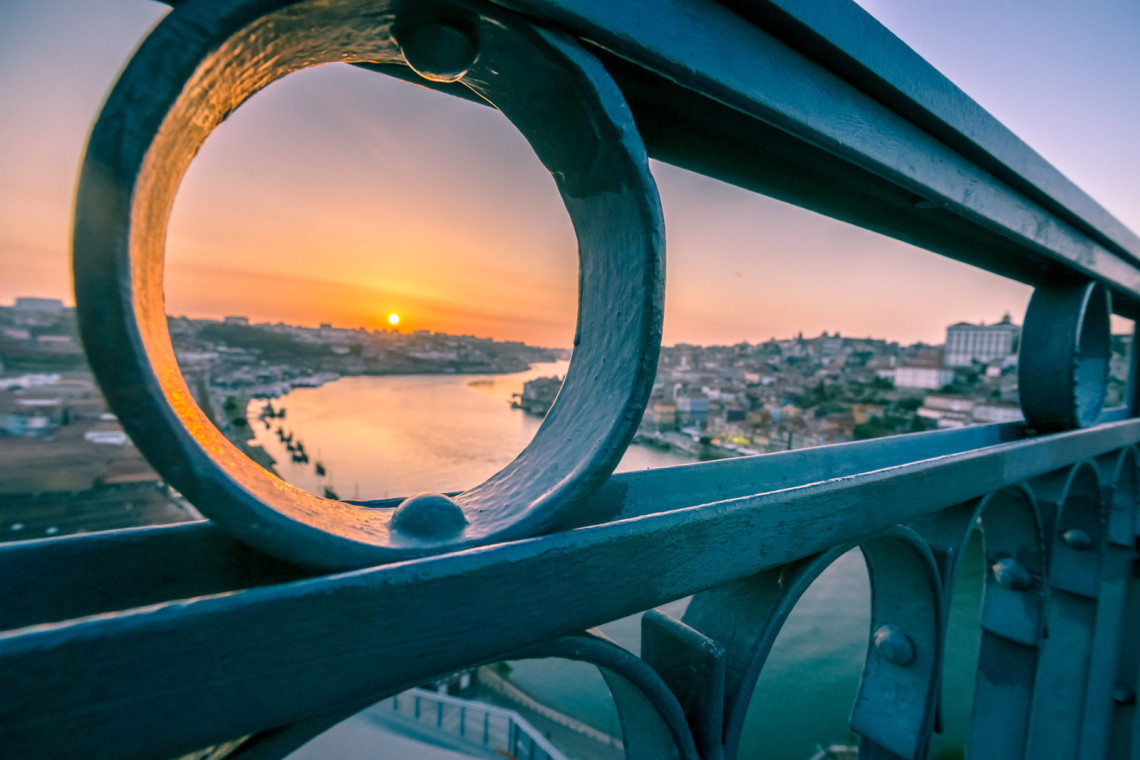 Now that we have heard all about the bridge's popularity and beautiful aesthetics and design, we would be remiss to not delve into its history, which is intriguing indeed. Keep reading to learn all about how Porto's Dom Luis I Bridge first began, and how it all started with a competition…
History of Dom Luis Bridge I in Porto, Portugal: It All Started with a Competition
While many who visit Porto may be familiar with the Dom Luis I Bridge already, they may not know the interesting history behind the famous Porto bridge. Today, Dom Luis I Bridge is world-renowned as an integral part of the UNESCO World Heritage Site of Old City Porto. But there was a time when the iconic bridge was just a thought in a genius architect's mind.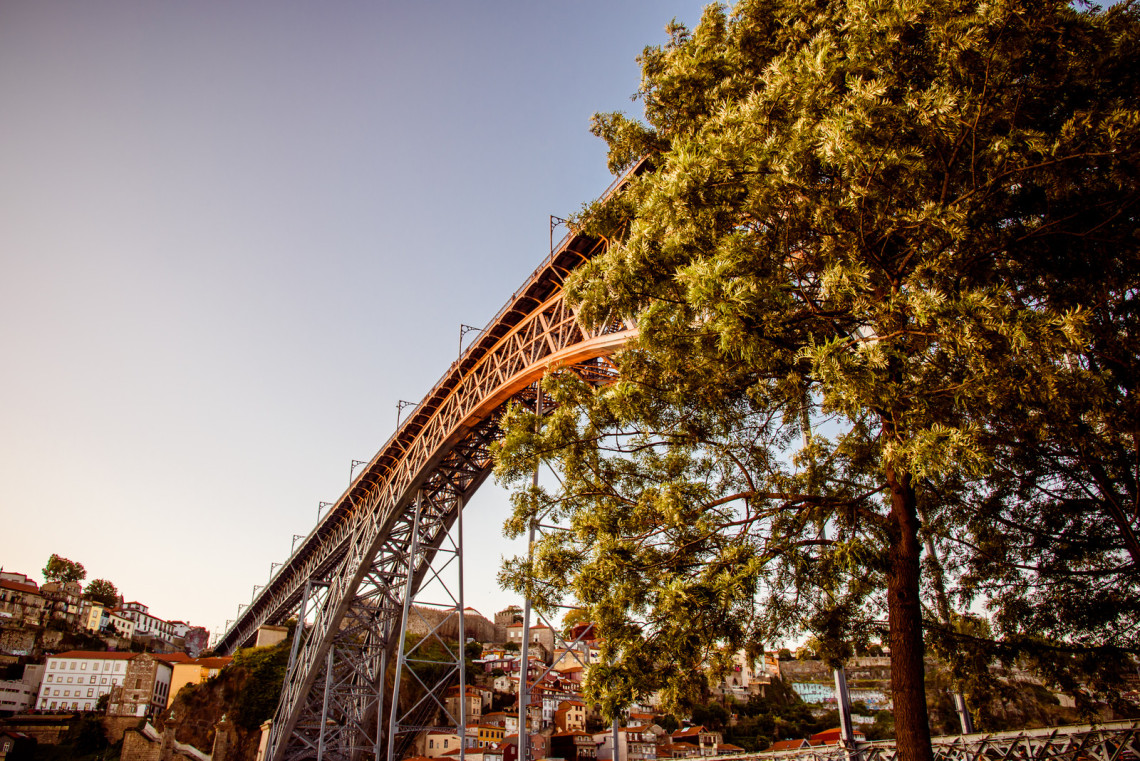 It all started in 1879, when Gustave Eiffel, the famed creator of Paris' Eiffel Tower, presented the idea to build a single-deck bridge spanning over the Douro River. However, Eiffel's original proposal was rejected due to the government thinking the single-deck design was not sufficient for the exponential urban growth it was experiencing.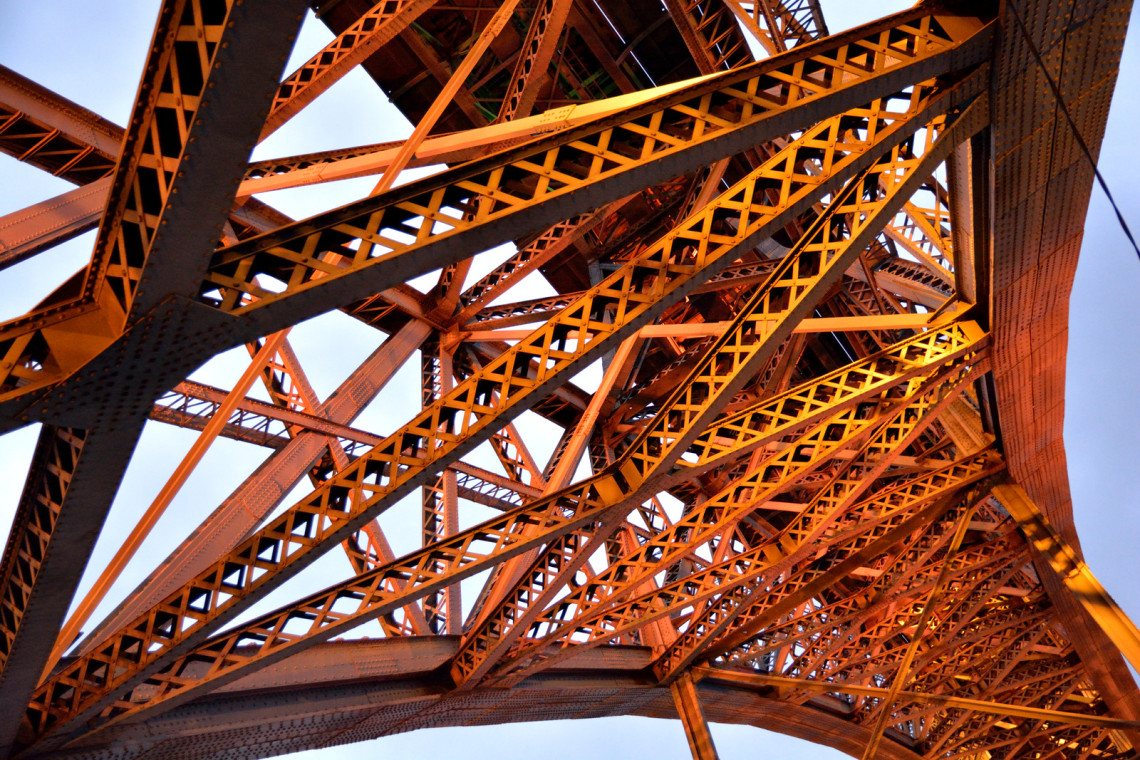 So, it was back to the drawing board, you could say, but this time, the government got creative and actually launched a competition in November 1880, calling for a double-deck design to beat them all. As you can imagine, all of the big name companies and creators at the time were clamouring to come up with the winning design.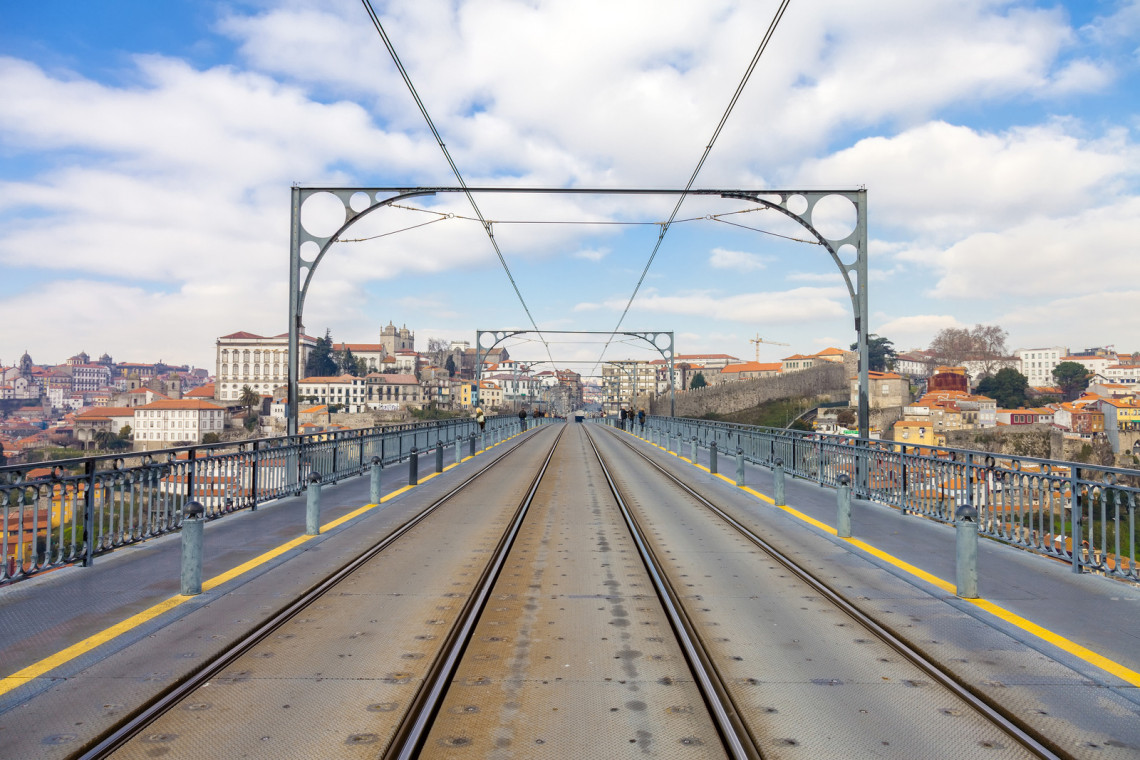 After all, designs were pitched, the winner of the chance to build the iconic Dom Luis I Bridge was the Belgian Société de Willebroek, with the facilitation and direction of the project falling under the expert direction of Théophile Seyrig, a well-known disciple of Gustave Eiffel (hence the common misunderstanding that it was Eiffel himself who helmed the project).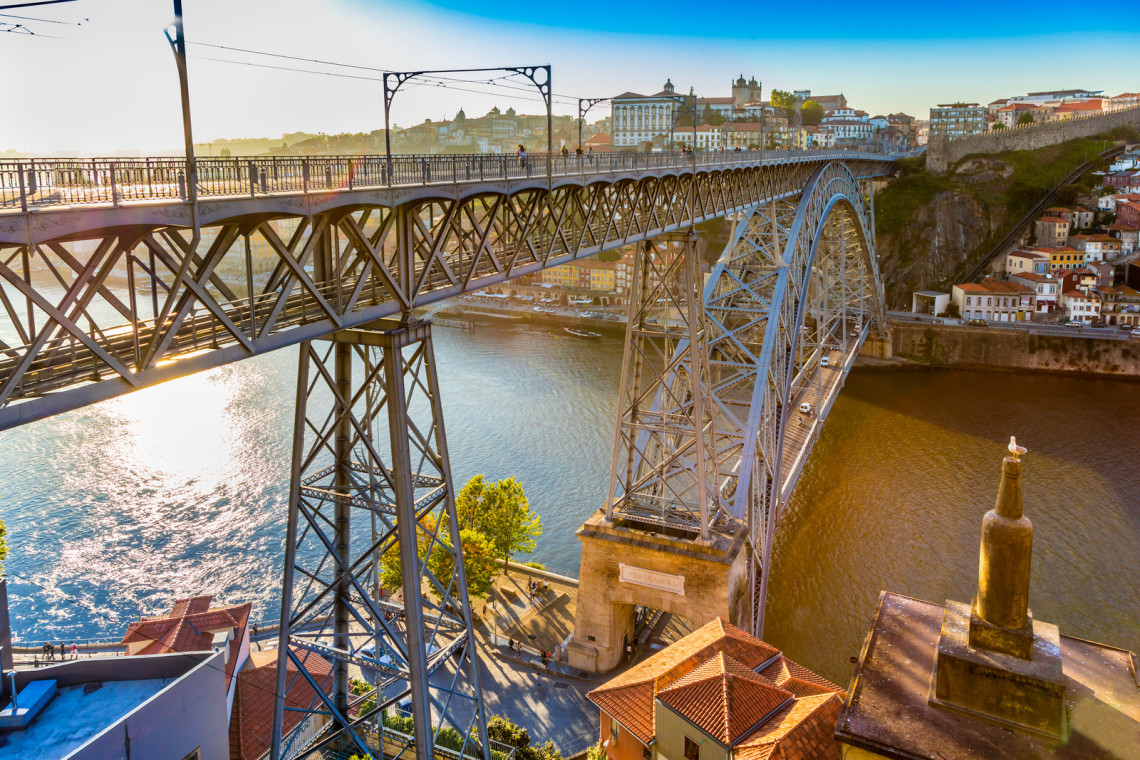 The project was clearly in safe and capable hands, as Seyrig had already worked on the famous D. Maria bridge alongside his mentor Eiffel, which could actually explain the uncanny resemblance between the two iconic bridges, in fact. Official construction on the bridge began in 1881 and culminated in 1886, and the rest is history.
Dom Luis I Bridge: A Top Porto Sight To Behold
Have you seen the Dom Luis I Bridge yet? There's no better time than now to check off this top Porto city attraction from your must-see travel list! Not only is it a prime example of genius engineering and aesthetically pleasing design, but it is THE photo to capture while vacationing in Portugal on your Porto trip!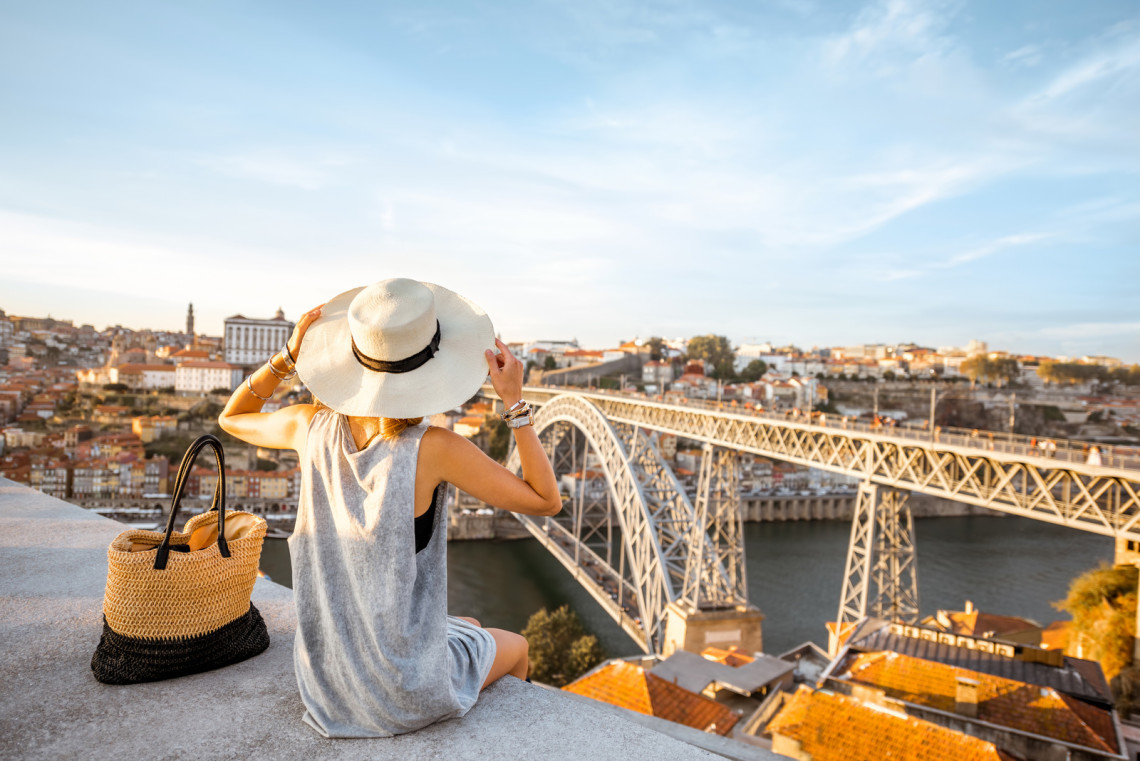 So, pack your bags (don't forget the camera), and come see this stunning world-famous Porto bridge for yourself! Porto — and Dom Luis I — are waiting for you! Even better, if you really want to get to Porto to see this popular landmark, with ultimate ease and hassle-free, let our expert team at Portugal Getaways handle all the details, for leaving you to simply sit back and enjoy your dream escape!