Must-See Attractions To See In Porto, Portugal
Nestled on the banks of the Douro River in Northern Portugal lies the beautiful city of Porto. With its picturesque waterfront, charming cobblestone streets, and vibrant, colorful buildings, it's no wonder that Porto is one of the most popular tourist destinations in Europe. Are you ready to explore Porto, Portugal? Our expert team at Portugal Getaways has you covered! Our best Porto travel deals and Porto travel packages make it easy and accessible to visit one of the world's most special and beautiful cities.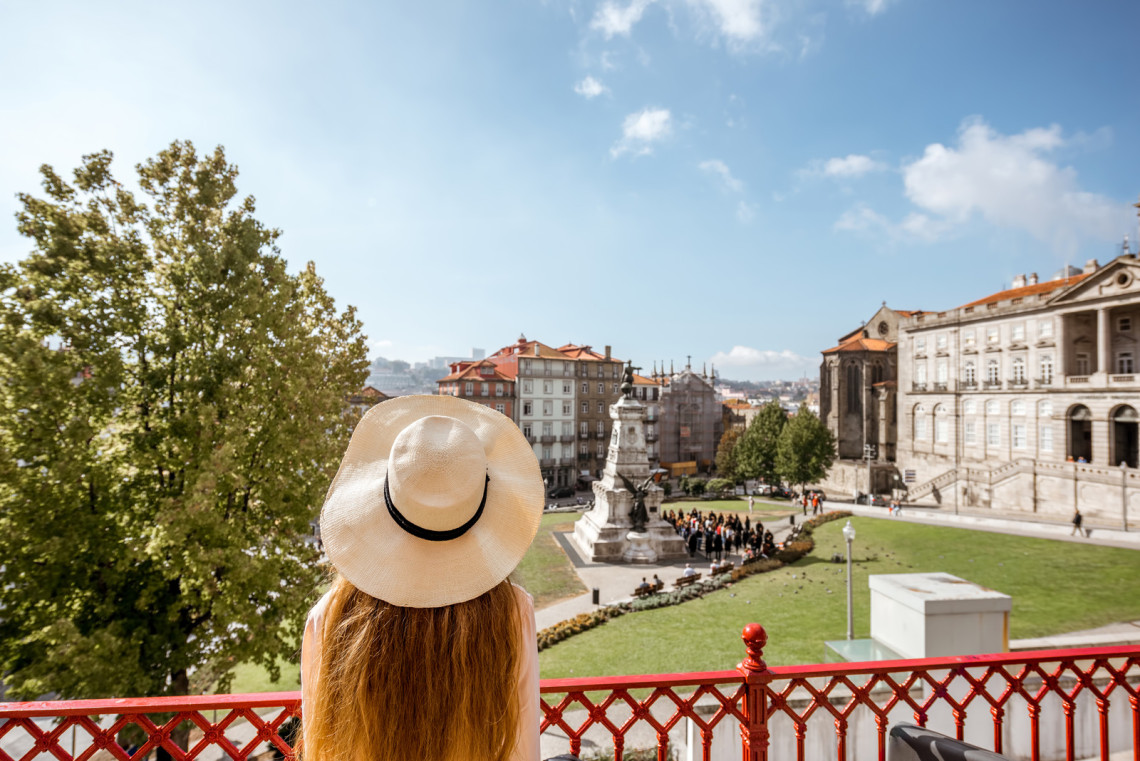 Our experienced team of experts can help you find the perfect Porto travel package and provide assistance with planning and booking your daily activities, thus allowing you to simply relax and make the most of your stay in the beautiful Porto region of Portugal. From historical landmarks to modern-day attractions, there's something for everyone to enjoy in this vibrant city – the second-largest city in Portugal, in fact! Keep reading for our expert Portugal Getaways guide to some of the must-see attractions in Porto, Portugal.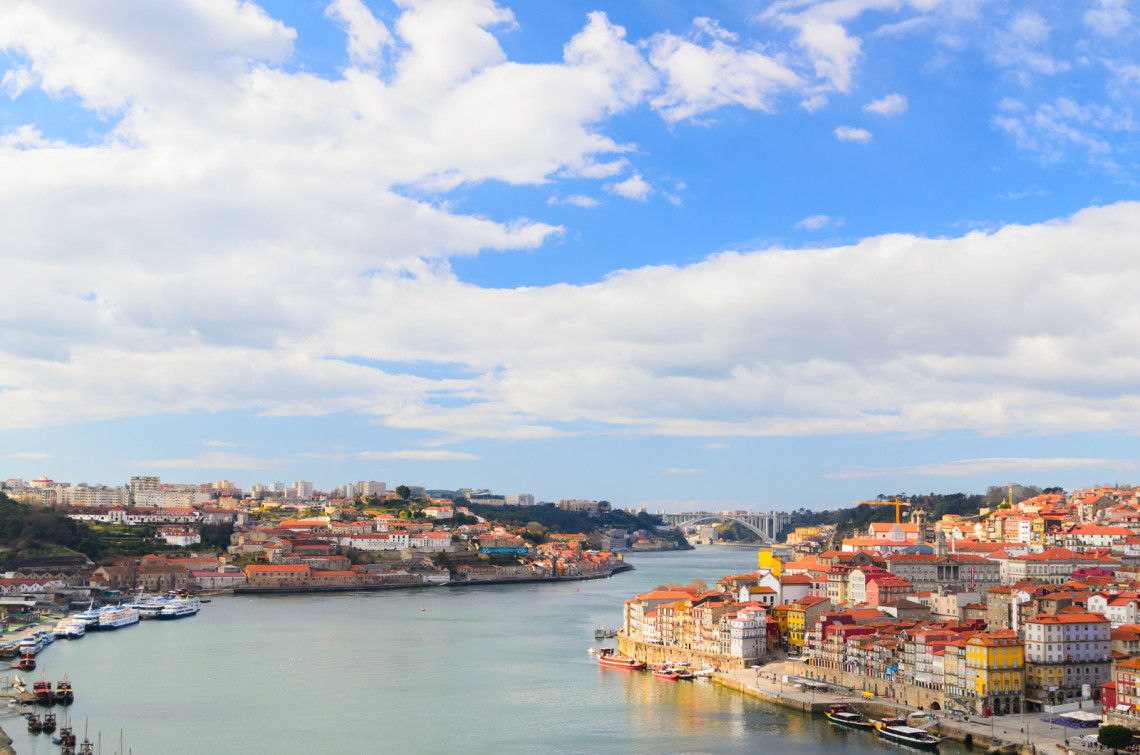 Discover the Majestic Beauty of Igreja da Lapa in Porto, Portugal
Located in Porto, Portugal, Igreja da Lapa is a stunning Catholic Church with a unique history and many beautiful features. The original structure of Igreja da Lapa in Porto was built in the 16th century, although the current exterior dates back to reconstruction work performed in 1755.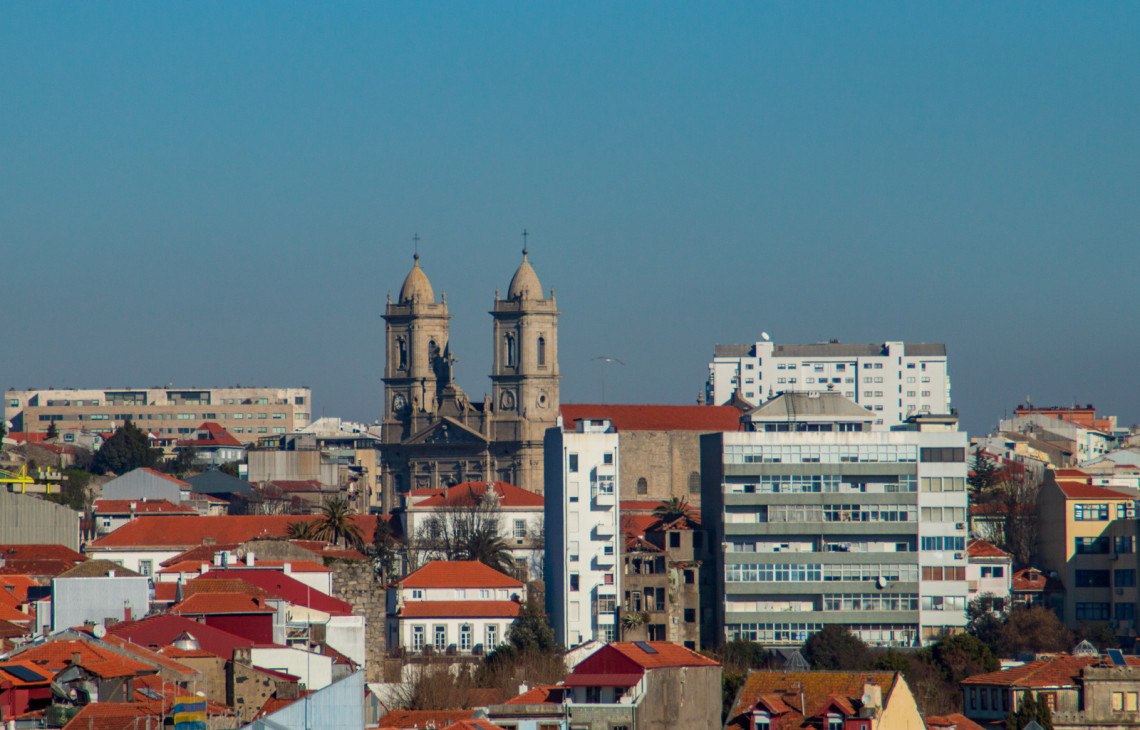 The facade of Igreja da Lapa in Porto is mostly covered in pink and white marble and features delicate sculptures and reliefs that draw viewers into its astounding beauty. Once inside the iconic Porto church, visitors to Igreja da Lapa can admire its intricately carved wooden panels on the ceiling, as well as its frescoes which were painted by Joaquim Rafael during the late 18th century. Additionally, Igreja da Lapa also houses an impressive baroque organ that has been used to play classical music concerts in Porto for locals and visitors alike to enjoy since the 19th century, making it an ideal destination for music lovers indeed!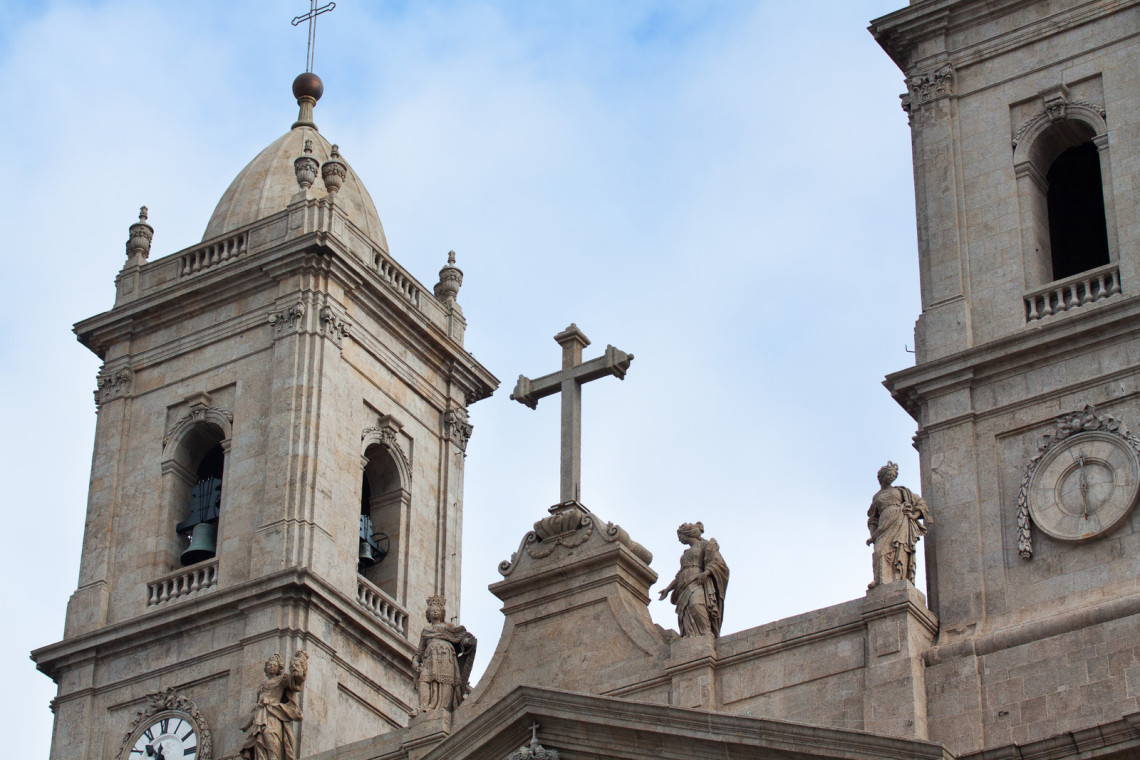 Igreja da Lapa in Porto is not only a beautiful sight and attraction for tourists and locals to appreciate aesthetically, but the church has also been a key religious center for the Porto population for centuries. As such, its presence in Porto city continues to be strongly felt on special occasions, providing Porto locals with a deeply meaningful place to come together in celebration of their faith and prayer.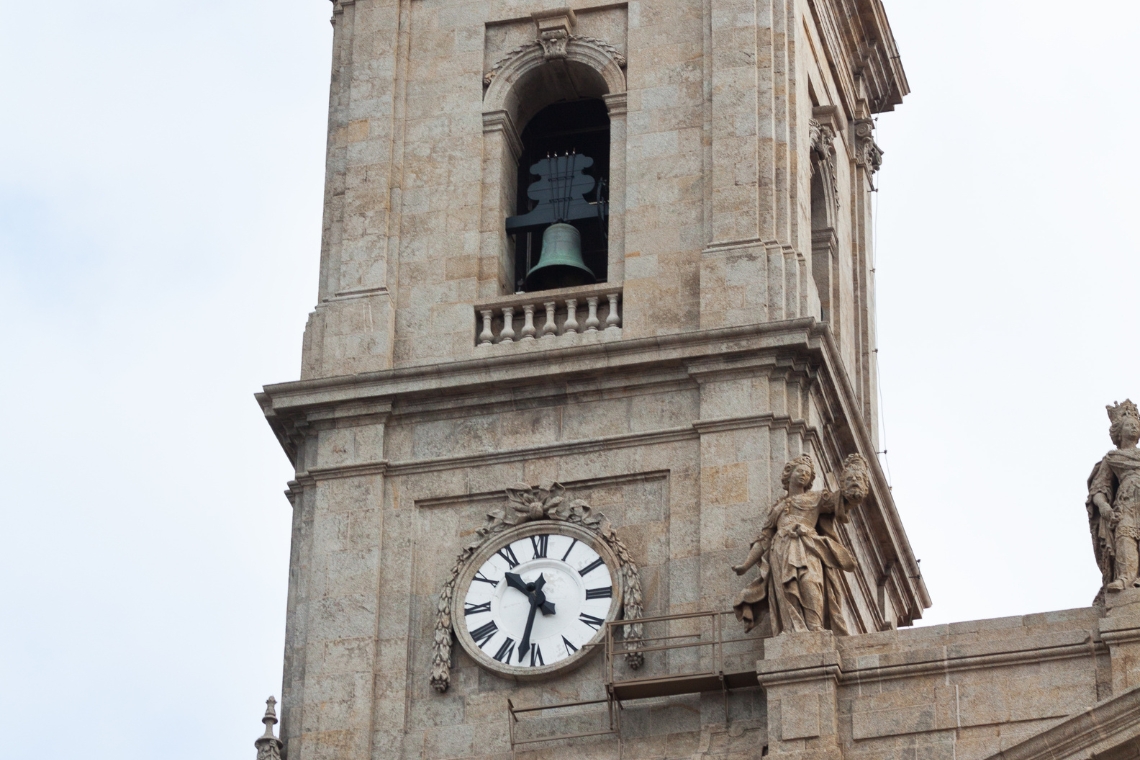 During certain holidays, like Easter, Igreja da Lapa often hosts mass or other Porto religious events, providing an excellent opportunity to experience something truly special in Porto that shouldn't be missed! Visitors to Porto and Igreja da Lapa come here from all around the world to witness firsthand some of the city's rich cultural and religious heritage, which is an added layer that makes an experience at Igreja da Lapa even more special. So, during your next Portugal holiday, be sure to stop at Igreja da Lapa in Porto to experience its majestic grandeur in person!
Experience the Magnificence of Cais da Ribeira in Porto, Portugal
Another best attraction in Porto, Portugal that must be added to your Portugal itinerary is a visit to Cais da Ribeira. Visiting Cais da Ribeira in Porto, Portugal is an experience like no other. Keep reading and you will find out exactly why!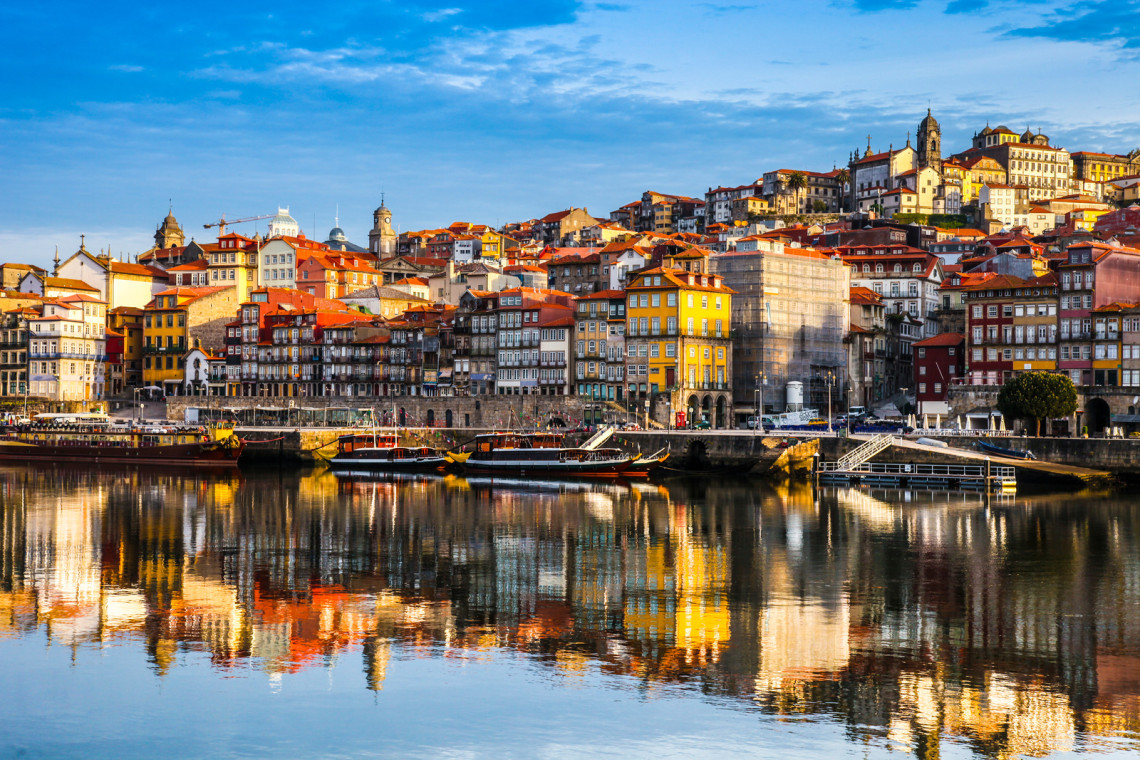 This sprawling harbor district is located along the Porto area's iconic Douro River, affording visitors breathtaking views of the famed Dom Luis I Bridge, as well as myriad boats and ships that are always navigating their way down and up the river. The Cais da Ribeira area in Porto, Portugal has been a bustling hub of port activity for many years, but it has also become an increasingly popular destination among tourists in recent years.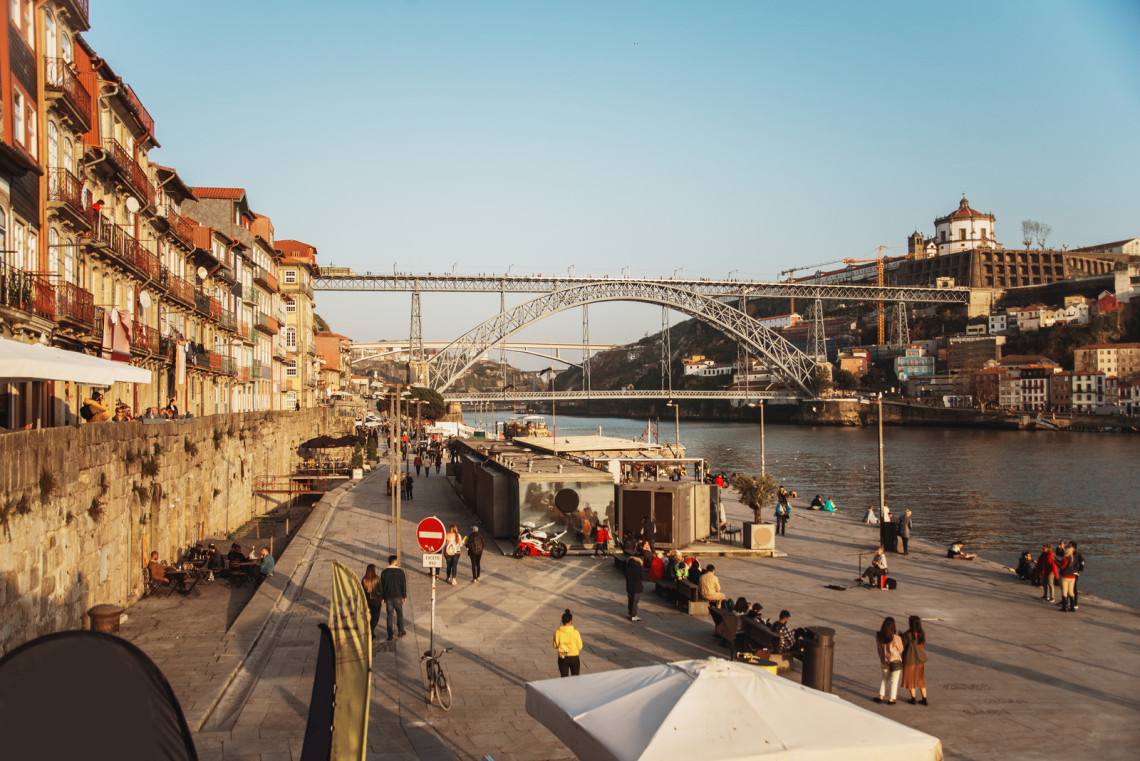 So what can you expect as you visit Cais da Ribeira in Porto, Portugal? Plenty! While here, Cais da Ribeira visitors can explore its narrow alleyways filled with local eateries and traditional Portuguese cuisine. Even better, as the weather is so often quite fine in Porto, Portugal, there are numerous Cais da Ribeira cafes that open up to lovely outdoor seating areas offering panoramic views of the Douro River and the stunning architecture that adorns its banks.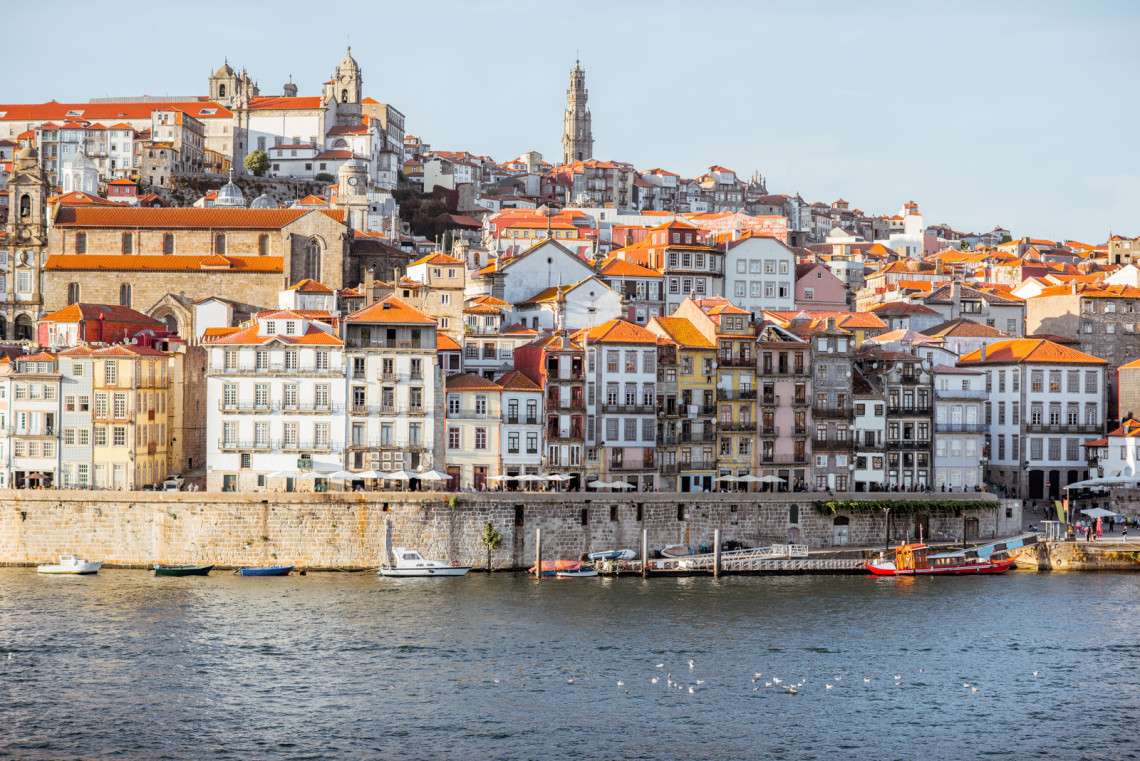 Porto's Cais da Ribeira district was once a vibrant fishing port. However, it has since been transformed into a lively center of culture and commerce, making it a must-visit spot during a Porto trip. A stroll down the Cais da Ribeira riverfront promenade reveals numerous historic monuments and buildings, such as the acclaimed Palácio da Bolsa which stands proudly among its lovely surroundings. Nearby, visitors to Cais da Ribeira can find plenty of museums located in traditional houses, providing yet another opportunity to learn about the fascinating and rich local culture and history.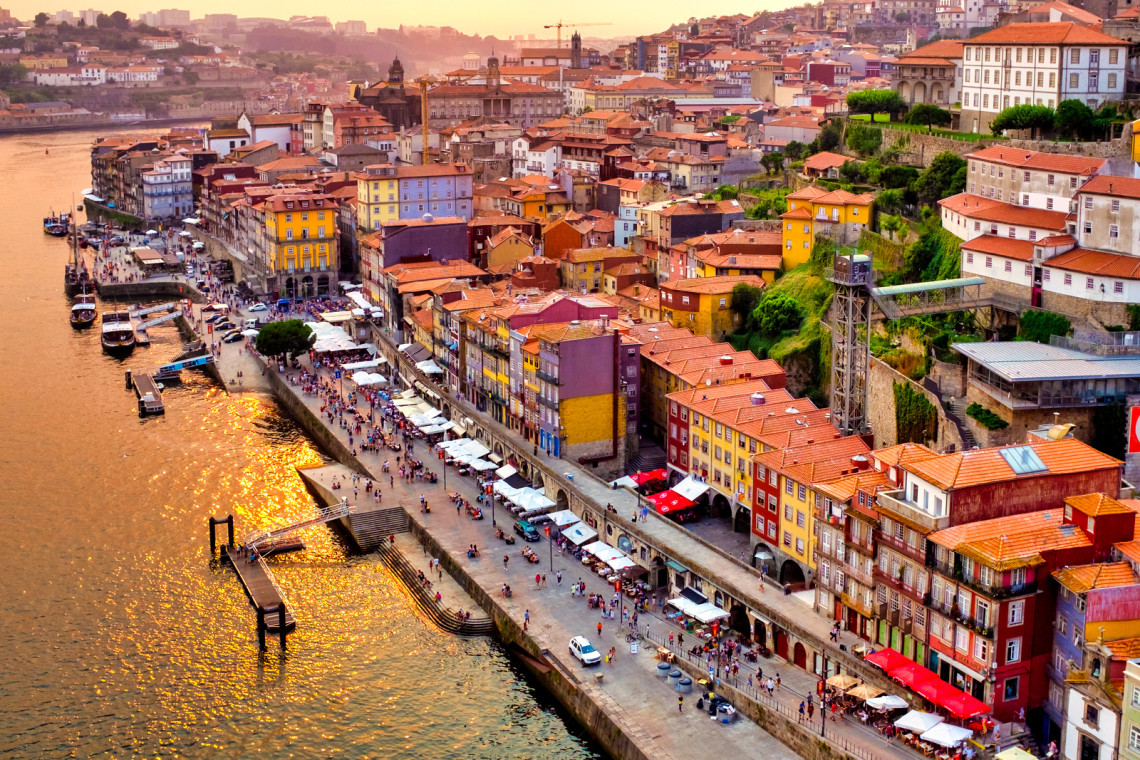 There is also a lively port wine cellar located in Cais da Ribeira – a perfect spot for those Porto area visitors hoping to sample some of the region's finest port wines. Of course, no visit to Cais da Ribeira would be complete without enjoying a magnificent sunset over the Douro River. There's just something magical about watching as the sun sets against the backdrop of this picturesque landscape that will surely create an unforgettable memory!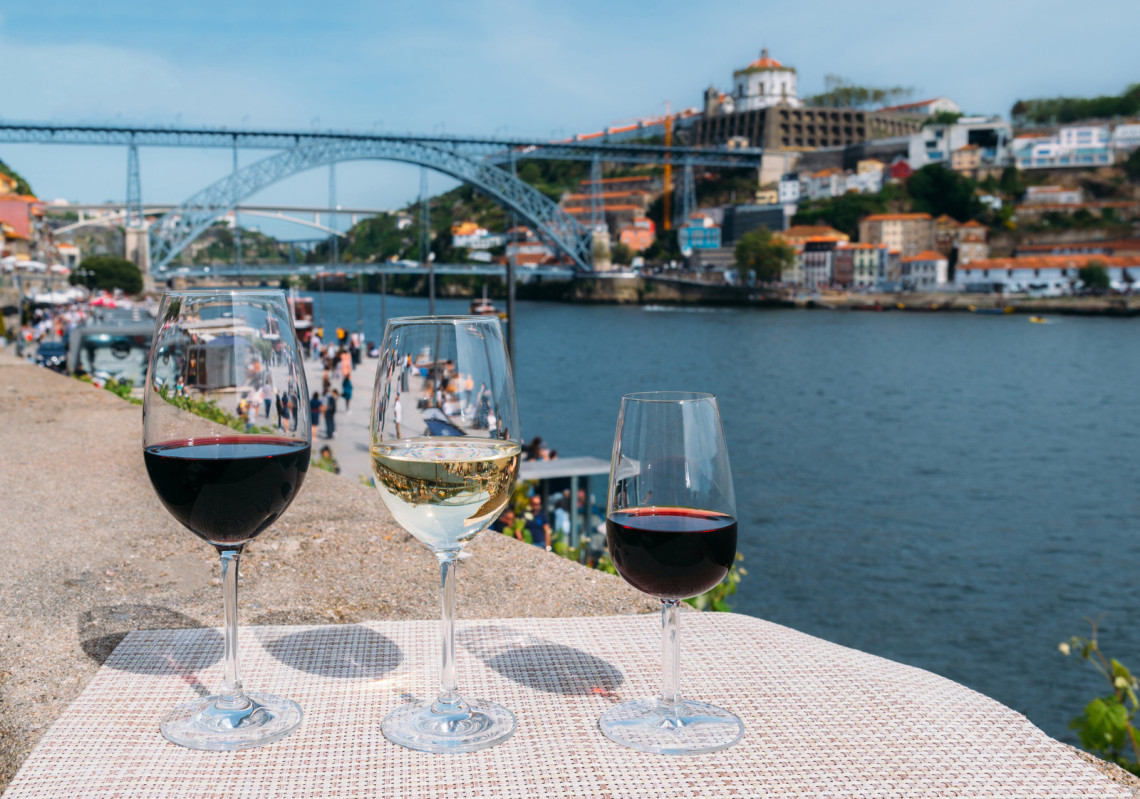 Take a Trip to Mercado Bolhão and Explore One of Porto's Most Iconic Landmarks
Mercado Bolhão in Porto, Portugal is one of the city's most iconic landmarks. Built in 1839, this large indoor market is a popular destination for both locals and tourists alike, which explains why it is always bustling with commerce and activity!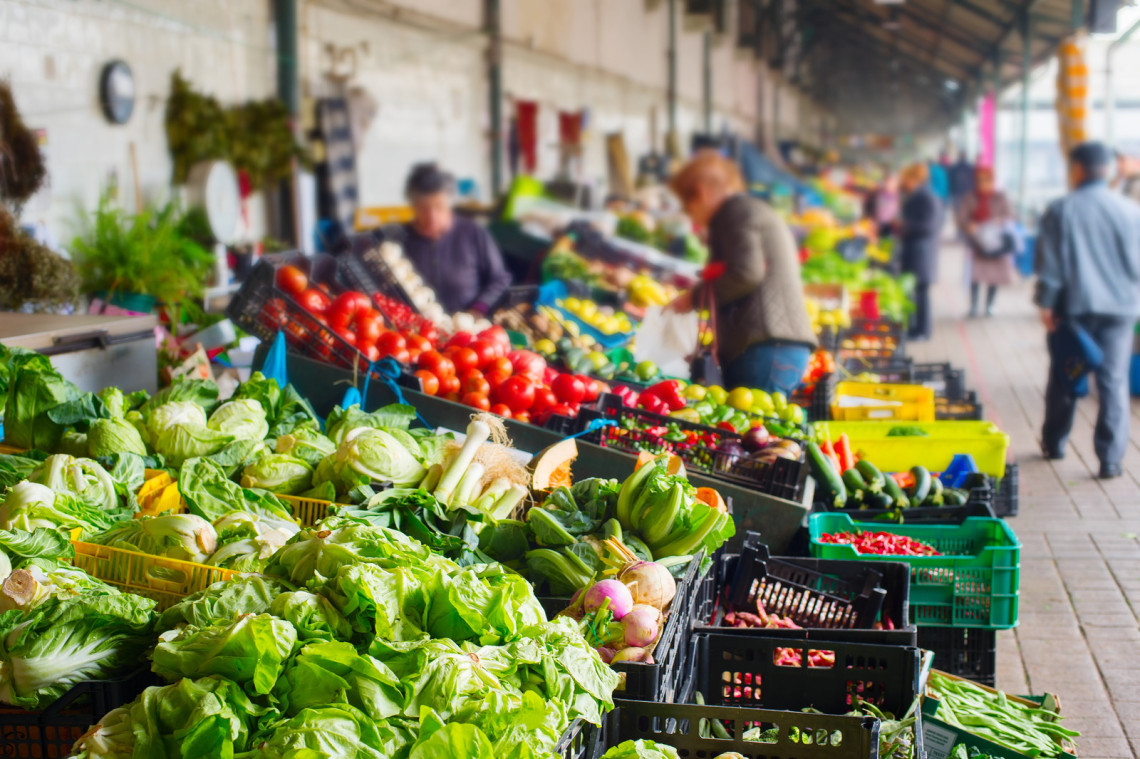 Inside the popular Porto market, shoppers can find fresh fruits and vegetables, cured meats, spices, and of course, plenty of the famous Porto wines. The atmosphere of the market, with its hustle and bustle of people from all walks of life rubbing shoulders as they shop, makes it an exciting and lively place to visit. It's truly an intriguing window into the local culture and vibe, which visitors to Porto will surely fall in love with instantly!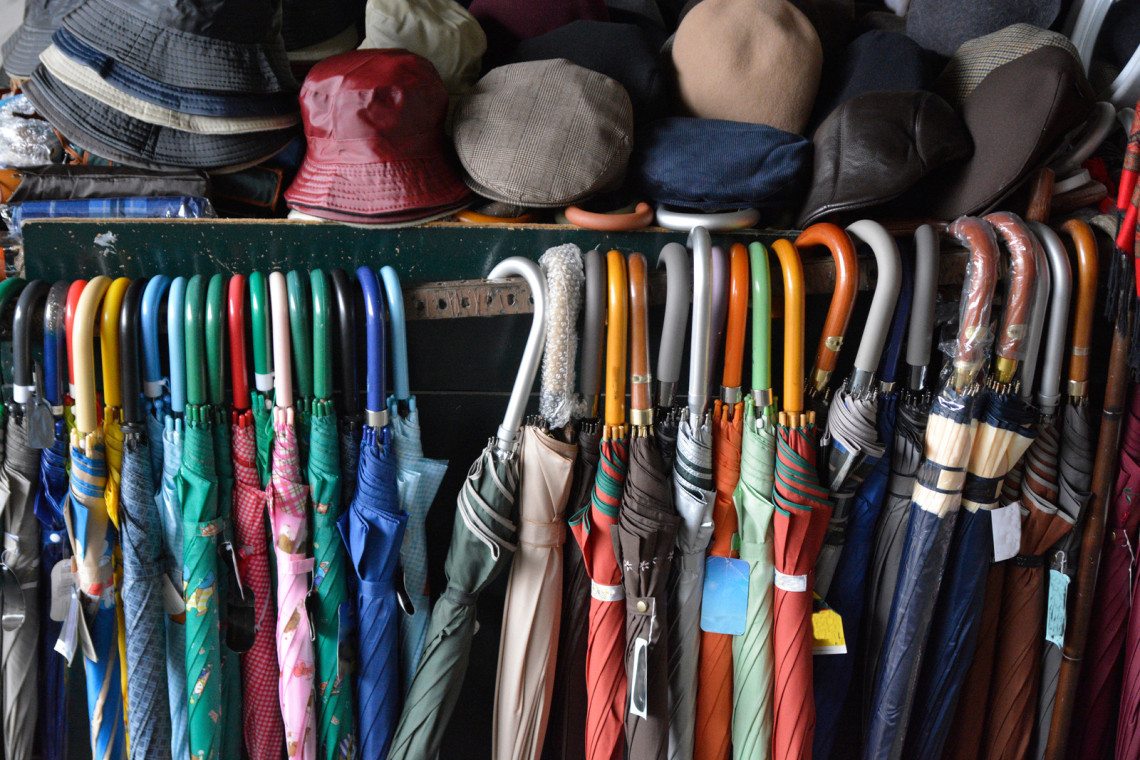 On the upper level of Mercado Bolhão, there are traditional stands selling everything imaginable and featuring local vendors ranging from fishmongers to florists! Visitors to Mercado Bolhão can also find several stalls serving tasty Portuguese snacks, like pastries and codfish cakes, among other delicious signature offerings special to the Porto area. So, if you are looking for the best attraction to see in Porto, Portugal, we definitely suggest adding Mercado Bolhão to your list! The reason for this recommendation is clear: Mercado Bolhão is sure to provide every visitor with an unforgettable experience in one of Porto's oldest neighborhoods!
Take a Ride on Vila Nova de Gaia and Porto's Cable Cars
Ready to have your heart sent soaring as you fall in love with Porto, Portugal? Then you should definitely check out the cable car adventures available in Porto city and the surrounding Porto area!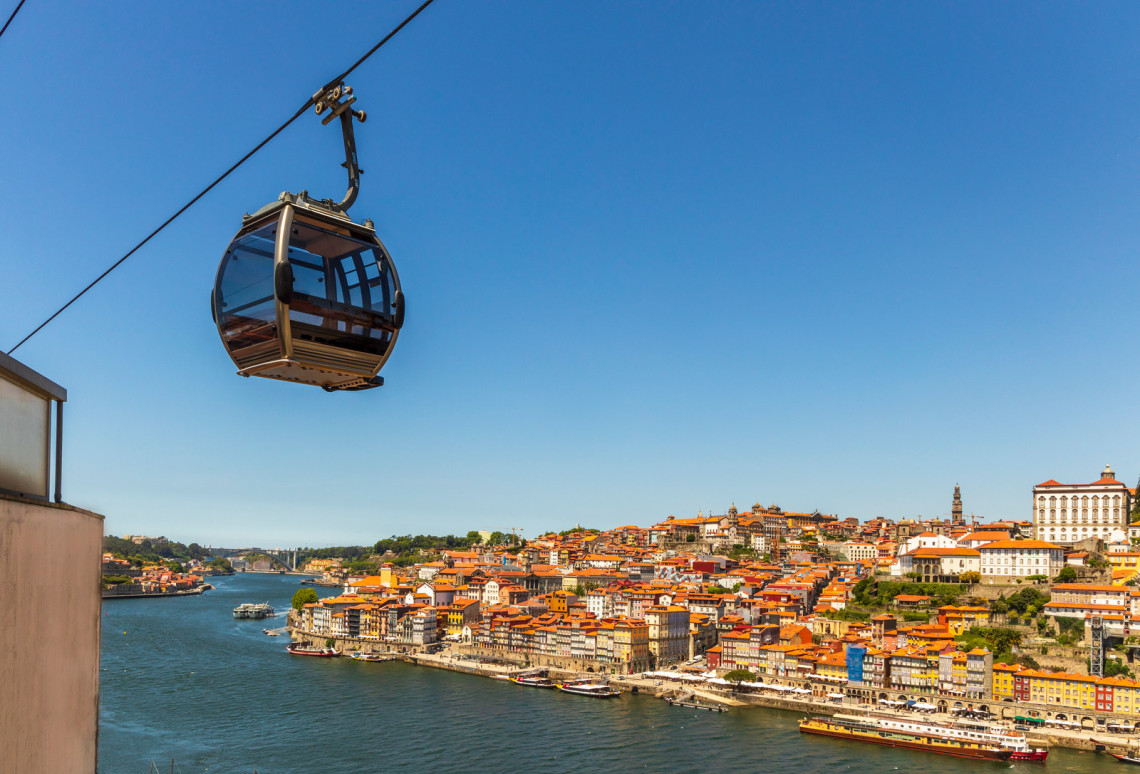 Vila Nova de Gaia and Porto are two Portugal destinations that offer breathtaking cable car rides that are certainly among the best attractions to see in Porto and the surrounding Porto area. Let's talk a little bit about how each is amazing in its own unique way, which basically means you can't lose whichever route you choose. In fact, why not choose to take both cable car adventures?!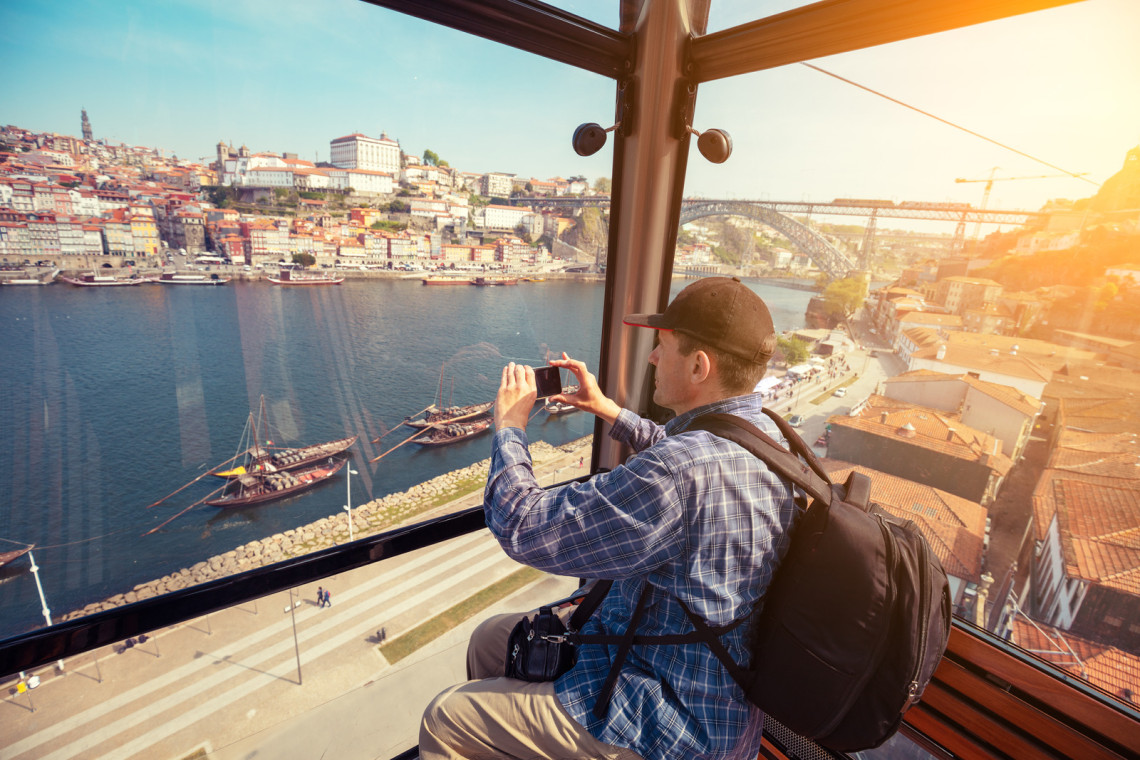 Historic Vila Nova de Gaia is home to some of the most stunning scenery in all of Portugal, while a cable car ride over Porto offers amazing views of its iconic bridges and bustling city life buzzing below. The cable cars in both destinations take passengers soaring sky-high and provide an unparalleled experience of beauty and excitement as they float through the air. From romantic cable car rides that have you gliding over the iconic Douro River in Porto to the adventurous thrills afforded by a cable car ride soaring over ancient buildings and churches, there's something for everyone to enjoy on these thrilling cable car rides.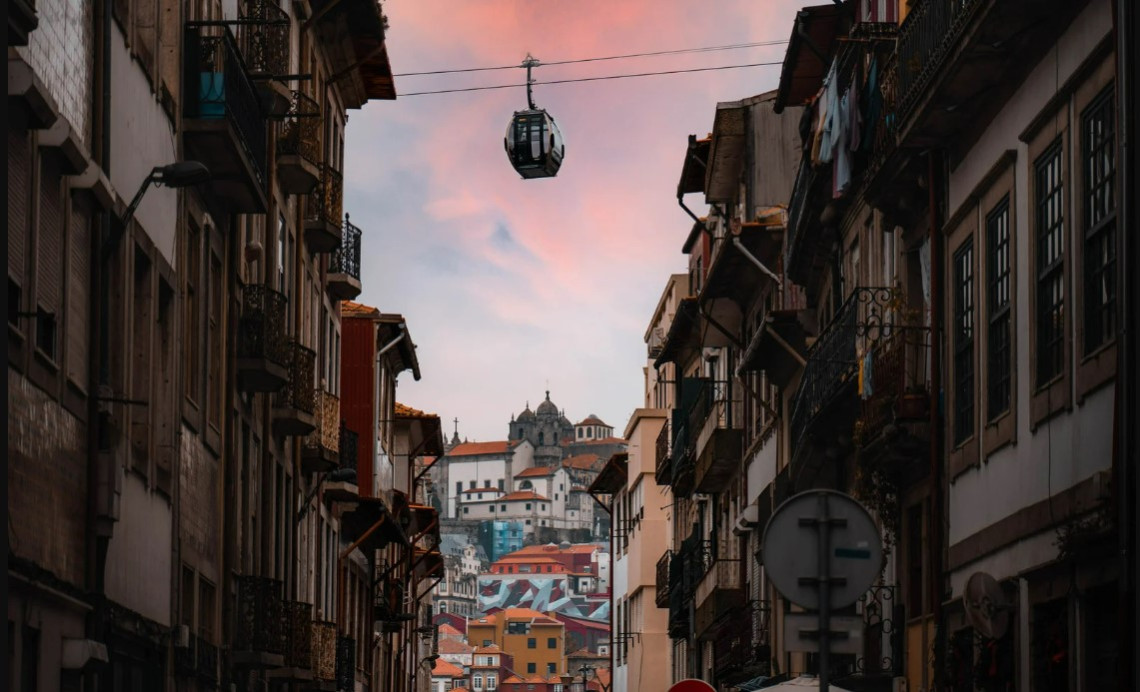 With magnificent views of both cities promised at any point during the cable car journey, a ride on Vila Nova de Gaia or Porto's cable cars is bound to be enjoyable and unforgettable! The only question remains now: Who will you bring with you to experience this incredible best attraction in Porto and Vila Nova de Gaia? And which cable car journey will you try first?!
Are you already in love with Portugal? Take a look at our stress-free packages that allow you to book your ultimate Portuguese adventure. All our packages are carefully curated by our team of local Portuguese experts so that you don't need to worry about any details - just enjoy your trip!

Experience the Grandeur of São Bento Railway Station in Porto, Portugal
Yet another best attraction to see in Porto is São Bento Railway Station. Located in the heart of the city, São Bento Railway Station in Porto, Portugal is a stunning example of history and beauty merged into one gloriously stunning site.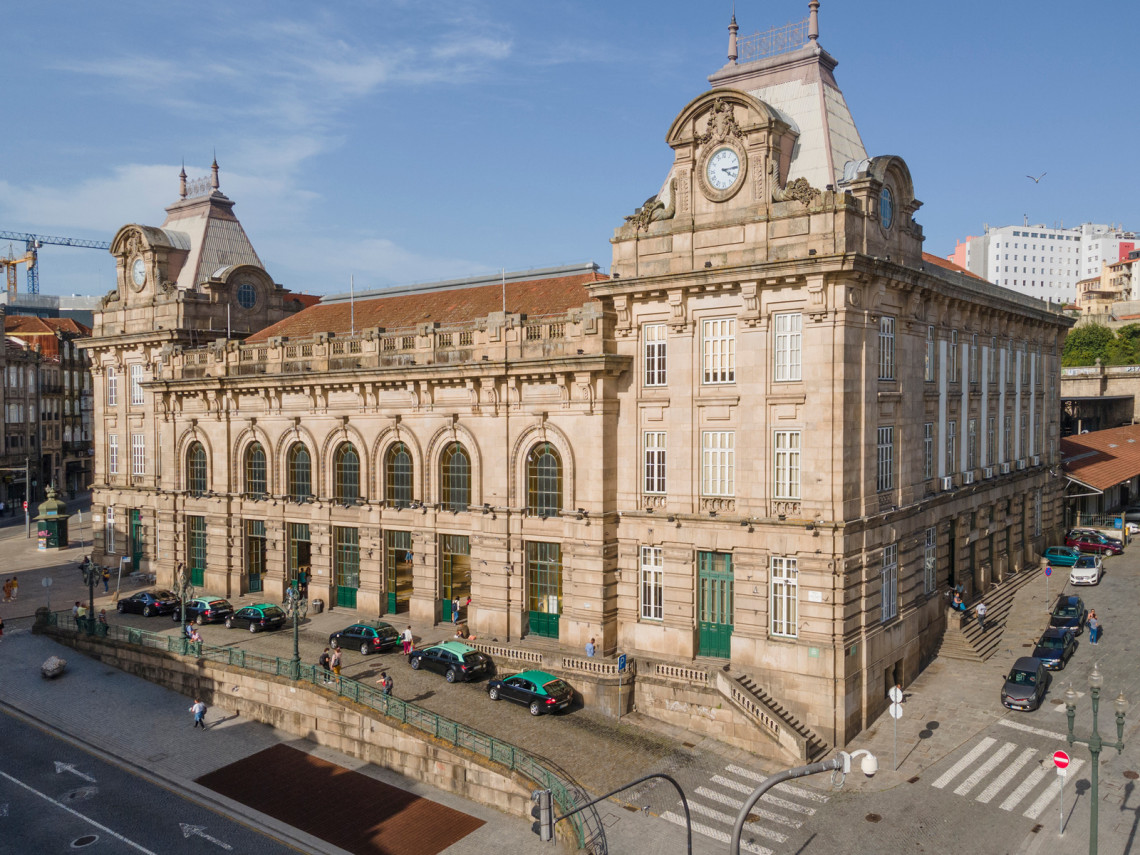 The centrally located historical monument was built in Porto back in 1916 and offers Portugal travelers a unique and awe-inspiring experience thanks to its grand architecture and intricate design. Embellished with 20,000 azulejos — traditional Portuguese tile art — it's no wonder why São Bento Railway Station has earned its place as one of the most visited places for Porto tourism and the best attractions in Porto.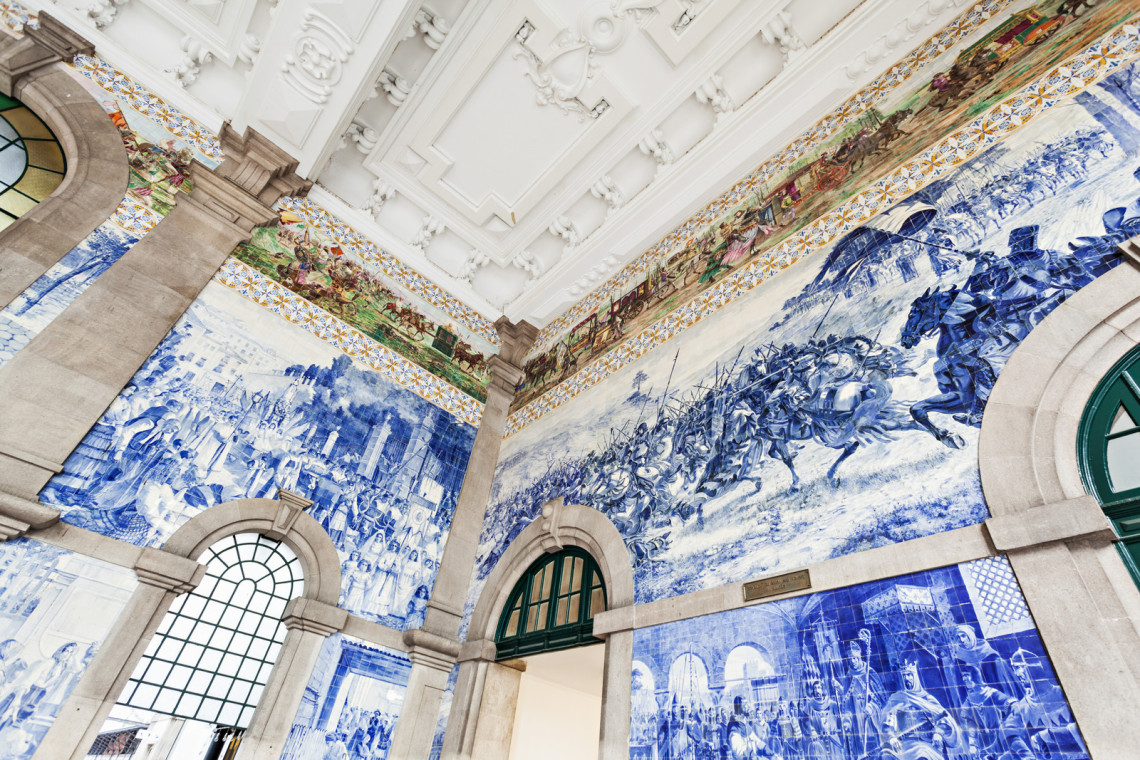 Once inside São Bento Railway Station, guests can explore its impressive modern amenities, including several cafes and restaurants, as well as admire the popular Porto station's traditional artifacts, like old trains and clocks. From morning to night, São Bento Railway Station visitors can take delight in the ornate interior of this facility, while also learning about its fascinating past. No matter what way you look at it, one thing is for sure: São Bento Railway Station in Porto is sure to be an unforgettable experience for anyone who visits!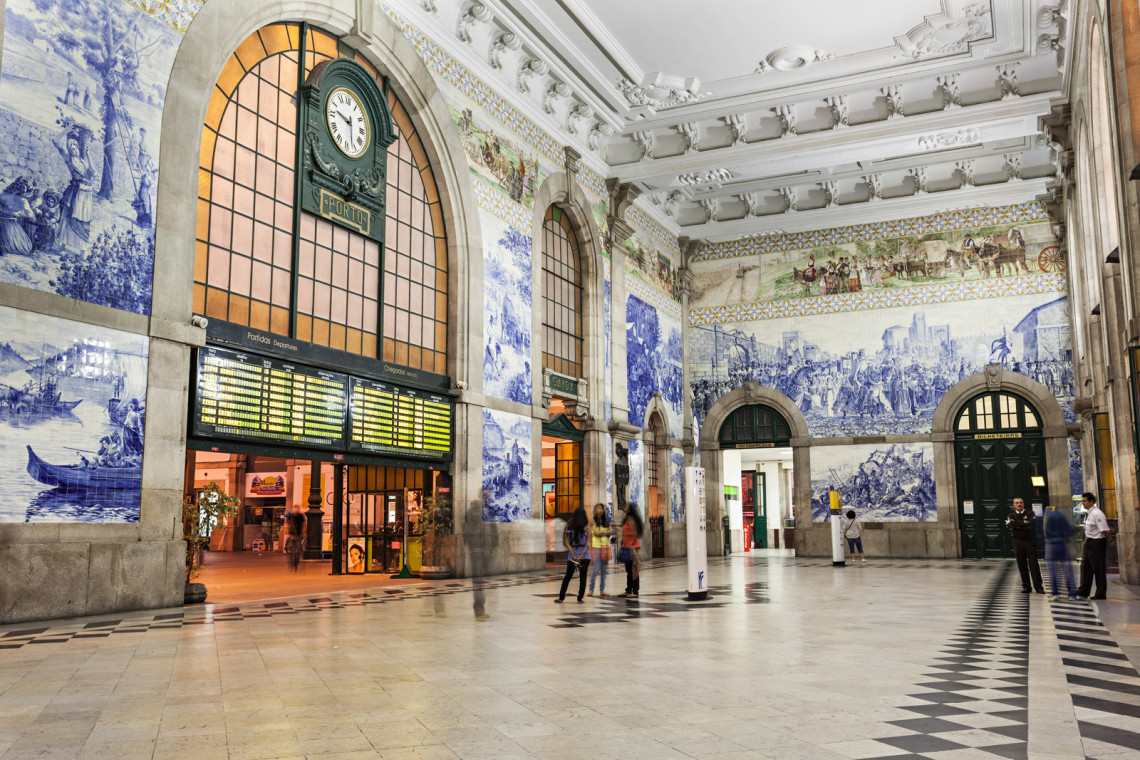 Exploring Liberty Square in Porto, Portugal
Liberty Square in Porto, Portugal is a picturesque example of 19th-century architecture that simply must be seen firsthand in order to be truly appreciated. Located in the center of Porto city, the stunning public square is surrounded by vibrant shops and restaurants, so there is always an air of excitement and lively energy to greet visitors as they discover all of its charms.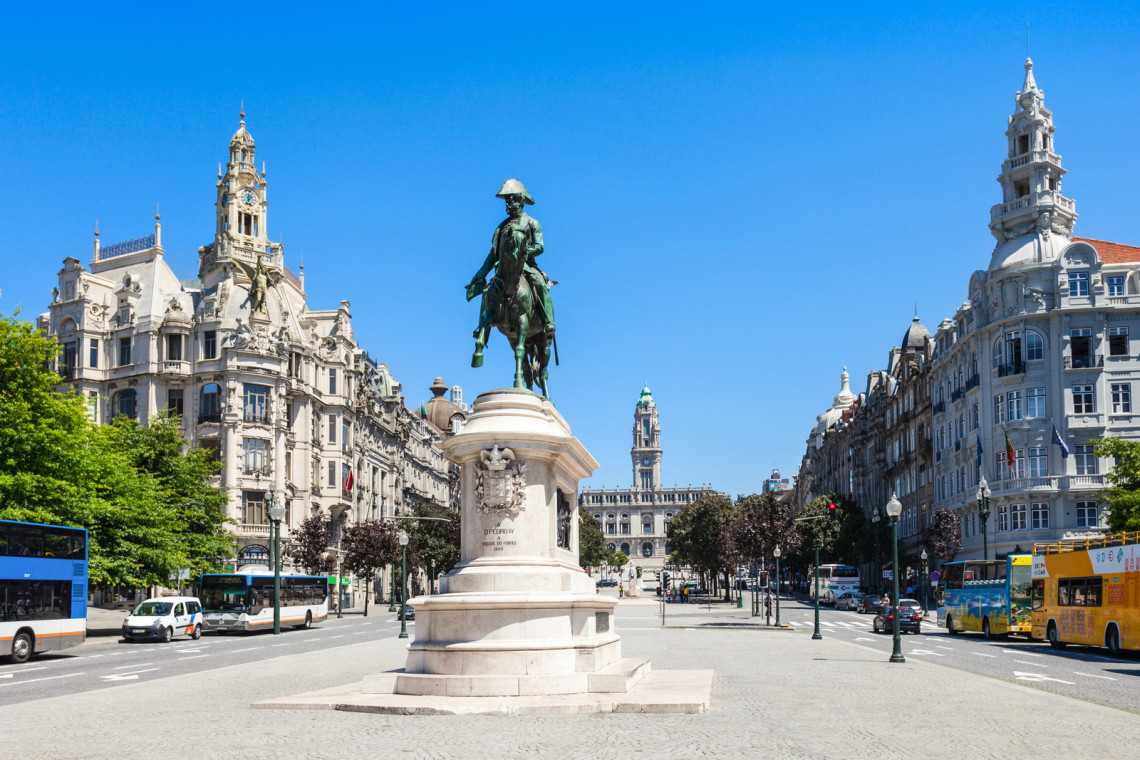 The popular Porto square features a statue of Dom Pedro IV riding a horse. It's beloved and always hopping spot not just for visitors, but for locals too, who regularly come to stroll around or sit on the benches enjoying their free time in the heart of Porto city.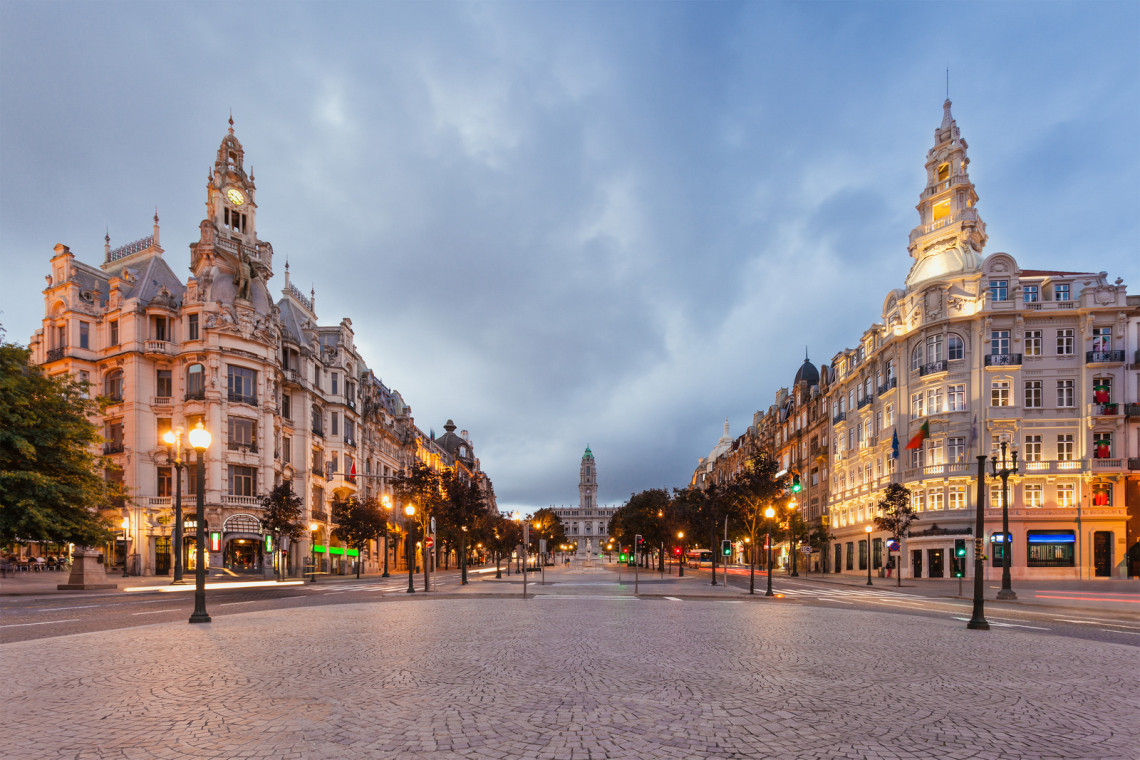 On Saturdays in Liberty Square, you will be delighted to find street vendors selling books, flowers, and traditional goods, while Sundays often bring people together for a lively celebration of local music! There is just nothing like witnessing local musicians playing traditional tunes as they pass through Liberty Square in Porto! With its colorful history and stunning architecture, visiting the charming Liberty Square in Porto is not only among our picks as the best attraction to see in Porto, but it also gives tourists a unique and up-close glimpse into Porto's colorful culture and history – the true reason it is such an enchanting place to explore!
Explore the Contemporary Art at Serralves Museum in Porto, Portugal
The Serralves Museum of Contemporary Art in Porto, Portugal is another best attraction to see in Porto, as it is one of the most impressive and architecturally interesting modern art galleries in all of Europe. The fact that the popular museum is located in the vibrant city of Porto, Portugal only adds to its appeal.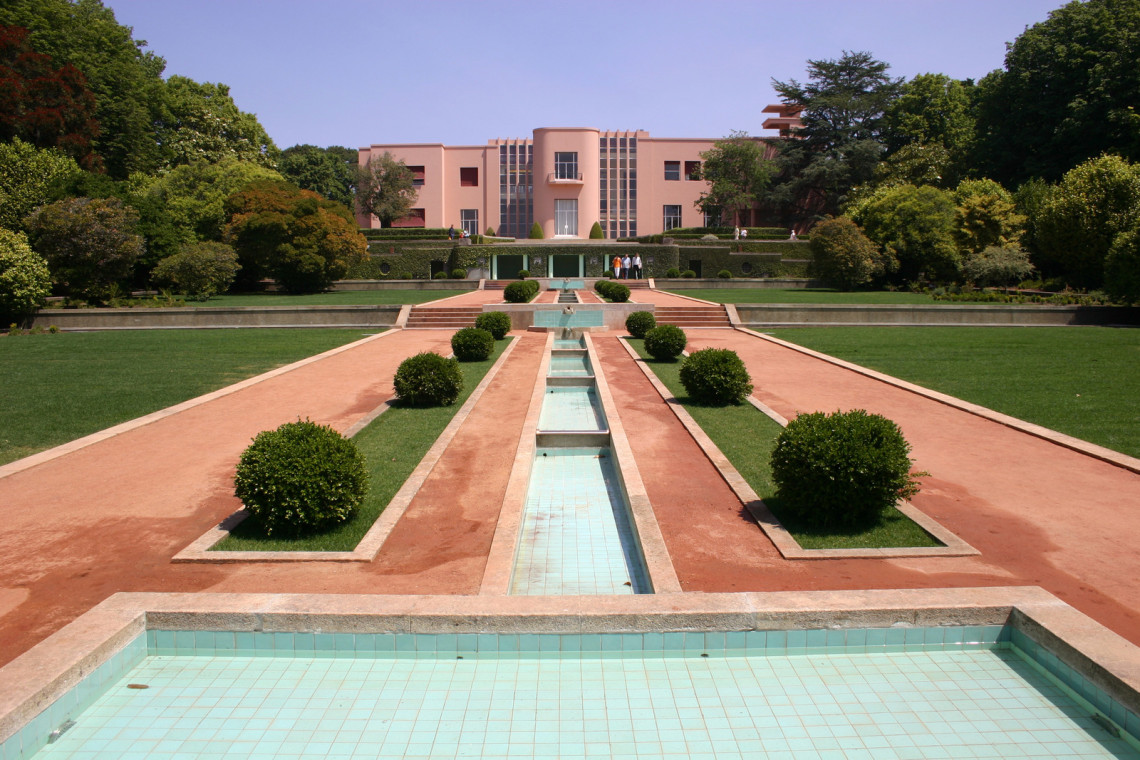 So, what makes this place in Porto so special? The Serralves Museum of Contemporary Art really stands out thanks to its contemporary architecture, which was designed by renowned Portuguese architect Álvaro Siza Vieira and completed in 1999. The museum houses an extensive collection of works by artists from all over the world, ranging from European pieces to artwork created by American, Japanese, and African masters. The main building at Serralves Museum in Porto has three floors that are linked together by two cylindrical towers with transparent glass walls. Once inside these hallowed walls, Serralves Museum of Contemporary Art visitors will find not only impressive exhibition spaces, but also a library, auditorium, café, and even a shop selling books related to modern art.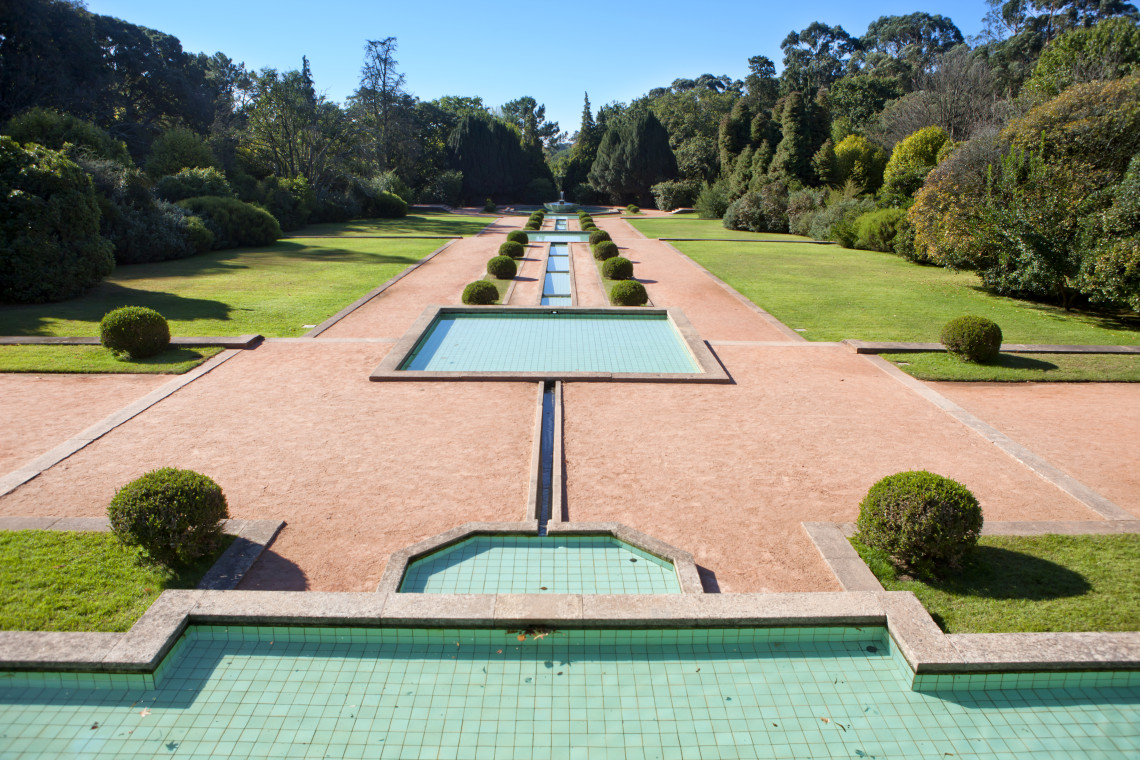 Areas visitors can enjoy outside the museum include lush botanical gardens where visitors can wander around for hours or even days! In addition to featuring a permanent collection of works by many famous international artists, there are also regular temporary exhibitions at Serralves Museum that rotate and focus on both established and up-and-coming talents. For those visitors to Portugal interested in gaining a more comprehensive understanding of modern art movements like Abstract Expressionism and Pop Art during their Porto visit, a stop at Serralves Museum should be high on your itinerary!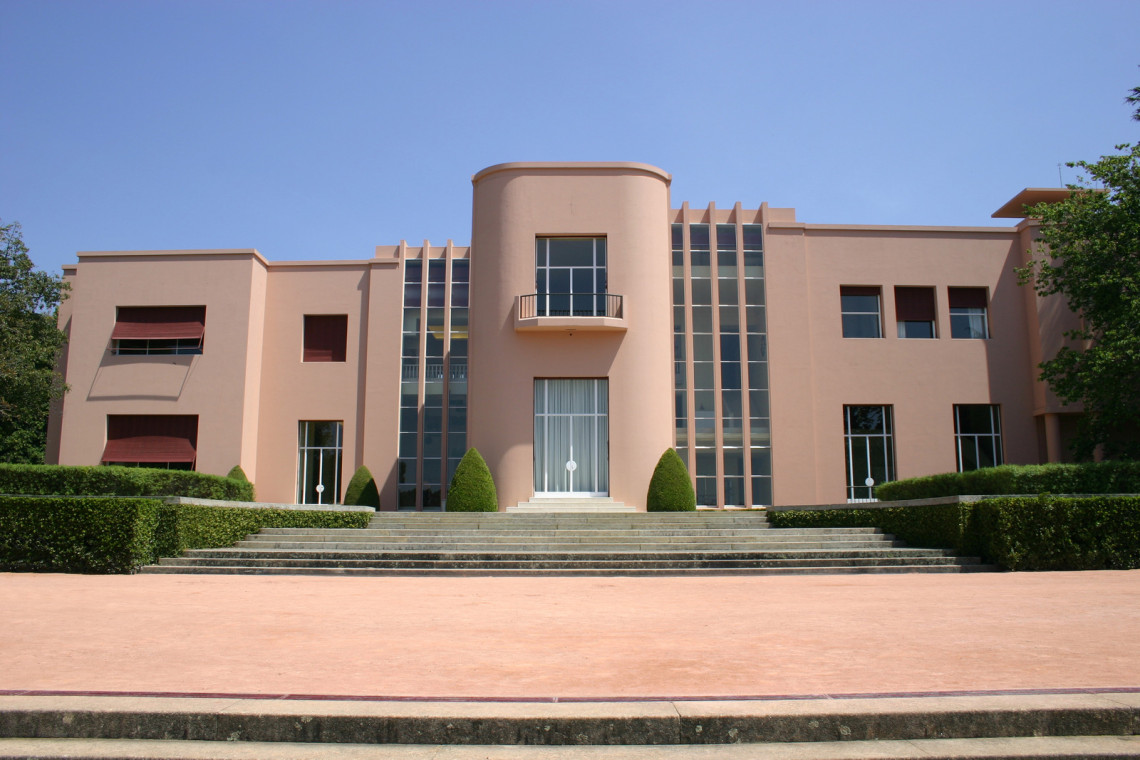 Take a Stroll Across the Dom Luis I Bridge in Porto, Portugal
The Ponte de Dom Luis I (Dom Luis I Bridge) is one of the most iconic landmarks in the Portuguese city of Porto. Spanning over the iconic Douro River and connecting the two Portuguese cities of Gaia and Porto, this beautiful bridge was designed by esteemed engineer Théophile Seyrig and opened to the public in 1886. The famed Porto bridge consists of a multipurpose upper deck, complete with an outer gallery for pedestrians, and an ornate lower deck for the metro railway line. The bridge design perfectly combines grandeur with practicality and affords Porto visitors a unique view of both sides of the Douro River.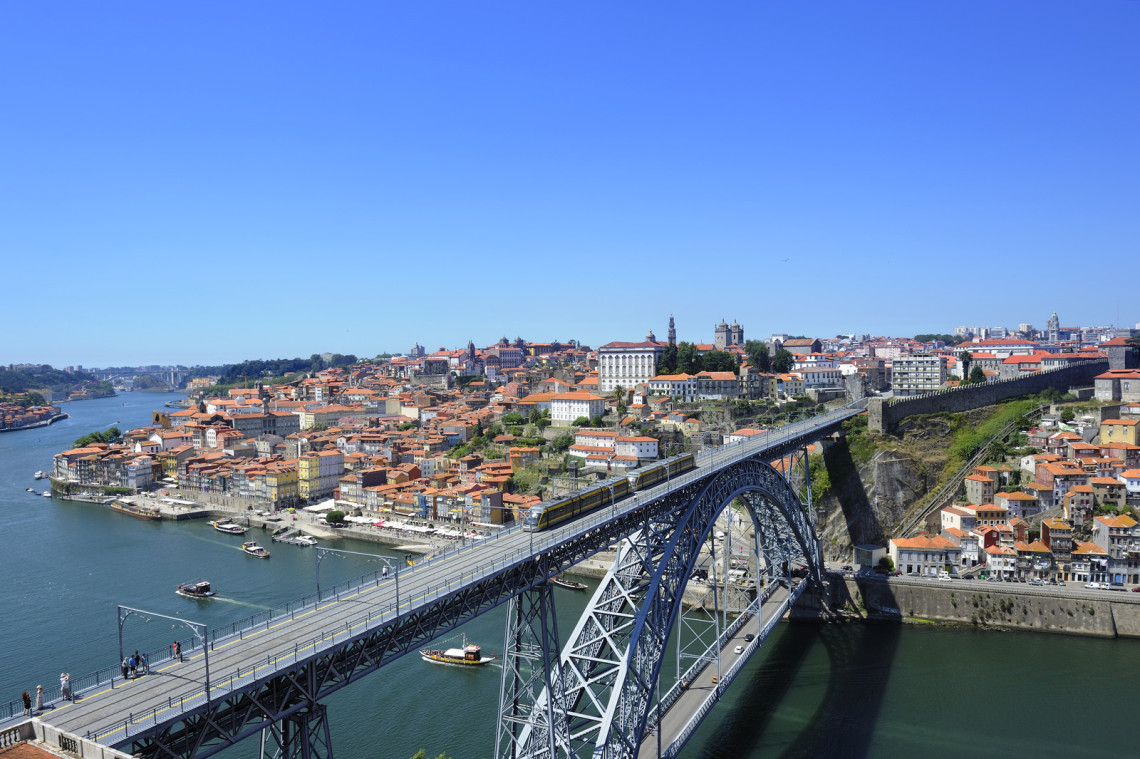 From its height at 45 meters above the river's surface, the stunning Dom Luis I Bridge is not only beautiful, but it is also incredibly functional: It has provided a vital transport link between the cities of Porto and Vila Nova de Gaia for over 130 years. Visitors taking a stroll across its impressive span will be able to not only admire its grandiose scale but also witness breathtaking views of both banks and iconic landmarks including the Clerigos Tower and Palácio da Bolsa.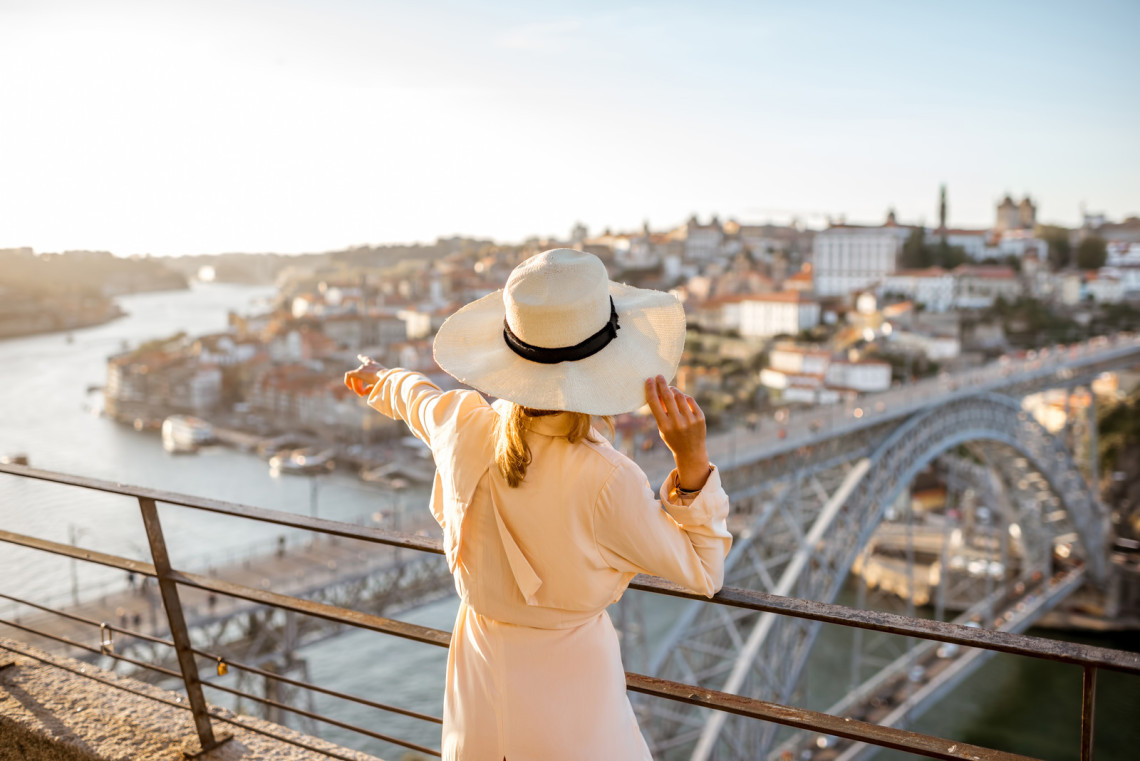 The Dom Luis I Bridge's sheer presence is enough to captivate everyone's attention – whether you are an avid photographer or just looking for an interesting spot in town where you can relax and take in the sunset – which is why it earned its spot among our best attractions to see in Porto, Portugal. So, don't forget to add it to your itinerary when you are next in the Porto area!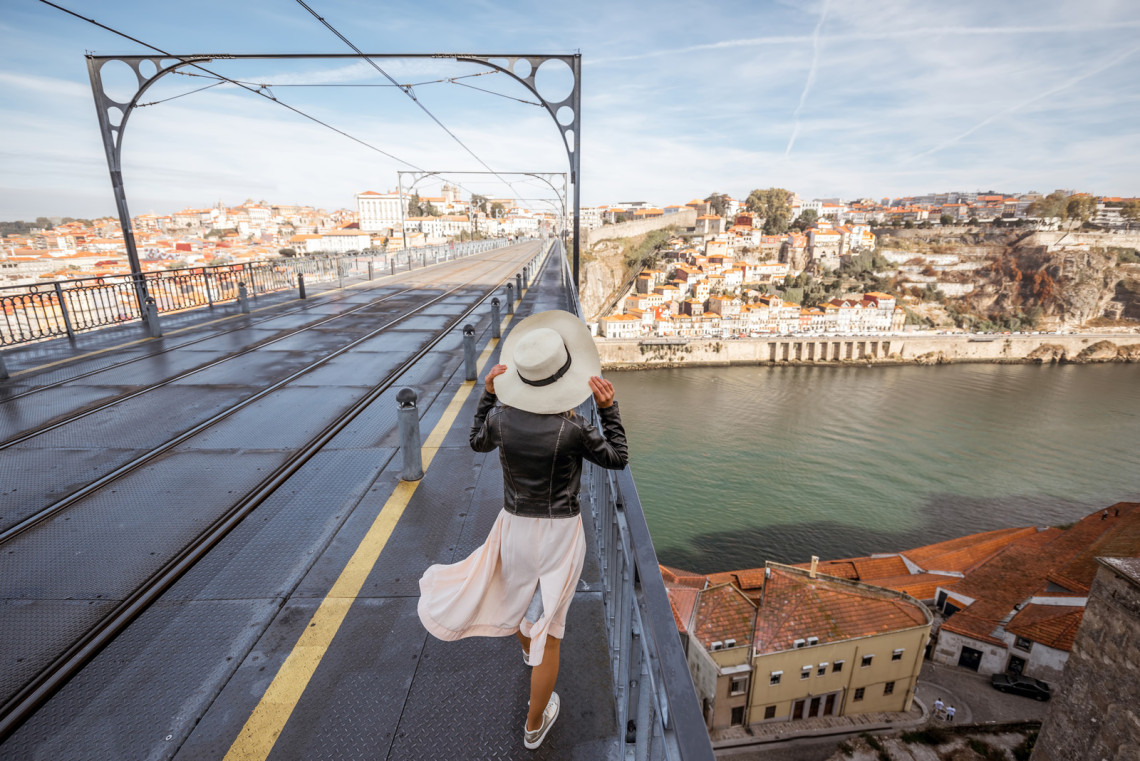 Be Enlightened About the Porto Area's Unique Culture at Clérigos Tower and Church
Located in the heart of Porto, Portugal, the Clérigos Tower is an iconic landmark and the tallest tower in the city. Built between 1732 and 1763 by Nicolau Nasoni, this spectacular building stands at an impressive height of 75 meters.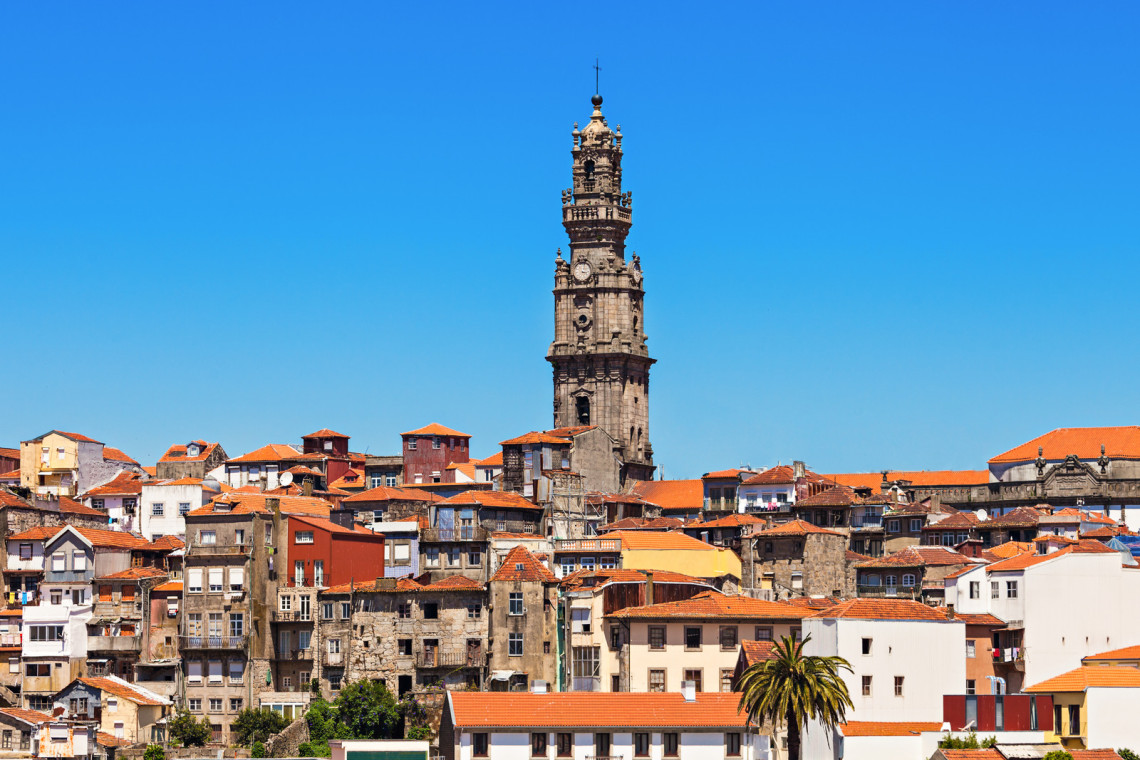 The Clérigos Tower is part of a larger complex that consists of a church and museum filled with artifacts related to Portuguese history. The elegant Baroque-style Clérigos Church features neoclassical decor and sculptures, most notably the golden statue of St. Peter. Inside the bell tower, visitors will find one of Portugal's oldest bells and can take advantage of its observation deck which affords some of Porto's best and most stunning views. A visit here for these epic views alone would be enough to earn Clérigos Tower and Church its spot on our Porto best attractions list!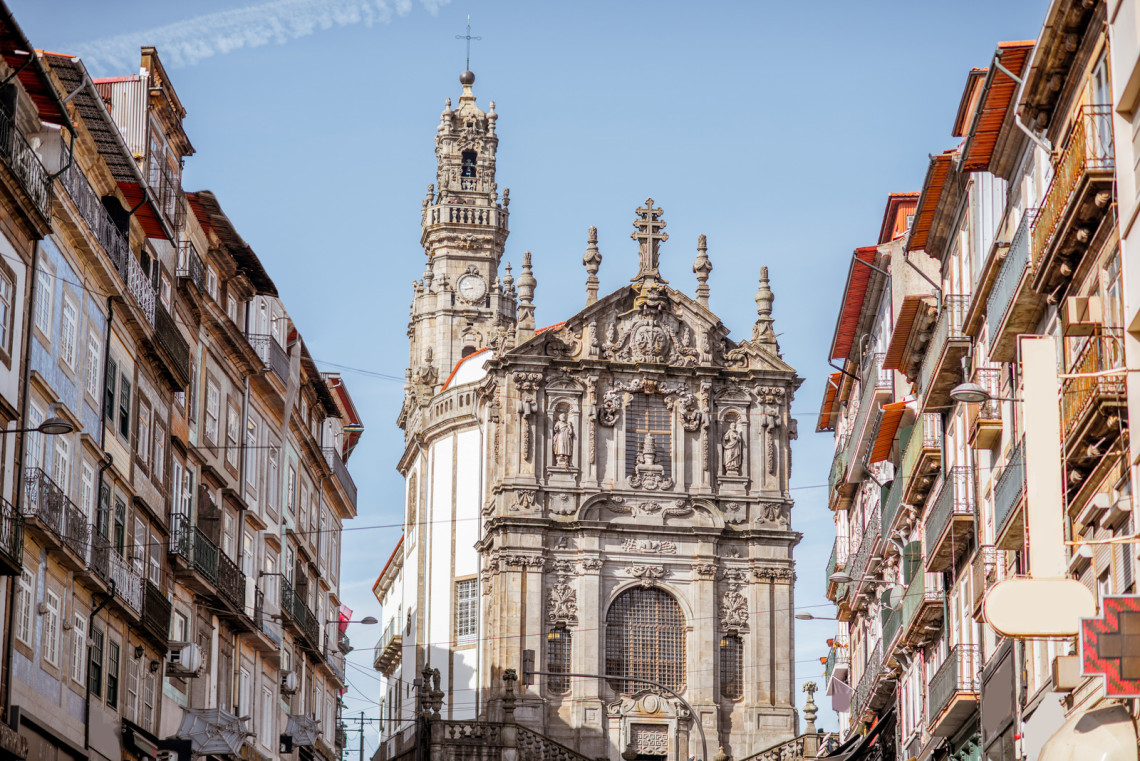 But the surrounding area around Clérigos Tower and Church in Porto is also worth mentioning, as it is home to many local restaurants offering mouthwatering traditional Portuguese cuisine, as well as bustling bars that are popular with both locals and tourists alike. Suffice to say, a visit to Clerigos Tower and Church promises a unique cultural experience that is sure to be enjoyed by all who visit this fabulous second-largest city in Portugal.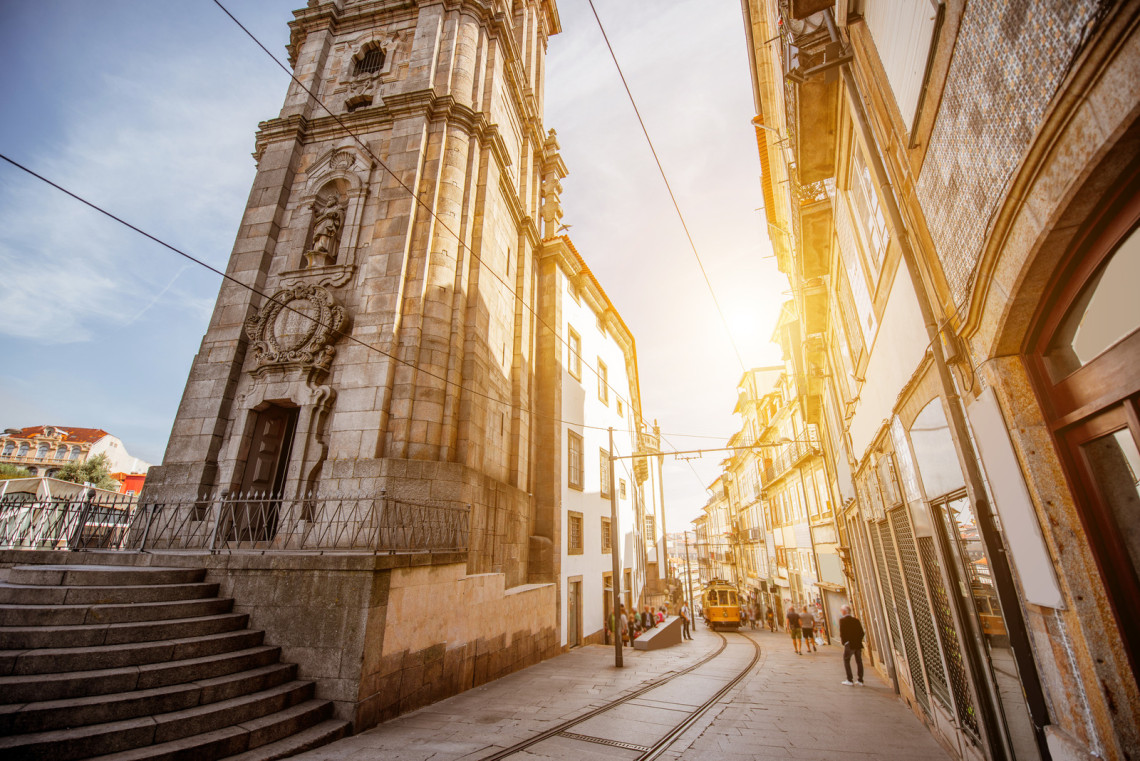 Pack Your Bags: Porto Is Waiting!
As you can clearly see, Porto is an amazing destination for tourists who want to experience the unique charms of Portugal on a grand and incredible scale. From its striking architecture to its glorious beaches, there's just something magical about Porto city that offers a little (actually, a lot!) for every type of traveler to enjoy and adore.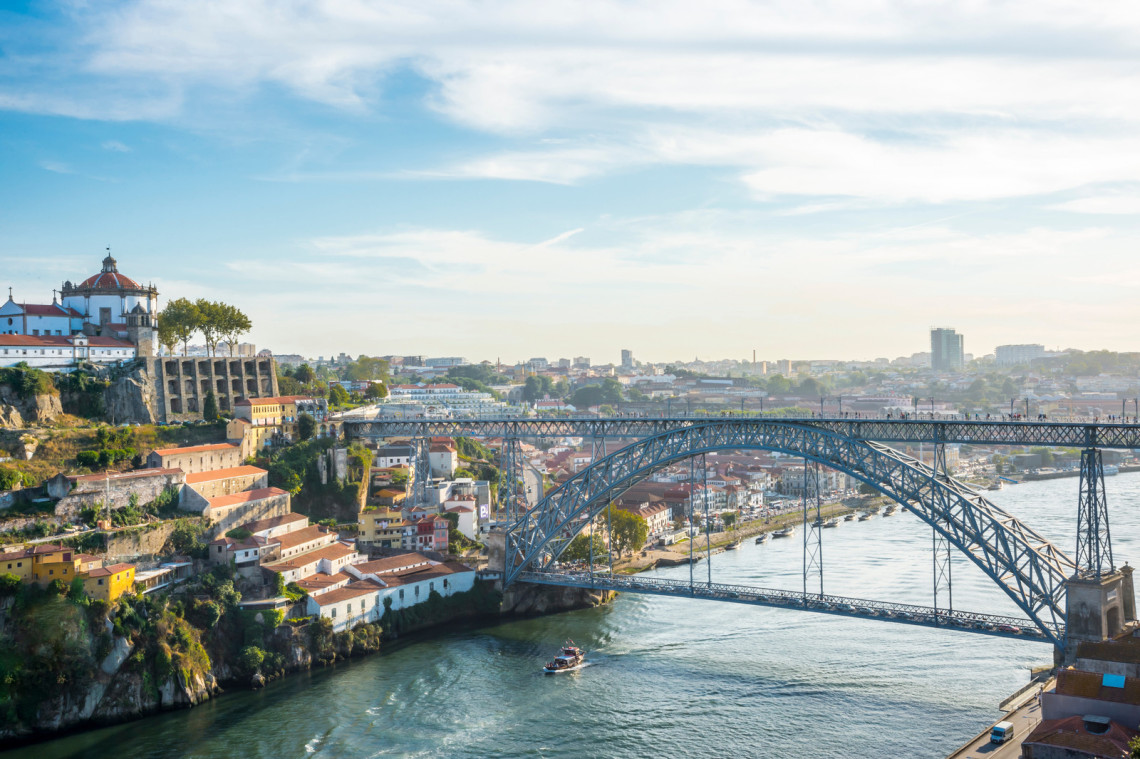 Whether you're looking to step back in time at Porto's historical landmarks or want to simply soak up the natural beauty of Portugal's second-largest city, you'll be sure to find plenty of attractions that will captivate and delight you. Among our favorite best-see attractions in Porto include but are definitely not limited to: taking a stroll through the winding streets of Ribeira, marveling at the stunning Dom Luis I Bridge, exploring Porto's vibrant nightlife, and savoring the delicious local cuisine of Porto.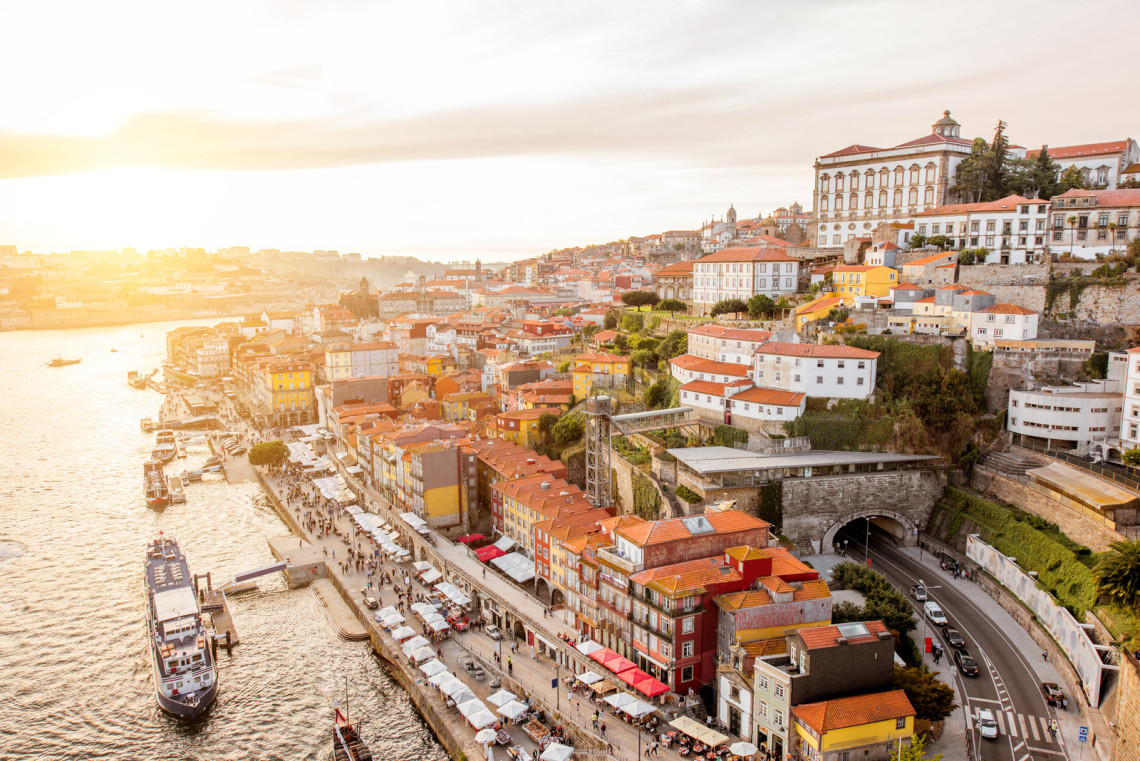 Simply put: Porto has it all! With a host of sights and activities available to visitors, there's something ideally suited for every taste and budget in this magical city nestled on the Douro River estuary.
Explore Portugal Your Way: Customizable, Tailor-Made Trips for Your Dream Adventure!
If you're looking to explore Portugal at your own pace, we have got you covered. Our team of specialists will work with you to create a custom-made trip that suits your preferences and budget. Whether you want to indulge in the local cuisine, explore the historic cities, or soak up the sun on beautiful beaches, our tailor-made packages offer the flexibility and freedom to discover the highlights of Portugal at your own pace. So why wait? Contact us today and let us help you plan an unforgettable trip to Portugal!