A Guide to the Delicious Cuisine of Porto, Portugal
Are you a gourmand looking for your next gourmet food mecca? Or maybe you are simply a world traveler who adores discovering new and exciting local cuisine in amazing destinations. If so, Porto in Portugal should definitely be on your list of top European travel destinations for this year!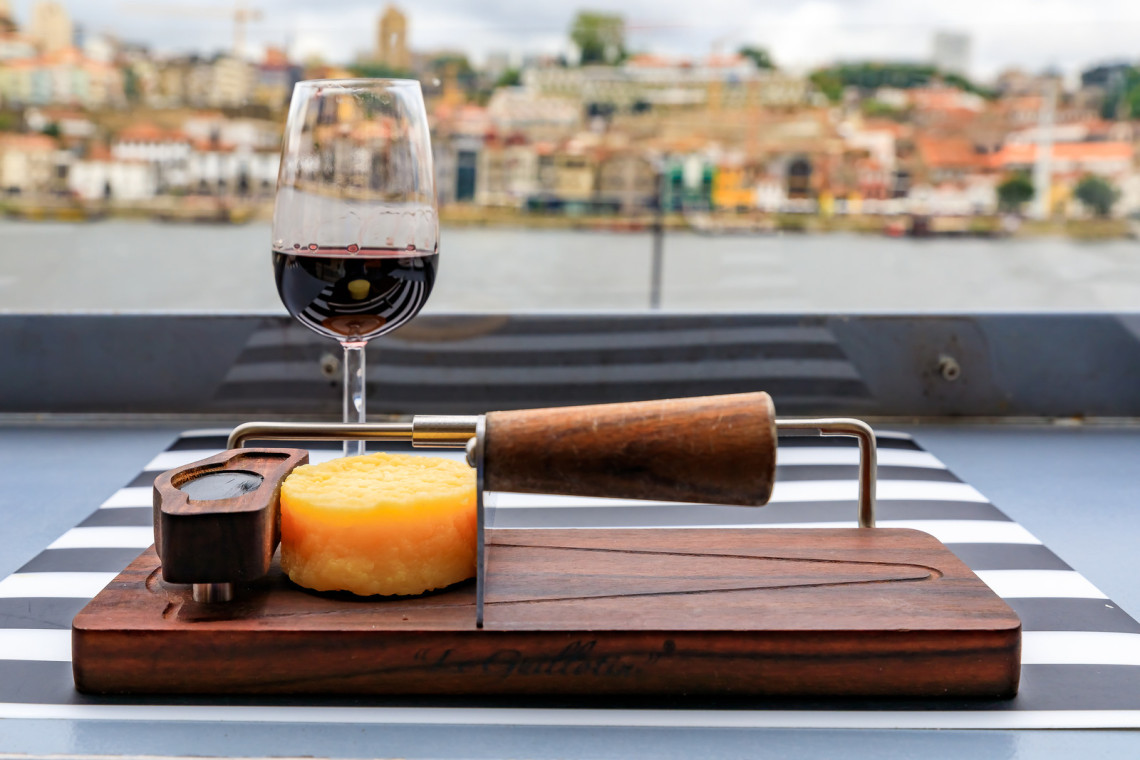 What can you look forward to experiencing as you visit Porto in Portugal? Glorious Porto food, for starters! There is a reason Porto tourism numbers have climbed in recent years, especially among foodies and gourmet cuisine aficionados: The uptick in Porto popularity is due in large part to the abundance of amazing Porto local restaurants, cafes, and bars that feature some of the world's best culinary finds.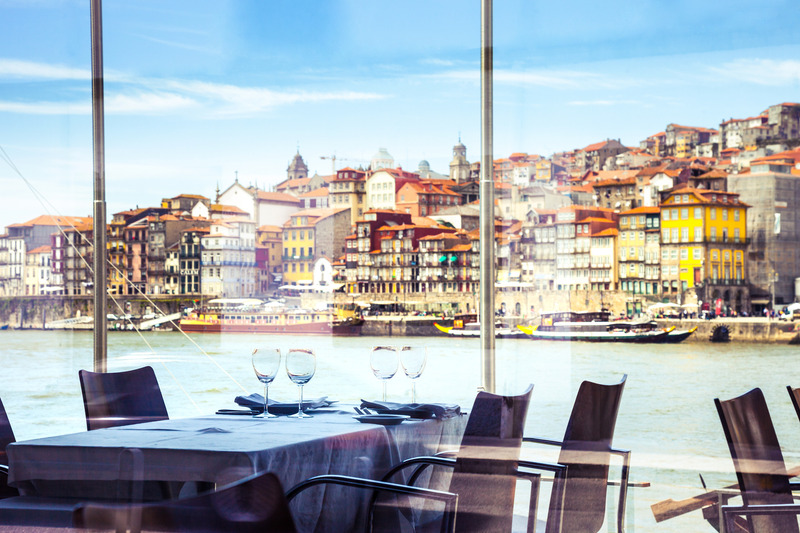 There is simply no better way to truly experience Porto culture and traditions while also pleasing your palate than touring Portugal's second-largest city and making your way among the best restaurants Porto has to offer. So what can you expect to sample among the delicious cuisine of one of Europe's most vibrant cities, Porto, Portugal?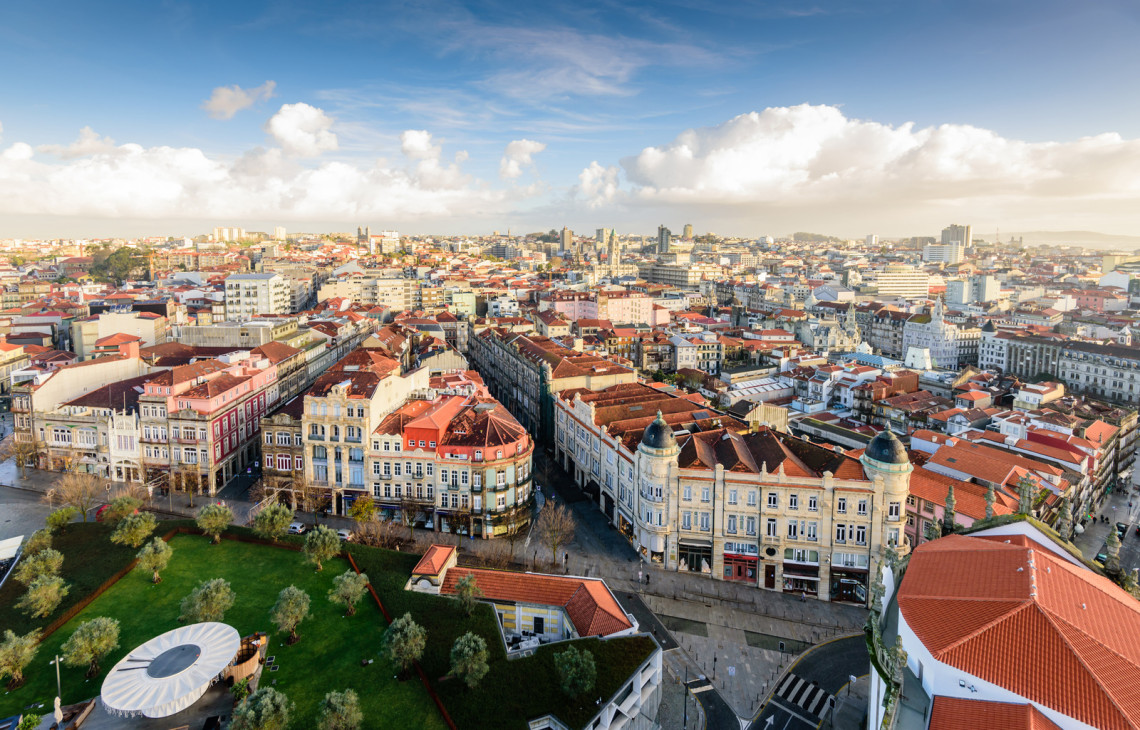 From succulent seafood dishes to traditional Portuguese favorites like Francesinha and codfish, the Porto dining scene is a foodie paradise with something sure to delight everyone. And with the abundance of cozy terraced cafes and al fresco dining options among the best restaurants Porto boasts, you can look forward to enjoying tantalizing flavors while also soaking in gorgeous views of the Douro River and Porto's stunning surrounding scenery! Especially in the spring and summer months, this Porto al fresco dining experience is nothing short of magical, is definitely an experience you won't forget, and will be among the absolute highlights of your Porto trip during your Portugal holiday.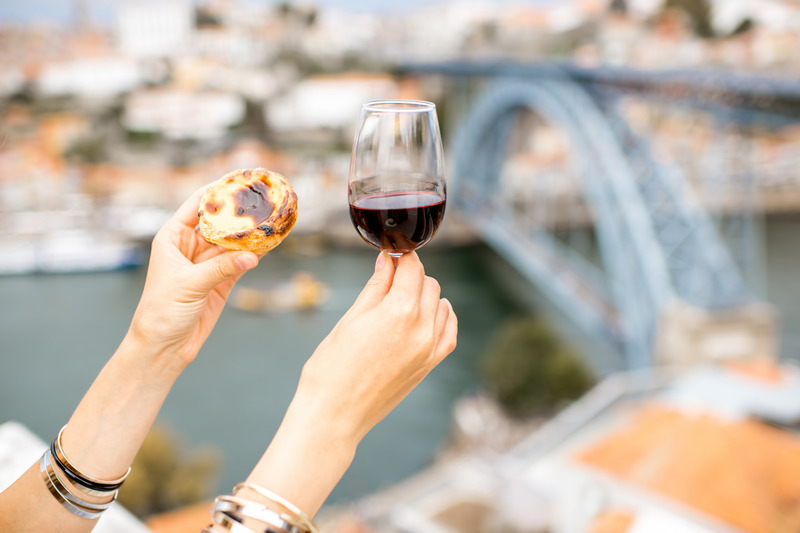 Sounds delicious, right? We bet you are already dreaming about what sensational Porto dishes you would like to try first! So, why not make your culinary dreams – and your dream vacation – a reality right now with Portugal Getaways?! With various deals and packages to the vibrant city of Porto, Portugal, and tailor-made itineraries for your Portugal holiday that are perfect for any budget, our team at Portugal Getaways can help you get the most out of your trip.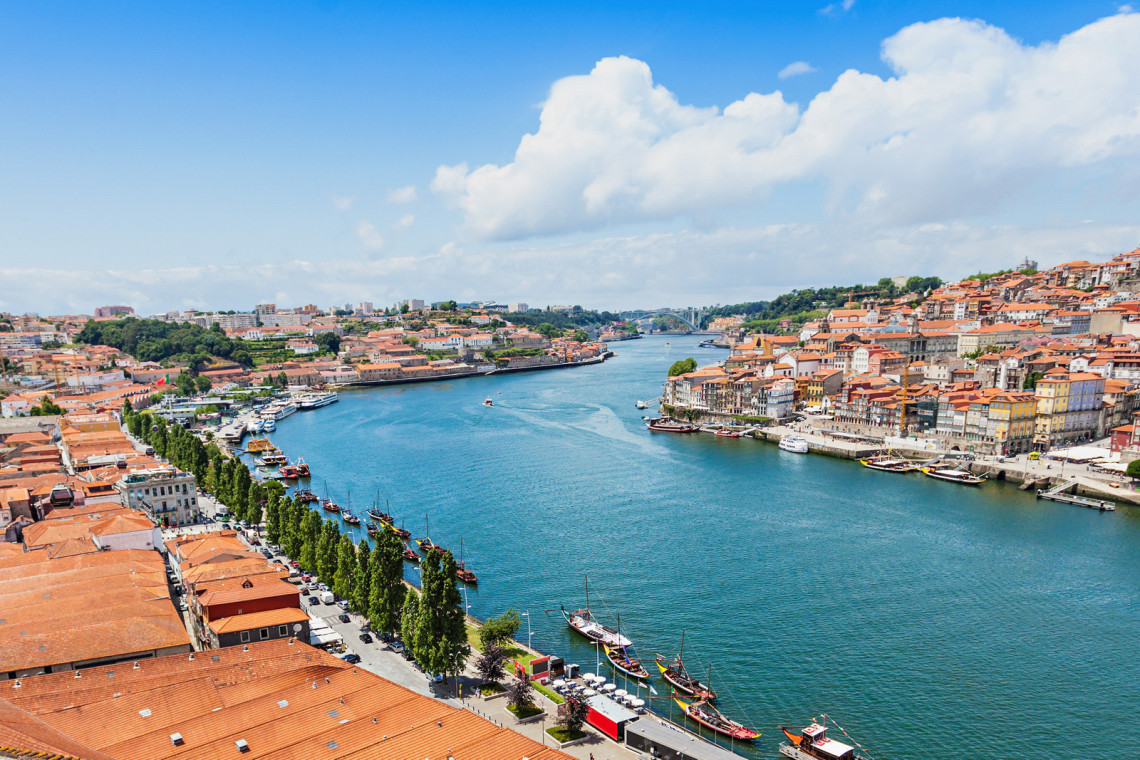 And besides, wouldn't it be nice to let someone else handle all the pesky details of putting together your dream Porto, Portugal vacation, while all you have to do is get here and have the time of your life sampling and savoring the choicest flavors and culinary finds from Porto's best restaurants and cafes. As you pack your bags (you really could be on a plane to Porto tomorrow if you wish!), in the meantime, let's explore some of the must-try dishes you simply cannot miss when you do get here for your trip to Porto.
Francesinha – Iconic Porto Sandwich
When you think of classic Porto food, Francesinha instantly comes to mind. One of Porto's signature dishes and so iconic that you will probably find it on any menu in the best Porto restaurants, this hearty sandwich is something you can really sink your teeth into, literally! Fun fact: The word francesinha loosely translates as "little French girl," a moniker earning its name because many say that the Porto dish is catered after the well-known French croque-monsieur (a toasted cheese and ham sandwich).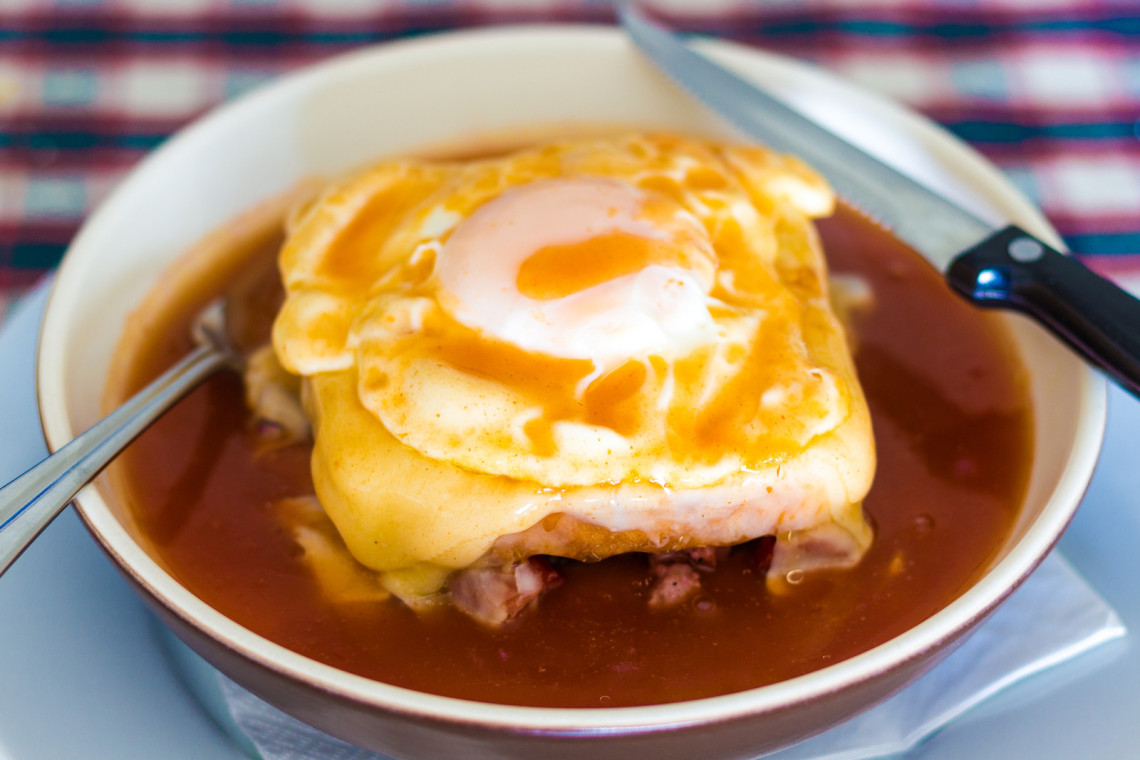 The signature Porto sandwich is absolutely delicious, which explains why it is a favorite among Porto locals and visitors to Porto alike. Made with layers of ham, sausage, and steak – all smothered in melted cheese and a special tomato and beer sauce – even though this beloved Porto sandwich is so deeply satisfying you won't leave the table hungry, it is so yummy you will be craving more regardless! If you do end up having room for a little more traditional Porto good, pairing Francesinha with any number of delicious side dishes to accompany your main course is always a good idea. Having trouble deciding what specific savory side dishes in Porto to choose from?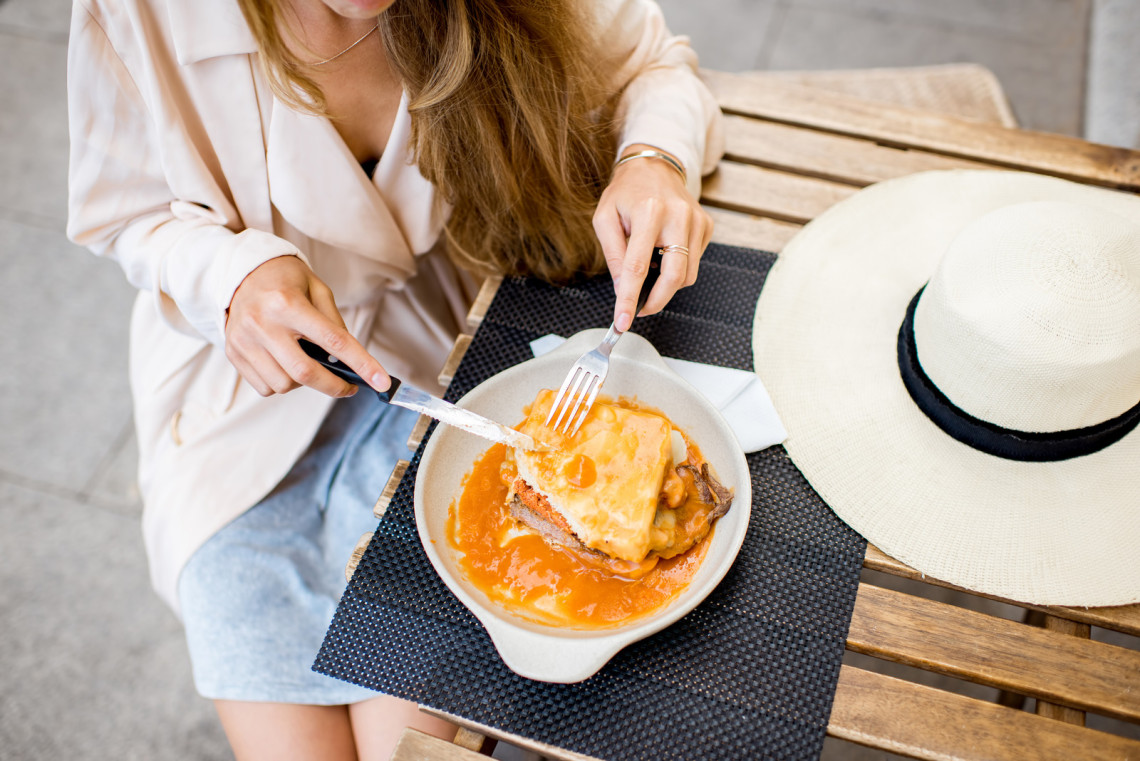 Traditional Porto side dishes are fries and a fried egg, both of which pair perfectly with Francesinha. Simply put: The perfect mix of savory and fresh flavors awaits to enchant you in this classic Portuguese specialty found in almost every Porto restaurant.
Alheira – Unique Portuguese Sausage
And for the next course: Get ready to try something truly special with Alheira, a delicious and unique Portuguese sausage. This smoked sausage that is quite popular among the best restaurants in Porto can be made from various types of meat, such as pork, veal, and chicken, and is then blended with bread crumbs, onions, and herbs.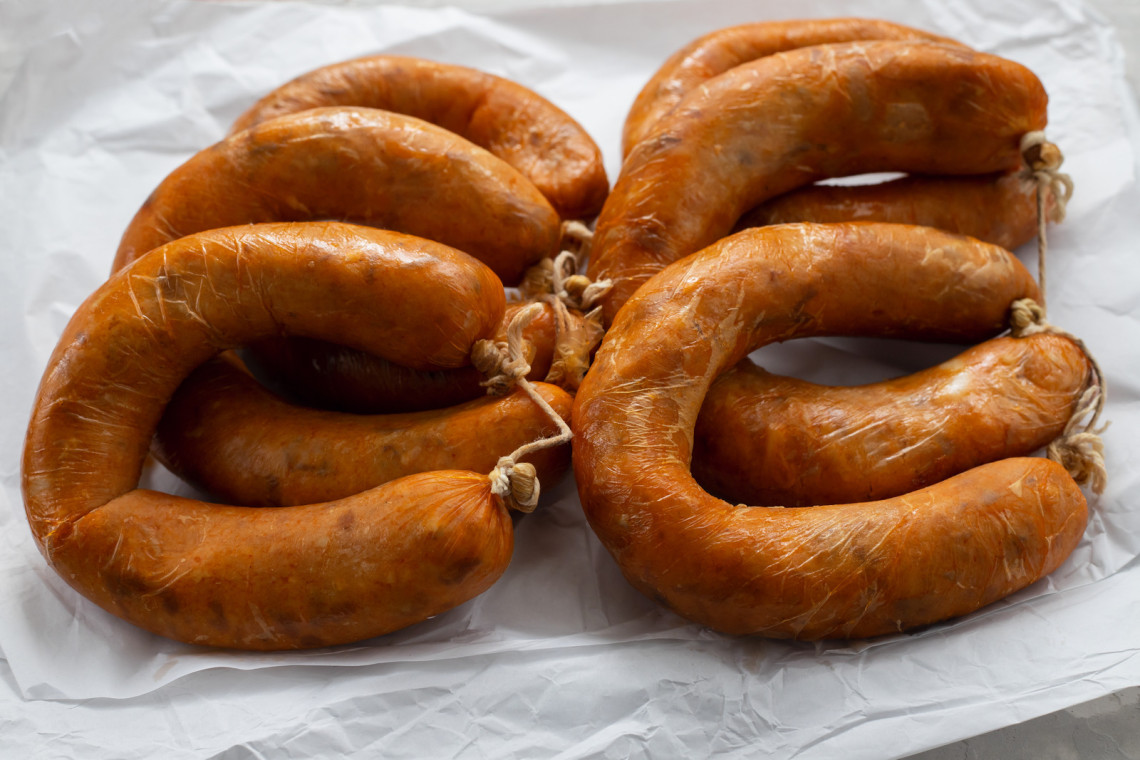 Next, the sausage is stuffed into a natural casing and slowly cooked over low heat for hours. The result of this slow-cooking alchemy is Alheira: an explosion of flavor that pairs perfectly with a glass of your favorite Portuguese wine. Suffice to say: Alheira is one mouthwatering signature Porto dish you won't want to miss on your next trip to Porto, Portugal!
Tripas à Moda do Porto – Traditional Tripe Stew
If you are looking to truly experience the classic flavors of Portugal, beginning with Tripas à Moda do Porto, a traditional tripe stew is a sure win. This hearty dish consists of slow-cooked tripe and a variety of savory vegetables, like onions, carrots, and potatoes.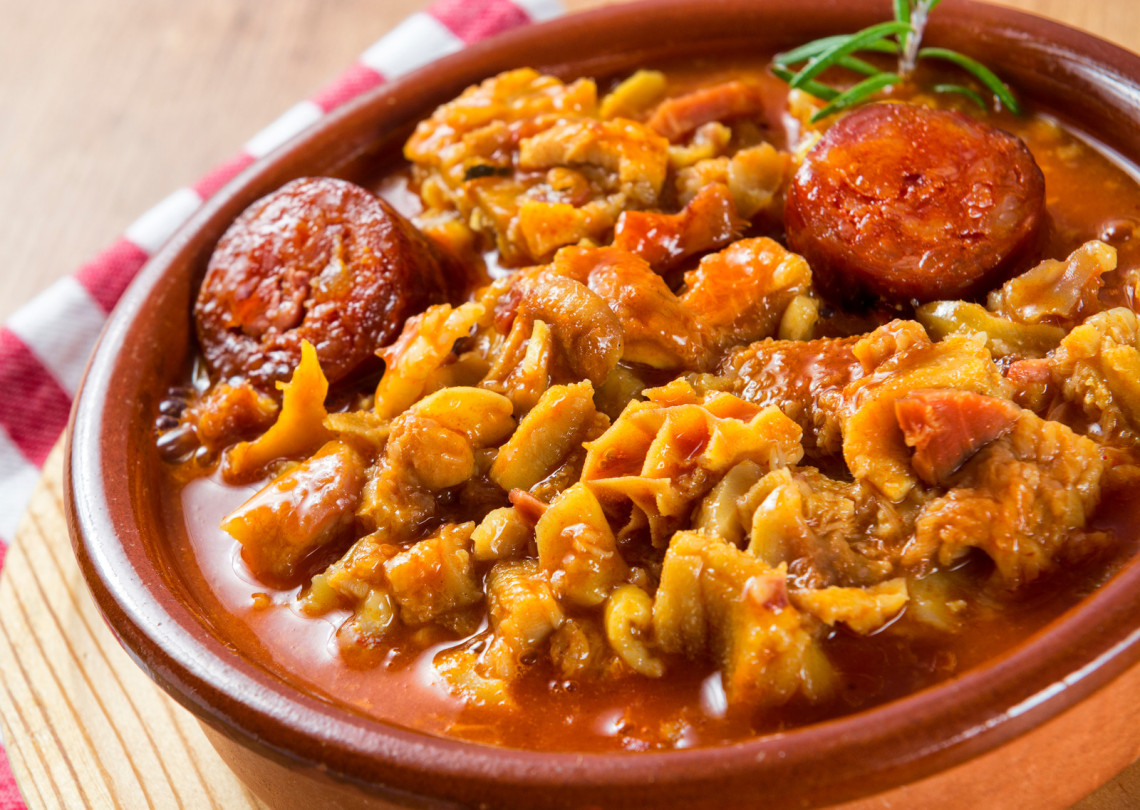 This signature Porto stew concoction is spiced up with garlic, white pepper, and bay leaf, which gives it its unique and mouth-watering flavor. Once cooked, the Tripas à Moda do Porto stew is topped with bread crumbs, parsley, and an optional poached egg. You will find this amazing dish at some of Porto's best restaurants, most often served alongside a glass of fabulous local Porto wine. For the best flavor pairing, opt for some light white wine and make it a truly unforgettable Porto meal!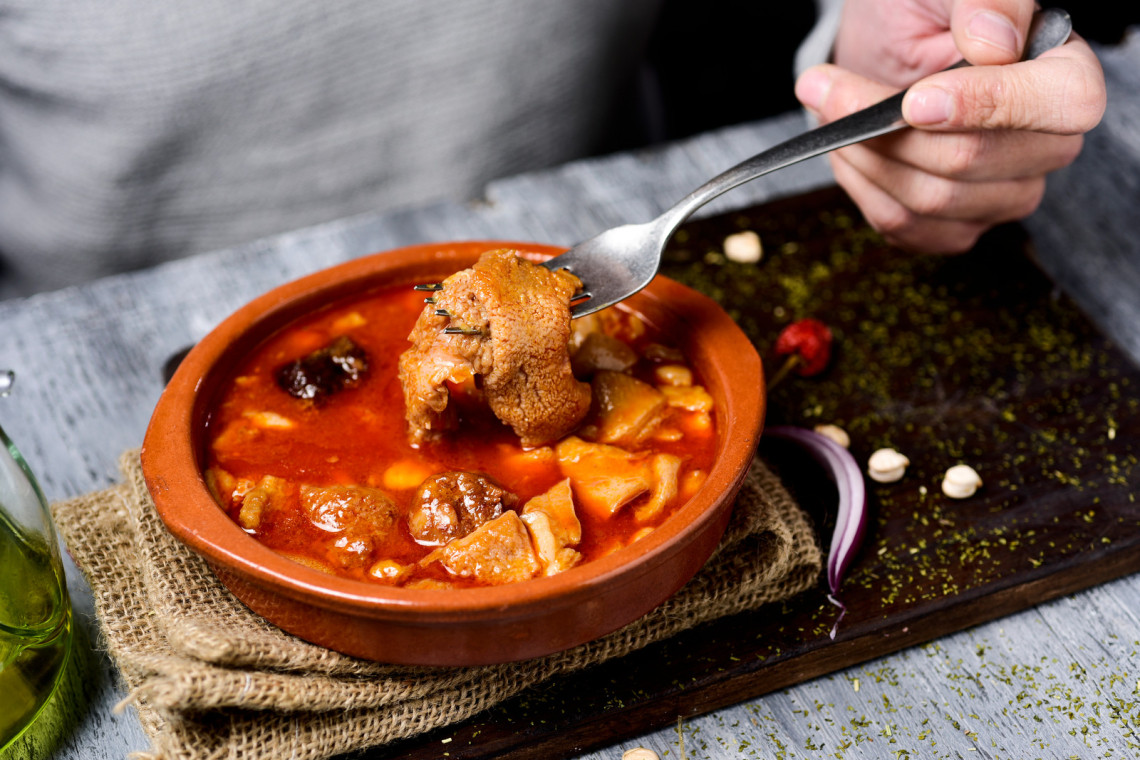 Are you already in love with Portugal? Take a look at our stress-free packages that allow you to book your ultimate Portuguese adventure. All our packages are carefully curated by our team of local Portuguese experts so that you don't need to worry about any details - just enjoy your trip!

Bolinhos de Bacalhau – Popular Portuguese Snack from Porto
If you are looking for an in-between meal bite to hold you over until your next epic Porto feast, an excellent choice would be the classic Portuguese snack of Bolinhos de Bacalhau. This fried fish cake that counts itself among Porto's favorite snacks is made of salt cod, potatoes, and onions. The mixture is then flavored with garlic, parsley, and spices before being formed into small balls and deep-fried to crispy perfection.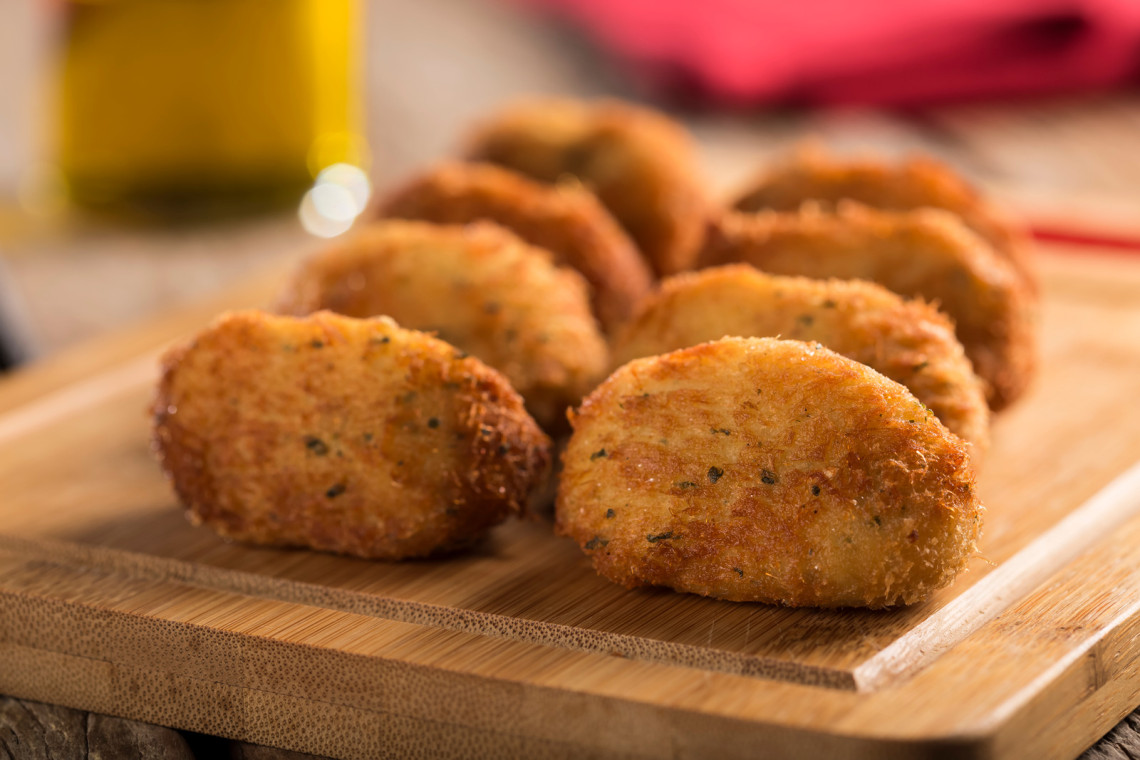 With its flavorful filling and crisp texture that contrasts nicely with the creamy interior, Bolinhos de Bacalhau are essentially little bites from heaven. They are also a great way to please your mouth when you are craving just a little something special to nosh on during your Porto trip — ideal for an afternoon pick-me-up or as a pre-dinner snack. Also, of course, Bolinhos de Bacalhau can be enjoyed as a delicious appetizer or side dish to any meal!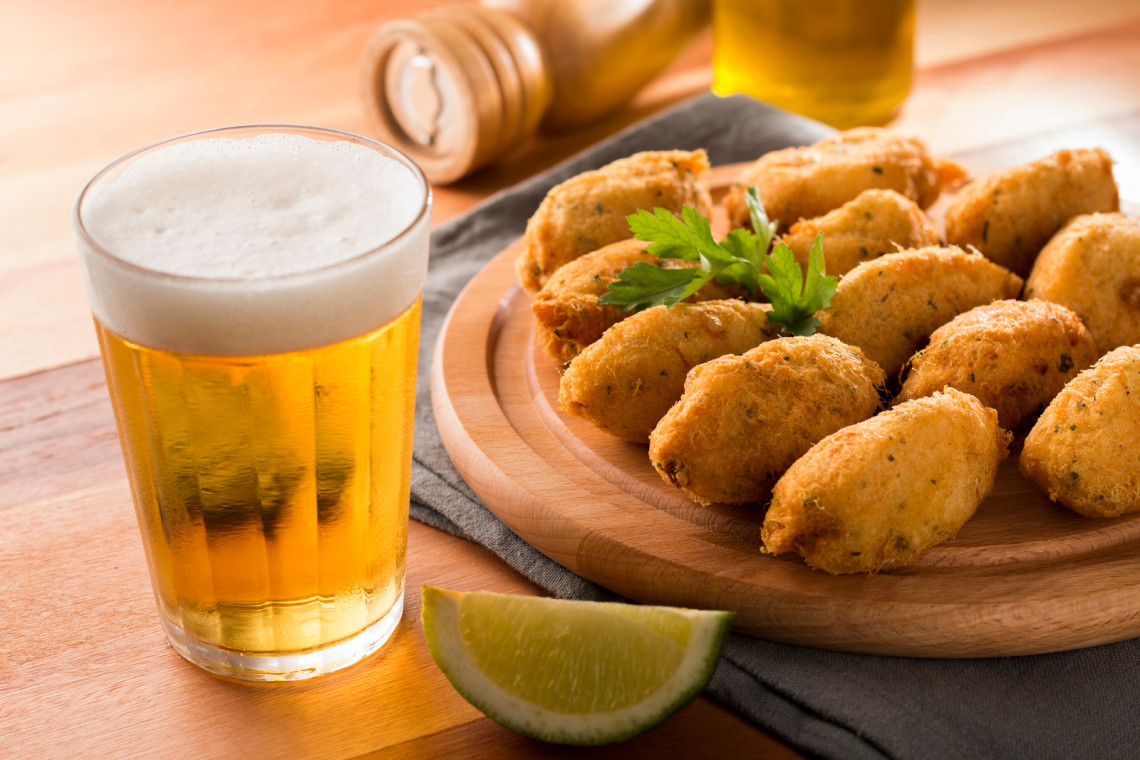 Pastéis de Chaves - A Portuguese Dessert from Chaves
First originating in the city of Chaves in Northern Portugal (hence its name), Pasteis de Chaves is a traditional Portuguese savory dessert that will instantly win you over while also connecting you with the heart of Portugal cuisine and classic flavor palate. This delicious dish often found in Porto consists of a sweet and flaky crust filled with egg custard, which is often infused with grated lemon zest.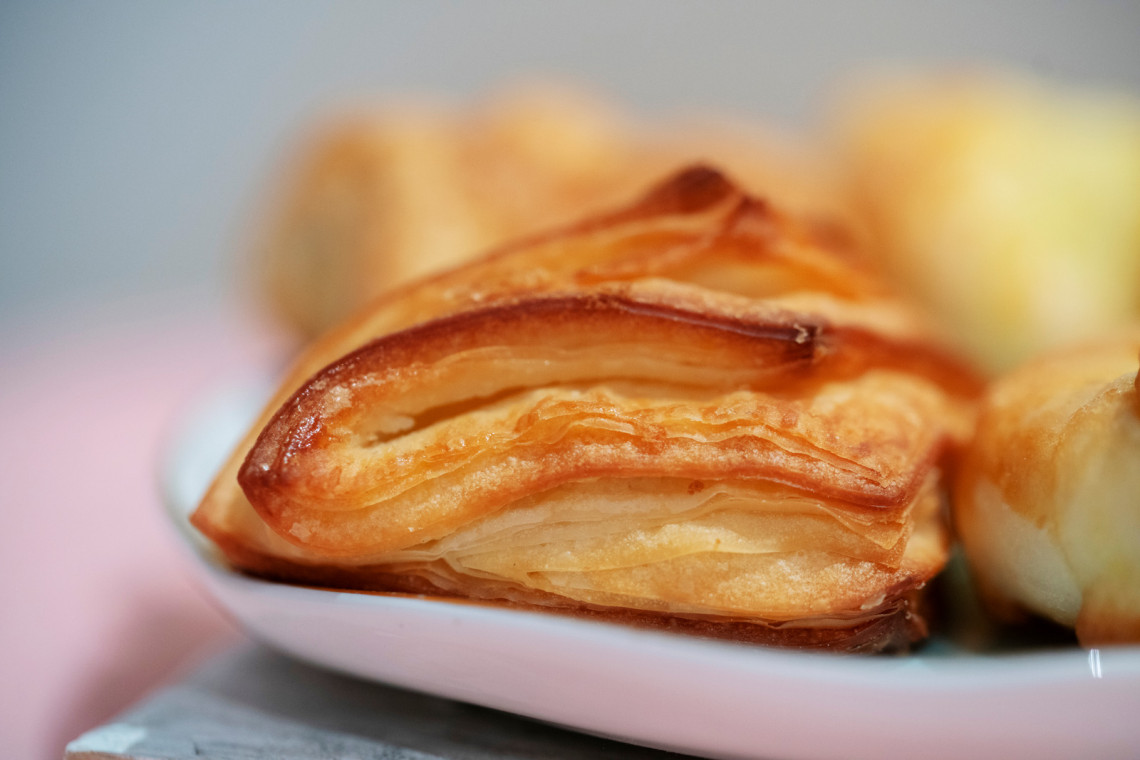 The delicate crust and creamy filling that are Pasteis de Chaves' claim to fame ideally complement one another and come together to create a perfect pairing – an exquisite bite of heaven sure to satisfy your sweet tooth. You can enjoy the pastry warm for an added burst of flavor, or sprinkle it with cinnamon and sugar for an added touch of sweetness. Either way, Pasteis de Chaves is sure to delight your taste buds during your Porto, Portugal trip.
Enjoy the Scrumptious Delight of the Almond Tart from Porto, Portugal
The iconic Almond Tart of Porto, Portugal is a delicious traditional Portuguese dessert that actually first originated in Porto city. The tasty tart is made with an almond-flavored custard filling encased in a buttery pastry crust and topped with almonds, sugar, and cinnamon.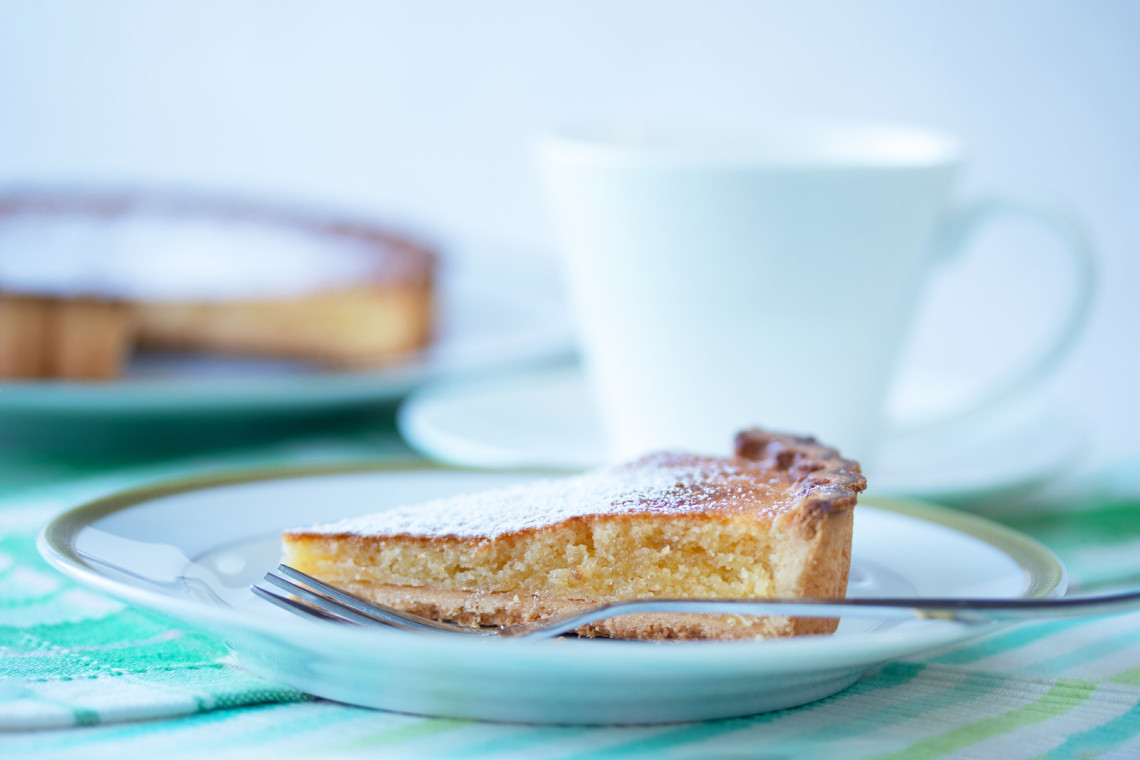 The unique flavor of the Almond Tart from Porto is really what will stick with you far after you have had your fill, and its rare deliciousness is due to the use of local almonds from the Porto region. You could call the Porto area almonds the not-so-secret ingredient that really makes this almond tart sing, and taste oh so very, very good. And we aren't the only ones that think the Almond Tart is absolutely praiseworthy, as this delightful dessert has been enjoyed by Porto locals for centuries and can be easily found on most menus throughout Porto city.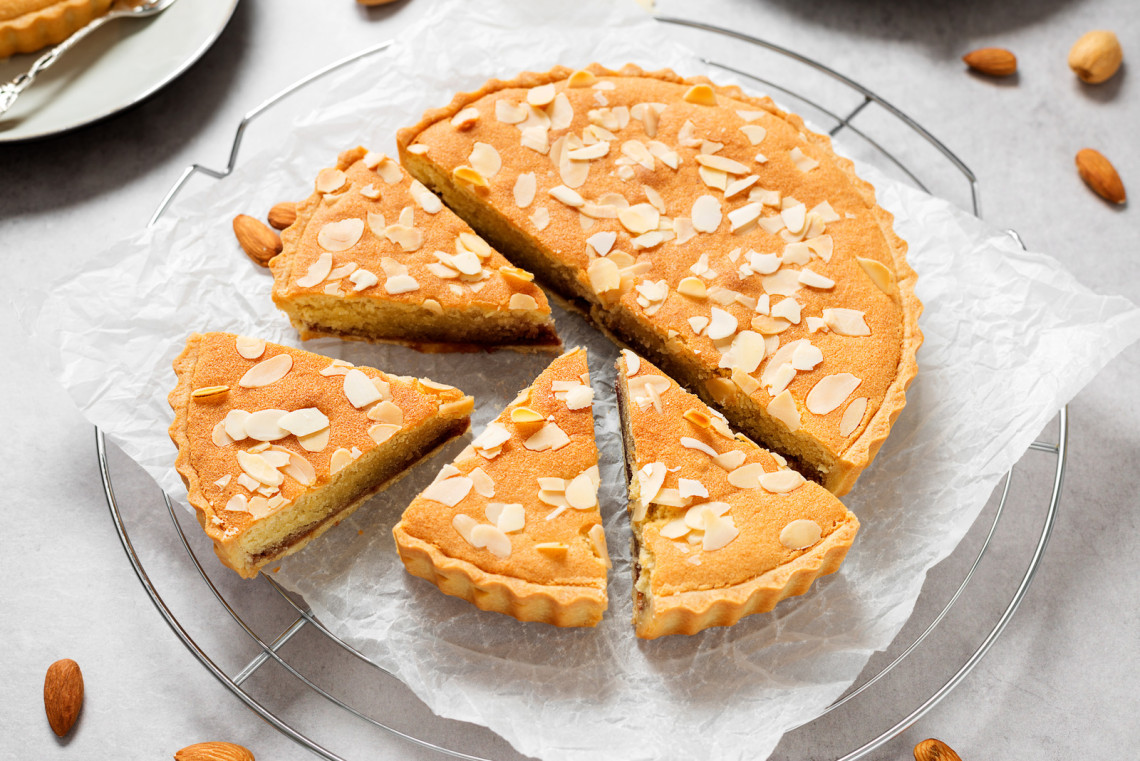 The pastry dough for the Almond Tart is made with flour, butter, and sugar, while the almond custard filling requires only sugar, eggs, cream, and almond extract. Baked in the oven until golden brown and crisp on top, the Almond Tart of Porto is traditionally served with tea or espresso, which perfectly complements its sweet flavors. Take our word for it (actually, just come and see – and taste – for yourself!): Enjoying this delectable Porto dessert treat is the best way to end any meal or celebrate a special moment during your Porto visit.
Discover the Unique and Delicious Taste of Jesúistas in Porto, Portugal
Yet another delicious, classic pastry found in Porto, Portugal are Jesúistas. In fact, these unique and sweet treats are such a rare culinary treasure that they can only be found in the city of Porto. These sweet treats are crafted with love and care using traditional methods and are comprised of only the highest quality, select ingredients chosen from local Porto area farms. The result of all this is a flavor-packed pastry that's sure to tantalize your taste buds and leave you wanting more.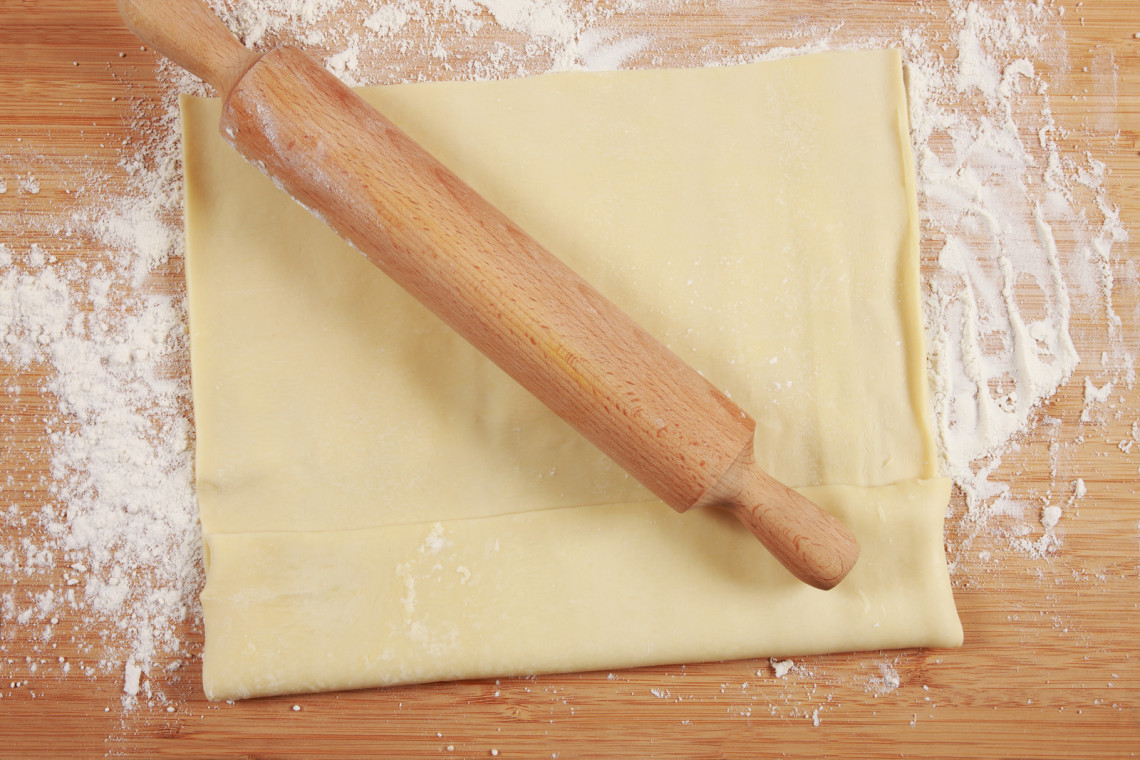 Jesúistas come in a variety of shapes and sizes, all of which boast a light, flaky crust that gives way to layers of creamy fillings, like custard or chocolate ganache. If you're lucky, you might even find some Jesúistas filled with homemade jam! So, the next time you visit Porto, make sure to try some authentic Jesúistas – you won't regret it! In fact, it will be one of your sweetest Porto memories, literally!
Taste Heaven with Toucinho do Céu From Porto, Portugal
Toucinho do Céu is another heavenly sweet treat that hails from the city of Porto in Portugal. This classic dessert is made with egg yolks, sugar, and plenty of butter or lard, which all come together to give it a richness and full flavor, unlike any dessert of its kind.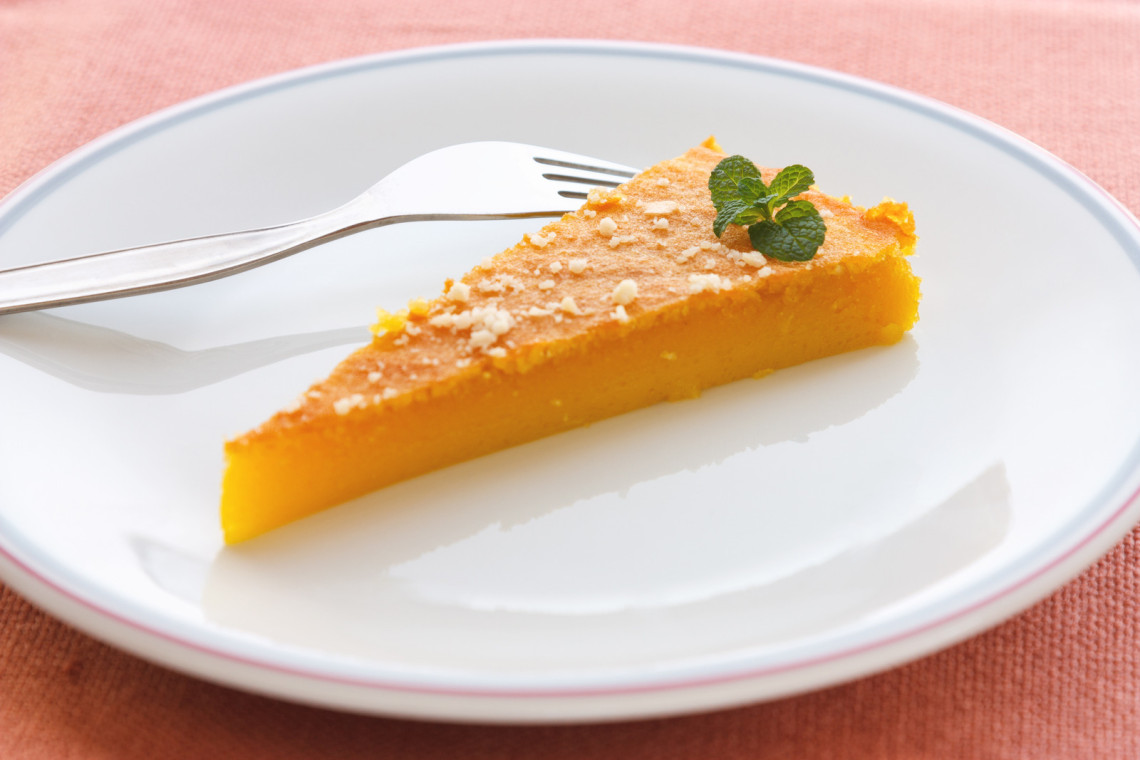 But it gets even better: The texture of Toucinho do Céu is light yet creamy, and the flavor has hints of almond and cinnamon that make it even more special. Toucinho do Céu is traditionally served after a meal, but you can also enjoy it as an afternoon snack or anytime you want something sweet. Trust us: One bite of this delightful treat will make you understand why it's so beloved in Porto, so make sure to try some whenever you're in the Porto area!
Enjoy the Iconic Taste of Broa de Avintes From Porto, Portugal
Atkins or Keto enthusiasts will want to skip this section, as we will now introduce one of the most amazing bread Porto has to offer its locals and visitors – a bread so yummy, you just may be tempted to carb load and never look back! There could be worse things for sure, especially when visiting the culinary capital of Porto, Portugal!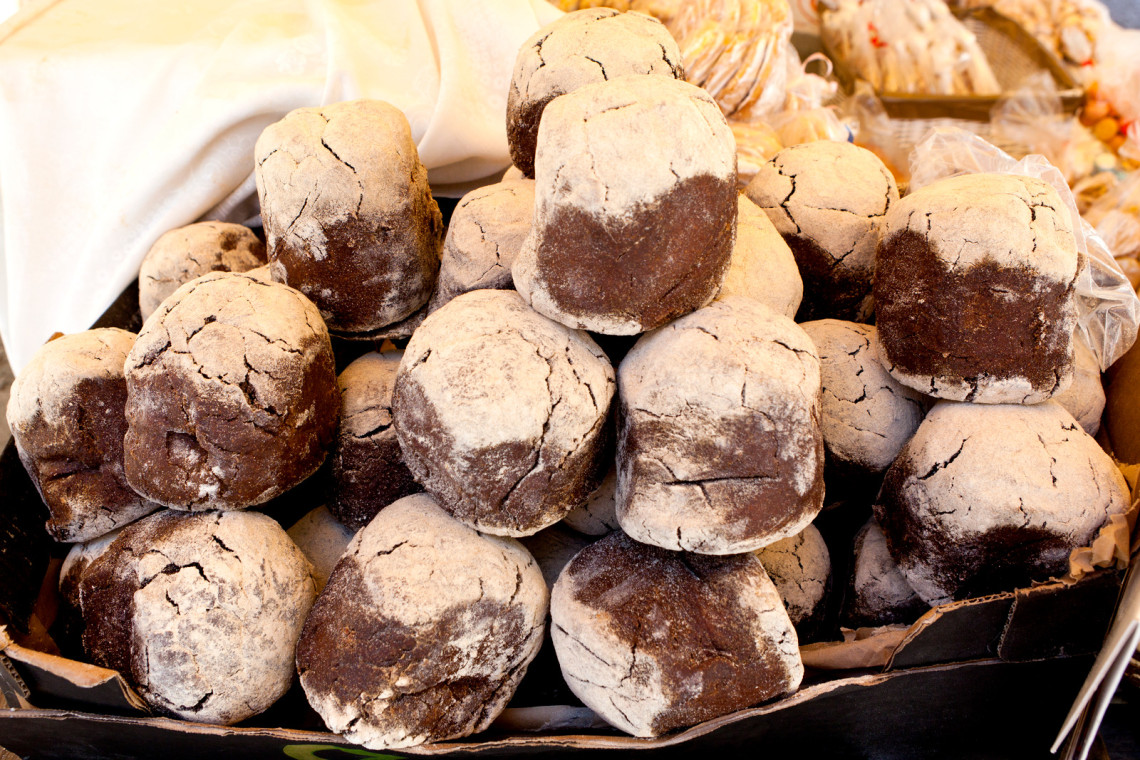 This fabulous bread we are referring to is Porto's Broa de Avintes, which is a taste-bud-pleasing type of bread that hails from right here in Porto city. Bros de Avintes is made with cornmeal, wheat flour, olive oil, and lard, which come together to produce the bread's unique flavor and texture.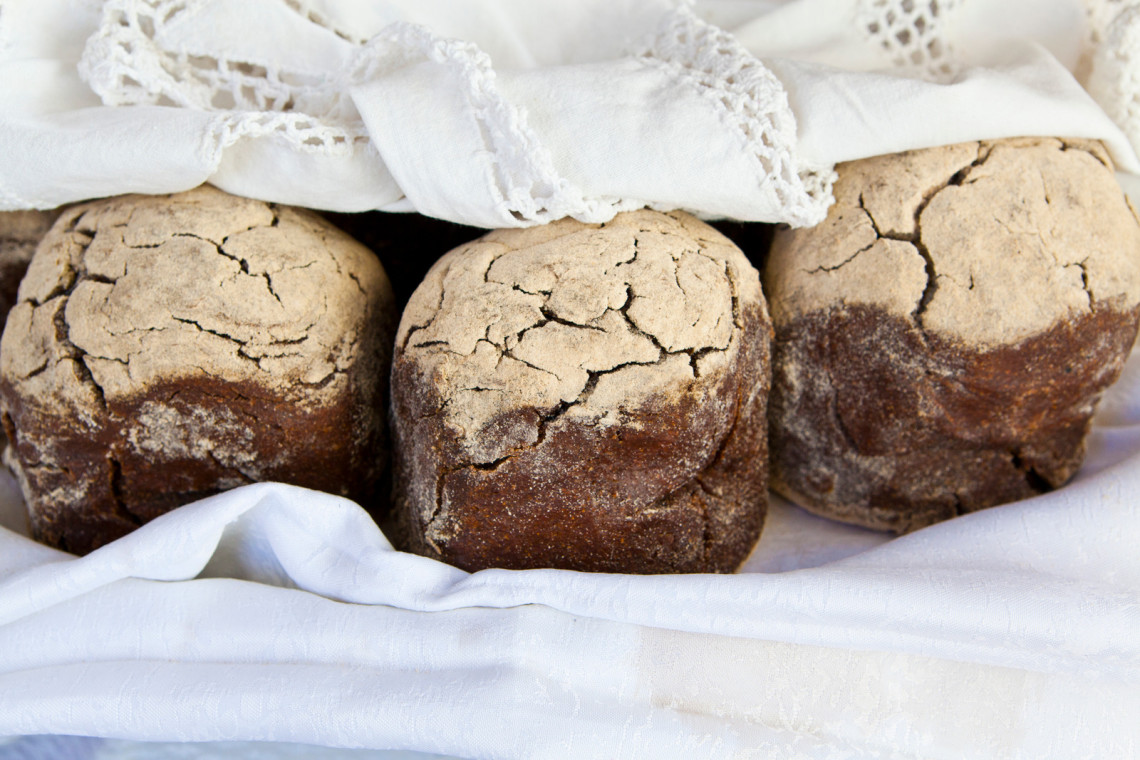 The outside of the Broa de Avintes loaf has a crackly golden crust, while the inside is soft, moist, and slightly sweet. Talk about a perfect combination! This hearty Porto bread pairs well with soups or stews, or you can keep it simple and serve it with butter or honey. Whatever you choose, every meal is better with Broa de Avintes, the iconic Portuguese treat that everyone should try, especially when visiting Porto!
The Verdict Is In: Porto Is 100% Guilty of Being the Best Foodie City
If you're a foodie, then you'll love sampling Porto, Portugal's gastronomy. Porto is a charming city with a rich and multifaceted food culture. From its fresh seafood to the hearty dishes of the nearby countryside, there is much to explore (and taste) when you visit Porto. With its diverse range of flavors and mouth-watering aromas, Porto cuisine is sure to please any traveler's palate.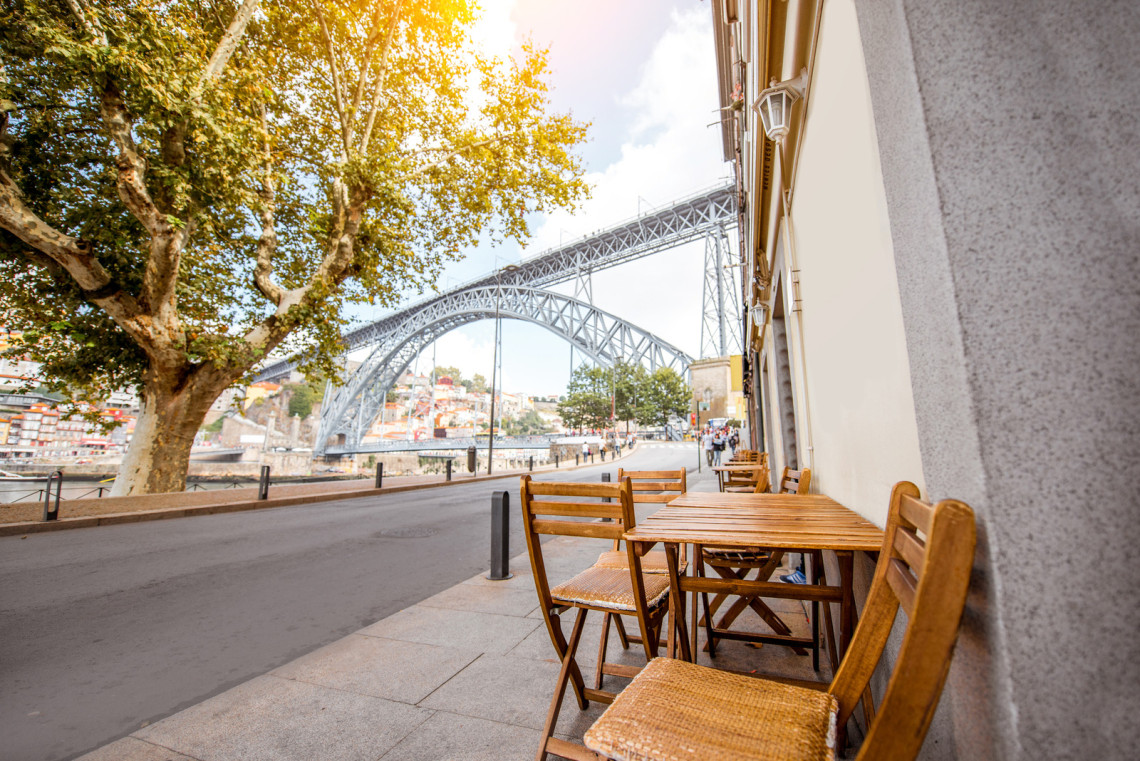 And even better, with the incredible packages Portugal Getaways is offering, you can have an unforgettable experience exploring all that Porto has to offer hassle-free. We do all the work and handle every detail for you, leaving you to simply get here, pull up a seat at the table of any of Porto's best restaurants and cafes, and dig in for a delicious adventure of culinary discovery!
Explore Portugal Your Way: Customizable, Tailor-Made Trips for Your Dream Adventure!
If you're looking to explore Portugal at your own pace, we have got you covered. Our team of specialists will work with you to create a custom-made trip that suits your preferences and budget. Whether you want to indulge in the local cuisine, explore the historic cities, or soak up the sun on beautiful beaches, our tailor-made packages offer the flexibility and freedom to discover the highlights of Portugal at your own pace. So why wait? Contact us today and let us help you plan an unforgettable trip to Portugal!