Discover The Best Beaches in Algarve, Portugal
If there is one destination that should be on everyone's bucket list, it's the stunningly beautiful Algarve region of Portugal. With its captivating coastline, soft-sand beaches, and perfect climate, this southernmost region of the European Union is a must-visit for beach lovers and for those travelers seeking an unforgettable and relaxing holiday away from their busy every day. Here are some of the most lovely and picturesque Algarve beaches that make up this unique Portugal coastal paradise.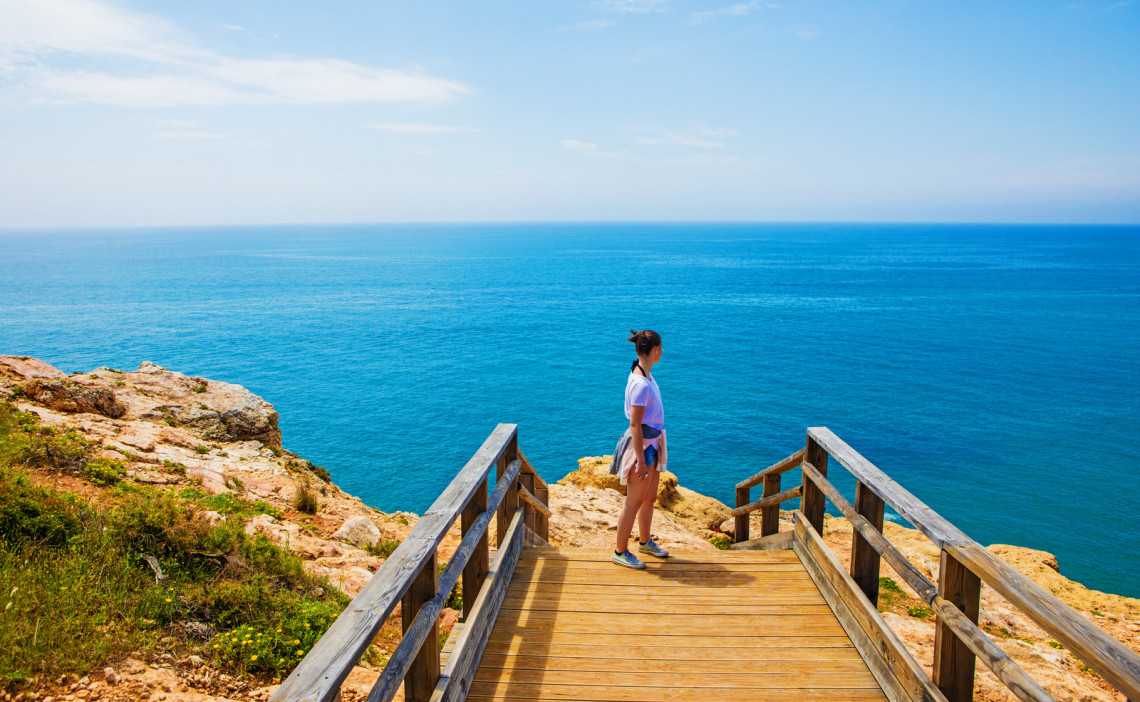 1. Praia Dona Ana: Among the Best Beaches in the Algarve Region
Located in Lagos, Portugal, Dona Ana is a breathtakingly beautiful beach that makes it a popular favorite and must-see destination for travelers visiting the Algarve region. Why is Praia Dona Ana in Lagos so special? There are so many reasons for its status, but we will highlight the top ones here.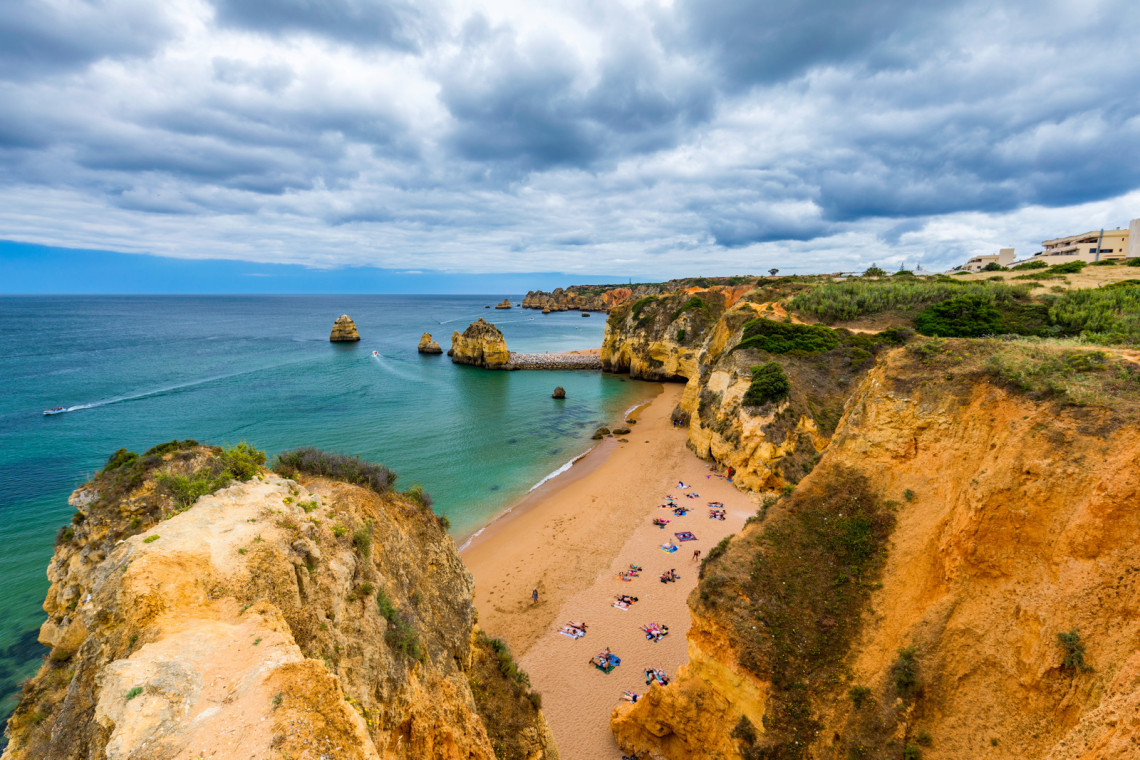 It's really Praia Dona Ana's soft white-sand beaches and deep blue waters that make this Algarve beach one of the most popular and sought-after beaches in all of Portugal. As you lounge on the beach, you can take in unmatched views spanning across the Atlantic Ocean, only made more scenic thanks to the area's being surrounded by towering tall cliffs and ancient rock formations that line the entire coast.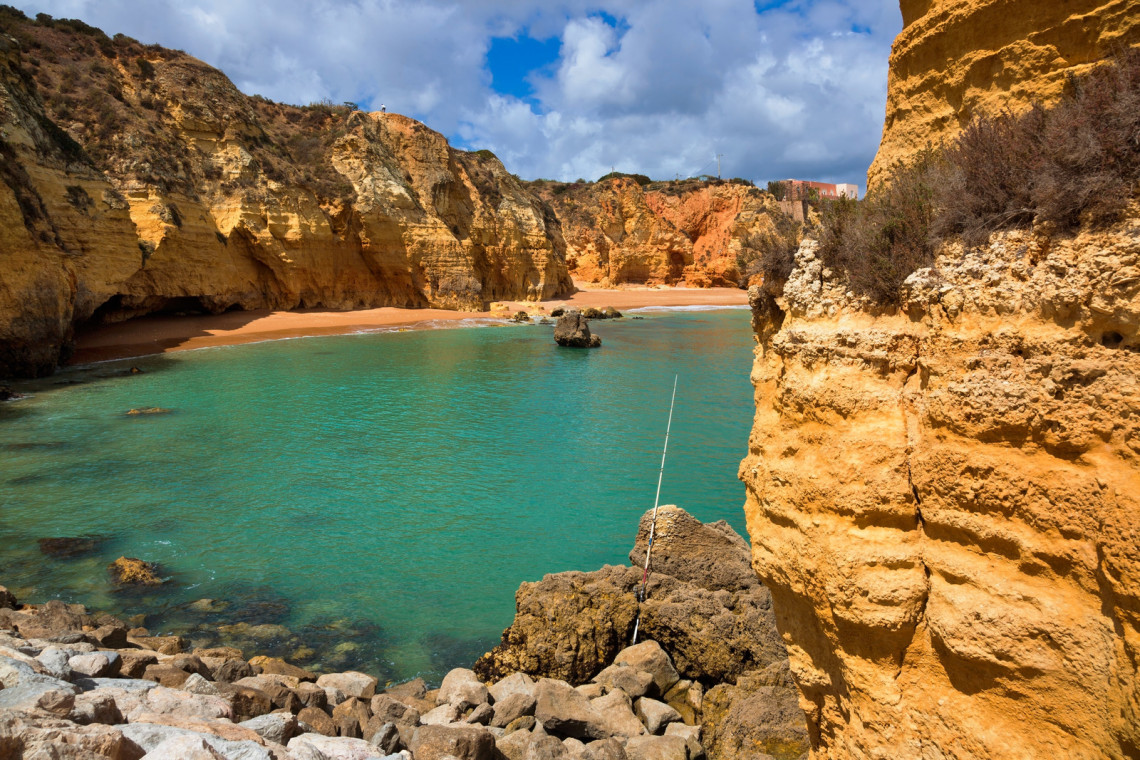 The crystal clear waters of Lagos' Praia Dona Ana are a natural playground, serving as an ideal spot for outdoor beach adventures, including swimming, kayaking, snorkeling, and other water activities. During the summer months, visitors to this Algarve beach during their Portugal holiday are also able to take advantage of several onsite restaurants offering delicious seafood dishes and drinks right near the shoreline. So, if you are looking to sample incredible Portuguese cuisine while soaking up some of the best beach views in the Algarve area, Praia Dona Ana is a perfect pick for spending a day in the sun solo or with family or friends.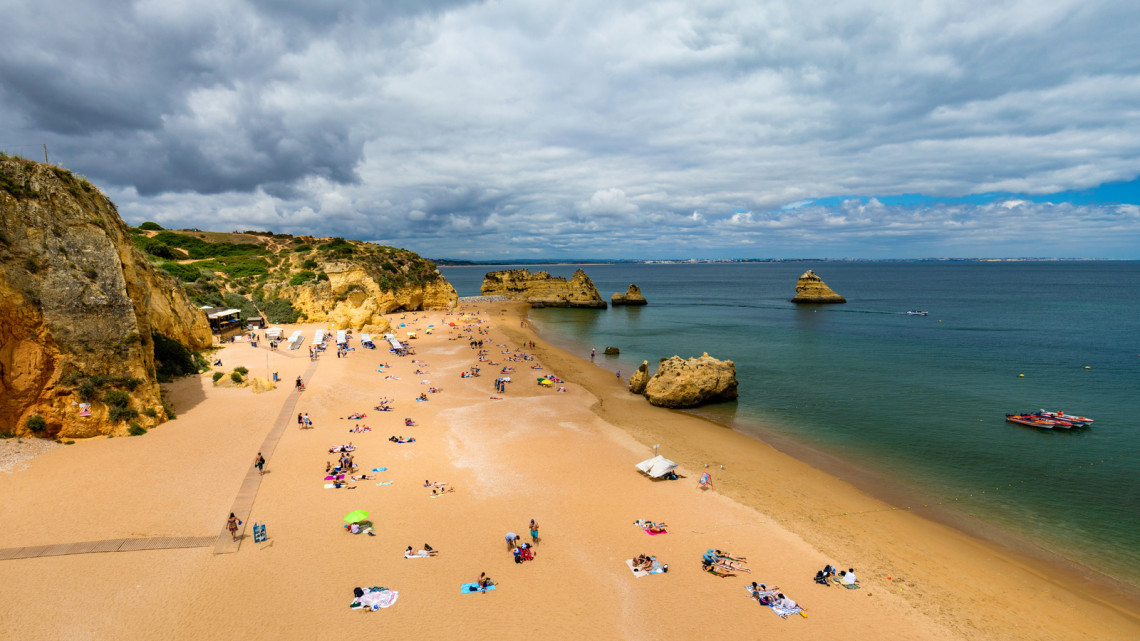 Looking for a place to stay nearby after soaking up the Praia Dona Ana sun? The good news is that the answer to your accommodation need is at your fingertips, as Dona Ana Beach is home to a number of luxury resorts and hotels, where guests can relax in comfort or take part in any number of recreational activities, such as golfing, surfing, or even fishing trips. For those looking for an unforgettable vacation experience in Portugal, Dona Ana Beach offers an unmatched combination of beauty and relaxation that will ensure lasting memories from your Algarve travel.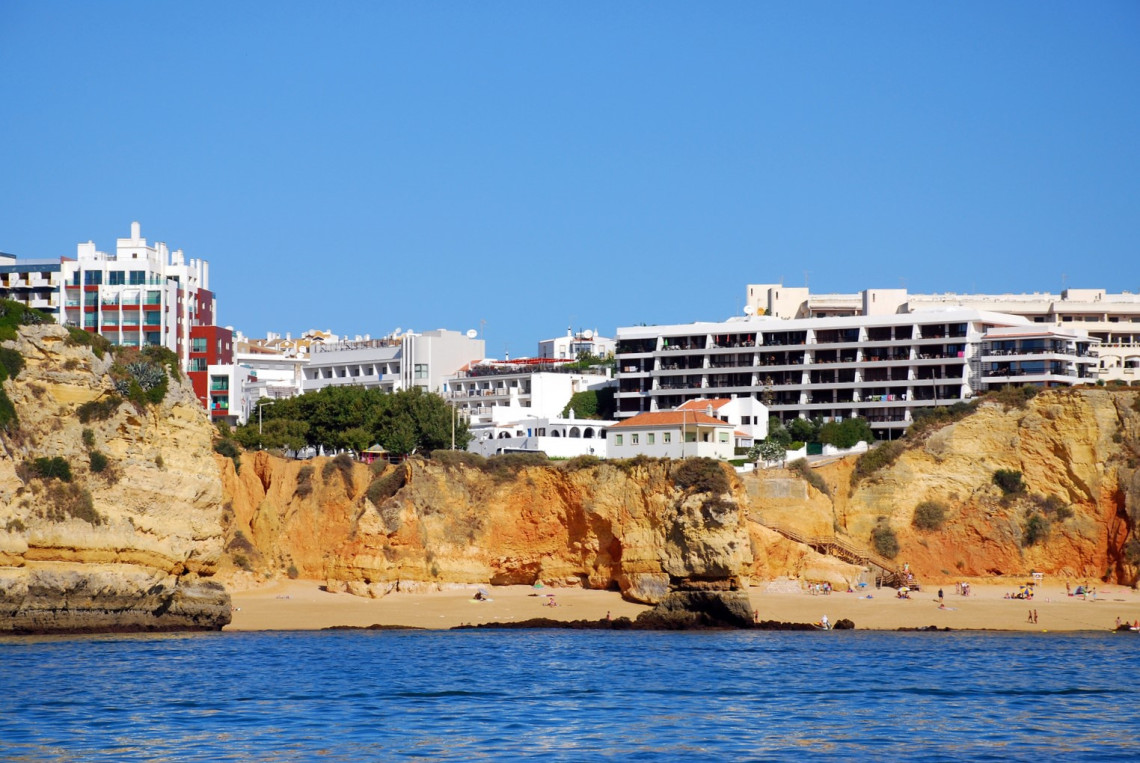 2. Praia da Marinha: An Exceptional Beach Experience
Another incredible Algarve destination that tops our list of best beaches in the Algarve is Praia da Marinha. Located in Caramujeira and known for its stunning white sand beaches and clear waters that make it perfect for swimming, it should come as no surprise that Praia da Marinha in Lagos is one of Portugal's most popular Algarve beaches.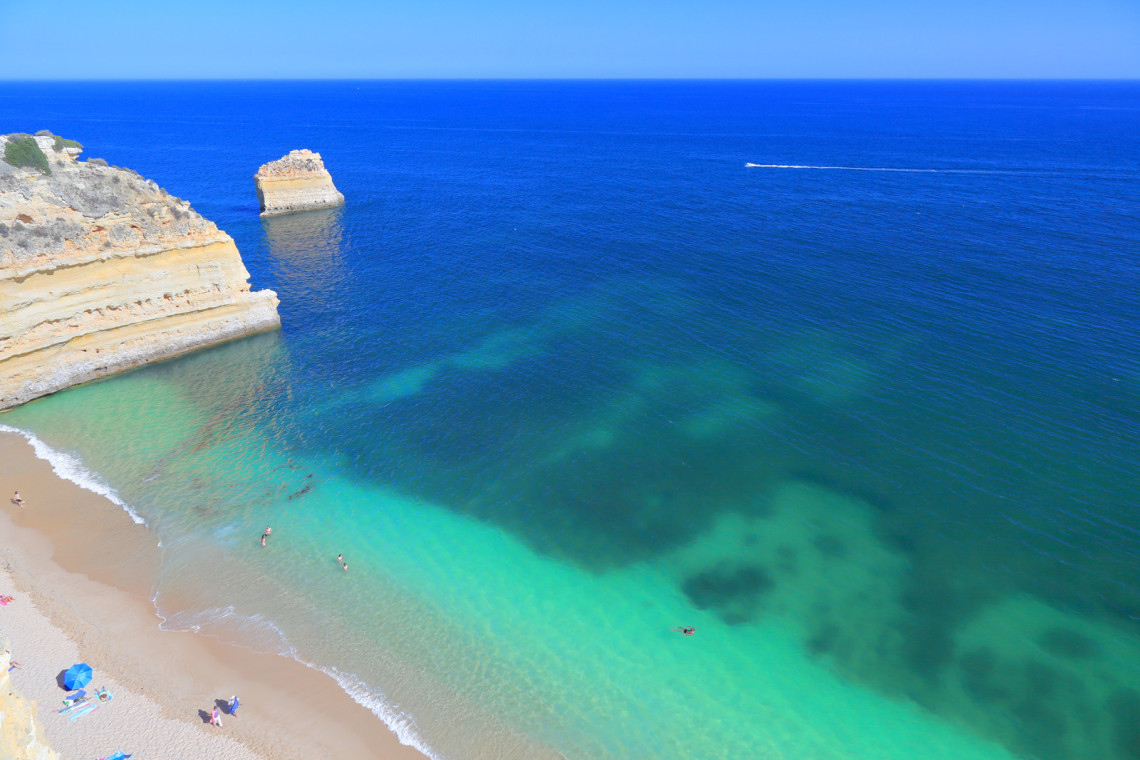 The beach is surrounded by impressive cliffs towering high above the sea, and its crystal clear waters are home to a wide variety of marine life, such as colorful fish, crabs, mollusks and dolphins, among many others. There are plenty of fun outdoor activities to engage in as you spend the day in Praia da Marinha, too, with hiking trails winding their ways through the nearby green hills to boat trips cruising along the coastline, fishing charters taking you deep out to sea, and even horseback riding opportunities along the shore.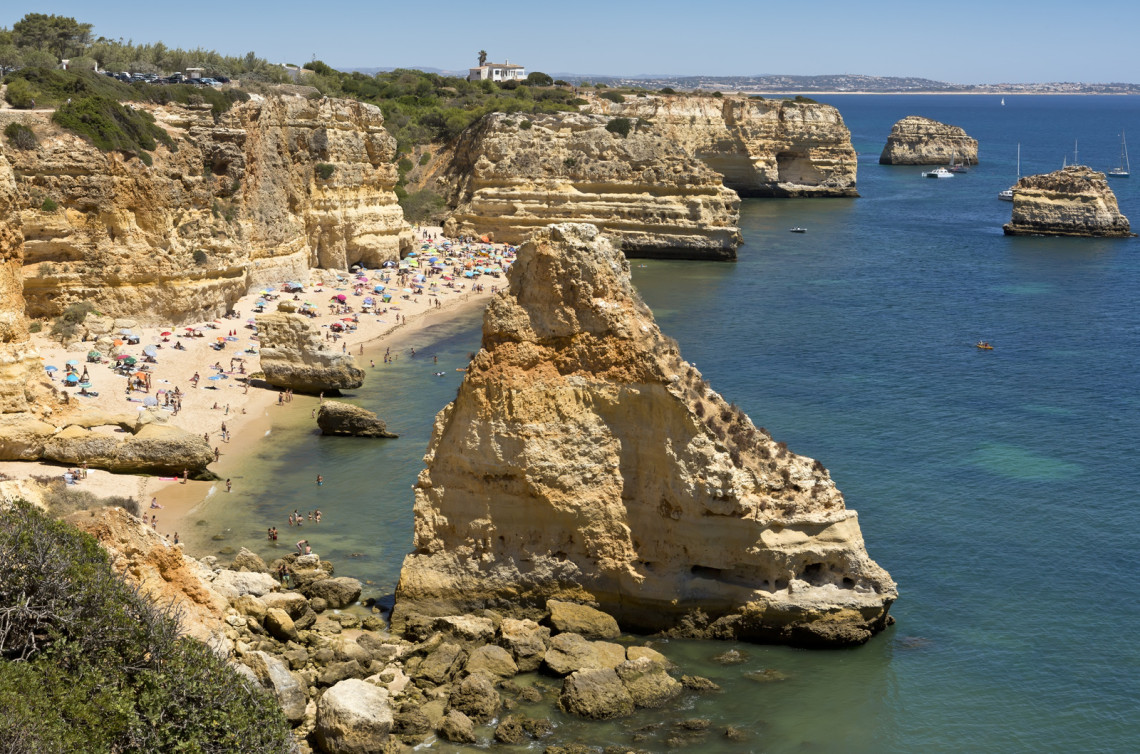 The possibilities for beach activities are near endless here, which is exciting, but the fun and enjoyment at this beach near Lagos city doesn't stop there! Marinha Beach in Lagos is not only picturesque, but this popular Algarve beach destination also has excellent restaurants serving local cuisine – the perfect fix for hungry beachgoers ready to recharge and sample some excellent dishes after spending an entire day frolicking and playing beneath the warm, Algarve sunshine.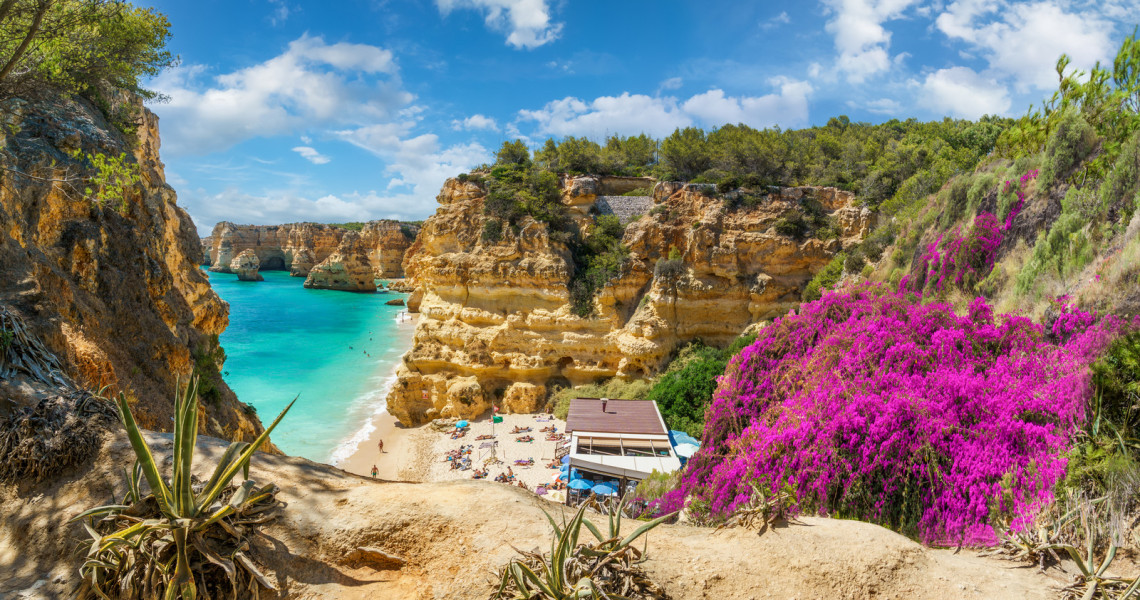 There are also plenty of accommodation options for visitors featuring a wide range of price points, facilities, and amenities, thus ensuring every traveler can find the perfect bed to rest their head during this portion of their Algarve trip. This is especially great news if you don't want to drive a long way after spending a relaxing day at Marinha Beach. With so many accommodations to choose among – all just a stone's throw away from this magnificent Algarve beach – visitors will only face difficulty in deciding which one they like best!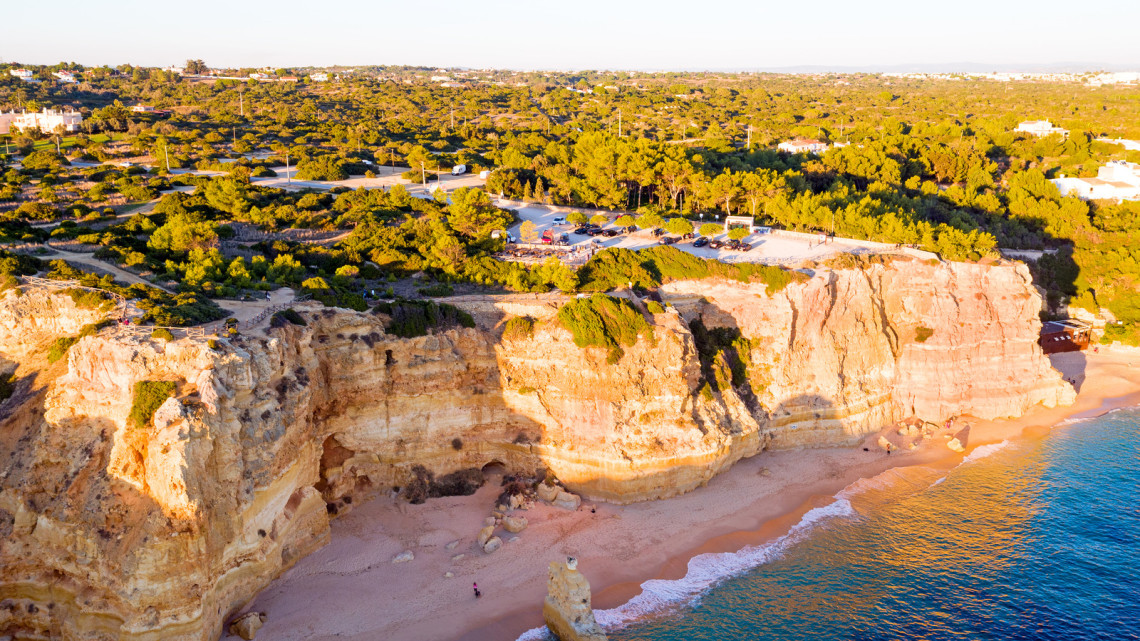 For those looking for more active Marinha Beach activities, there's also a range of water sports available to try, including jet skiing, paragliding, kitesurfing, and scuba diving. Whatever your reason for visiting Marinha Beach in Lagos, Algarve, you're sure to be captivated by its natural beauty and charm.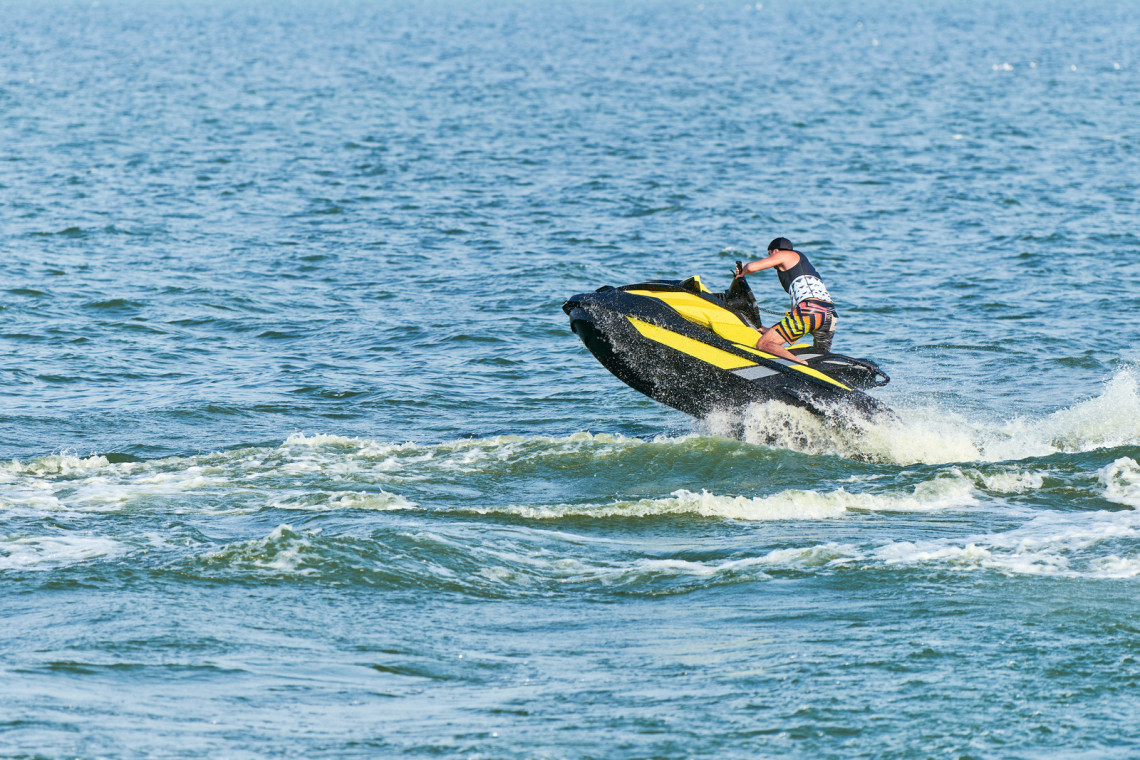 Are you already in love with Portugal? Take a look at our stress-free packages that allow you to book your ultimate Portuguese adventure. All our packages are carefully curated by our team of local Portuguese experts so that you don't need to worry about any details - just enjoy your trip!

3. Meia Praia: A Long Sandy Beach With Loads of Activities
Located in Lagos, Meia Praia is a stunning slice of paradise. This 4km long beach boasts white sand, crystal clear water, and many desirable amenities for visitors. The area around the beach has plenty to explore, with historical monuments and vibrant markets.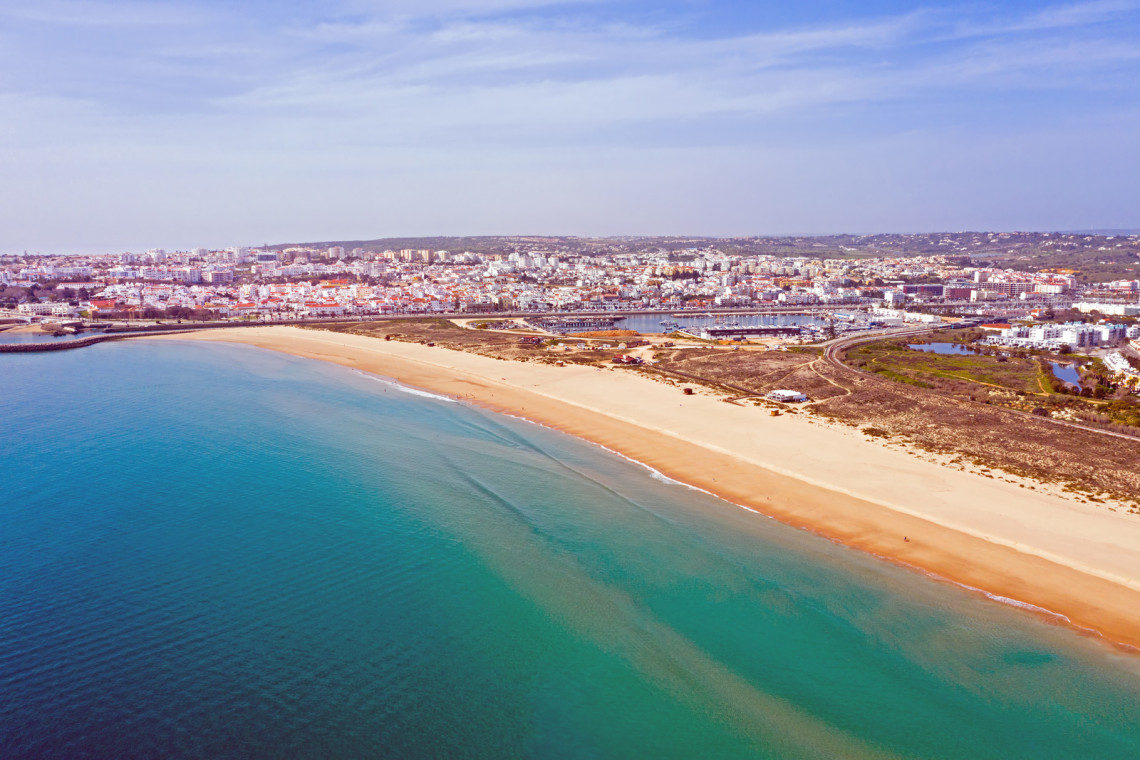 There are also several restaurants along the Meia Praia shoreline offering delicious fresh seafood dishes and excellent Portuguese menu items, making this an ideal spot for beach lovers who also want to explore – and savor – the local cuisine. Right in Meia Praia's close vicinity, visitors can find cliffs and caves to explore during their Algarve travel. They can also take guided boat trips and engage in numerous water sports activities, like kayaking, stand-up paddle boarding, and snorkeling, just to name a few of our favorite Meia Praia activities.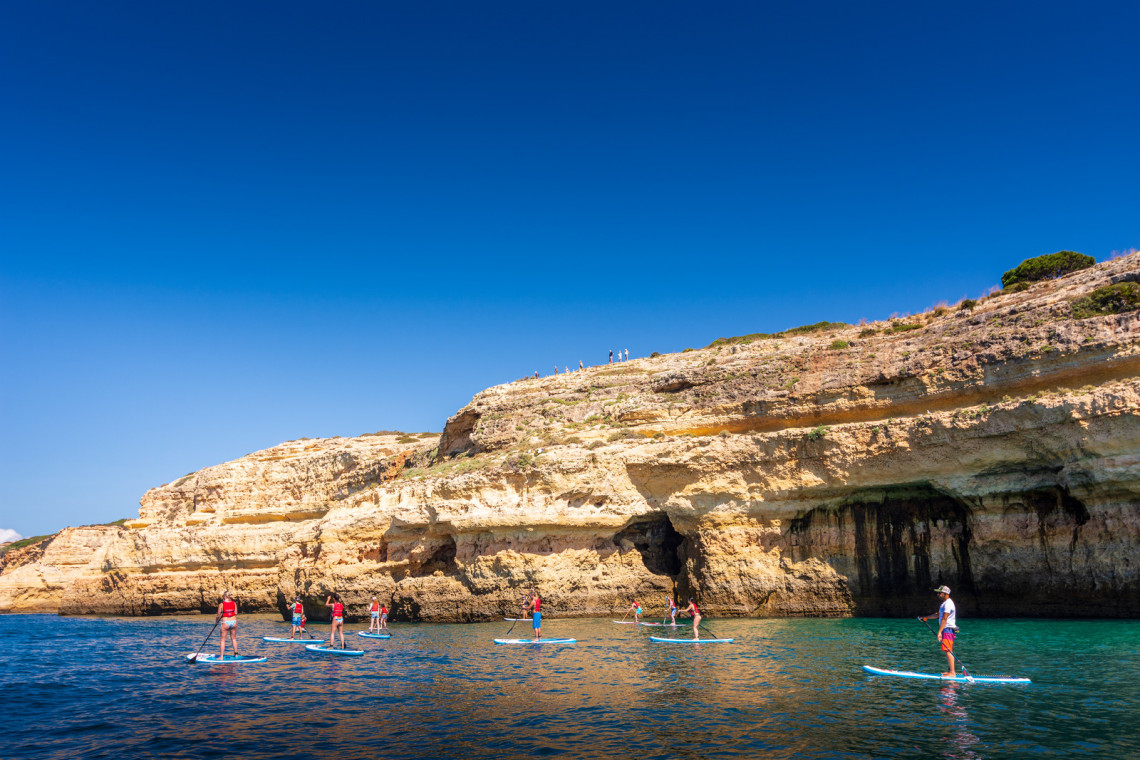 Thanks to its temperate climate and warm waters, Algarve's Meia Praia Beach has become a popular destination for both Portugal locals and tourists visiting the Algarve area alike. It is worth noting that during the summer months, this highly favored south coast Portugal beach can be packed with sunbathers, so if you are looking for a quieter experience, try visiting during spring or fall when it is a bit less crowded. No matter when you visit Meia Praia, though, you can rest assured that you won't regret making this a stop on your Algarve trip itinerary, and you can expect to have an amazing time at one of Portugal's most picturesque coastal beaches.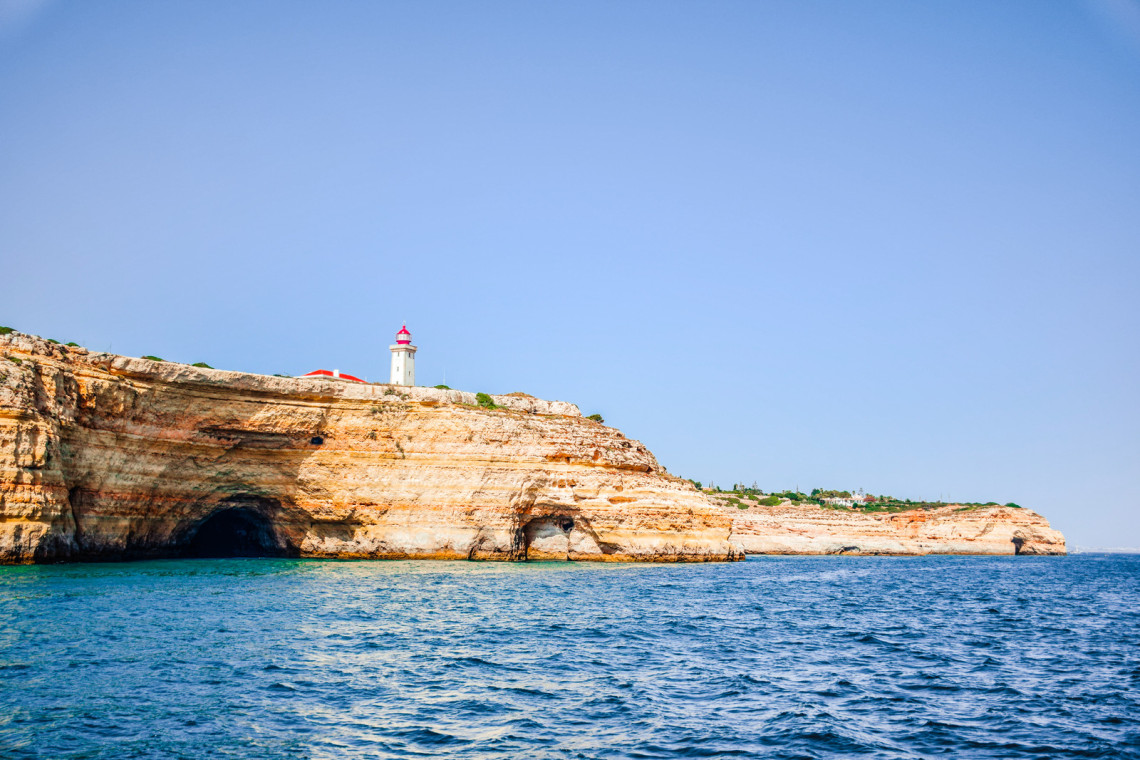 4. Salema Beach: A Short But Majestically Beautiful Algarve Beach
Salema Beach is also a star among Algarve beaches, and though it may be relatively small compared to other spots in the Algarve area, what it lacks in size it more than makes up for in unmatched and breathtaking beauty and serenity! Speaking of serenity, Salema offers it in spades to visitors coming to its shores seeking respite and tranquility. This is thanks to its unique location: Salema sits tucked away from civilization on Portugal's southwestern coast, near Vila do Bispo, where it enjoys tremendous solitude from crowds who flock to other spots nearby, like Sagres or Cabo de Sao Vicente instead.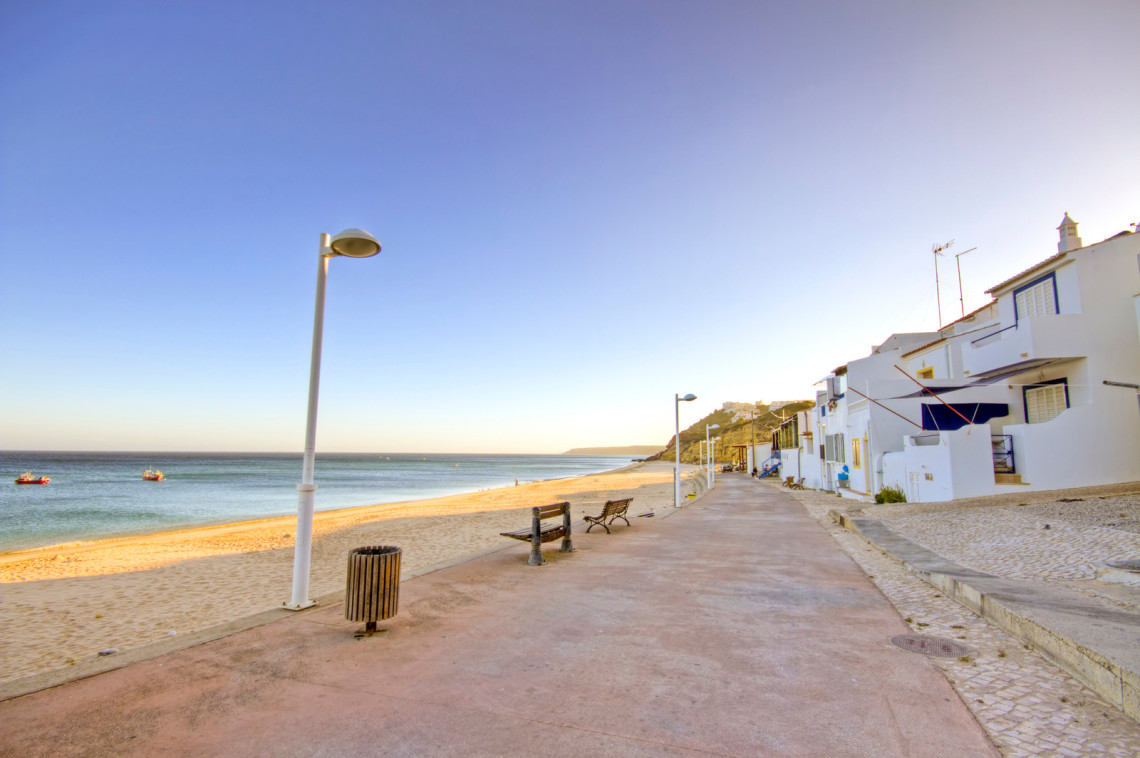 What makes Salema Beach really memorable, though, are the mysterious orange-colored rocks that jut out from underneath its calm blue waters, making quite a scene to behold. But more than their aesthetic value, these rocks (namely, the waters surrounding them) also provide excellent snorkeling opportunities for visitors. So, once you're ready for some adventure and exploration after soaking up some Salema sun, grab your goggles and snorkel gear and get started discovering all the wonders and incredible species that call this gorgeous Algarve beach home!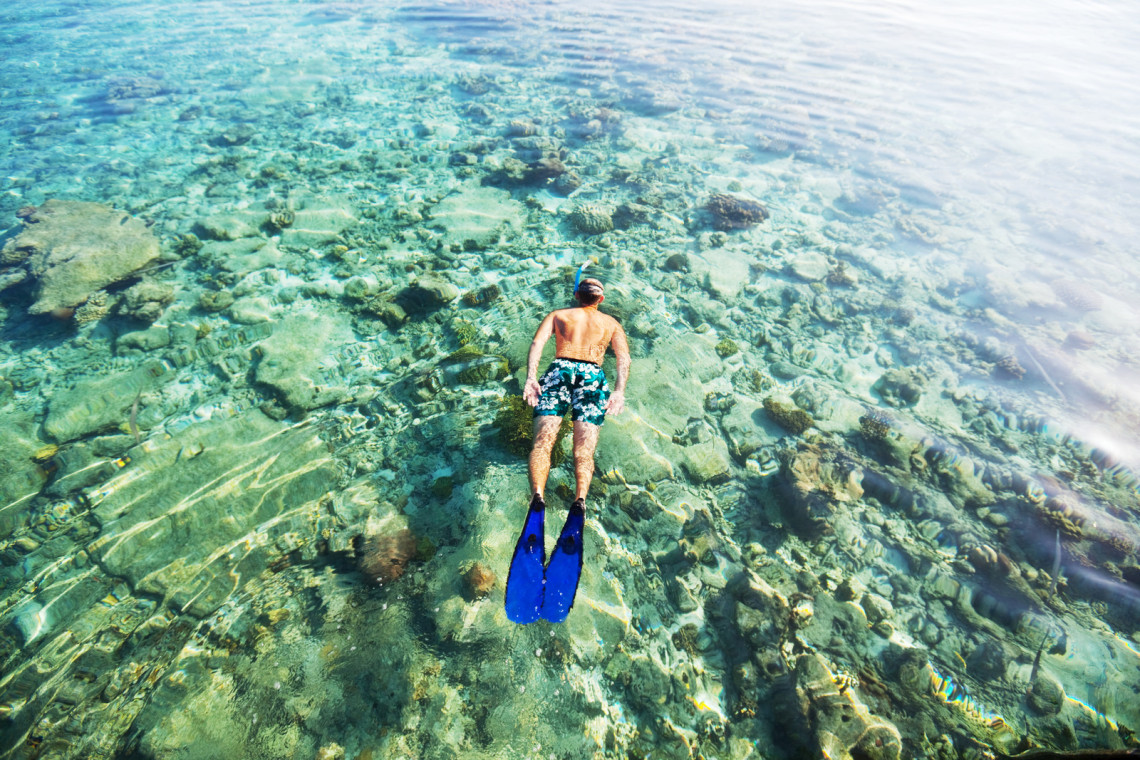 In addition to its pristine natural beauty, Portugal's Salema Praia also boasts a number of cultural attractions to check out, offering an excellent opportunity to really get a window and an up-close glimpse into what makes the local Algarve culture so unique and special. Examples of a few such Algarve cultural attractions found near Salema Beach include the traditional fishing boats bobbing along its waters, as well as the cheery, colorful buildings that line the shore.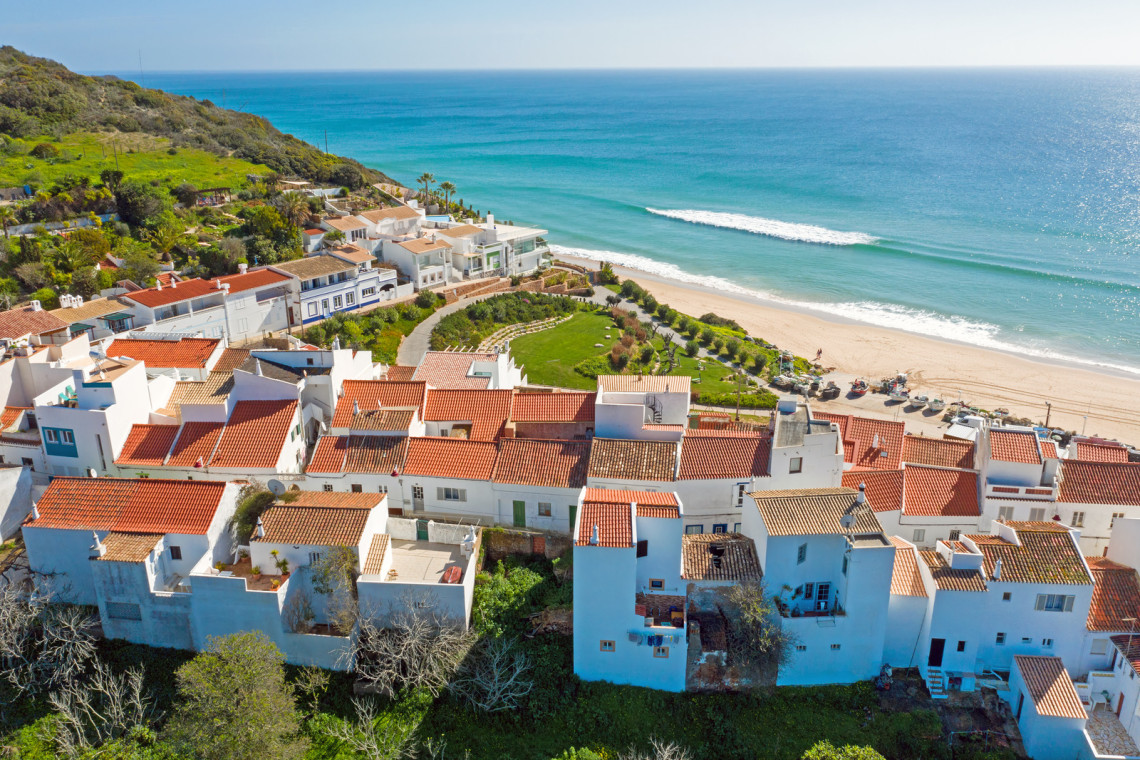 After hearing so much high praise about all that Salema Beach has to offer its visitors during their Algarve trip, it is no wonder this destination has become an increasingly popular Portugal vacation spot among locals and tourists alike. With plenty of activities to keep visitors entertained – from kayaking to jet skiing, stand-up paddling, and much more – as well as delicious seafood restaurants boasting local cuisine to choose from, Salema Praia truly has something that will delight everyone.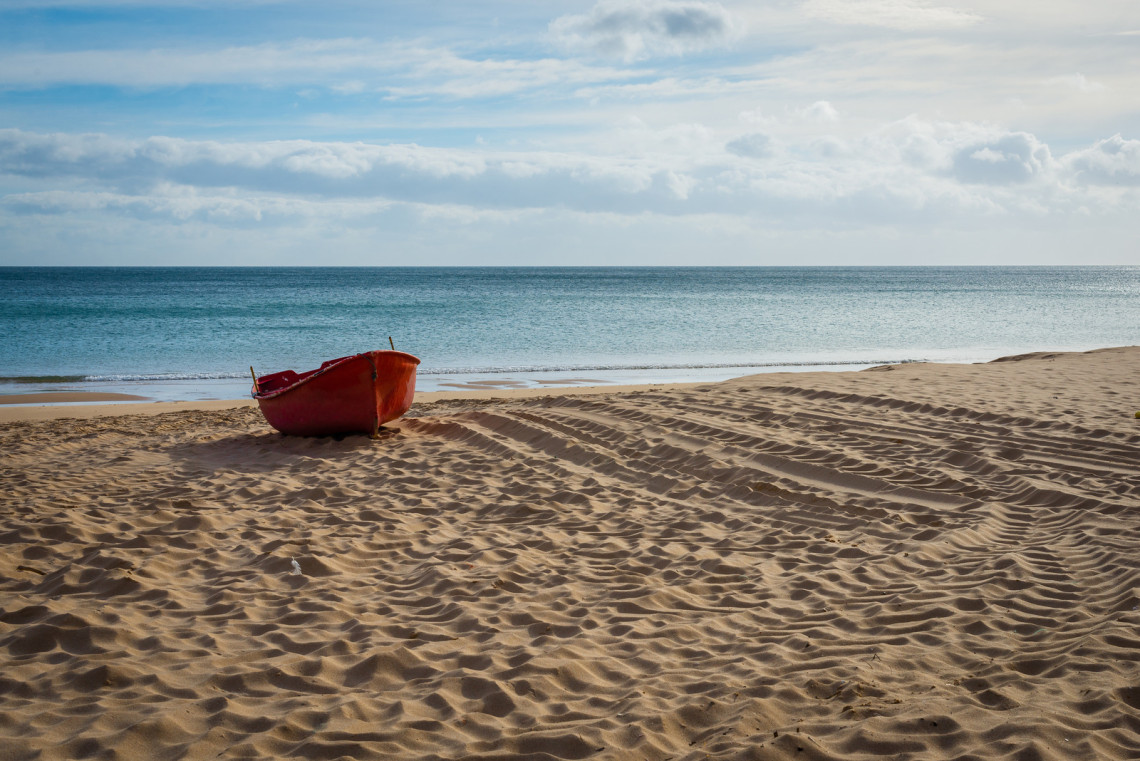 6. Benagil Beach: The Unique Benagil Cave
Benagil Beach may not be as well known among Algarve beaches when compared to other beaches in the Algarve region, but it's definitely worth checking out if you want to explore one of nature's and Portugal's greatest masterpieces – Benagil Cave! This incredible cave was formed by centuries-old erosion caused by crashing waves continuously hitting its walls. The result was the eventual creation of a mesmerizing network of tunnels carved into limestone rock formations.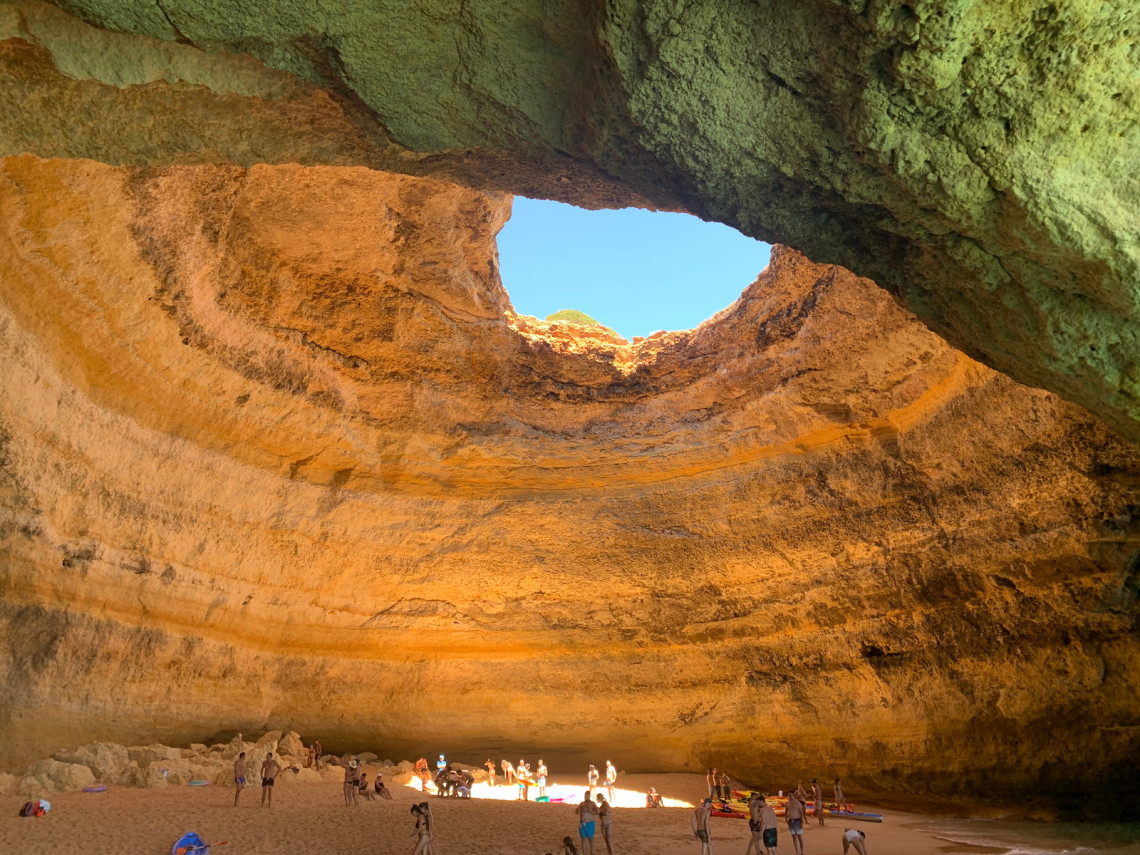 Once you're inside Benagil Cave, you'll be surrounded by spectacular views comprised of majestic jagged stone archways and crystal clear waters shooting a mesmerizing kaleidoscope of light that reflects off the cave walls. It's like you are in a wondrous fairytale room filled with magical glass mirrors! Imagining it is one thing, but actually being inside this awe-inspiring Algarve cave and witnessing this stunning scene with your own eyes is simply indescribable by mere words alone. Suffice to say, it is definitely worth seeing and adding as a must-see stop on your Algarve, Portugal trip itinerary during your next holiday away.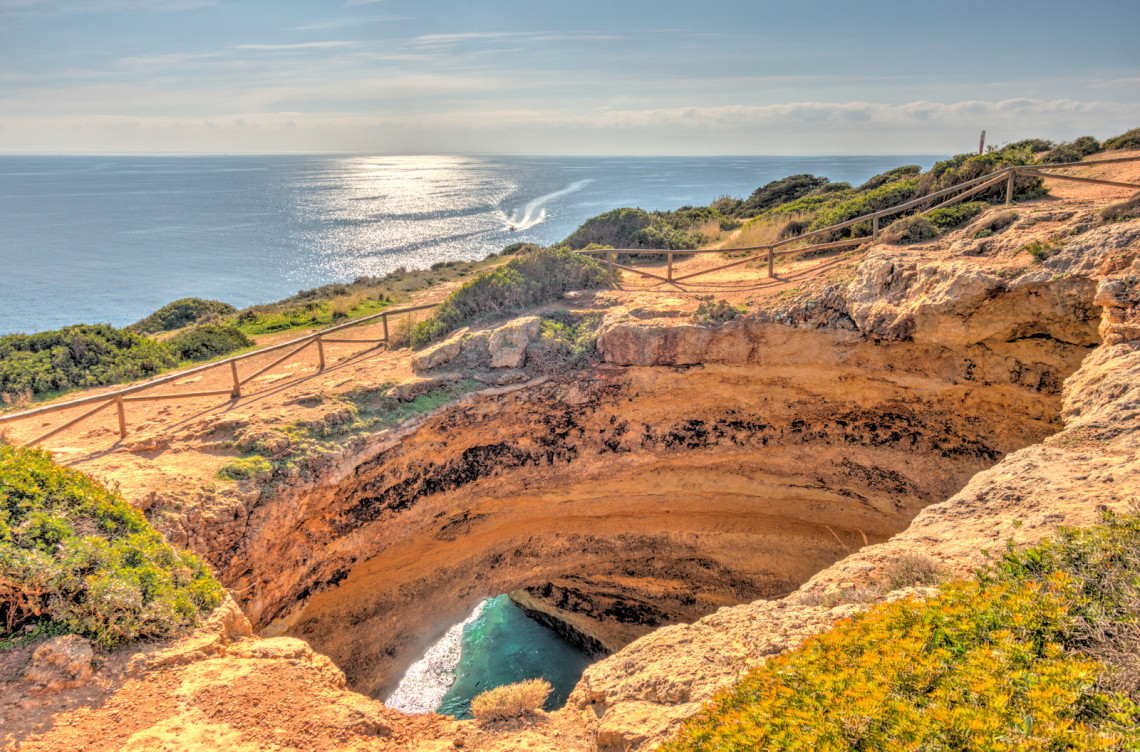 After taking your time to really soak up the matchless beauty inside Benagil Cave, you can make your way back outside, surely with a huge smile on your face at the wonder that you have just witnessed. Once you're outside again, you can explore the picturesque Benagil Beach, a true Algarve beach paradise lined with low-lying shrubs dotted amongst white sands lapped by tranquil turquoise waves - the perfect spot to relax during your south Portugal vacation!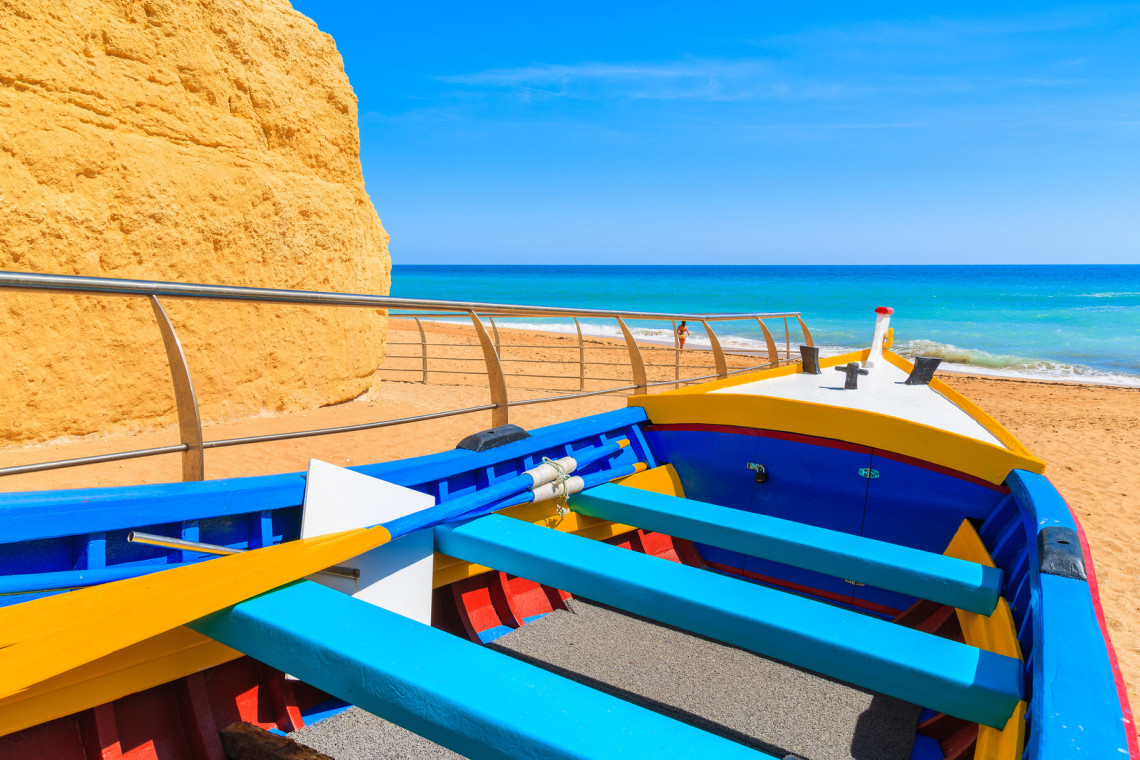 These are only some of many amazing beaches that can be found up and down Portugal's stunningly beautiful Algarve coast - each one offering something unique depending on what kind of experience you seek while traveling through this magical region! Whether you're looking for adventure activities like surfing or kayaking, want to explore cozy coves sheltered by high cliffs providing natural shade, or even desire to seek out white sandy dunes with azure waters, you'll definitely find something that suits your needs here in this premiere vacation spot!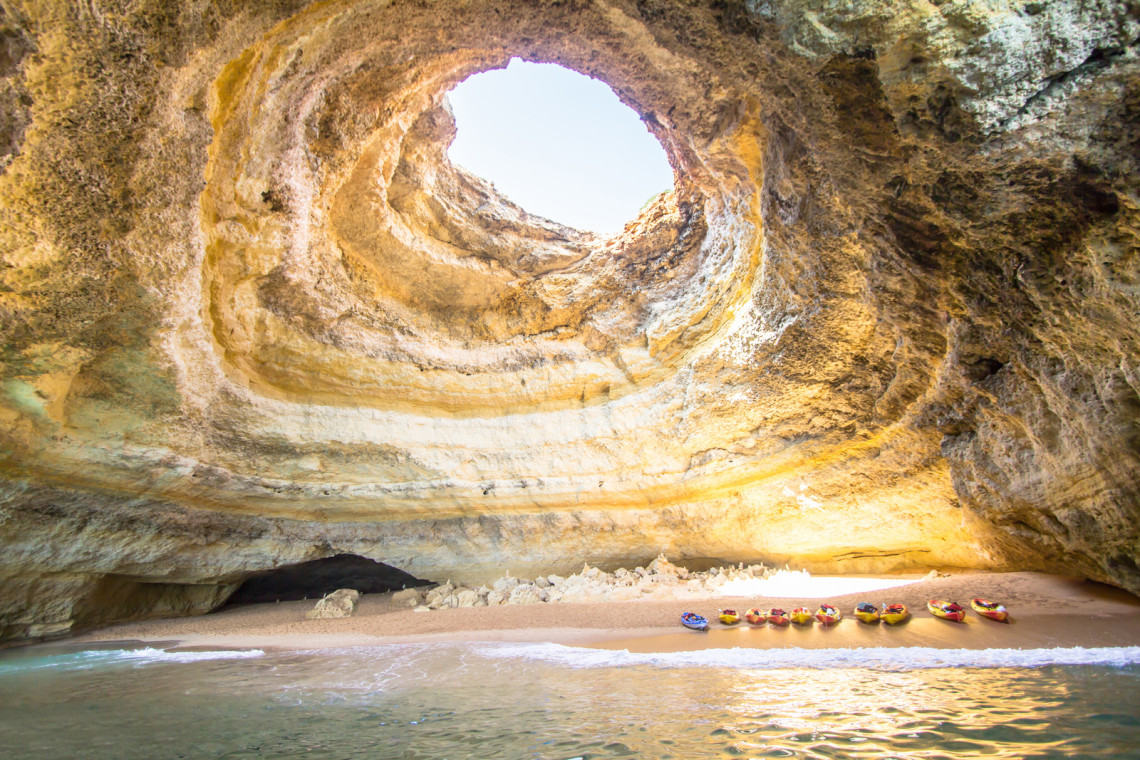 Algarve has long been known as one of Europe's best beach destinations, and for good reason. With its stunning coastlines, golden sand beaches, and crystal clear waters, Algarve truly is an idyllic getaway. Here at Portugal Getaways, we offer incredible deals and packages for traveling to the Algarve. Whether you're looking for a beach-filled holiday or an adventure-packed excursion, there's something to fit everyone's needs. We also provide tailor-made packages catered to your personal preferences, ensuring that you get the most out of your trip to the Algarve, without worrying about arranging everything yourself.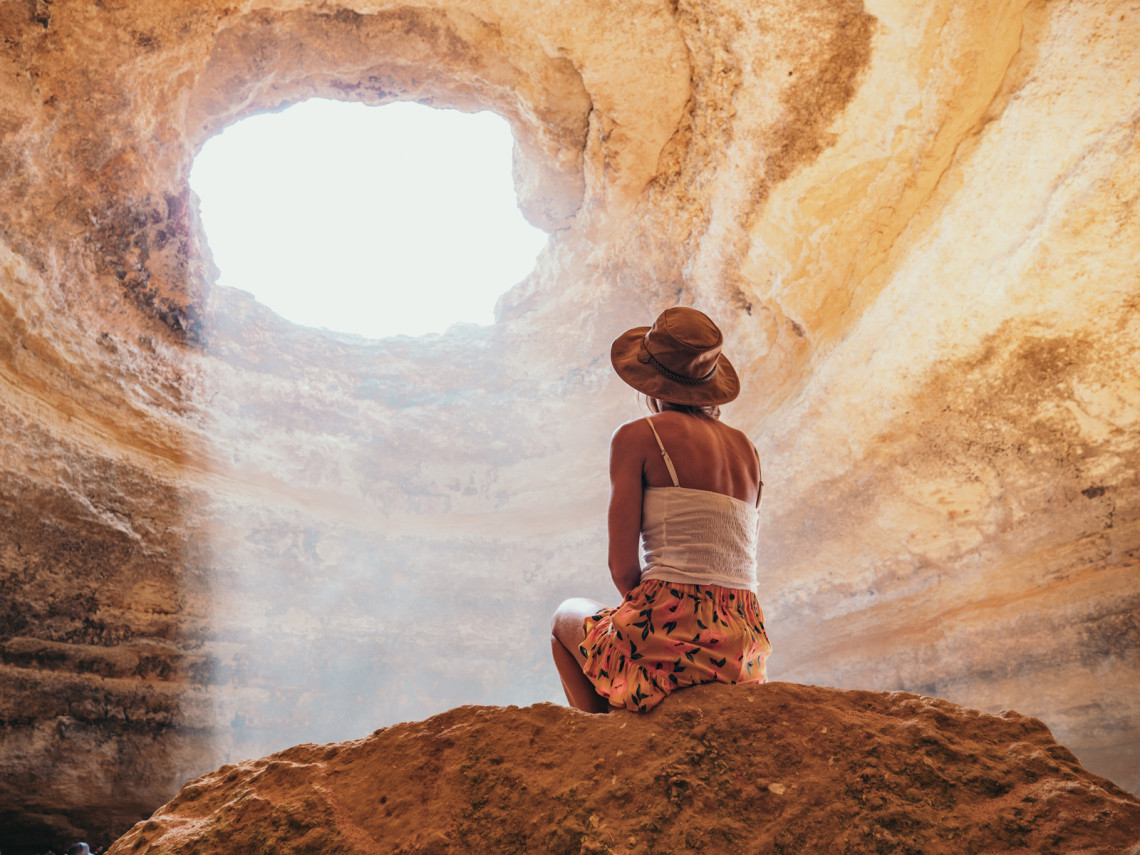 Explore Portugal Your Way: Customizable, Tailor-Made Trips for Your Dream Adventure!
If you're looking to explore Portugal at your own pace, we have got you covered. Our team of specialists will work with you to create a custom-made trip that suits your preferences and budget. Whether you want to indulge in the local cuisine, explore the historic cities, or soak up the sun on beautiful beaches, our tailor-made packages offer the flexibility and freedom to discover the highlights of Portugal at your own pace. So why wait? Contact us today and let us help you plan an unforgettable trip to Portugal!